One thing we love about going to the races is those incredible horse names! When it comes to naming horses, owners sure do get creative. 
The naming of horses and racehorses is an institution in itself and an important personal choice for private horse owners.
For us, the stranger the name the better, so we compiled this list of weird horse names, and some of the funniest names in horse racing history!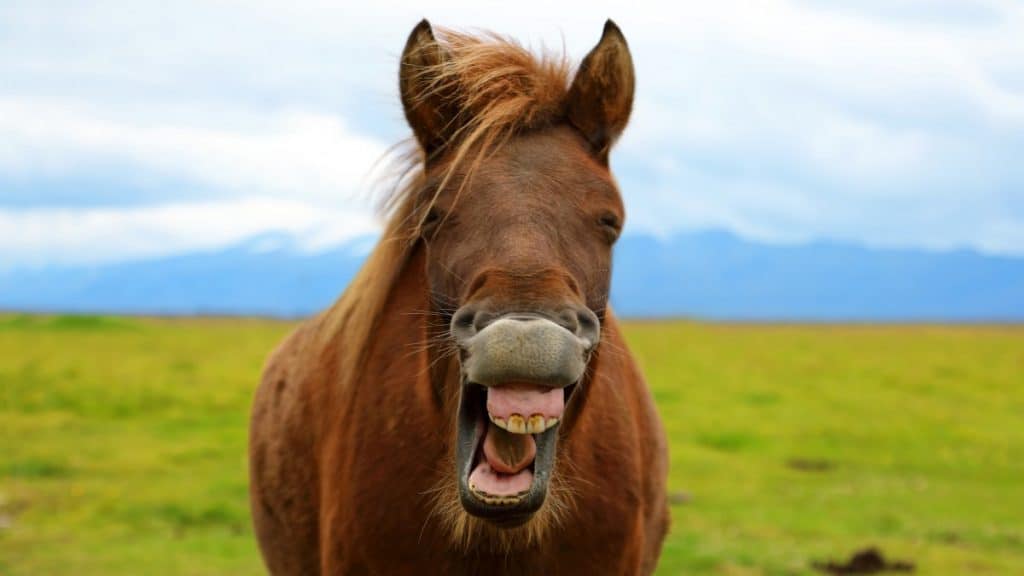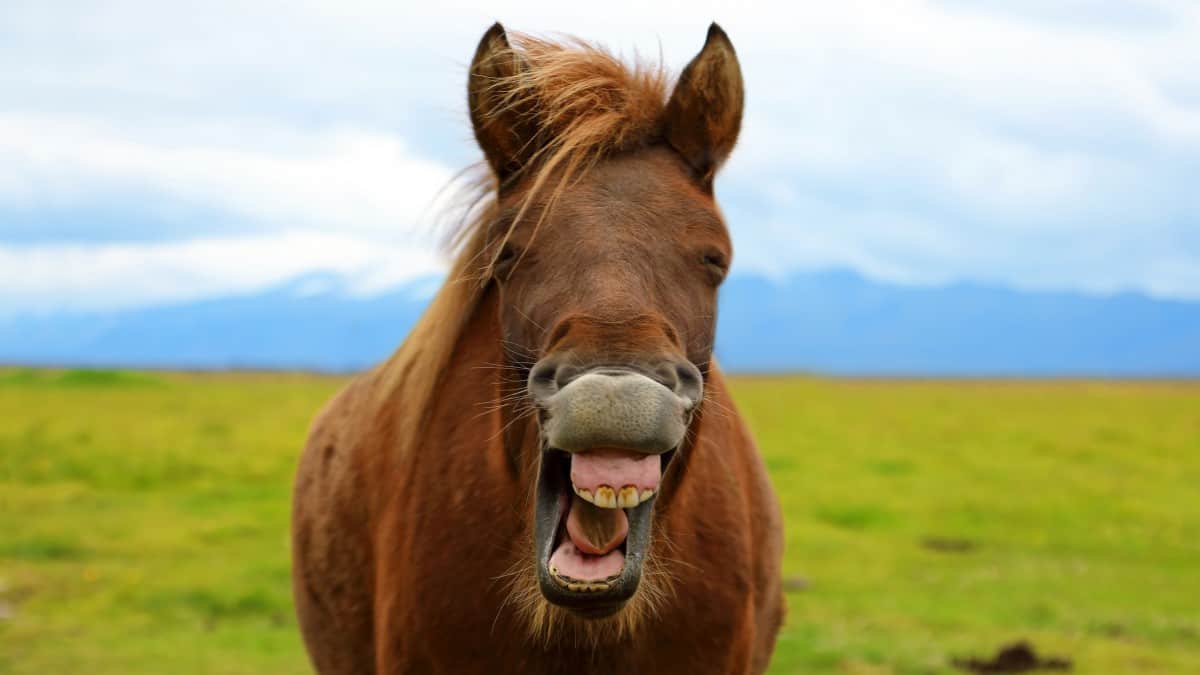 Best Weird Horse Names
When it comes to weird names, there are almost too many to choose from. Although we gave it a good shot and scoured history for some of the best weird names around.
Here is a definitive list of some of the best weird ideas, followed by categories of horse names to fit your taste and your horse's personality.
Odor in The Court
Hoarse
Hoof Hearted
Potoooooooo
NightMare
Reya Sunshine
Foaling Around
MyExWifesAshes
Teeny Turner
Neighsayer
D'apples are Sweet
Ghostzapper
Just Mare-ied
Ze Brah
Pants
Wotsit
Clear So Far
Usain Colt
Long Face
Hay Jude
Degeneres
Snail Male
Hannibal Lector
Bunny Killer
Rogue One
4-Hooved Sloth
Trojan Horse
Ha Ha Ha
Weird Names For Female Horses
Whether she's a young filly or a seasoned mare, finding a good name that fits the gender and personality of your horse is important to many horse owners.
Here are some of the best weird names to fit your mares character and style.
Penny Loafer
Tricky Silver
Kit Kat
My Little Pony
Horsey Kiss
Mane Attraction
Money Penny
Kolt Kardashian
Nightshade
Kate Winsalot
Teeny Turner
Britney Spurs
Justine Thyme
Pony Tail
Mane Event
Black Pearl
Minnie Scule
Hermioneigh
Night Mare
Hay Girl
Lady Rover
Maple Stirrup
Shoe Crew
Tater Tot
Weird Names For Male Horses
Although more than one term is used for male horses, they are most commonly referred to as Stallions. Although 'Stallion' is a pretty good name for a horse by itself, we think we've found better:
Sir Neighs A Lot
Mister Ed
Liam Neighson
Richard Friction
Al Capony
Horse Power
Sylvestor Stallion
Chuck Horris
Hoof Jackman
Mr McWhinney
Harry Trotter
Spongebob Horsepant
Jon Bon Pony
Forrest Jump
What The Buck
Dappleganger
Buck Rogers
Dustin Hoofman
Adam Neighiski
Pony Soprano
Weird Race Horse Names
The naming of racehorses is ruled by the U.S Jockey Club, and no two horses can be named alike. So, there are some really quirky and fun horse names out there, and here is our list of some of the best weird racehorse names we could find.
Attention Shoppers
Where's The Beef
Bofa Deez Nuts
Shakalakaboomboom
Red hot Filly Pepper
DoReMiFaSoLaTiDo
Riding Miss Daisy
GiveMeAnotherName
WhyKickAMooCow
Barely Legal
WhatAmIChoppedLiver
Ha Ha
JunkintheTrunk
Bodacious Tatas
NotACatButaLlama
Thats' WhatSheSaid
Horsey McHorseface
Panty Raid
Slumpbuster
EighteenCharacters
IWinYouGetNothing
MayTheHorseBeWithU
TheWifeDoesntKnow
FiftyShadesofHay
GeeSpot
OhNoItsMyMotherInLaw
Houdini
Stopchargingmaria/stopshoppingmaria/stopspendingmaria
Spineless Jellyfish
Walk of Shame
Mookie's Runnin
ARRR
MyWifeKnowsEverything
Sotally Tober
Leading By A Length
Race Career
Horse Name Inspiration
Getting a little inspiration for your horses' name can come from anywhere. But to help get you started, here are some of the most popular names for horses, both male and female.
Willow
Turbo
Kid
Sunrise
Cody
Sugar
Pixie
Star
Cash
Dan
Rum
Cloud
Tucker
Apache
Pepper
Magic
Jasper
Charlie
Bruno
Shadow
Stella
Ginger
Sky
Molly
Jack
Teddy
Opie
Peaches
Rebel
Mac
Blue
Lady
Fiona
Dakota
Harry
Spirit
Daisy
Fancy
Help Choosing The Right Name
Horse owners usually name their thoroughbreds according to their breed, color, or temperament. Here is a guide to naming your horse by breed. These may not be the most funny horse names, but they are the most fitting.
Naming Your Horse By Color
Your horse's color is perhaps its most noticeable feature, so you may be looking for a name that fits!
Here are some of the best horse names by color: 
Bay And Brown
Adobe
Cinnamon
Brandy
KitKat
BullsSundancereye
Falcon
Grizzly
Cappucino
Chesnut
Peter pan
Pippi Longstocking
Autumn
Cougar
Dark Beauty
Gizmo
Chocolate
Fudge
Gray
MoonShadow
Snowball
Lacey
Traveller
Napoleon
Artax
Steele
Dusty
Grayson
Luna
Shadowfax
Palomino And Buckskin
Rapunzel
Blondie
Trapper
Golden Ticket
Chantilly
Tesoro
Dune
Sand Dollar
Bambi
SunDancer
Black
Midnight
Noir
Ebony
Domino
Onyx
Dahlia
Raven
Nero
Chez noir
Drogon
Pinto
Jigsaw
Pirate
Scout
Rembrandt
Boba tea
Moo Moo
Picasso
Oreo
Sherbet
Naming Your Horse By Breed
Naming your horse by its breed is a popular method for horse naming. Although those outside of horse husbandry may not be in the know, other horse owners will appreciate your clever naming tactic.
Arabian 
Tara
Black Flower
Trix
Heighty
Aslan
Oscar
Oreo
Queenie
Warrior
Manny
Whisper
Xander
Halifa
Genie
Legend
AzzySkaylark
White Pharoh
Thunder
Aladin
American Quarter Horse
O'Lena
Doc
Chick
King
Bar Bandito
Carolina Chick
Butterscotch Buck
Avalanche
Ivory Jet
Kentucky Derby
Johnny Hancock
Peace A Pie
Poco Coco
Rainbow Skipper
Skipper Stormcloud
Smokin Jet
Tennessee Glitter
Zero Buck
Appaloosa
Arfamous
Hayes Dakota Cloud
Triple Chick
Ambright
Thorched
Copper Echos
Radio Rome
Everett
Roman
Clouds Fame
Chicago V
Constellation
Freedom fire
Indian Summer
Freckles
Dots and Dashes
Splatter Black
Jester
Admmiral
Clydesdale
Angus
Balfour
Bell
Conery
Sherlock
Cannie
Lassie
Loch
Toaty
Bairn
Scotch
Highlander
Brodie
Crofter
Edna
Bonnie
Aagr
Argyle
Alister
Sterling
Chip
Abhain
Brave Heart
American Paint Horse
Domino
Ace
Doli
Awee
Bindy
Lona
Glow
Penguin
Might Miss
Rosie
Kamanchee
Skippetta
Painted Joe
Thunderbird
Delta
Jackson
Checks
Mai
Princess
Rapid Danger
Yellow
Wanderer
Mustang
Chico
Alix
Flame
Teacher
Alba
Pax
Amigo
Blotto
Bronze
Blot
Mario
Flame
Blazer
Bailey
Angel
Marryleg
Nacho
Cider
Cowboy/girl
Coalcrimson
Cheney
Conclusion
Finding the right name for your horse can be tricky and since the options for naming your horse are almost endless, you can be spoilt for choice.
Things are even more complicated if you own a racehorse. Since there is much regulation around the naming of horses, it has led to horses being named some of the funniest and quirkiest things.
Finding a name that matches your horse's appearance and personality is difficult but can also be fun, especially with the abundance of funny horse puns out there.
Naming your horse is personal, choosing the right one is important not only to you but also to your horse!
If you're still looking for more inspiration, check out these awesome lists of horse names!
Related Posts