Skeleton horses are a rare horse from the sandbox game Minecraft which can only be spawned from skeleton traps.
These rare horses can become increasingly difficult to spawn based on your region's difficulty so novice (and veteran) skeleton riders should consider your new passive mob's name carefully before fully committing! 
If you are struggling to conjure up something truly skin-crawling for your new skeletal mare, look below for some inspiration.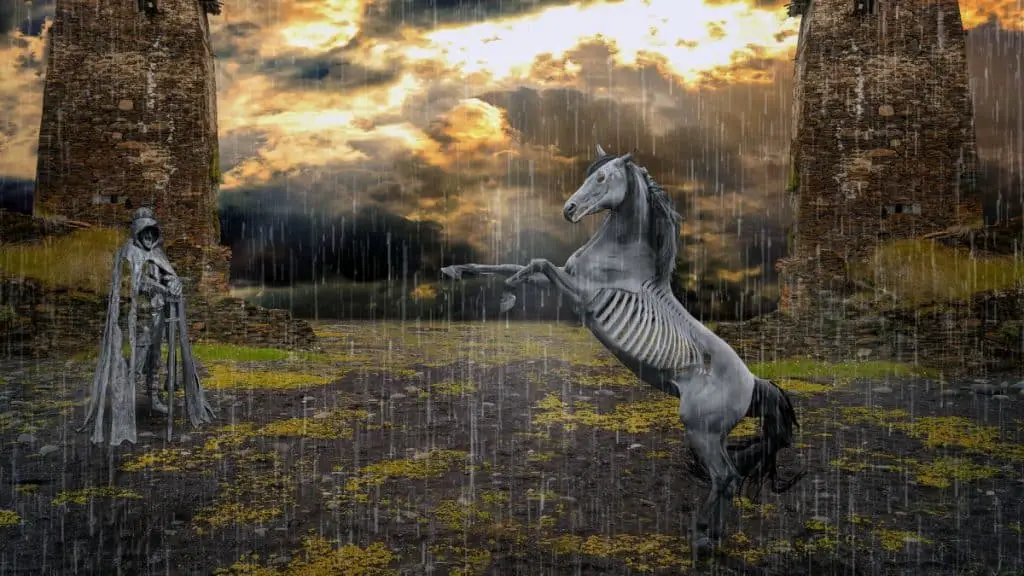 Good Skeleton Horse Names 
If you are interested in a name that is going to make a statement about skeleton horses like Lightning or Brainless, then look no further.
This list has everything from cliches like Bones all the way down to unique one-of-a-kind originals like Rewind! 
This list is made for skeleton riders who are interested in harnessing the ghostly, skeletal side of their new undead mob. 
Game Over 
Darkness 
Pepper 
Thunder 
Ghost 
Crystal 
Survivor 
Second Chance 
Stormy or Storm 
Rewind 
Ponyta 
Mr. / Mrs. / Nether Portable 
This Time for Real 
Dead or Death 
Star or Starry 
Ghost Rider 
Nightmare "Mare" 
Ghoul 
Corpse 
Fossil 
Lilith 
Back Again 
Midnight 
Jett 
Flash 
Fear the Walking Dead 
Rain or Rainy 
Take-Two 
Echo 
Bolt 
Opal 
Onyx 
Legend 
Starlight 
Striker 
Apples 
Spot 
Flashback 
Oreo 
Warlock / Witch 
Spellcaster 
Bones 
Devil 
Shadow 
Haunted 
Bedrock 
Stronger Now 
Lightning 
Jumper 
Diamond 
Female Skeleton Horse Names
The feminine spirit is soft, gentle, and endearing. If you are looking for a feminine name that gives you the butterflies (or gives you bats), you should check out this list of female skeleton horse names.  
Whether you are looking for a feminine name that contradicts your horse's grim appearance or one that complements its horrific vibe, this list gives fifty of the best female names for your skeleton horse.  
Mia 
Cleo 
Pepper 
Snowflake 
Mandy 
Honey 
Nina 
Lily 
Minnie 
Epona 
Lady 
Raven 
Mimi 
Tina 
Shelby 
Sadie 
Gum Drop 
Sage 
Stephanie 
Mary 
Oreo 
Daisy 
Trixie 
Vanessa 
Pretty 
Angel 
Dottie 
Apple Pie 
Xoe 
Kiki 
Coco 
Snowdrop 
Princess 
Sugar 
Amy 
Luna 
Carlie 
Olivia 
Ana 
Cloud or Cloudy 
Zoe 
Baby 
Empress 
Serenity 
Melody 
Gigi 
Bella 
Mercedes 
Cutie Pie 
Biscuit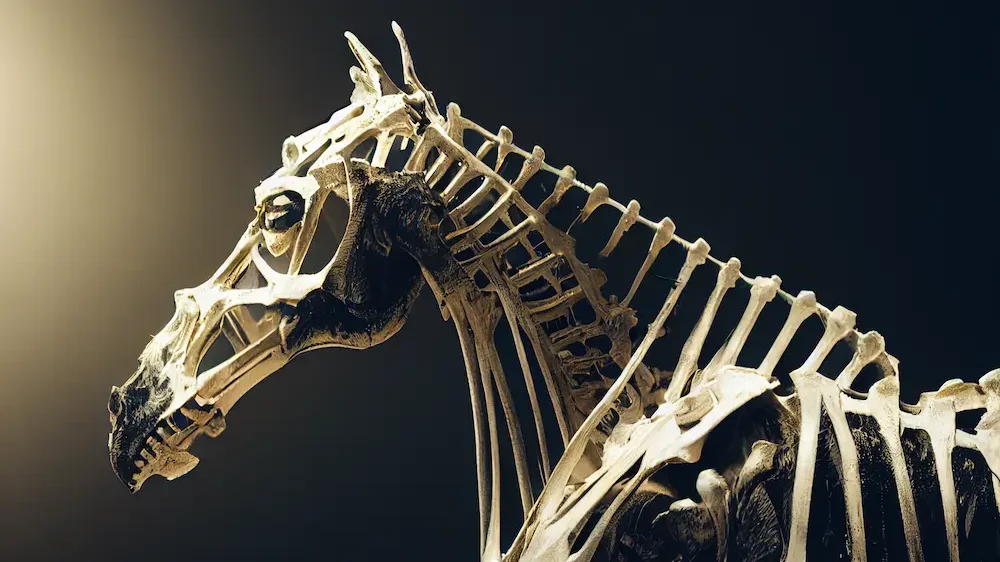 Male Skeleton Horse Names
If you are interested in letting your horse live up to his masculine destiny, then you should check out this list for some male skeleton horse name inspiration.
These names cover everything from Doug to King and everything in between. 
Promise 
Dakota 
Roman 
Henry 
Punk 
Teddy 
Mikey 
Chris 
Sargeant 
Bronco 
Emperor 
Skyler 
Maverick 
Charger 
Gerald 
Chance 
Hayden 
Baxter 
Rex 
Pete 
Valentine 
Joe 
Nightmare 
Lance 
Zed 
Hussein 
Shadow 
Flash 
Kent 
Avalanche 
Reaper 
Noland 
Dave 
Captain 
Nelson 
Ruffian 
Dame 
Lincoln 
Max 
King 
Patrick 
Stallion 
Twister 
Kody 
Steve 
Breach 
Ryder 
Hank 
Bolt 
Brent 
Famous Names Of Skeletons For Your Skeleton Horse
This list is full of famous, intriguing, and catchy names that you may or may not recognize.
Take for instance Jack Skellington from Nightmare Before Christmas or the famous white horse named Pegasus, aid to the God Hercules.  
If you are interested in naming your horse after someone or something famous, you should look at this list of famous skeletons and horse names. 
Skeleton in my Closet 
Bichon Man 
Secretariat 
Skeleton 
Haunter 
Bones 
Frosty 
Bonejangles 
Cowboy 
Arkle 
Ninja 
Grim 
Dracula 
Pancho 
Lucifer 
Vertebrae 
Nocturnal 
Scraps 
Ghost Rider 
Skeleton Key 
Red Rum 
Postie Pete 
Dakota 
Bullseye 
Pegasus 
Jack Skellington 
Dry Bones 
Plague 
Smitty Werbenjagermanjensen 
Xin Zhui 
Nocturne 
Punisher 
Exoskeleton 
Skull Trooper 
Uncle Hector 
Ghostface 
Mob 
Death 
Steve 
Skeletor 
Hercules 
Batman 
Halloween 
Wildfire 
Wight 
Brook 
King Tut 
Naia 
Cubone 
Pinhead
Horse Name Inspiration
Let your imagination run wild as you think of a horse name that reflects you!
If you are more cliché, you might want to look into famous names and names from horror movies. If you are more interested in traditional names, maybe it would make more sense to check out male and female alterations.  
You may want to use your horse themself as a source of inspiration. Getting to know your horse can offer powerful insight into its rightful name.  
If personality is not much of an interest for you, you should try to take into consideration some of your favorite things like your favorite hobbies, your favorite people, and even your favorite colors.
These are small places to start that can lead to much bigger ideas. 
Take these base ideas for instance to get you started to name your skeleton horse:  
Horror Movies 
Fictional Characters 
Role Models 
Family Members 
Favorite things 
With these things in consideration, you might have an easier time finding a name that you enjoy and are comfortable with! 
Help Choosing the Right Name
Choosing the right name can be a difficult and lengthy process. As you name your horse here are a few things you should take into consideration: 
Appearance 
Gender 
Experience Taming Them 
If you are still struggling to find the right name, it can be helpful to reach out to someone for help.
This might be a family member or a friend for advice who you ask for advice. Sometimes, a fellow player may also be able to offer helpful suggestions. 
Contact other players' Minecraft forums for friendly advice and check what names they have come up with. After all, there is no better place than the Minecraft community for advice about, well, Minecraft! 
Conclusion
Before choosing a name forever, you might want to observe your skeleton horse for a moment (if possible).
Always remember, there is a time limit for how long your horse can remain untamed before it will disappear. These horses will not automatically respawn, and you will be required to go through the whole process again.  
Taming a wild skeleton horse is a major accomplishment for any Minecraft player. An even larger accomplishment is finding the right name for your new mob.
It can be a difficult and lengthy process but once you land upon the right name, it makes your gaming experience that much better! 
Whether you are looking for a goofy name like Red Rum or something more serious and demented like Caroline, you will know once you find "the" name.
It is important you select a name you feel is deserving of your new horse and that reflects you as a person and your experience as a gamer.
If you're still looking for more inspiration, check out these awesome lists of horse names!
Related Post