The Criollo horse is a popular horse breed of the South American countries, particularly Argentina. The breed, developed from the imported Spanish horses, freely ran wild for over three centuries in Argentina until a serious breeding program began in the 1920s.
These horses are typically hardy, but selective breeding has resulted in refinement and style. These small horses stand 13 to 14.3 hands tall and are found in many colors.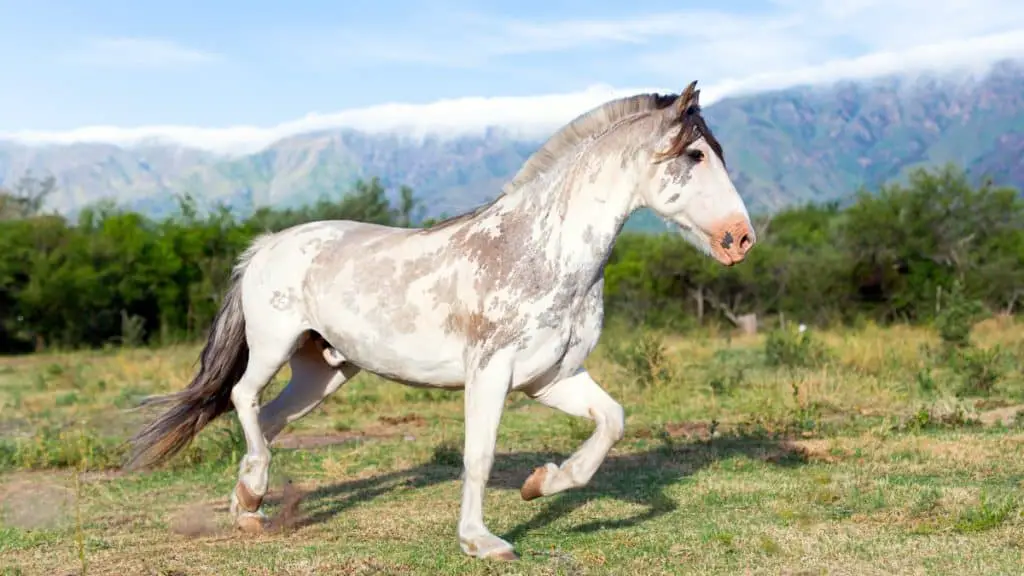 Native to Brazil, Uruguay, Argentina, and Paraguay, the Criollo breed is the perfect riding breed. These horses have astounding stamina and are resistant to many diseases. They are strong, tenacious, and independent. They are commonly used for general riding and for endurance rides. The Brazil Uruguay horses work with livestock and used as saddle horses too.
The Argentine Criollo, the horse brought from Spain is today one of the widely bred horses in South America. They are world-famous but rarely found outside the continent.
This article is for you if you are considering buying an Argentine Criollo horse. You can also read through if you are a horse lover and eager to learn about the Argentine breed.
History
During the 16th century, the purebred Stallions were brought to South America from Spain. In 1536, Pedro de Mendoza brought the first horses to the Pampas when he founded Buenos Aires but he had to leave soon due to pressure from the locals. The horses were on their own for centuries, and this is when they went to the wild and adapted to the harsh environment.
Over time, these horses learned to thrive and bred in the Argentine wild and adapted themselves to the extreme summers and winters. They became resistant and rugged. Eventually, these horses were adopted for transportation and hunting. The European settlers, Native Indians, and the Gauchos captured these horses and used them as pack animals.
The Sociedad Rural de Argentina, a group formed to preserve the Argentine horse located around 200 mares possessed by the Native Indians in the Sothern provinces. Popularly called the Argentinean, this herd slowly became the foundation for rehabilitating the old horse breed. These horses eventually became popular as the Argentine Criollo. The Brazil Uruguay horses are believed to be of the same ancestry.
During the 19th century, these wild horses were crossed with the North American horses and European Thoroughbred, resulting in a larger, multi-purpose breed. In 1923, the Argentine breeders created a registry for the Criollo horse and since then the number of these Spanish horses getting registered has been steadily increasing.
Today, this horse breed is one of the most popular in Argentina and you can come across a number of Criollo breeders, particularly in Buenos Aires.
Characteristics
These horses are hardy with a strong and brawny body. It has well-developed ribs and strong, sloping shoulders, and features a muscular neck and short legs.
These horses have hard feet, low-set hocks and are built with a good bone structure. The Criollo breed is sensible, intelligent, tractable, and willing.
The Criollo horses are found in black, brown, bay, chestnut, Palomino, blue, gray, and many more colors. The most popular one is the line-backed dun. They have a barb-like croup and come with zebra stripes on their legs. They have a thick mane and tail.
Since they have adapted to live in harsh conditions, they rarely fall sick. They can easily adapt to any weather condition. They have great stamina and can work hard even under extreme heat and severe cold conditions. These horses mostly thrive on grass and have a long lifespan.
The Criollo horses are known for their endurance and tirelessness while they can be great human companions too. Also called the Argentine Polo Pony, these Spanish horses are today widely used in rodeo competitions. They are fearless, loyal, and the most durable.
The Argentine Criollo horses are muscular but smaller than the other commonly found horse breeds. Today, they are mainly used in cattle farming and for pleasure riding. This horse breed is still very popular in Argentina. The Criollo breed is also quite fast, agile, and easy to handle.
Temperament
As mentioned earlier, this Spanish horse is highly independent. They are adapted to living in the wild however history has also proved that these horses can get along with humans. All you require is a little patience and basic knowledge about this breed to start a herd.
Care
This horse breed requires the least amount of care. They need a little grass, and that's all is needed for them to perform to their full potential. They are also healthy horses and not prone to commonly found horse illnesses.
Endurance
The Criollo horse is popular across the globe for its outstanding endurance. In 1925-1928, a person named A.F. Tschiffely rode two Criollos from Buenos Aires to New York covering a distance of over 10,000 miles. Both the horses remarkably completed the trip, surviving on little grass found along the road.  
Professor Tschiffely from Switzerland rode these horses alternatively and crossed some of the most varied and roughest terrain in the American continents. The horses, Mancha and Gato lived to be 40 and 36 respectively.
Louis Brunkhe, an American, and Vladimir Fissenko, a Russian together accomplished another cross-continental Criollo ride. They rode Sufridor, a Criollo horse from the Beagle Channel, Tierra del Fuego to Alaska. The trip lasted five years and it indeed was an incredible feat.
Every year, the Criollo Breeders Association holds an endurance ride or 'endurance test' to determine the stamina of the Purebred Criollo. The ride covers 465 miles and lasts 2 weeks, and needs to be completed in less than seventy-five hours. The horses should carry around 250 pounds of saddle and rider while the only food they are allowed is the grass found along the trail. This endurance ride is organized to identify good breeding stock.
These accomplishments prove that the Criollo breed possesses amazing stamina and strength. These cross-continental feats are no ordinary and we believe the Criollo horses are one of the rarest kinds of horses found in the world.
Breed Standard
The breed standard and rules in the various Criollo registries differ.
Size around 13-14 hands but Criollos between 13.3-14.3 hands are also acceptable
The conformation needs to be harmonious
The head needs to be short and powerful, with a sub convex profile, unhooked medium to long ears and a broad forehead
Compact build, good muscle but not very heavy
Broad chest, sloping shoulder
Medium to long arched neck that is perfectly set on the shoulders
Tail should hang loosely. It should not be carried high even when excited.
Deep and wide barrel
Strong and short cannon bones, legs with little hair and not fleshy
Hard and medium-sized hooves, fairly steep and preferably black
Well-developed joints 
Brave and lively disposition
Elastic and agile movements, lateral gaits not present (normally)
Rich mane and tail
Pronounced withers that reach into the broad back
These are common breed standards that are widely accepted. There may be, however, some variations in some places. The ideal criollo height is defined differently but all registries agree to the common standard mentioned above.
Interesting Facts
They are found in several attractive colors, but the most favored choice is the line-backed dun.
In 1972, 'Azteca', a new breed of horses, was developed in Mexico. This was a mix of the Mexican Criollo, American Quarter horse, and Andalusian bloodlines.
The endurance ride in Argentina is the most popular of all the endurance tests. It covers 750 km in 15 days.
The Criollo breed has contributed to the famous Polo Ponies.
The two Criollos, Gato and Mancha who rode between Buenos Aires and New York reached 19,250 feet at one point during their journey. They rode 93 miles in the Ecuador desert bearing 120-degree heat, without drinking water!
Criollo means 'Spanish origin'.
These are wild horses but can adapt to humans quickly. They are also good for casual riding.
Is The Argentine Criollo For Beginners?
As discussed earlier, the criollo breed is adaptable and easy to handle. You can take home an Argentine Criollo if you have some knowledge about the breed. Of course, you need to have patience until the horse learns about you and your family!
Argentine Criollo Price
Like all other horses, the prices of Criollos too vary depending upon their age, health, and accomplishments. Typically, the price starts at $2000 and can go up to $12000. The horse can be even expensive if it has created records.
If you are going to buy an Argentine Criollo, you don't need to worry about visiting the vet often. The horse needs very little care. The diet is also simple, so it is actually a rare breed, something which is hard to find.
There's a whole world of horse breeds out there to explore! Discover and find out more information by checking out our horse breed guides.