Choosing a name for your horse can be challenging. It is helpful to consider the appearance and personality of your horse when picking a name.
This list of racehorse names features great options for both male and female horses. You'll find famous names as well as more common horse names.
Best Racehorse Names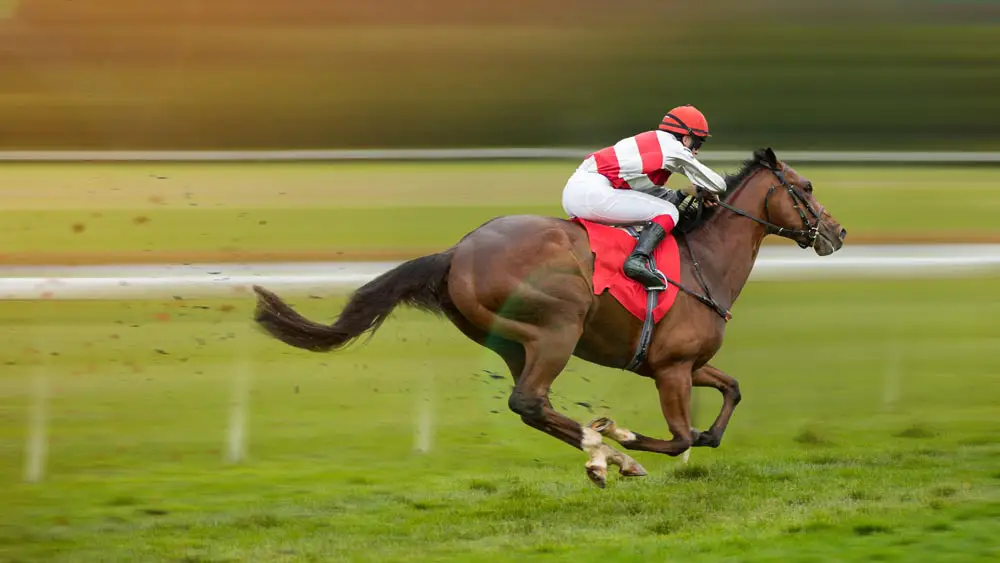 To get you started, here's a list of 50 of the best racehorse names:
Astrid – God's strength
Alejandro – Defender of the people
Ziyan – Arabic for elegance
Eight Thirty
Elham – Arabic for inspiring
Easy Goer
Audrey – Noble strength
Swoon's Son
Gabriella – God is my strength
Ancient Title
Duke of Magenta
Point Given
Ghostzapper
Josephine – God will increase
Antoinette
Planet
Open Mind
Tooba – Arabic for good news
Excellor
Best Pal
Santiago
Go For Wand
Shadow
Holy Bull
Beatrice – Bringer of joy
Pisces
Maskette
John Henry
Paradise
Aquarius
Sun Beau
Claude
Precisionist
Lucky
Needles
Aazeen – Arabic for beauty
Manila
Slew o' Gold
Authentic – 2020 Kentucky Derby winner
Lonesome Glory
Flawlessly
Skip Away
Hill Prince
Arts and Letters
Jacques
Bowl of Flowers
Black Gold
Valentine
Mom's Command
Amir – Arabic for prince
Female Race Horse Names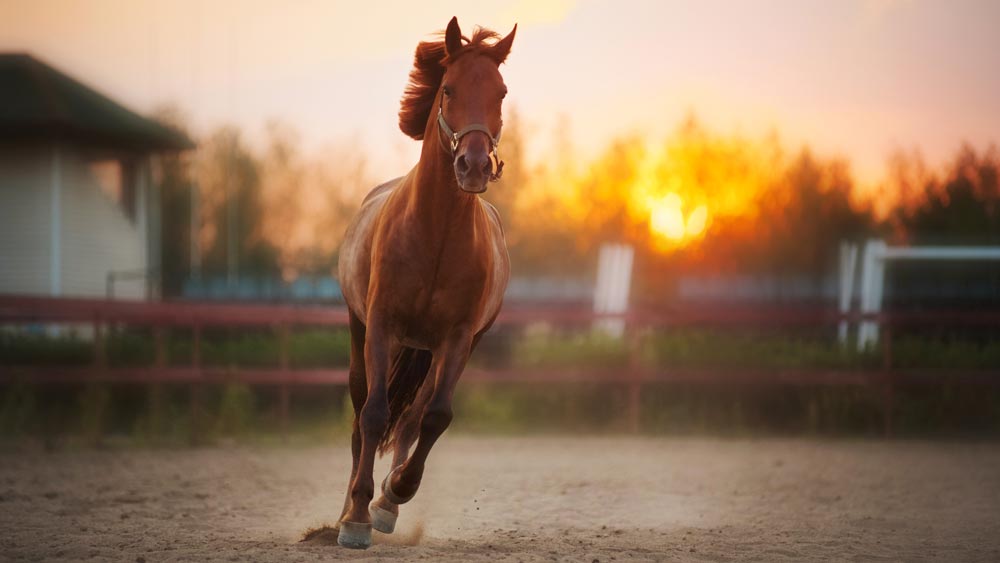 There are plenty of beautiful names for female horse names.
This list of 151 names has something to suit every color and breed!
Summer
Phoebe – Bright, shining
Butterscotch
Cheyenne
Gwendolen
Abbey
Sabiha -Turkish for beautiful
Empress
Nutmeg
Debutante
Whinnie
Sunny
Snowball
Sugarfoot
Cinnamon
Legacy
Gemini
Tigerlily
Athena – Goddess of wisdom and war
Black Rose
Genevieve
Molly O'Malley
Isabelle – God is my oath
Zoe – Life
Carolina – Free, beautiful
Eleanor
Lady
Calypso
Pocahontas
Dancer
Rosette
Wildfire
Holiday
Coco
Henrietta
Big Red
Larasati – Indonesian for strong
Emmeline
Wisteria
Thumper
Mona – Desire, wish
Blossom
Jara – Slavic for fierce
Sadie – Princess
Meja – Swedish for strength
Kennedy
Moondance
Up and Away
Stormy
Ladybug
Pearl
Molly – Of the sea
Gaia – Greek for Earth
Angel
Jasper
Bellatrix – Latin for beautiful
Juno – Goddess of love
Patches
Treasure
Buttons
Avalon
Meadow
Minerva
Hazel
Neptune
Sky
Amber
Whisper
Lightning
Venus
Skydancer
Diana – Greek for divine
Piper
Ginger
Bonney
Cassiopeia
Brandy
Honey
Stella – Latin for star
Dakota
Azure – Latin for blue-ish color
Onyx
Grace
Nova
Bella – Italian for beautiful
Peanut
Ellie
Victory
Clover
Sydney
Luna – Italian for the moon
Duchess
Fancy
Dreamer
Shakti – Hindu for powerful
Black Betty
Blue
Willow
Rosie
Artemis – Goddess of the hunt
Serendipity
River
Chantilly Lace
Queen
Ruby
Gemma – Italian for precious stone
Ceres
Annie – Gracious, merciful
Maggie May
Aphrodite – Goddess of love and beauty
Raven
Valencia – Strength, vigor
Oakley
Diamond
Rain
Sunshine
Vesta – Goddess of the hearth
Dixie
Belinda – Spanish for beautiful
Magnolia
Trixie – Bringer of joy
Lily Rose
Goodness Gracious
Annabelle – Beautiful, gracious
Penny
Poppy
Ebony
Scarlet
Jaiyana – Arabic for strength
Blondie
Velvet
Potentia – Swedish for light and power
Spirit
Glory
Strawberry
Phoenix – Rising from the ashes
Andromeda 
Champagne
Sugar
Belisama – Queen of Heaven
Daisy
Hayley
Black Diamond
Aries
Jewel
Belle – French for beautiful
Nimerah – Arabic for power and strength
Sunrise
Matilda – Strength in battle
Sassy
Fleeting Spirit – 2009 July Cup Winner
Good Male Race Horse Names
This list features 153 name ideas for your male horse!
Choose a name that speaks to your horse's attributes and character.
Ulysses
Winston
Moonshine
Atlas
Chancellor
Poncho
Sidekick
Little Joe
Diego
Champ
Sullivan – Irish for dark-eyed
Vulcan
Gideon – Hebrew for woodsman
Hampton
Anderson
Autumn
Bentley
Beast
Duke
Bronco
Barkley
Eclipse
Legend
Sebastian – Greek for venerable
Beethoven
Holden
Fargo – Spanish for from the fenced pasture
Flash
Silver
Maximus – Latin for greatest
Billy
Angus – Scottish for one strength
Monarch
Dominator
Thunder
Orion
Mercury
Poseidon – God of the sea
Midnight
Chaucer
Thor – God of war
Rebel
Samson
Captain
Hamlet
Sinatra
Challenger
Boone
Hurricane Fly
Cash
Ace
Duster
Tiznow – 2000 American Horse of the Year
Dallas
Biscuits
Bandit
Tucker Lee
Atlantis
Kentucky
Buster
Versailles
Dover
Jet
Outlaw
Kodiak
Payday
Quest
Kelso
Caesar
Full Tilt
Blazer
Magic
Whiskey
Goliath
Zodiac
Draco – Dragon
Dark Prince
Scorpio
Champion
Emperor
Greyson
Trotsky
Garfield
Jupiter
Cherokee
Baron
Star
Cleveland
Dusty
Cloud
Barnaby
Pistol
Applejack
Pepper
Cobalt
Churchill
Scout
Montana
Zeus – God of the sky
Hero
Pluto
Charlie
Domino
Avenger
Dandy
Tornado
Blaze
Apollo
Blackjack
Rocket
Comet
Kaiser
Hades – God of the underworld
Ranger
Ricochet
Dasher
Charger
Calvin
Warrior
Winchester
Liberty
Emerson
Chief
Beretta
Buddy
Tank
Remington
Napoleon
Hercules – Son of Zeus
Forest
Kid
Greased Lightning
Dionysus – God of fertility
Oreo
Horseshoe
Major
King
Dash
Romeo
Chance
Sundance
Chester
Da Vinci
Buck
Bolt
Jackson
Galileo
Dickinson
Diesel
Gambler
Flying Fox – 1899 Triple Crown winner
Bofa Deez Nuts
Ocean Park
Famous Racehorse Names
Consider drawing your inspiration from this list of famous racehorses.
Some of these are names of horses who have been inducted into the National Museum of Racing and Hall of Fame. 
100 Male Ideas
Here are some male names from horse racing history:
Cigar
Kincsem
Singspiel
Animal Kingdom
Billy Kelly
Goldencents
Spectacular Bid
Street Cry
Hurricane Run
Preakness
Arcadian Heights
Invasor
Thunder Gulch
Mucho Macho Man
California Chrome
Le Pacha
Captain Steve
Sunday Silence
Order of St George
Barbaro
Minella Indo – Winner of the Cheltenham Gold Cup in 2021
Lava Man
Master Charlie
African Story
Gloria de Campeao
Longfellow
Phar Lap
Dubai Millennium
Golden Pal
Secretariat
Curlin
Sea the Stars
Moon Ballad
Midnight Lute
Strike the Gold
Royal Rebel
Aristides – First horse to win the Kentucky Derby
War Admiral – 1937 Horse of the Year
Real Quiet
Stormy Liberal
Essential Quality – Winner of the 2021 Belmont Stakes
Helissio
Man o' War – One of the best racehorses of the 20th century
Hambletonian 10
Behave Yourself
Niatross
Big Orange
Roses in May
Colour Vision
Pleasantly Perfect
Rite of Passage
Vo Rouge
Sea Hero
Leading Light
Prince Bishop
Northern Dancer
High Chaparral
Drum Taps
Vaguely Noble
Pink Star
Dark Star
Cavalcade
Ajax
Classic Cliche
Housebuster
Dancing Brave
Well Armed
Justify – Won the Triple Crown in 2018
Good Night Shirt
Middleground
Clifford
Mine That Bird
Nyquist
Seattle Slew
Thunder Snow
Conduit
Double Trigger
Nearco
Whiskery
Ballymoss
Workforce
Tom Ochiltree
Fort Marcy
Carnegie
Dylan Thomas
Peter Pan
Medina Spirit
Majestic Prince
Silver Charm
Crisp
Omar Khayyam
Wise Dan
American Pharoah
Harry Bassett
Mr Dinos
Victoire Pisa
Trip To Paris
Tom Bowling
100 Female Ideas
Here are some female names from horse racing history:
Dearly Precious
Beholder
Enable
Zenyatta
Summer Guest
Waya
Weekend Surprise
Straight Deal
Unique Bella
Urban Sea
Forever Together
Susan's Girl
Dahlia
Winx
Late Bloomer
Close Hatches
Personal Ensign
Top Flight
Inside Information
Coup de Folie
Regret
Allez France
Winning Colors
Urban Sea
Safely Kept
Princess Doreen
Hollywood Wildcat
Coronation
Storm Flag Flying
What A Summer
Glorious Song – Hall of Fame thoroughbred racehorse
Goldikova
Heavenly Prize
Solemia
Black Caviar
Royal Heroine
Rushing Fall
Miss Woodford
Lamb Chop
Desert Vixen
Bold N Determined
Mariah's Storm
Azeri
Found
Bed O' Roses
South Ocean
La Zanzara
Lady Eli
Ta Wee
Track Robbery
Pretty Polly
Princess Rooney
Ruffian
Tanya
Silver Spoon
Monomoy Girl
Two Lea
Runaway Bride
Lady Aurelia
Turkish Trousers
Crown Queen
Dark Mirage
Princess of Sylmar
Malibu Pier
Royal Delta
Makybe Diva
All Along
Songbird
Twilight Tear
Groupie Doll
Real Delight
Danedream
Genuine Risk
Ruthless
Mizdirection
Eight Belles
Country Romance
Stellar Wind
My Juliet
Serena's Song
Square Angel
Rags to Riches – First filly to win Belmont Stakes in over 100 years
Sky Beauty
Blitey
Ouija Board
Xtra Heat
Blind Luck
Midnight Bisou
Beautiful Pleasure
Miss Temple City
Rachel Alexandra
Black Helen
Pearl Cap
Dance Smartly
Poker Night
Firenze
Lady's Secret
Sharp Cat
Rare Treat
Ashado
Names From Grand National Race Horses
The Grand National horse race takes place in Liverpool, England. This list contains the names of Grand National winners:
The Colonel
Sir William
Charity
Wild Man From Borneo
Red Rum
Casse Tete
West Tip
Music Hall
Vermouth
Little Charley
Half Caste
Sergeant Murphy
Rhyme 'n' Reason
The Liberator
Miss Mowbray
Vanguard
Well To Do
Father O'Flynn
Pineau De Re
Ally Sloper
Cure-All
Come Away
The Soarer
Old Joe
Why Not
Shannon Lass
Red Alligator
Rule The World
Ballymacad
The Duke
Tipperary Tim
Comply or Die
The Huntsman
Ascetic's Silver
Tiger Roll
One For Arthur
Shaun Spadah
Master Robert
Lottery
Maori Venture
Highland Wedding
Jack Horner
Don't Push It
Poethlyn
Peter Simple
Double Chance
The Lamb
Last Suspect
Jerry
Gaylad
Pet Name Inspiration
Picking a racehorse name for your horse can be a tough task! Luckily there are loads of famous racehorses to help inspire you.
You might choose your name based on a famous horse who has had hundreds of career starts. Or you can look at winners of various stakes races around the world.
Tip: Try searching for past winners such as "Triple Crown race winners" or "Kentucky Derby race winners" on Google and think about which name most suits your horse or which you like the most.
Help Choosing The Right Name
When deciding on a name, it can be helpful to look at resources that can inspire and guide you.
The American Quarter Horse Hall of Fame features profiles of famous horses that might spark an idea for a name.
If you'll be racing your horse, remember that the Jockey Club has rules on what thoroughbred racehorses can be named. This includes not using terms such as second or third, and not using vulgar or obscene words. 
FAQs On Racehorses
How Are Race Horses Named?
Racehorses may be named to reflect their lineage on either the mother or father's side. The name may also be chosen as a reflection of the horse's personality or appearance.
Once they are two years old, a racehorse must have a name. Their names must follow the rules set forth by the Jockey Club.
Why Are Race Horse Names So Strange?
The names of racehorses may seem weird and this is partly due to the sheer number of racehorses. With so many horses competing in races, it is difficult to come up with names that haven't been used before.
Racehorse names must adhere to certain guidelines. This includes strict rules, for example, a name must not be longer than 18 characters.
Can You Rename a Race Horse?
You can change the name of a racehorse, however, you will need to pay a fee. The new name must also be approved by the Jockey Club.
What Should I Name My Race Horse?
Try to choose a name that fits well with your horse's physical characteristics as well as its temperament. Spend some time thinking about it before you commit to a particular name.
Can Two Race Horses Have The Same Name?
A racehorse cannot have the same name as another horse that is currently racing. Additionally, the names of some famous horses are protected and cannot be used at all.
Conclusion
There's a lot to consider when it comes to choosing a name for your racehorse. Taking the time to review the guidelines is the most important factor when picking a name.
If you're still looking for more inspiration, check out these awesome lists of horse names!
Related Posts