Americans are perpetually in love with the gorgeous Appaloosa horse, irrespective of being horse lovers, ranchers, Native Americans, or cowboys. The Nez Perce Indians bread these horses originally. The American horse is distinctly identified by its stunning spotted coat.
The American breed is easy to train, hardworking, and gentle making it a preferred breed among horse owners. In North America, these horses are utilized for activities such as mounted athletics, general riding, dressage, racing, and farm work among others.
Searching for Appaloosa horse names can be both exciting and great fun. These native American horses are known for their special legacy which makes it particularly more exciting when knowing about the history of their origins. One should also consider the horse's lineage carefully while choosing Appaloosa names. For instance, naming the horse after its grandparents or parents is a traditional way of choosing a name.
You may also consider the horse's appearance, its role in life, personal preference, or gender while selecting a name. It makes sense to choose a name, which is simple to pronounce, fits the personality of the horse, and are fun.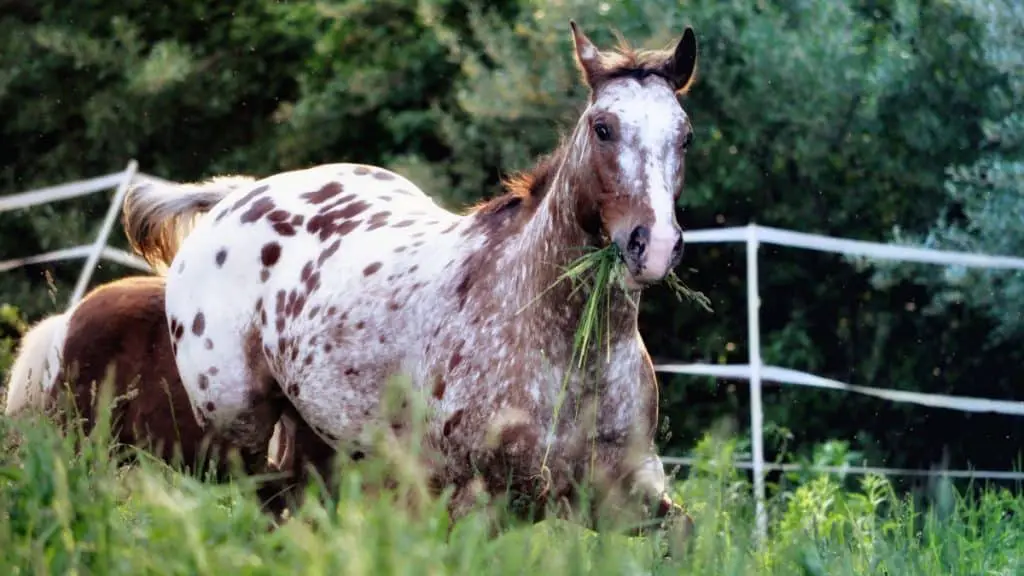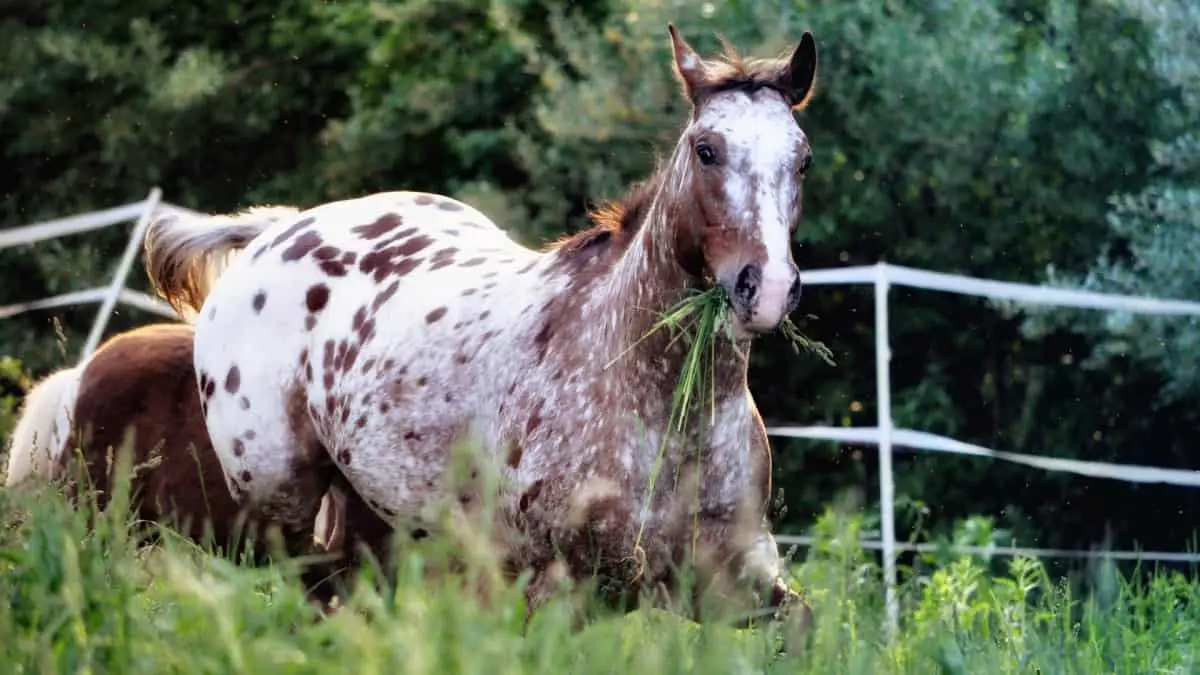 Male Appaloosa Horse Names 
These horses are preferred for their lovely coloring, tenacity for hard work, rich legacy, and adorable spirit. The Nez Perce Indians loved these horses and used them to hunt, travel, and promote tribal health. There was a time when North America boasted the biggest herd of this horse breed. 
These horses became popular after they featured in different films and moviegoers were completely smitten by them. A good name for a male Appaloosa horse should be fun but noble.
Check out some of these names below:
X Marks the Spot
Rear Admiral
Phobos
Johnny on the Spot
Pablo
Ricardo
Carlos
Hindsight
Dots and Dashes
Donato
Paco
Raymon
Haleb
Leonel
Monte
Hot Spot
Teo
Indian Summer
Top Dollar
Teodor
Constellation
Jester
Adonis
Oliverio
Freckles
Spot-o-Rama
Starsky
Orlando
Jamaal
German
Splatter Back
Tartarus
Montae
Lakota
Benny
Indian Blanket
Ayaan
Freedom Fire
Galaxy Cruiser
Jokers Wild
Confetti King
Samman
Zahir
Justino
See more amazing male horse names here.
Female Appaloosa Horse Names
Here are some of the female names of this beloved American breed:
Monica
Emerald
Tia
Paloma
Patricia
Molly
Tierra
Liberia
Cyntia
Earlena
Vanesa
Alegria
Jasmeen
Pia
Ayesha
Nina
Celestina
Estella
Ashley
Iris
Simona
Aleece
Whiskey
Angela
Carola
See more beautiful female horse names here.
Famous Appaloosa Horse Names
These quarter horses have inspired several well-known Appaloosa names. Following are some of the most famous names:
Sprinkle Bars
Hayes Roman Cloud
Arfamous
Clouds Legend
Triple Chick
Hayes Dakota Cloud
Radio Rome
Clouds Fame
Arbright
Ambright
Top Decker
Copper Echos
Triple Chick
Torched
Radio Time
Roman
Everett's Fame
Chicago V
Three Bars
Dakota Sands
Show Names For Appaloosa Horses
Following are some of the famous Appaloosa horse names after horse shows:
Smooth Sailing
In My Pocket
Into The Night
Into The Sunset
Into The Mist
Flying High
The Sandstorm
Leap Of Faith
Good Names For Appaloosa Horses
Here are some good names for your Appaloosa horse:
Star Power
Spot Price
Dotted My Eyes
Polka Dot Prince
Fancy Pants
Spangled Glamour
Celestial Collision
Cozy Blanket
Big Bang Theory
Spotlight Diva
Spagladesh
Dotstream
Dotted Dream
Spotopia
Velvet Blanket
Dotted Rest
Blanket Immunity
Big Bang Theory
Confetti Confection
Spot Goes Hollywood
Spotsylvania
My Electric Blanket
Sweet Dotted Swiss
Spot Test
Polka Dot Party
Solar Spots
Splatter Painted
Beach Blanket Baby
Great Red Spot
Spotted Speeder
Count Hot Spot
Security Blanket
When Stars Collide
Star-Spangled Banner
Spotorama
Bubbles
Spotted Eagle
Harlequin Romance
Dotted Note
Connect The Dots
Spot Race
Spot Market
Back Splatter
Satin Blanket
Spot On
In The Spotlight
Blanket Hog
Spot Check
Fanny
Baby Blanket
Indian Appaloosa Horse Names
Check out these Indian names for Appaloosa horses below:
Montae
Donato
Teo
Teodor
Haleb
Samman
Pablo
Leonel
Ricardo
Carlos
Tartarus
Phobos
Ayaan
Oliverio
Justino
Adonis
Zahir
Orlondo
Benny
Raymon
Badger
German
Jamaal
Monte
Paco
Native American Appaloosa Horse Names
Native American names are not the usual names that we see in our ponies and horses.
Here are some of them listed below:
Isha
Ahone
Kame
Keri
Raweno
Tamuchi
Wakanda
Kujuri
Jamul
Kipitaki
Menilly
Shiok
Raven
Whiskey-Jack
Silver Fox
Windigo
Stonecoat
Kolowa
Uktena
Asin'
Manetowa
Chenoo
Caddaja
Pomola
Culloo
Sasquatch
Thunderbird
Canotina
Stoneclad
Nianthaw
Coyote
Wanderer
Sibu
Azeban
Wisaka
Crazy Jack
Bluejay
Mink
Napi
(Trickster) Rabbit
Horse Name Inspiration
If you want an elegant and strong horse name, you can get inspired by these words, which mean king in different languages. These names sound regal and are also perfect for your male Appaloosa horse. 
Kral 
Errege
Roi
Regem
Boqor
Help Choosing The Right Name
You may look into ancient Norse, Indian, and Greek religions if you want good names for your Appaloosa horse. Go to any search engine and type in the words "mythological goddess and god names." You may also go to Wikipedia and look for a list of deities. 
You can look to ancient Greek, Indian, and Norse religions for horse names. Just search Google for mythological god and goddess names or search up Wikipedia's. We have even created a list of mythical horse names which you can check out too.
Conclusion
No matter what name you select for these mottled skin horses, it will reflect the kind of relationship you share with them and their spirit. Irrespective of why you have decided to keep the horse, this gentle spirit will keep you company. You only have to be good to him, and he/she will reciprocate the same behavior towards you.
If you're still looking for more inspiration, check out these awesome lists of horse names!
Related Posts