Named for the beautiful, sprawling British countryside, Shire Horses are large, strong draught horses. They have beautiful, feathered legs and are known for their immense work ethic and pulling power.
Shire Horses range from 1,800 to 2,400 pounds and can stand up to 18 hands tall.
 It is even rumored that the Shire Horse is a descendent of the British war horses used in battles long ago.
If you are a new owner of one of these huge, proud horses, you might be wondering about what you should name such a unique animal. Shire Horse names might not come easy to everyone.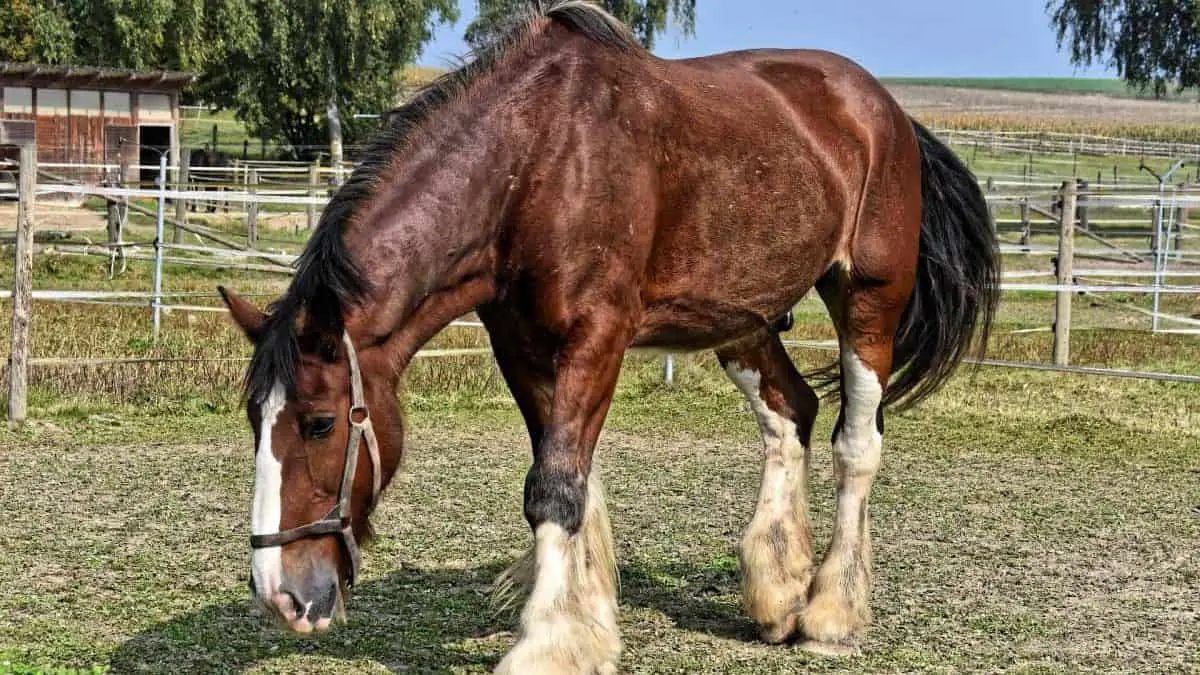 Below we have a comprehensive list of names for your Shire horse, based on color and gender. Hopefully, we can help you pick the perfect name!
Male Shire Horse Names
If your new Shire horse is a male, you may want to name him something regal or royal. Or maybe he has a silly personality and you are looking for something fun to name him.
Here is a list of 50 male Shire names to fit any horse.
Kojak
Sentinel
Major
Courage
Brutus
Vladimir
Fang
Blackjack
Dutch
Phillip
Ulysses
Crusher
Hades
Nitro
Napoleon
Kong
General
Viking
Duke
Harley
Remington
Rocky
Zeus
Kane
Rock
Kingsley
Goliath
Alistair
Justice
Caeser
Frodo
Magnum
Aries
Hawk
Apollo
Sargent
Griffin
Gandalf
Onyx
Kodiak
Roman
Alexander
Aragorn
Conan
Gunner
Arthur
Samwise
Jupiter
Augustus
Venom
Female Shire Horse Names
If your new Shire Horse is a beautiful lady who is deserving of an equally beautiful name, you want to be certain to choose the right one.
Whether you are naming her based on her coloring, or how she holds herself, our 50 best female Shire names are sure to help get you started.
Pandora
Rumour
Winnie
Flicker
Queenie
Luna
Gravity
Lady
Arwen
Dandelion
Grace
Ginger
Belle
Scarlett
Dreamie
Dancer
Sandie
Empress
Jasmine
Dreamer
Miracle
Garnet
Persephone
Ruby
Beauty
Goldy
Epona
Galaxy
Cookie
Elanor
Cherry
Posey
Calliope
Ruma
Layla
Truffle
Star light
Summer
Whisper
Sadie
Lucious
Luna
Skye
Eva
Wish
Champagne
Bluebelle
Hope
Honey
Missy
Famous Shire Horse Names
Maybe you know your Shire Horse is destined to be a star, whether they be the darling of the big screen or just the number one horse at the stable.
You know your great horse is destined for fame of some sort, so why not get them started out on the right hoof with a famous horse name?
Angus
The Phantom
Khan
Lucky
Stayer
Cloud
Cadoc
Secretariat
Sea Star
Cincinnati
Gulliver
Samson
Shadowfax
Roach
Florian
Silver
Flicka
Ferd
Seabiscuit
Smiler
Man o' War
Highboy
Kelso
Castor
Rocinante
Cisco
Tornac
Thunderhead
Red Rum
Argo
Comanche
Stardust
Stepper
Rival
Misty
Bill
Fury
Flash
Native Dancer
Maximus
Seattle Slew
Citation
Sham
Arion
Hippocampus
Pegasus
Kelpie
Glad
Embarr
Tulpar
Names For Black Shire Horses
If your Shire Horse is black as the night, he is going to need a name just as deep and mysterious as he is. No normal name will do for this ebony stallion, he is going to need something extra special from our list of 50 names for black shire horses.
Onyx
Shady
Shadow
Caviar
Slate
Shady Lady
Noir
Raven
Nero
Char
Kohl
Cinderella
Morticia
Stormy
Sauron
Panther
Salem
Musta
Pepper
Nocturne
Vanta
Nightshade
Voodoo
Crow Feather
Blackberry
Midnight
Panda
Vader
Svart
Oreo
Volcano
Blackfoot
Fekete
Sheen
Melns
Kylo
Chicory
Sable
Smokey
Dorcha
Iswed
Crowley
Soot
Dracula
Dubh
Scuru
Myrkur
Nebula
Twilight
Ravenclaw
Names For White Shire Horses
If your new Shire Horse is as pure white as the clouds above, only an angelic name will do.
Our list of the 50 best names for white shire horses is a great place to begin when searching for the perfect moniker for your pristine white steed.
Icicle
Vanilla
Olaf
Ghost
Crest
Powder
Waxen
Silvery
Fondant
Crema
Charmed
Opal
White Star
Pearly
Beluga
Frost
Abracadabra
Alabaster
Ghostly
Albina
Snow White
Avalance
Ivory
Lunar
Azrael
Milk
Santa
Sandy
Crescent
Sabrina
Coconut
Bones
White Diamond
Blanche
Fair
Binx
Beluga
Alaska
Pearlescent
Lightness
Sugar
Snowy
Jack Frost
Glacier
Blanco
Illuminate
Purity
Archangel
Snowy Owl
Brilliance
Names For Dark Bay Shire Horses
A dark bay Shire Horse makes a statement anywhere he goes with his beautiful brown coat shining in the sun. Such a lovely creature deserves a name that stands up to the beauty of his coat.
Here are 50 unique names for your dark bay shire horse. 
Chesnut
Butternut
Sable
Golden
Chewbacca
Terra
Leather
Toffee
Mocha
Sandy
Chocolate
Macchiato
Russet
Umber
Coffee
Nutella
Tigereye
Buff
Snickerdoodle
Bronze
Cinnamon
Henna
Kahlua
Beaver
Khaki
Bear
Mahogany
Sepia
Hershey
Brown Sugar
Brownie
Nutmeg
Grizzly
Clay
Oak
Earth
Peanut Butter
Rusty
Olive
Godiva
Cocoa
Caramel
Copper
Taupe
Cappuccino
Toast
Sienna
Tawny
Topaz
Biscotti
Horse Name Inspiration
Like any beloved pet, you want to make sure that your Shire Horse has the perfect, most fitting name. Horses become like family, and you don't want to saddle, no pun intended, your new family member with a name that doesn't fit them.
For inspiration, look into things that are meaningful to you. Something like the name of a favorite book character can be the ideal name for your Shire Horse. Say that you love The Lord of The Rings, and you want your horse to have a heroic name just like the protagonists. Legolas the Shire Horse really has a nice ring to it, doesn't it?
Alternatively, you could find inspiration in things like ancient Greek mythology. The ancient Greek gods were all-powerful, and very interesting characters to boot. If you have a female Shire Horse that has a warriors spirit, Artemis might be the perfect name for her. 
Help Choosing The Right Name
Even with the proper inspiration, it can be difficult to settle on a name. There are so many to choose from, and a name is permanent!
Take a look at a book of baby names. There is nothing that says that a Shire Horse can't have a human name!
Random name generators are also fun ways to find new names you would have never thought of before. Some name generators let you choose what region the names originate from, so you can find some incredibly unique and special names that none of your neighbor's horses are going to share.
Conclusion
The Shire Horse is a special horse breed. They demand attention with their striking forms, and as an owner you want their names to be just as show-stopping as their looks.
A great horse name takes time and consideration, but our list of horse names should help give you a great jumping-off point. A name from our list is certain to do your Shire Horse justice and be a moniker you can be proud of.
If you're still looking for more inspiration, check out these awesome lists of horse names!
Related Posts