If you're looking for some of the coolest or perfect gray horse names, then this guide is for you! It doesn't matter if you have a dapple gray mare gelding or stallion; we've got the perfect name for your horse! 
Being a horse owner is more than just about loving horses; it's about connecting with your companion that only people who share your interests will understand. 
There are many horse breeds you can choose from, but when picking out the perfect name for your dapple gray horse – only you will know what will fit your horse's character. 
Below you will find many categories to choose from, including ones for both the female gray horse and also a male horse. 
Let's dig in!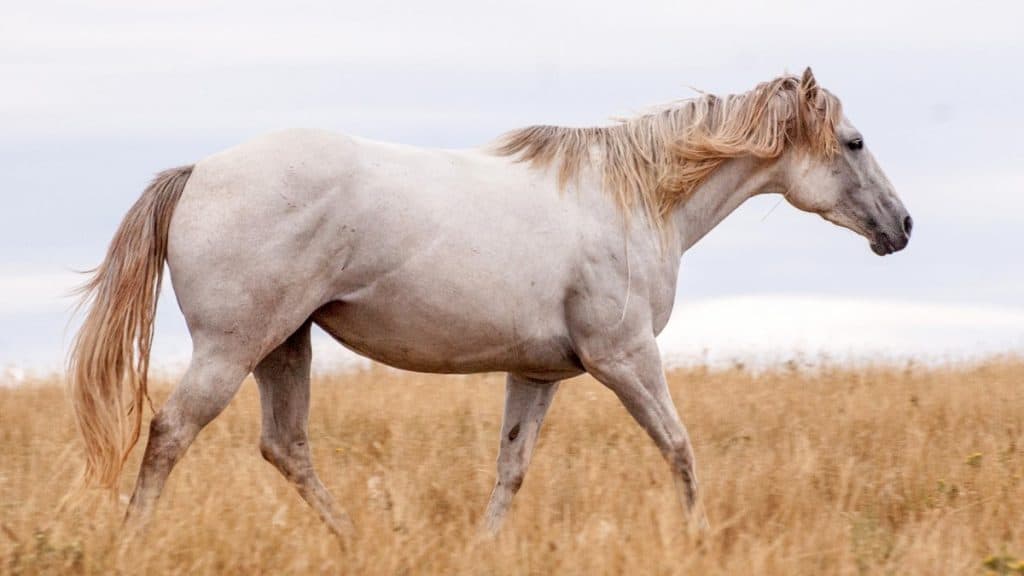 Good Names For Gray Horses 
There are so many unique names for gray horses, and we wanted to give you the most options for choosing your companion's name. Below you will find cute names, fun ones, and even dominant names that fit your horse's personality. 
Go ahead, try a few on for size and see how they feel! 
Amile
Hurricane
Storm
Ramadi
Ruby
Oscar
Glacier
Dakota
Pepper
Omega
Philadelphia
Fantasy
Shutter fly
Rocco
Casper
Angel
Mystic
Zodiac
Andorra
Sky
King George
Platnum
Mercury
Gringo
Lottie
Pearl
Sterling
Bess
Princess
Meteor
Spirit
Joy
Amarillo
Iron
Bacio
John Deer
Lights
Blue Ice
Sylvester
Bleu Legend
Sparky
Baloo
Tino
Jagger
Cloud Walker
Maxon
Rain
Cleo
Bijou
Marvel
Dapple Dan
Shadow
Tornado
Starlet
Hatchie
Kara
Solo
Bluebell
Moonlight
Alaska
Revenant
Poe
Rembrandt
China
Koz
Mouse
Sky Hawk
Snowstorm
Jingles
Goldie
Stone
Pele
Shorty
Rebel
Ari
Radar
Ratatouille
Queen
Euphoria
Snow White
Polar
Guyana
Ash
Dobi
Lightning
Speedy
Moe
Foxy
Oliver Twist
Spirit
Lucky
Spartacus
Badger
Scarlet
London
Abracadabra
Phantom
Tahiti
Frou
Cajun
Boo
Nimbus
Theo
Paz
Lunar
Icy
Blue Beauty
Knight
Crystal
Mantilla
Pilot
Dazzler
Shamrock
Rondo
Thunder
Sam
Luna
Houston
Spot
Tonka
Legendary
Rock
Wild Eyes
Rafiki
Monte Carlo
Eric
Gerd
Liberty
Grisonnant
Rudolph
Bella
Jack
Silvermane
Polly
Clover
Cleo
Matrix
Avalanche
Sky
Shiny Spurs
Boss
Flora
Kryptonite
Snowbird
Justin
Outlaw
Thunderhead
Money
Gemini
Misfit
Tequila
Nash
Trooper
Smokey
Iron
Misty
Calligraphy
Beautiful
Rascal
Lullaby
Evita
Cyclone
Warrior
Breeze
Applejack
Smokey
Ash
Cochise
Tundra
Gracie
Icefall
Spirit
Honey
Hopi
Smokey
Gray
Snowdrop
Monaco
Alamode
Apache
Storm
Cindy
Yezzy
Apache
Twotsy
Badger
Knight
Poncho
Hugo
Muneca
Chubs
Eclipse
Clue
Pokey
Aurora Borealis
Ice Cube
Calisto
Romeo
Ghost
Levi
Male Gray Horse Names 
Having a male gray horse has its benefits; you get to choose a name that will identify with its coloring and character. Since they are very different from the gray female horses, you will want to find a name that identifies their gender. 
Here are our top suggestions for the best male gray horse names:  
Wyntog
Arwen
Elliot
Spring Rain
Moonwater
Altivo
Steele Sun
Bellatrix
Cirrus
Gandalf
Nickel
Jango
Chappel
Artax
Moonshine
Jingle
Dapper Dan
Ruger
Slate
Kara
Silver Spoon
Rain
Icicle
Atin
Smoke
Mist
Silver Surfer
Pepper
Traveler
Argent
Rain Maker
Bly
Ordo
Winter
Spirit
Shades
Sooty
Moonshine Duster
Virgil
Major
Opi
Arctic Star
Dap
Monsoon
Songbird
Stetson
Oscar
Cobweb
Rembrandt
Ghost
Shadow fax
Stone
Dale
Jag
River
DreamDusty Moon
Sir Winston
Casper
Breeze
Spot
Derringer
Pewter
Knight
Defrost
Easifat Naria
Gypsum
Mercury
Dollar
Watermark
Sterling
Darman
Quicksilver
Mouse
Blue Steel
Magnum
Arlen
Olaf
Yeti
Maximus
Gus
Sky fall
Blizzard
Phantom
Powder
Jester
Caspian
Steele
Sebastian
Friday
Aspercel
Nymph
Earl
Mediavine
Poppy
Spark
Cloud Walker
Diamond
Pegasus
Nimbus
Monty
Female Gray Horse Names 
If you spent weeks or even months picking out the perfect female horse, then you will want to find a name that shines. Giving your lady a sweet name can be both enduring and admirable, and it allows people to know that your beauty has found her new home. 
Here are our top picks for the best female grey horse names:
Belle
Autumn
Bella
Queen
Annabelle
Tapioca
Tara
Bliksem
Merrylegs
Misty
Sunrise
Melody
Barbie Royal
Bailey
Star
Icicle
Hoppa
Stone Rose
Molly
Spirit
Kit Kat
Starling
Crystal
Biney
Dapples
Faith
Jane
Moloko 
Khaleesi
Ash
Charity
Danni
Destiny
Anastasia
Barbie
Laney
Blair
Tulip
Southern Belle
Candy
Daisy
Pebbles
Honesty
Bonnie
Belle
Neptune
Clea
Hazel
Penny
Snowstorm
Sky
Hailey
Aurora
Spring
Misty
Moonwalk
Baby
Lady
Lonesome Dove
Princess
Lia
Legacy
Dusty
Breeze
Queenie
Dawn
Blizzard
Jasmijn
Shakira
Moon
Ghost
Pearl
Bubbles
Tex
Skye
Luna
Drift
Heaven
Beauty
Beau
Angel
Cobweb
Crystal
Fientje
Duchesse
Lainey
Sugar
Quicksilver
Buffy
Sooty
Balerian
Promise
Partly Cloudy
Jenny
Starlight
Kali
Hope
Gray Flower
Marshmellow
Freckles
Dapple Gray Horse Names 
Owning a dapple gray horse is like winning the jackpot; everybody wants to get a look. Their demeanor and character show through in the way they strut around an open field. 
Choosing a name for your dapple gray horse should be taken very seriously; after all, everybody will ask you what their name is! 
Below are our best picks:
Defrost
Steele
Annabelle
Crystal
Arwen
Dappley
Dream
Friday
Cloud
Fifty
Angel
Gray
Snow
Shadowfax
Gus
Grayson
Rain
White
Sparky
Luna
Silver
Ashy
Artax
Shades
Arlen
Dark Gray Horse Names
If you have a dark gray horse, then you will need a name that matches their temperament. These horses are adored for their coloring, just like a black stallion! Make sure you choose a name that matches the way your horse feels. 
Here are our top choices for the best dark gray names: 
Money
Silver
Diorite
Ash
Storm
Akela
Badger
Pebbles
Knight
Mouse
Smokey
Apache
Iron
Baloo
Rafiki
Light Gray Horse Names
There is just something about a light gray horse that makes you think about shimmering under the stars. They just have this appeal that makes them look like a million bucks! 
Choosing a great name for your light gray horse should be easy because we've got some of the most incredible choices around! 
Check these light gray names out:
Diamond
Dream
Shadowfax
Steele
Grayson
Ashy
Luna
Dusty
Angel
Crystal
Dazzler
Moonshine
Nickel
Artax
Powder
Show Names For Gray Horses 
If you're looking for a show name that speaks volumes about your horse, then take a look below at all the choices we have lined up for you. Choosing the perfect show name should be uncomplicated since you probably already know what kind of companion your horse will be.
Here is our top pick for show names for your horse: 
Smokehouse
Marshmellow
Thunderclap
Shadow Dance
Smoke signal
Lovelock
Foggy Notion
Castle
Pegasus
Amos
Mercury
Storm
Graystroke
Titan
Ringo
Smokehouse
GrayGirl
Snowdrop
Zander
QuickSilver
Jackpot
Sandy Venom
Steely
Dreamer
Mercury
Moon Shadow
Juno
Sparks
Platinum
Alpha
Moonwalk
Mitti
Eclipse Badger Austen
Major
Dubliner
Steele
Gray
Boulder
Shadow
Gun Smoke
Iron Shadow
Smoke
Platinum Plus
Ash
Partly Cloudy
Shadow
Jupiter Sterling Ghost
Aggie
Fallon
Silver Bullet
Cool Names For Gray Horses
You don't have to tell us twice that you want a really cool name for your horse. We totally get it! That's why we have chosen the top 25 names that are not only cool but totally awesome! 
Here are the coolest horse names that are trending now:
Brutus
Oliver
Tod
Zoe
Eloise
Thunder
Beast
Summer
Stella
Friday
Maddie
Brooklyn
Willow
Olivia
Bryson
Pearl
Marley
George
Saha
Skyfall
Brad
Misty
Dismal Gray Weather
Dixie
Nimbus
Famous Gray Horse Names 
When Simón Bolívar chose his horse's name, he knew that Palomo was the perfect choice for his white horse. He was often photographed riding his beautiful companion with its white hair blowing in the wind.
If you have a connection with your horse that makes you want to name it after another famous horse, then we have some of the best choices right here for you:  
Native dancer
Rocinante
Cozzene
Winning colors
Babieca
Lady's secret
Thunder
Spectacular bid
Princess Rooney
The Lamb
Skip away
Traveler
Black tie affair
Holy bull
Palomo (of course!)
Gray And White Horse Names
Owning a gray and white horse gives you a lot of options when looking for the perfect name. We suggest you find your connection first before choosing which name your companion will wear. But in the meantime, here are some really good choices: 
Cache
Knight
Pebbles
Badger
Iron
Shabh
Liath
Graphite
Ramadi
Fleck
Derobe
Smokey
Ash
Faios
Militheach
Black And Gray Horse Names
One of the most remarkable horse color combinations out there is black and gray; it just speaks volumes about its demeanor. Naturally, every horse is unique in its own way, but your horse has an advantage due to its brilliant coloring! 
Here are our top choices: 
Pixie Dust
Mystique
Ghost
Dutchess
Arctic Star
Alaska
Atlanta
Sierra
Arista
Annie
Jezzy
Cloud
Cleo
Sugar
Dark Star
Horse Name Inspiration
There are a lot of people who are inspired by famous people or even actors that they want to name their horse after. Every year people look at the winner from the Kentucky Derby and then name their new foal after that horse. 
In fact, there are plenty of horse names that are trending, and people get inspired by their stories. Take Black Beauty for example, do you know how many people name their horses after this magical English horse? A lot!   
How To Choose The Right Name
Choosing the right name for your horse can be challenging because you need to know your horse's temperament and character before giving them the ideal name that they can proudly wear for many years.
You wouldn't want to name your relaxed and slightly lazy horse bullet, would you? Probably not. That's why getting to know your horse first is crucial to choosing the perfect name. 
Depending on your horse breed and what your horse is mainly used for will also help in searching for the right name. Some people will name their horse after its pedigree, while others look at its appearance and character. 
There is no right or wrong way to choose your horse's name. However, we do suggest allowing your horse to inspire you before picking their name. You shouldn't rush into any quick decisions.  
Even a flea bitten gray horse has the potential to rock one of the coolest names around, such as Freckles or Spot On! Use your imagination, and most importantly, take your time. 
Conclusion
Whether you name your companion after a famous gray horse or a Disney character doesn't matter. You should love the name you choose for your horse as much as you adore your equine friend. 
We hope that our extensive list of the best gray names for horses helps you find the perfect match for your companion. Remember, a name can say a lot about a person and a horse!
If you're still looking for more inspiration, check out these awesome lists of horse names!
Related Posts