Are you aware that not all white horses are not born so? What several people refer to as a white horse might have been born chestnut, brown, or black.
These horses turn white in color usually after completing their first year. By the time they are around 6 to 8 years, they are completely white. 
It is incredible how they appear as completely different horses after growing up. 
This article is a guide to beautiful white horse names, which you can refer to if you own one.
Let's dive in.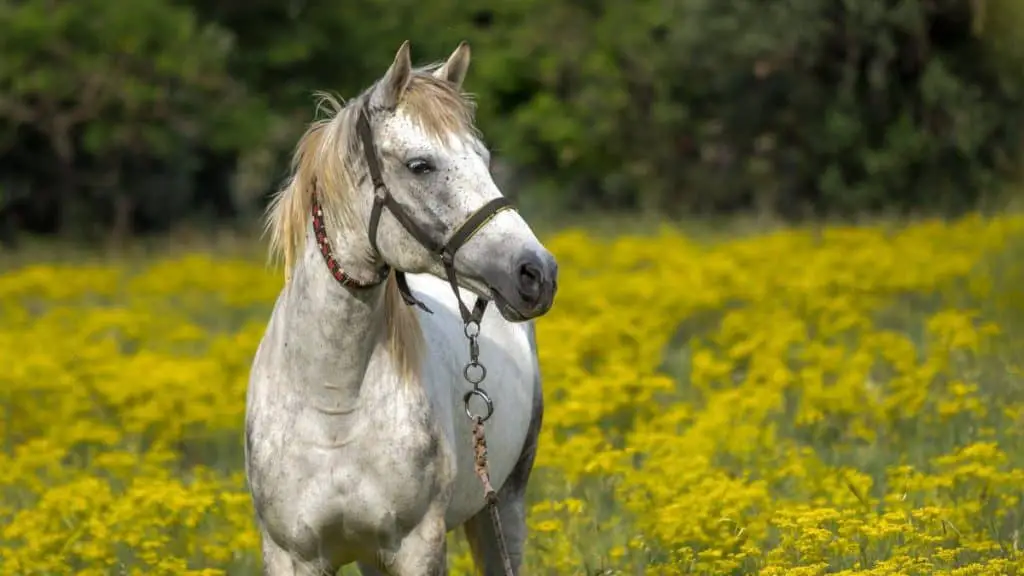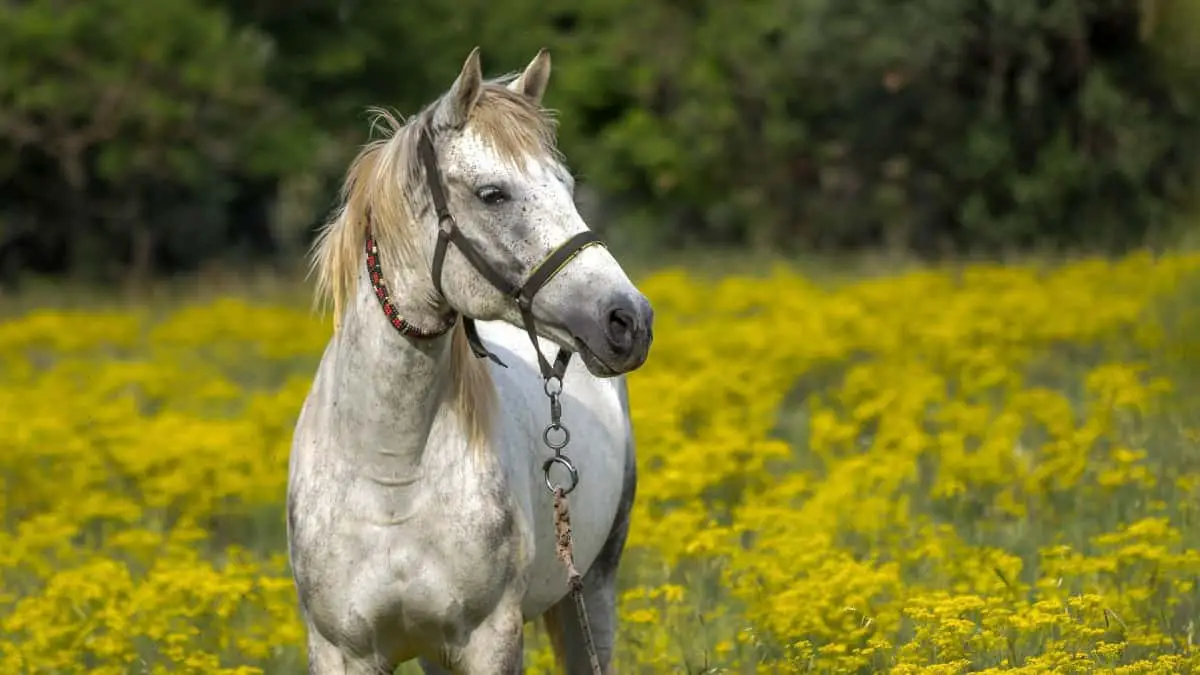 Best White Horse Names 
If you own a white or a grey horse, you would perhaps want to attach a meaningful and memorable name to it.
Here are some of the best names for your white horse:
Casper
Cloud
Angel
Heaven
Champagne
Angel
Storm
Pearl
Crystal
Heaven
Marshmallow
Snow White
Snowy
Coconut
Snowball
Female White Horse Names  
Do you own a female white horse and wondering what name you should give her that is suitable for her white coat color and personality?
Here are our top recommendations for white mares or fillies:
Luna
Angel
Viola
Chloe
Minnie
Daisy
Candi
Diamond
Lily
Pearl
Ember
Winx
Nia
Snowball
Celeste
Clara
Gamora
Moon 
Annabel
Melody
Cotton
Willow
Angelique
Agnis
Luce
Katara
Arianne
Belle
Duchess
Heaven 
Tiana
Unicorn
Ballerina
Frost
Amisha
Tink
Nancy
Snowflake
Cloud
Evangeline
Anita
Marigold
Ivory
Dew 
Alaska
Fleur
Star
Chantilly
Deliah
Minerva
Nova
Dream
Katniss
Giselle
Blessing
Heaven
Olympia
Winter
Champagne
Paloma
Willow
Ivory
Viola
Lotus
Cream
Casper
Diamon
Bianca
Fairy
Princess
Magnolia
Opal
Queen
Shimmer
Siberia
Storm
Sugar
Swan
Lady Snowbird
Angel Without Wings
Bride To Be
Snow Angel
Star Lily
Queen of Diamond
Princess on a Mission
Alpha Angel
Magical Bride
Stormy Dancer
Sugar Plum Fairy
Shimmering Sea
Twilight Dancer
Princess on a Mission
Yara Greyjoy
On a Sugar Rush
No Salt Pure Sugar
More Sugar than Spice
Moon Beam Delight
Misty Melody
Marshmallow Dreams 
Angelic Heart
June
Nally
Rossana
Rosie Ea Romeo
Snow Queen
Tetra
Victoria
Violeta
Ziggy
Willow
Valentina
Verity
See more amazing female horse names here.
Male White Horse Names 
Do you own a male white horse and are unsure about what to call him? Relax, as this section has some of the most amazing names for a white stallion or gelding.
Check them out below:
Ghost
Albus
King
Austen
Maximus
Lincoln
Dynamite
Elmer
Buck
Clyde
Edgar
Rain
Snow
Kuzco
Ace
Beau
Victor
Legend
Zed
Undo
Bolt
Lucky
Chess
Socks
Duncan
Zodiac
Jupiter
Fonzie
Flash
Bentley
Zephyr
Dandy
Jiminy
Ice
Charming
Bronco
Caesar
Casper
Angelo
Freddie
President
Cadence
Winston
Milky
Jon 
Blake
Admiral
Goliath 
Diesel
Jake
Washington
Franklin
Buzz
Axel
Spirit
Avalanche
Soduku
Marshmellow
Snowfire
Cotton
Frost
Uno
Blizzard
Snowball
Dew
White Flash
Khan
Ice Cube
Pegasus
Snoopy
Sudoku
Coconut
Dazzle
Gem
Elegance
Greyjoy
Icicle
Polar
Milky Way
Nimbus
Glacier
Puff
Quartz
Sirius
Starshine
Tornado
Twister
Siberian Summer
Moonlit Sunday
Northern Diamond
North of Alaska
Omega Storm
Once in a Blue Moon
Pale Starlight
Polar Expedition
Quasar Moon 
Ultimate Thunder
Trip to Alaska
Starlight Lounge
Siberian Summer
Wedding Crasher
White Caps
White Lightning
Wishing on a Star
X-Rayed Clean
White Zinfandel
Yesterday's Storm
You Got the Silver
Vacation in Alaska
Ultra Bright White
Royal Bling – A perfect choice for your royal white horse
Storm Chaser
Remember the Milk
Valyrian Steel
Valkyrie's Ride
Cowboy
Jolly Boy
Lame
Jupiter
Marquis
Marcy
Noel
Night Sparkle
Raider
Senn
Snowfeet
Saint
Trapper
Traveler
Universe
Winter White
Svaftsilver
Trigger
White Spot
Tian
Thelwell
Vivian
White Water
Waterfall
Hotspot
Lemonlime
Superhero
Goldcharm
Poppie
See more amazing male horse names here.
Good Names For Pure White Horses 
The good news is that there are several good names for white horses.
Below are some of our top recommended names for white horses.
Hopefully, these names would come in handy for your future or current white horse. 
Cloud
Lotus
Avalanche
Popcorn
Light
Artax
Blizzard
Calisson
Elegance
Shadowfax – The horse ridden by Gandalf the White (Lord Of The Rings).
Pure
Sophia or Sophie
White
Cream
Milky
Powder
Bruma
Starlight
Alaska
Heaven
Tornado
Tetra
Casper
Cold
Ghost
Moon
Marshmallow
Polar
Butter
Cinnamon
Edelweiss
Angelo
Snow
Fjord
Camellia
Snowdrop
Mr. Ed
Angel
Zelda
Cashmere
Daisy
Cotton
Pearl
Snowball
Diamond
Pegasus
Ivory
Arctic
Coconut
Dazzle
Cool White Horse Names
You will come across several cool names for white horses.
Below are some of those cool names, which you might choose for naming your white horse:
White Tie Affair
Ice Man
Titan
Freeze
Avalanche
Smokey
Cirrus
Winter
Quartz
Aragon
Poppy
Sunlight
Cloud Walker
Rain Maker
Daydream
Moonstone
Skyfall
Rainbow
Firefly
Supernova
Superstar
Firefighter
Applepie
Stargaze
Droppie
Chippie
Baby Boy
Wild Boy
Foxfire
Bad Boy
Stormcloud
Dragonborn
Icicle
Stone Rose
Party Cloudy
Moloko
Silver
Cloudy
Breeze
Quicksilver
Drift
Hope
Alexander
Adeline
Abel
Jonah
Powder
Breeze
Crazy Horse
Darky
See more super cool horse names here.
Famous Names For White Horses
Here are some names of famous horses:
Phantom-Zorro's horse
Shadowfax-Lord of Rings
Desert Orchid-Dessie
Falcon- Bust Crabbe's
Milton-Showjumper
Raider-Durango Kid's horse
White Flash
Khan
Guido
Scout
Marengo – Napoleon's warhorse that he used in the battle of Marengo.
Spirit
Secret
Ringo
Palomo
Silver
Alfonso
Peach Blossom 
Persephone
Binky
Flame
Cochise
Winx
Maximus
Goliath
Whinney
Falcon
Rocket
Starlight
Blessing
Nohar
Mister Ed
Arod
Snowfire
Artax
Jim
Stardust
Billy
Pegasus
Arroch
Angus
Champion
Milton 
Bulls Eye
Topper
Phantom
Starry
Moonlight
Ivory
Globe
Unique Names For White Horses
Ituaha
Ptaysandwee
Unega
Byhalia
Misae
Anamosa
Taigi
Mimiteh
Hakidonmuya
Wapun 
Titan
Tyson
Tiger
Argo
Mr. White
James Bond
Bond
White Tie Affair
Thor
Tux
Zeus
Silver
Arctic Blue
Scout
Stark
Jon Snow
Blank
Blanco
Arty
Casper
Cowboy Magic
Ghost
Granger
Winter
Freeze
Frosty
Aragon
Quartz
Cirrus
Iceman
Cobweb
Avalanche
Sapphire
Smokey
Dazzler
Skyfall
Nimbus
RainMaker
Cloud Walker
Daydream
Cute Names For White Horses 
Would you like to give a cute name to your white horse? Look no further as we have compiled some excellent cute names for your white horses:
Ollie
Biscuit
Cloudy
Billie
Pixie
Birdie
Peanut
Fido
Bebe
Buddy
Ghost 
Willie 
Joey
Honey
Frosty
Apollo
Bianco
Buzz
Allred
Caviar
Connie
Billy
Champion
Carolina
Clover
Caritas
Cherish
Clodhopper
Dover
Gallic
Dexter
Diana
Eleanor
Debbie
Rona
Funnel
Exterminator
Fizz
Juliet
Isabelle
Grace
Love
Jalopy
Jockey
June Jack
Midsummer
Lincoln
Leon 
Mermaid
Marigold
Merry
Meadow
Maryann
Mint julep
Miracle
Marina
Moonshine
Margarita
Marcy
Noel
Funny White Horse Names 
Are you looking forward to including some humor and laughter in your horse's name?
We have compiled together this great list of funny names for your white horse that is unknown to man.
Read on to get thoroughly entertained!
Dairy
Clear
Alby
Crazy Horse 
Bull's Eye
Light Bulb
Sunny
Cream-sickle
Piebald
Bunny Killer
Bounce
Badly
Bored
Brave Broom
Bounce
Carrots
Bandito
Bull's Eye
Bucktooth
Cowboy
Crouching Tiger
Cloatooper
Chief
Cloud
Clear night 
Dynamite
Diamond
Cheyenne
Crazy horse
Cinnamon
Elegance
Ed
Dairy
Donkey
Glow
Funneigh 
Houdini
Ned
Grazer
Geronink
Henri
Hoofer
Horsepower
Goomer
Heisenberg
General
Hannibal Lector
Hall and oats
Ice cube
Ice cream
Names For Big White Horses 
Following are some of the names you can look into while naming your big white horse:
Hope
Abel
Alexander
Adeline 
Silver
Jonah
Quicksilver
Cloudy
Snowstorm
Blizzard
Breeze
Powder
Icicle
Drift
Angel
Blizzard
Avalanche 
Snowball
Pearl
Cotton
Pegasus
Ivory
Diamond
Crazy Horse
Dairy
Clear
Alby
Crazy Horse
Bull's Eye
Light Bulb
Piebald
Sunny
Angel
Cream-sickle
Pearl
Buttermilk
Cloud
Crystal
Ivory
Casper
Diamond
Luna
Ice Cube
Cream
Moon
Maximus
Snoopy
Snowball
Phantom
Sudoku
Show Names For White Horses 
Check out these brilliant show names for white horses and you may use any of them to name your white horse. 
Alpha Angel
Angelic heart
Blizzard Bay
Breath of Dawn
Bride to Be
Breath of Dawn 
Canary Moon
Calm Storm
Castle in the Clouds
Cascading Moonlight
Cloud Dancer
Cloud Cover
Coconut Cowgirl
Colored Like Cotton
Coconut Grove
Crystal Cowgirl
Cotton Top
Crystal Moon
Crystal Empress
Dance in the Storm
Dakota Milkshake
Dazzling Disco
Darkside of the Moon 
Diamond Bachelor
Desert Moonlight
Elegant Swan
Diamond Conquest
Elusive Angel 
Evening Twilight
Epic Snow Storm 
Fly to the Moon
Flawless Diamond
Glacier Creek
Glacial Bay
Harbour Twilight
Half Moon Bay
Glimmer by Moonlight
I'm No Snowflake
Jamaican Show
Ice Cold and Fabulous
Klondlike Kate
Kiss an Angel
Just A Little Salty
Lunar Eclipse
Lady Snowbird
Magical Bride
Magic Moonglow
Magnolia House
Marshmallow and Marmalades
Midnight Storm
White War Horse Names
While there are so many warhorse names, here are some of the names you can refer to while naming yours. 
Copenhagen
Marengo
Altivo
Tecendur
Dora
Comanche
Traveler
Palomo
Comanche 
Traveler
Stranger
Kasszlanka
See more awesome war horse names here.
Anime White Horse Names 
Pegasus 
Achilles 
Philippe 
Altivo from 
Donkey 
Maximus
Abu 
Destiny 
Jaq and Gus as horses 
Kjekk 
Major 
Samson 
Amalthea 
Shadowfax
Mister Ed
Silver
Comet
Jolly Jumper
Princess Celestia
Maron
Fuunsaiki 
Scuderia
Sirro
Captain
Carriage Horse
Li Mulan
Sven
Rainbow
Quick Draw
Altivo
Sugarfoot 
Badass Names For White Horses 
Alex
Bones
Scorpio
Puma
Bundy
Metrona
Atheiod
Blitz
Boss
Diesel
Bolt
Goliath
Fang
Gunner
Hercules
Riptide
Rogue
Danger
Samson
Sargon
Raider
Storm
Luca
Chop
Robber
Reaper
Balboa
Chance
Tropicana
Avenger
Nitro
Rambo
Warrior
Venom
Bison
Griphook
Justice
King
Samson
Hercules
Tbone
Sarge
Spike
Ghost
Crusher
Riptide
Rocky
Reaver
Serpico
Crazy Horse
See more badass horse names here.
Horse Name Inspiration
Your horse name inspiration can be an anime or a cartoon character, a funny or a cute name, a famous personality, your horse's breed, or a warhorse among others. 
Help Choosing The Right Name
How do you select a name for a white horse that you own?
An easy way to opt for a name is to figure out what are planning to do with the horse's future or the horse.
For instance, suppose your white horse is a thoroughbred and you want it to participate in a race. You may then go with a show or a race name, which can be funny or a serious one. 
Conclusion
Select the name of your white horse wisely so that you can have fun during the process. You may join a forum and request feedback on your horse's name.
Let us know what you are thinking of naming your horse in the comments section below!
If you're still looking for more inspiration, check out these awesome lists of horse names!
Related Posts