Owning a horse is an experience of its own. They are stunning creatures and have grace and composure of their own. Horses require special care and attention for wholesome development, but once you raise a horse, you have a friend forever. 
A common predicament among horse owners is the need to come up with a unique name for their horse. This is true as with any parent/owner as they want their child/pet's name to be unique.
In this article, we look to delve deep into black horse names to be precise. Black horses are probably the most common coat color among all.
We have categorized the names into subcategories to help the owners choose the name which best suits their black coat horse.
Let's dive in.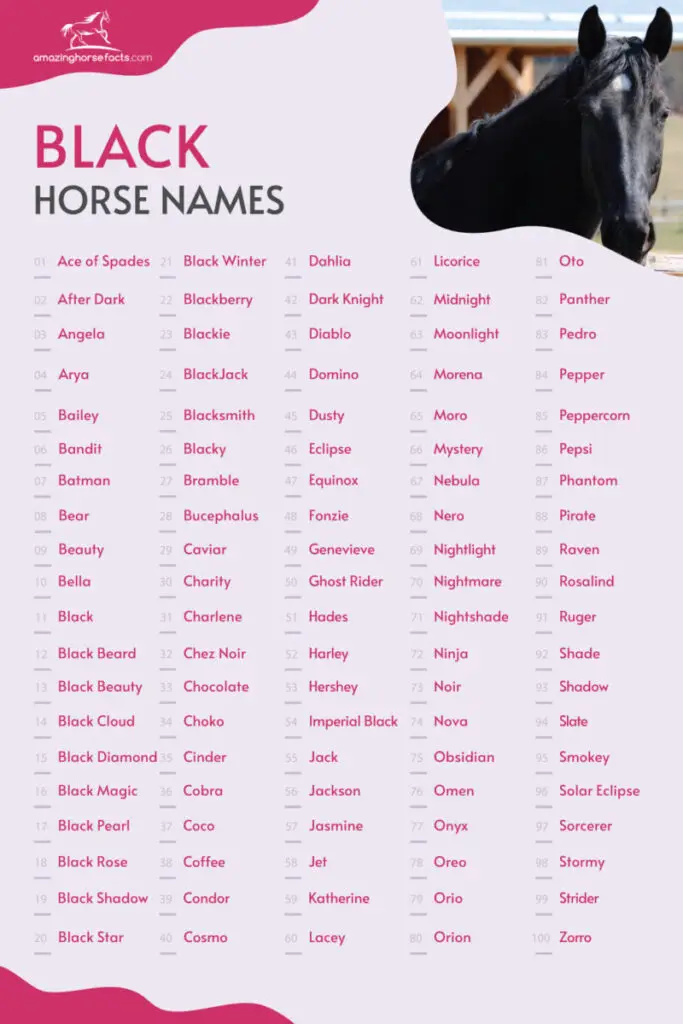 Best Black Horse Names
No matter your horses breed or gender it won't matter whether you own a Quarter horse mare or an Arabian stallion these names are some of the greatest for any black breed:
After Dark
Angel
Angela
Bella
Bella star
Black
Black Jack or BlackJack
Black Shadow
Black Star
Black Pearl
Black
Blacky
Charity
Choko
Chocolate
Female Black Horse Names
Mona
Molly
Lilliana
Frederica
Evelyn
Black Rose
Sydney
Cinder
Sonnet
Dreamy
Allegra
Kate
Annabelle
Anne
Cher
Mallory
Starlight
Beatrice
Bethany
Velvet
Flame
Bianca
Anastasia
Eden
Gabriella
Florence
Talisa
Catelyn
Bonnie
Astra
Violeta
Christiana
Candida
Caterina
Aria
Eloise
Meredith
Lauren
Jessie
Poppy
Pansy
Diana
Natasha
Arabella
Sienna
Cersei
Clementine
Onyx
Antoinette
Noir
Gwendolyn
Sparkles
Louisa
Jinx
Sansa
Maria
Grace
Carina
Sarah
Elenora
Jacqueline
Giovanna
Margot
Angelica
Tabitha
Isabella
Charlotte
Dior
Lady
Artemis
Beauty
Coraline
Henrietta
Gamora
Octavia
Eclipse
Cordelia
Francesca
Cecilia
Claire
Crystal
Emmanuella
Madeline
Evangeline
Galaxy
Anais
Isabelle
Jazzy
Rainie
Yvonne
Scarlett
Silvia
Lydia
Pepper
Briar Rose
Ophelia
Natalia
Sparrow
Seraphina  
Megan
Rebecca
Raven
Colette
Jolie
Princess
Cassandra
Caroline
Eleanor
Coretta
Odette
Sophie
Daniella
Morena
Margaery
Fiorella
Caledonia
Bramble
Mireille
Evianna
Daphne
Aurora
Victoria
Elizabeth
Coco
Aurelia
Valentina
Penelope
Josephine
Alexandra
Serena
Brigitte
Luciana
Nina
Delilah
Virginia
Mara
Pandora
Hailey
Camilla
Daenerys
Vivienne
Nebula
Emilia
Midnight
Brienne
Bernice
Lorelei
Ash
Verity
Robin
Burmese (Queen Elizabeth's horse was a black mare named Burmese)
Male Black Horse Names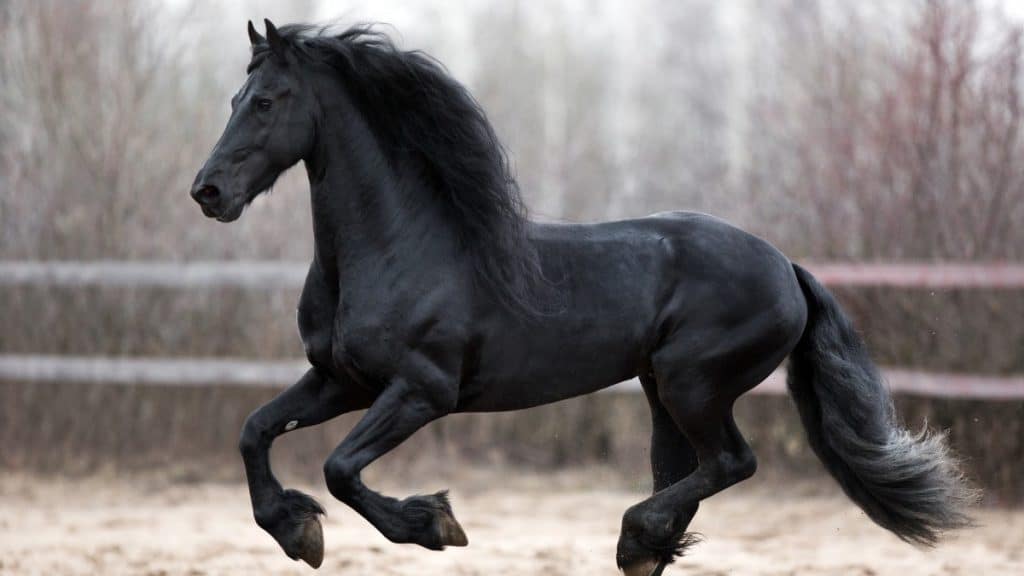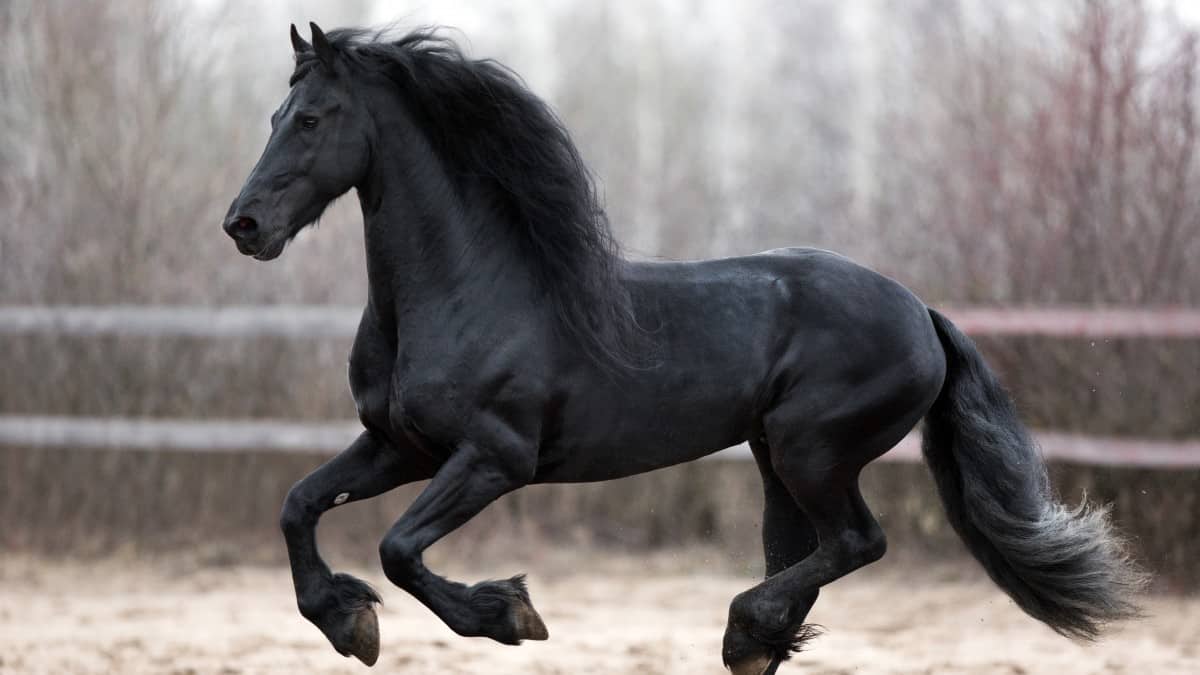 Own a black stallion or gelding? This list is for you.
See below some awesome horse names for black stallions or geldings:
Napolean
Horace
Dylan
Thomas
Giovanni
Johnathon
Leonardo
Gerald
Leopold
Atticus
Theodore
Montague
Brice
Gustav
Nathaniel
Nicholas
Charming
Franklin
Bartholomew
Alastair
Randolph
Broderick
Frederick
Orlando
William
Scott
Montgomery
Edmund
Constantine
Gabriel
Matteo
Xavier
Sebastian
Ignatius
Ethan
Quentin
Griffin
Rafferty
Egbert
Dominic
Alexander
Augustus
Ashby
Bradley
Harris
Edward
Bertram
Maximus
Kingsley
Kenneth
Nikolai
Emerson
Anthony
Asher
Eric
Archibald
Bradford
Cyril
Lawrence
Maximillion
Alfred
Henry
Charles
Francis
Vincent
Aldrich
Fabian
Quincy
Barnaby
Hanson
Graham
Harrison
Lawson
Jamison
Clarence
Robert
Ezra
Gregory
Phillip
Oliver
Richard
Michael
Augustine
Victor
Jasper
Dario
Milo
James
Delaney
Laurent
Stephen
David
Octavius
Pierre
Clement
Jude      
Tobias
Louis
Amadeus
Albert
Owen
Percival
Daniel
Miles
Harry
Ace
Ace of Spades
Angus
Ash
Bagheera
Batman
Bean (Black Bean)
Bear
Black
Black Bean
Black Tie
Blackjack
Bucephalus (Bucephalus was the horse of Alexander the Great)
Carbon
Charcoal
Coal
Crow
Dark Knight
Domino
Dracula
Drogon
Elvis
Graphite
Guinness
Hades
Jack (Jack Black)
Jack of Clubs
Leviathan
Lucifer
Nero
Nimbus
Ninja
Noir
Obsidian
Onyx
Pepsi
Phantom
Pirate
Ruger
Slim Shady
Smoke
Smokey
Sooty
Spider
Tarmac
Vader
Voldemort
Winchester
See more amazing male horse names here.
Good Names For Black Horses
Orion
Queenie
Nova
Genevieve
Juliet
Charlene
Ebony
Katherine
Jasmine
Lacey
Bailey
Arya
Nightshade
Rosalind
Beauty
Bucephalus
Chez Noir
Dahlia
Drogon
Morticia
Nero
Raven
Ruger
Velvet
Apparition
Bear
Black Diamond
Blackberry
Blackie
Chocolate
Cinder
Cobra
Coco
Coffee
Cosmo
Currant
Dice
Dusty
Ember
Galaxy
Hershey
Licorice
Magic
Midnight
Mystery
Noche
Omen
Panda
Panther
Pepper
Cool Names For Black Horses
BlackJack
Pedro
Mystery
Pirate
Dreamy
Velvet
Jackson
Licorice
Fonzie
Black Beard
Caviar ("Black Caviar" a retired Australian champion Thoroughbred)
Panther
Wizard
Jet
Black Winter
Onyx
Dark Sunshine
Slate
Galaxy
Volcanic
Ace of Spades
Bagheera
Orio
Eclipse
Hades
Blackberry
Zorro
Ebony
Spider
Bucephalus
Thunderstorm
Fire
Flicka
Imperial Black
Equinox
Morena
Black Magic
Solar Eclipse
Ghost Rider
Sorcerer
Condor
Moro
Shadow
Peppercorn
Nightmare
Black Pearl
Zombie
Oreo
Truffles
Inferno
Famous Names For A Black Horse
Here is a list perfect for future famous black horses:
Diablo
Harley
Volcano
Chocolate Chip
Atlantic Black
Strider
Blacksmith
Domino
Shade
Silky
Jett
Midnight
Nightshade
Spooky
Black Beauty
Nebula
Black
Black Diamond
Blackie
Moonlight
Batman
Midnight Express
Bandit
Nightlight
Oto
Obsidian
Cobra
Black Rose
Expresso
Black Cloud
Dark Knight
Mysterious
Raven
Bramble
Paint It Black
Tapenade
Star
Jack
Blaze
Stormy
Coco
Midnight
Prince
Smokey
Whiskey
Amber
After Dark
Angel
Angela
Bella
Unique Names For Black Horses
Bella star
Black
BlackJack
Black Shadow
Black Star
Black Pearl
Black
Blacky
Charity
Choko
Chocolate
Crow
Dancer
Dancy
Dark
Dark Angel
Dark Shadow
Darking
Darko
Darky
Dawn
Dawny
Dusk
Dusky
Dynamo
Ebonian
Ebony
Eclipse
Espresso
Esprossor
Espress
Expresso
Harley
Harlow
Midnight
Morning
Moon
Moonlight
Moonshine
Moro
Naughing
Nebul
Nebulon
Neon
Nerina
Night
Nightmare
Nightshine
Noona
Night
Cute Names For Black Horses
Domino 
Zebra 
Orca
Cow 
Freckles
Patches
Spot
Marbles
Bingo
Tux
Orio 
Inked
Zorro
Chaplain
Black Tie 
Pongo
Cosmo
Smudge
Chipped
Dotty
Astra 
Darth
Hershey
Jinx
Pepper
Nyx
Bean 
Deja Vu
Bruno
Emery
Tarmac
Java
Opal
Vega 
Coal
Celeste
Jett
Bullet
Jedi
Ember
Indigo
Cola
 Polo
Muppet
Mini
Monty
Pingoo
Pronto
Pope
Pinecone
Funny Names For Black Horses
Ace of Spades
Adam
Admiral
Angelus
Apollo
Asher
Bandit
Barnaby
Batman
Bingo
Bramble
Bruce
Bruno
Bucky
Burton
Buster
Buttons
Buzz
Caspian
Castiel
Caviar
Chester
Chip
Cobra
Condor
BARNABY
WHISKERS
BALKI
NEWTON
TIGGER
BUSTER
FLOPSY
Drogo
Eclipse
Edgar
Elijah
Emmett
Equinox
Espresso
Fonzie
Geronimo
Grant
Hades
Harley
Hyde
Inferno
Jackson
Jaguar
Jake
Jasper
Big Horse Names For Black Horses
Nighton
Nightro
Niro
Nitro
Nitrogen
Nitron
Nori
Orion
Orio
Prada
Raven
Shade
Shadon
Shadow
Shadower
Slate
Slator
Slayer (for the rock fans)
Sly
Spook
Spooky
Thunder
Tribute
Velvet
Volcano
Zonas
Zonor
Zorro
Night Gown
Night Pro
Nero
NitroPro
Nitrogenesis
Nitroneum
Norah
Orientant
Orio
Pradanate
Flying Raven
Shades
Sharon
Shadowcast
Shadow
Clean Slate
Slator Roller
Slaying
Sly Fox
Spooked Out
Spock
ThunderStruck
Show Names For Black Horses
Back in Black
Black Bacardi
Black Beauty Cutie
Black Belle
Black Cherry
Black Coffee Blues
Black Diablo
Black Friday
Black Label
Black Market Money
Black Moon Rising
Blacked Out
Black N Brew
Black Powder
Black Quartz
Black Sabbath
Blackstone Bay
Black Tie Affair
Black Tie Preferred
Blackberry Rose
Classic Black
Double Black
Joe Black
Little Black Box
Little Black Dress
Man in Black
Miner's Black Gold
Serious Black
Vision in Black
Almost Dark
Any Given Night (or Knight)
Carbon Copy
Cheval Noir (A perfect black horse moniker)
Coal Miner
Cozy at Midnight
Dark Ages
Dark as Night
Dark Forest
Dark Side of the Moon
Dark Star
Darkest Secret
Exclusive Reward
Jack Sparrow
Lights Out
Midnight at Dawn
Midnight Chase
Midnight Confession
Midnight Maven
Near Darkness
Nightline
Nights Watch
Out of the Dark
Overnight Express
Rainbow in the Dark
Sealed with a Kiss
Shot in the Dark
Sleepy Hollow
SuperNova
Wait 'til Midnight
War Names For Black Horses
Find the perfect moniker for your warhorse below:
Bucephalus
Blackjack
Topthorn
Black Gold
Kuro
Byerley Turk
Midnight Sun
Zeus
Hades
Alastor
Fusang
Aether
Erebus
Ares
Omanyama
Nwa
Gunpowder
Khan
Ace Of Spades
Condor
Bagheera
Brambles
Hanere
Sorceror
Batman
Sergeant Reckless
Tencendur
Altivo
Dora
Kasztanka
Marengo
Copenhagen
Chetak
Cincinnati
Palomo
Smiler
Joey
Argo
Traveller
Comanche
Tornado
Bella
Castor
Flicka
Epona
Adira
Flame 
Gypsy
HighBoy
Napolean
Anime Names For Black Horses
Bucephalus
Aaron
Sabure
Shooter
Khan
Kokuah
Equus
Dosankos
Pegasus
Raven
Hei Long
Kokuyou
Luke
Sleipnir
Rosetta
Florestano
Rex
Noah
Seig
Indramon
Yato
Kuru
Takeo
Yoshi 
Haru 
Ryuu 
Haruki 
Hana 
Rana 
Takahiro 
Katari
Takashi 
Haru
Ageru
Reca 
Kauma 
Goru 
Jin 
Hideki 
Hiroki 
Doki Doki 
Mausu 
Chanoyu 
Sumo 
Kanpai 
Hashi 
Kaede 
Kaito 
Asami 
Emi 
Haruki 
Hitomi 
Riku 
Taiki 
Kurumi 
Badass Names For Black Horses
Tribute
Velvet
Volcano
Zonas
Zonor
Zorro
Eclipse 
Hades 
Loki
Dark Knight 
Silhouette
Lucifer
Darkest Secret
Spook
Coven 
Voodoo
Dark Star
Wednesday
Omen 
Dracula
Ninja 
Black Magic 
Twilight
Phantom 
Obsidian
Nior
Vader
QUEEN
BOOTS
MAJOR
BARKLEY
EL JEFE
Al Capone
Night Watchmen
Dark Guerilla
Jex
Bones
Sarge
Spike
Shadow
Crusher
Riptide
Rocky
Reaver
Serpico
General Shadow
Dark Mist
Shadow Mountain
Trodding Beast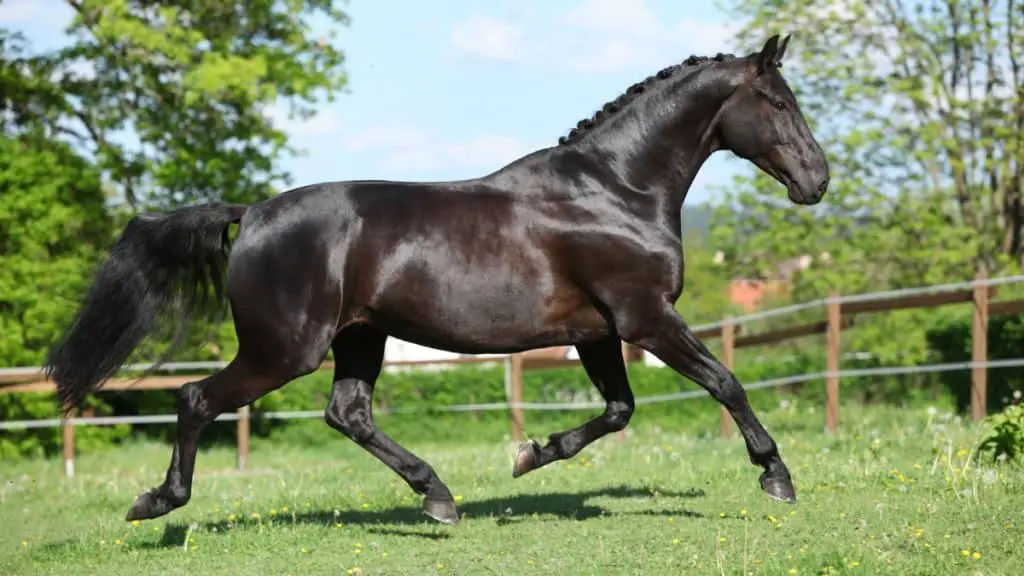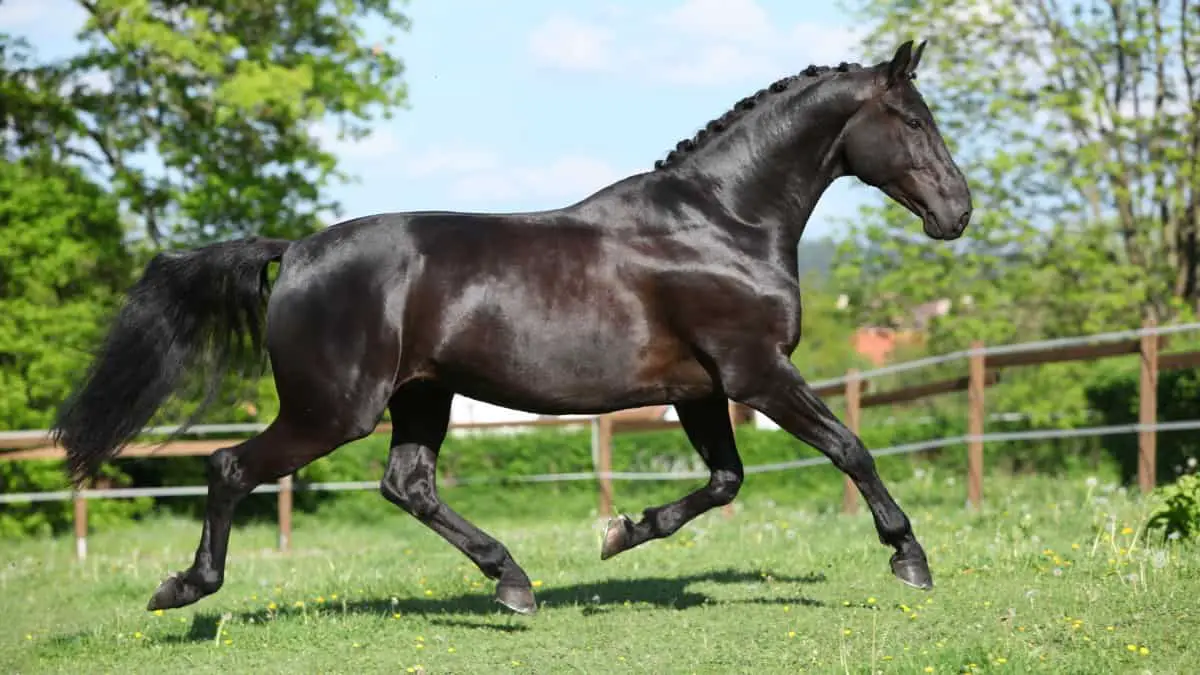 Horse Name Inspiration For A Dark Horse
When it comes to choosing a name for your horse, there are certain categories of features that can serve as a starting point for many.
These categories would range from physical traits like fur, color, etc. to type of horse, personality, and others.
Let us look into a few such categories that may help owners decide upon names for their horses:
1. Coat/Fur Color
The color of your horse's coat is the most common parameter when choosing its name. This would fall under the physical trait parameter.
The color of a horse is the first thing that is noticed by a person, which makes it the perfect starting point when deciding upon a name. 
2. Horse Breed
The next popular parameter for a name would be the breed type of the horse. There are several types of breed available out there. The breed is a strong aspect when determining the lineage of a horse. 
3. Personality Trait
The next parameter for naming a horse would be to gauge the personality of the horse. Every horse is a unique animal in terms of its characteristic features and temperament. This is akin to any other living creature. Therefore, choosing a name based on the temperament of the horse is a good parameter for a name. 
4. Popular Figure
In case when somebody is still undecided regarding a name for their horse, a common trend would be to name your horse after a popular figure or even a famous horse.
This could range from choosing a name of a warhorse of the past, a mythical horse, a celebrity, or an animated character. There are no limits as there is no hard and fast rule to naming a horse.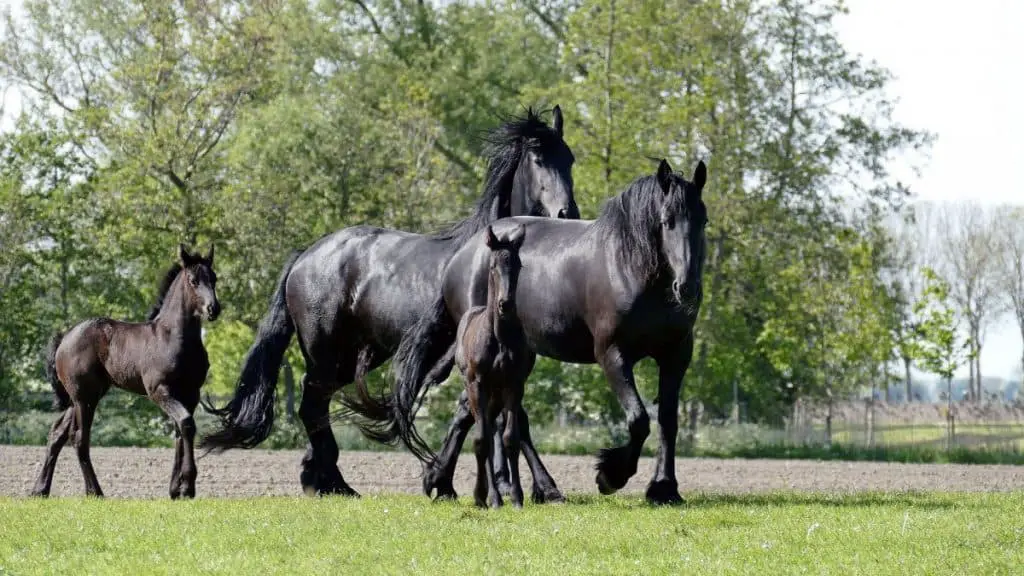 Help Choosing The Right Name
When choosing the right name for your horse, an owner must set their pre-requisite well in advance. These could depend upon the purpose of owning the horse. While many stable owners may have horses for breeding purposes, others could be more definitive in their need, like a show horse or rescue horse, etc. Therefore, the purpose of the horse could help a lot in determining the sub-category for a name. 
If an owner intends to use the horse as a show horse, the name must stand out just like the horse. In most cases, such horse names are a combination of two words and are quite catchy in nature.
In the case of a rescue horse, the name could be easy to remember, peaceful yet reassuring. Names such as Angel, God-Speed, and Heaven-Send are just some examples when it comes to a rescue horse. So the purpose of the horse plays a big role while selecting the name as it allows others to associate the name with the animal better.
For instance, a racehorse's name is supposed to stand out amidst a crowd. This helps people remember the name while placing bets. The same can be said for show horses as well. 
The gender of the animal is another important parameter. A mare's name would differ a lot from that of a stud. This provides another opportunity to filter out the right name of the horse. The list above has categorized male and female horse names for the same purpose. 
Conclusion
In conclusion, the horse is a versatile creature, and so is the process of naming them. As with any animal as a pet, the name is an extension to the personality of the animal. Therefore, it is imperative to name the horse in accordance with its style, personality, and purpose.
The parameter for naming could differ from owner to owner and horse to horse. As there are no set rules, the sky is the limit when choosing a name. One can get as creative as possible, keeping some form of logic intact, or completely creating a new mix all together.
Ultimately, the pet will still be the elegant and graceful creature that it is. A name would further enhance the personification of the animal with its owner.
There have been many instances of creative names that have turned out to be favorites among many. So an owner can get as creative as needed and may choose a name that they feel is best suited to their little pony. 
That being said, the name should not be too long for comfort. Human beings have a very limited attention span. Short names of two-word names serve as the best combination, which is easy to remember and yet packs quite a punch.
Need more ideas for dark horse names? Check out our awesome horse name lists for more naming ideas to help with choosing the perfect name for your dark coat horse.
Related Posts