If you are a horse lover who has brought home a quarter horse or a racehorse, then you should know that you have signed up for an amazing pet.
Irrespective of the horse breed that you have got, you will find an amazing sense of companionship from the ownership. If you have all the facilities to stable a horse, you can really live with pride.
But horse ownership is not just about getting a good horse—be it a racehorse, quarter horse, black stallion, or chestnut gelding. You need to choose cool horse names and give one to your equine friend.
Finding the perfect name for your horse can be a challenging affair. To make it easier, we have compiled a list for you.
Let's dive in.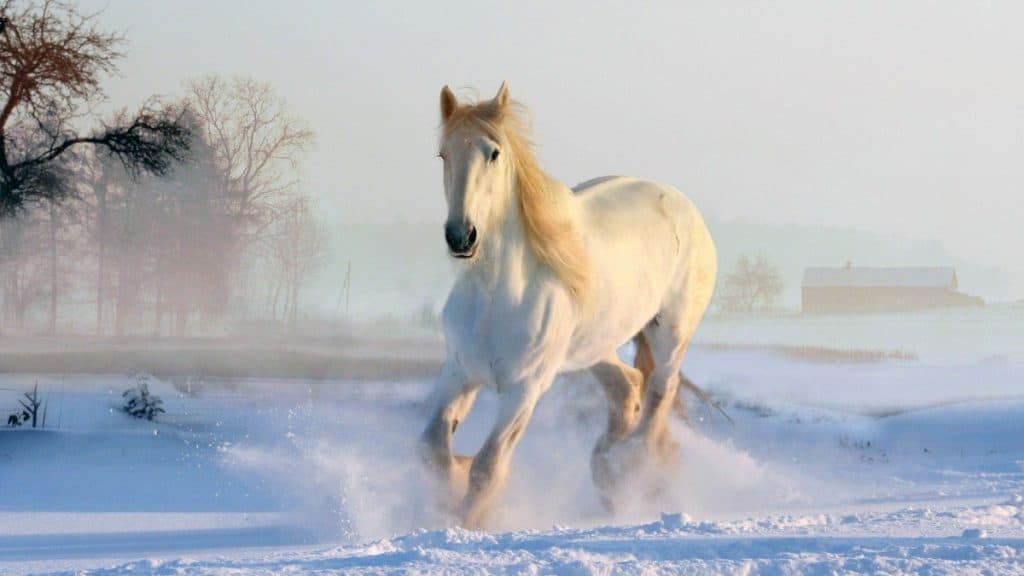 Female Cool Horse Names
If you have got a female horse, then you need a name that shows the personality of your equine friend.
Here are a few cool names for your horse mare:
Pearl
Sapphire
Marigold
Ellie
Hayley
Piper
Peanut
Strawberry
Molly
Ladybird
Daisy
Carolina
Eleanor
Jasmine
Aster
Velvet
Amber
Beauty
Bella
Aqua
Mona
Rosie
Natasha
Diana
Pansy
Bloom
Dreamy
Edna
Elizabeth
Dolly
Isabelle
Juliet
Dora
Glory
Gina
Glitter
Holly
Ivy
Cream
Cinderella
Aurora
Bree
Luna
Capella
Cowgirl
Dorra
Mika
Sasha
Ruby
Flora
Garnet
Grace
Bailey
Sassy
Meadow
Willow
Rosette
Tiana
Rose
Nina
Vanita
Nova
Tara
April
Queen
Sally
Autumn
Marry
Sydney
Shirley
Prada
Poppy
Polly
Baity
Diva
Peach
Caramel
Misty
Lacy
London
Algeria
Melody
Lilly
Bess
Whalen
Skydancer
Toby
Danky
Nees
Stormy
Aerial
Aida
Ayasha
Annie
Angel
Clover
Astro
Chillie
Jonesy
Katty
Pepper
Anzo
Dazy
Pookie
Star
Rain
Moonshine
Maisy
Maggie
Layla
Henrietta
Honey
Fiona
Emily
Cookie
Blondie
Feather
Serenity
Mirrana
Miah
Sparkle
Buttercup
Alexa
Adoria
Bandita
See more beautiful female horse names here.
Cool Male Horse Names
If you have got a male horse as an equine friend, you should know that their temperament will be slightly different from their female counterparts.
Compared to a female horse, a male horse, for example, a black stallion, will be more energetic.
If you are looking for a unique horse name for your male horse, then here are a few options:
Lord of the rings
Red Roan
White Blaze
Jack
Murphy
Jimmy
Bobby
George
Alfie
Harry
Billy
Romeo
Prince
Smartie
Chester
Badger
Jasper
Leon
Rolo
Dexter
Apollo
Adobe
Apache
Bandit
Beast
Big Red
Blaze
Blue
Blue Boy
Bob
Bonnie
Bolt
Buck
Brandy
Buster
Buzz
Captain
Champ
Charger
Chance
Charlie
Spartan
Copper
Raven
Leo
Lucifer
Tuxedo
Dark
Rocket
Ambitious
Ambassador
Amir
Aladin
Arnold
Eldorado
Elvis
Friday
Frisky
Fifty
Gambler
Genie
Gus
Goldie
Genius
Gypsy
Gulliver
Goliath
Hurricane
Hoover
Hero
Hercules
Ivan
Jed
Joy
Jumper
Jewel
Joey
King
Lucky
Legend
Lobo
Lightning
Mac
Mordecai
Mischief
Mingo
Master
Marco
Marty
Micky
Nacho
Nemo
Navajo
Ozzy
Oliver
Pablo
Pierce
Prancer
Pride
Prowler
Peso
Partner
Polo
Quest
Rowen
Robby
Rambo
Rascal
Stan
Sailor
Smoke
Solomon
Spanky
Saint
Sammy
Scamper
Taz
Samson
Vanguard
Dodger
Ninja
Pirate
Artex
Alto
Baron
See more amazing male horse names here.
Famous Cool Horse Names
No matter whether you have a male horse or a female horse, there are a few cool names that are extremely popular amongst horse lovers.
Check out this list of famous horse names if you are looking for the perfect name for your great horse:
Ace
America
Bambi
Breeze
Caliber
Chief
Dawn
Durango
Blackie 
Dusty (perfect name for a chestnut gelding)
Brownie (perfect name for a brown horse)
Chocolate (perfect name for a dark brown horse)
Boris
Buzz
Bullet
Cactus
Button
Christopher
Eagle
Turner
Normy
Chancy
Midnight (perfect name for a black stallion)
Boxer
Eclipse
Best Names For Cool Horses
A few horse breeds are extremely cool. You will definitely know this as a horse lover. If you own a cool horse breed, then you will need a few cool names to choose from.
Below are a few unique horse names to check out:
Millie
Lady
Alfie
Whiskey
Snow Feet
SwiftsilverIcefall
Tori
Tido
Dragonfly
Cinder
Mystery
Cavier
Prince
edora
Fizz
Sienna
Jim
Jonny
Minty
Nexus
Dustin
Daisy
Mary
George
Puzzle
Good Names For Cool Horses
If you are a horse lover and finding the perfect name for your good horse—be it a racehorse or a quarter horse– then you can refer to the list of cool names below:
Rudy
Red Roan
Diesel
Coco
Duke
King
Oscar
Walter
Falcon
Edmund
Finley
Harley
Harvey
Frank
Henry
Temperance
Morgan
Kennedy
Bailey
Prince
Edora
Leon
Jasper
Diamond
Dreamer
Cute Names For Cool Horses
Looking for a cute name to call your equine friend? If you are a horse lover who loves the cuteness of these creatures, then here's a list of cool names for you to consider:
Gasper
Cal
Dino
Lo
Fudgey
Callow
Fofa
Jello
Dragut
Zypher
Piper
Polky
Sandy
Moly
Rumba
Gizmo
Grizzly
Chico
Oreo
Zeke
Ziggy
Brutzz
Nugget
Sneakers
Salsa
Cool Names For Big Horses
You may come across a few cool names for horses that sound really long. Even if they have two or more words, they make for an amazing identity for your equine friend, whether it's a male horse or a female horse.
Here goes the list:
Lord of the Rings
Snow Queen
Holly Hock
Valentines kiss
Lord Murphy
Countless Melody
Storm Breaker
Half Pence
Aspects Of Love
Armful Of Tiger Lilies
Airborne Magic
A Cowboy's Dream
A Lady's Man
Alexander The Great
A Splash Of Class
Autumn Storm
Autumn Star
Honey Dew
Stronger Than Yesterday
Lost In Memphis
Old Boss
Noisy Boy
Penny Dreadful
Calamity Call
Furious Gypsy
Cool Old West Horse Names
If you wish to go old west with your horse ownership, then you need to definitely check out a few cool old west horse names. Whether you have a black stallion, a chestnut gelding, a racehorse or a quarter horse, the following unique horse names are simply perfect:
Arizona
Annabelle
Babs
Betsy
Boots
Curly
Henry
Silver
Goldie
Trigger
Tony
Koko
Smokey
Dice
Black Jack
Taco
Amigo
Scar
Rusty
Red Roan
Topper
Red Buck
Pete
Ponca
Raider
Cool Show Horse Names
Attend any horse show in the country and you will find some really interesting names of horses coming up.
Do you want a unique horse name for your racehorse or your quarter horse?
Check out the list below:
Daddy's Money
None of your business
Hey, that's my number
You Ain't Just Tootin
Without Undies
A Dynamite Lover
Change for a Dollar
Man O Love
Hez Prepaid
Spank My Wranglers
Kick Asset
Feather In My Pants
Miss Dungeniality
Her Buts A Dragon
Rush to Unzip Me
Drink Boogie Repeat
Unzip and Get Lucky
Kiss Me In The Moonlight
Don't Try This At Home
Dancin N The Dirt
Keep Calm Eat Cookies
Back That Cash Up
Expensive Hobby
Ms Get R Done
Jesus Take The Wheel
Cool Fast Horse Names
What's most thrilling about being a horse lover and a horse rider is the speed of the animal. Some horse breeds make for good racehorses because of their ability to gallop like an arrow.
If you have a racehorse that runs at a tremendous speed, then here are a few cool names to check out:
Bullet
Apache
Jet
Miles
Flash
Cougar
Rapide
Taz
Wildfire
Velocity
Faster
Ghost Rider
Quicky
Traveler
Voyager
Tornado
Bentley
Buzz
Harley
Blustery
Rocket
Racer
Mustang
Sonic
Blustery
Cool Fantasy Horse Names
Believe it or not, horses have been treated as valued companions in several works of fiction and fantasy authors.
If you wish to get inspired by fantasy horses when choosing a name, here's a list of cool names to consider:
Fedora
Mugsy
Lincoln
Barnum
Charity
Tigre
Narnia
Albus
Fedora
Quail
Flight Stallion
Alastor
Ares
Epona
Bella
Artax
Brego (horse of Rohan in Lord of the Rings)
Silver
Goliath
Bree
Binky
Little Sebastian
Shadowfax
Bad Horse
Yfandes
Cool Evil Horse Names
If you have a black stallion or any other evil-looking horse breed, then you can consider one of the following names for your equine friend:
Raven
Hilda
Casper
Blair
Dementia
Kieran
Boris-Karloff
Carmen
Hannibal
Delano
Bloody Mary
Zelda
Kurt Barlow
Caius
Freddie
Regan
Phantom
Bones
Barnabas
Vancha March
Alucard
Lord Daryl
Amadan
Samantha
Zombie
Cool Majestic Horse Names
Horses are generally majestic, but there are a few horses that emanate quite a royal aura.
Be it a chestnut gelding or a dark brown stallion or a white blaze horse mare, the name you choose should make their unique traits stand out.
Here are a few options to consider:
Grandiose
Lithe
Palatial
Balletic
Opulent
Alexander
Hades
Nemesis
Hera
Nyx
Angus
Billy Ray
Barrel
Butch
Colonel
Gunner
Hunter
Wade
Tex
White Flash
Thunderhead
Lightning
Knight
Lira
Kira
Ace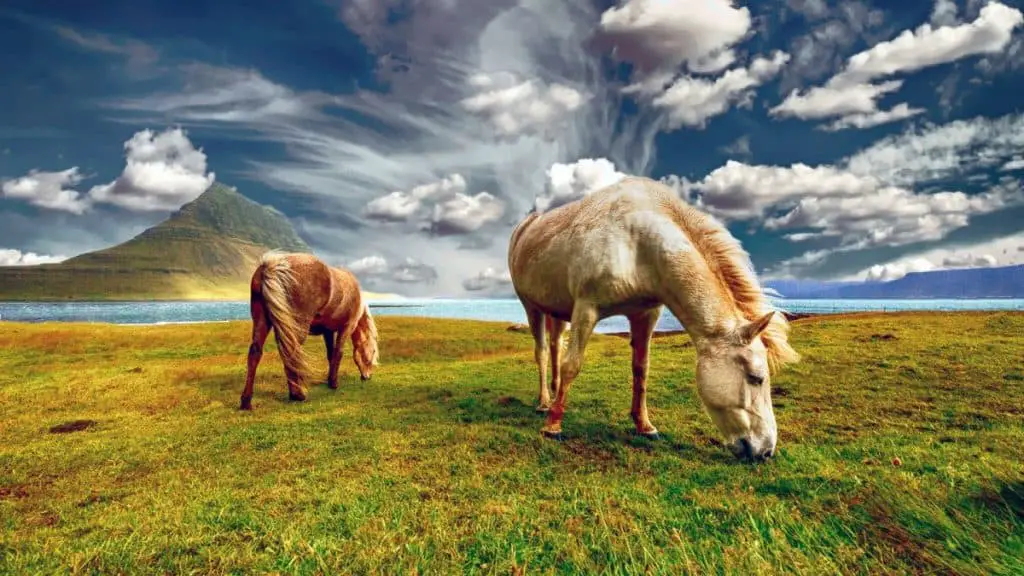 Horse Name Inspiration
If you are finding a unique horse name for your equine friend, then you have a lot of sources of inspiration.
You can consider naming your horse after an expensive thing, a famous personality, remote locations, or artists. Anything that's rare, luxurious, and regal can serve as a great source of inspiration.
Help Choosing The Right Name
When choosing a name for your horse, you need to consider a few aspects of the animal. Consider the type of horse, parentage, and its physical appearance.
For example, Chocolate or Brownie can be a good horse name for a dark brown stallion. Also, identify its temperament and profession to come up with a unique horse name.
Names like Buster, Blaze, and Speeder are great for speedy horses, and Big Brown and Sea Biscuit are good horse names for family pets.
Conclusion
The above are some really cool names that you can check out if you have recently got a new equine friend.
Finding the perfect name for your horse can be difficult initially, but this guide can definitely help you.
To find more unique horse names and horse facts, you can visit www.amazinghorsefacts.com.
If you're still looking for more inspiration, check out these awesome lists of horse names!
Related Posts