Horses are magnificent creatures and one of the proudest pets one can have; therefore your friend also deserves a name that befits its personality. In the pages of history, horses have always been symbols of power, status, honor, and agility.
Along with the great historical figures, their horses were also immortalized in the pages of history whether it is Alexander the Great's horse Bucephalus, Napoleon's horse Marengo or Rajput King Maharana Pratap's horse Chetak.
The thing with names is that they transcend languages and places. However, have you explored Spanish horse names?
Spanish is one such language that may seem like music to the ears and is full of beautiful names with beautiful meanings behind them.
So here is a list of Spanish names for horses for you to choose from both masculine and feminine, along with their meanings. Give your pet a name in pure Spanish and revel in the sheer personality it displays.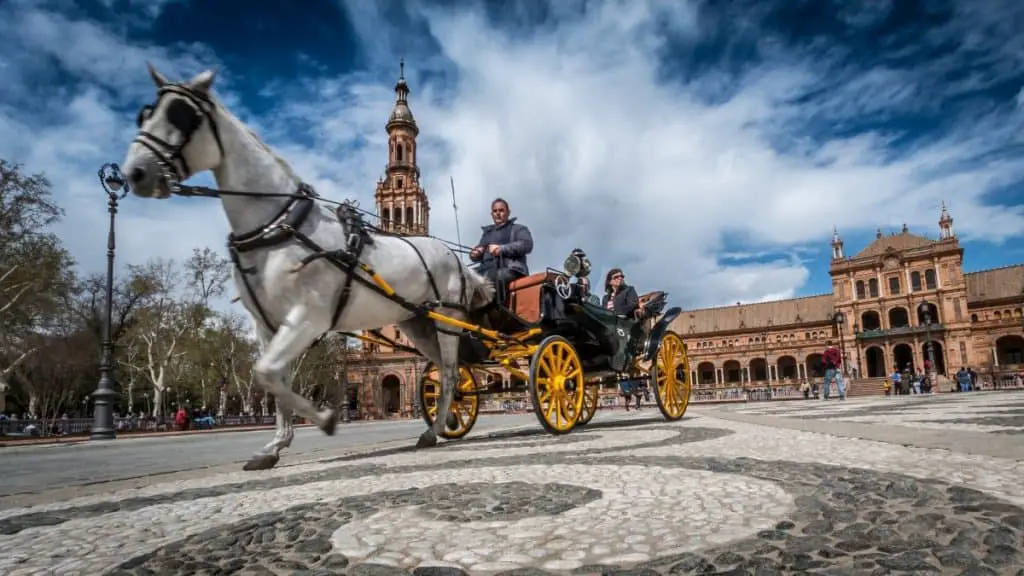 Male Spanish Horse Names
There is no shortage of masculine and historically symbolic Spanish names for your male horse:
Abogado: Lawyer
Abran: After Biblical Abraham
Agustin: Grand, majestic, royal
Alejendro: Alexander in Spanish, Defender of mankind
Anastasio: Resurrected
Andres: Manly
Angelino: God's messenger
Arturo: Noble
Bartoli: Ploughman
Bartolome: Ploughman
Basilio: Noble
Bonifacio: Benefactor
Buinton: Born fifth
Carlomagno: Charles the Great
Carlos: Manly
Casimiro: Peaceful
Cesar: Long haired, Ceasar
Conrado: Able counsel
Cristofer: With Christ inside
Damario: Greek Damaris gentle
Danilo: God is my judge
Diego: Supplanter/Substitute
Duardo: Prosperous guardian
Edmundo: Wealthy protector
Eduardo: Prosperous guardian
Everardo: Brave
Faron: Pharoah
Fausto: Lucky
Federicko: Peaceful ruler
Feliciano: Happy
Felippe: Variant of Phillip
Felix: Lucky
Gabriel: God is my strength
Gabrio: God is my strength
Gilberto: Hostage
Godfredo: Friend of God
Gualtero: Strong warrior
Guido: Guide
Guillermo: Protector
Hector: Tenacious
Hernan: Adventurous
Horado: Spanish variant of Horace the time keepers
Hugo: Intelligent
Humberto: Big/Bright
Ishamel: God listens
Ivan: Archer
Jacinto: Hyacinth
Jacobo: Supplanter
Jago: Supplanter
Javier: Variant of Xavier, bright
Joaquin: Jehovah has established
Josua: Variant of Joshua
Juan: Variant of John
Lazaro: Help of God
Leon: Lion
Leopoldo: Bold man
Lisando: Liberator
Luciano: Light
Luis: Variant of Louis
Macario: Happy
Manolo: God is with us
Manuel: Abbreviation of Emanuel
Marco: Warring
Marquez: A title below duke and above earl
Miguel: Archangel
Naldo: Strong
Noe: Variant of Noah, Noah of the Arc
Norberto: Heroic
Normando: Man of the north
Oliverio: Affectionate
Orlando: Renowned in all lands
Pablo: Little one
Pepe: Variant of Joseph
Peter: Variant of Peter, a rock
Rafael: God has healed
Raul: Wolf
Reyes: King
Ricardo: Strong ruler
Roderigo: Notable leader
Sabino: A sabine
Sal: Savior
Salbatore: Savior
Salomon: Peace
Sebastiano: Sebastian the revered
Sein: Innocent
Silvino: Greek god of trees
Tadeo: Praise
Tajo: Day
Taurino: Bull-like
Tomas: Twin
Tulio: Lively
Ulises: Variant of Odeyssus, the Greek hero
Urbano: From the city
Valentin: Valiant, the Roman Emperor
Vicente: Conquering
Victoro: Victor
Xalbadore: Savior
Yago: Supplanter
Zacarias: Remembered by God
See more amazing male horse names here.
Female Spanish Horse Names
A suitable feminine name for your female Andalusian horse will not only display its fierceness but also bring about a womanly feature.
Here are some ideas for your female Spanish horse:
Abril: April month
Acacia: Honorable
Adalia: bobility
Adonia: Beautiful lady
Adriana: Dark
Agnese: Pure
Alandra: Defender of the mankind
Alda: Wise
Alita: Noble
Amanda: Lovable
Angela: Angel
Bella: Beautiful
Benita: Blessed
Berta: Blessed
Blanca: White
Calandria: Lark
Camila: Attendant
Candie: Glowing white
Carla: Feminine of Charles
Carola: Joy
Cassandra: Unheeded prophetess
Cierra: Saw
Clementia: Merciful
Crista: Appointed one
Dilila: Delicate
Damita: Little noble
Dani: God will judge
Delicia: Charming
Delinda: of beauty
Delphia: Dolphin
Dia: Day
Dolores: Sorrow
Dona: Lady
Earlena: Shield
Elbertina: Noble
Elisa: Consecrated to God
Elvira: Truth
Emerald: The gemstone
Estefana: Crowned with laurels
Ezmeralda: Emerald gem stone
Faustina: Lucky
Felicita: Happy
Fermina: Strong
Florecia: Blooming
Franscisca: Free one
Galena: Small intelligent one
Garabina: Purification
Guadalupe: Virgin Mary
Graciana: Grace
Gregoria: Vigilante
Henriqua: Ruler of the home
Hermosa: Beautiful
Hortencia: Garden
Idoia: Virgin Mary
Idurre: Virgin Mary
Ignacia: Fire
Illeana: Variant of Elena
Iluminada: Illuminated
Isabela: Devoted to God
Itsaso: Sea
Izar: Star
Jacinta: Purple
Jade: Jewel
Jakinda: Hyacinth
Javiera: Feminine of Javier
Jimena: Heard
Joaquina: Prepared
Jordana: Down flowing
Josefa: God shall add
Jovanna: Female of Jupiter the father of sky
Julieta: Loves child
Karmen: Variant of Carmel
Landra: Counselor
Lara: Protection
Laurencia: Covered with Laurels
Lavina: Variant of Levinia
Leonor: Light
Liana: Youthful
Luella: Feminine of Luis
Luz: Brings light
Madalynn: Variant of Madeline
Madena: Woman from Magdala
Nalda: Strong
Narcisa: Feminine of Narcissus the Greek character
Olivia: Olive
Pabla: Little one
Palmira: City of palms
Ramona: Wise defender
Reya: Queen
Sabana: From the open plains
Salma: Ambitious
Sancha: Holy
Telma: Variant of Thelma
Vina: From the vineyard
Xalvadora: Savior
Yadra: Mother
Yoana: God's gift
Zamora: From Zamora
Zandra: Feminine of Alexandra
See more beautiful female horse names here.
Famous Spanish Horse Names (Perfect For Any Andalusian Horse)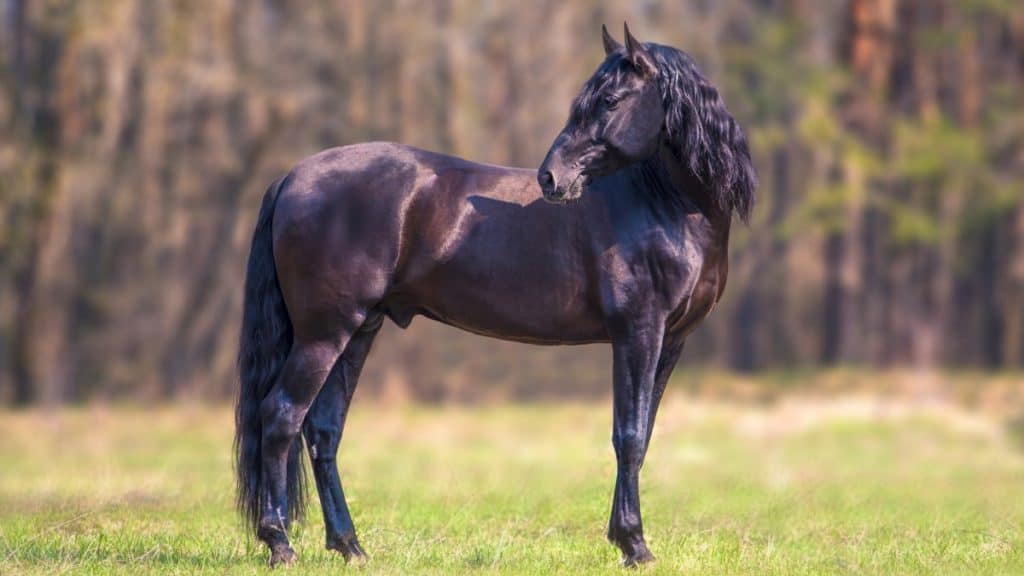 Want to find a famous Andalusian horse moniker? You're in luck, here are some famous names fit for Spanish horses:
Anibal:  which means "graced by God"
El Fuego: means "the fire". One of the best names you will find
Felipe: is the classic Spanish name Felipe itself
Feliz:  means "happy". You will surely want to name your male horse Feliz
Fresco: meaning "cool"
Jarron: meaning "vase"
Lorenzo: means "Lawrence"
Magnifico: meaning "magnificent"
Maximo: meaning "full or maximum"
Miguel: meaning "who is like God?" in English
Ocaso: meaning "sunset". A wonderful name to give to a male equine
Pablo: meaning Paul which is derived from the Saint Paul in the New Testament
Poderoso: meaning "mighty and powerful"
Raro: means "rare"
Rubio: meaning "blond male"
Adelita: meaning "nobility"
Agua:  meaning "water"
Alba: meaning "sunrise"
Alegria: meaning "cheerful"
Angel: this name from Spain means "angel"
Aurora: meaning "dawn"
Bonita: meaning "pretty". Surely a name everyone will like
Cielo: meaning "heaven"
Damita: meaning "little lady"
Descarada: meaning "cheeky/sassy"
Cute Spanish Horse Names
Below is a list of some of the cutest names of Spanish origin:
Baila
Bolero
Cachucha
Caramba
Chispa
Diablo
Duende
Escocesa
Fiesta
Gitana
Inquisidor
Jota
Lola
Maestro
Malaga
Mariquita
Morenica
Muchacha
Nocturna
Parejita
Picaflor
Rumba
Seductora
Tango
Tarasca
Vaquera
Vals
Vivaldi
Valentina
Xara
Mexican Horse Names
Horses are some of the most incredible creatures, and their history goes back almost 50 million years. The history of Mexico goes back roughly 13,000 years, and so do its horses. Several horse breeds originate from Mexico, including the Azteca.
If you are the owner of a horse and want to give it a Mexican name, we've made a list of male and female names that will fit your horse's personality.
75 Mexican Male Horse Names and Meanings
Arturo: Noble One
Rafael: God the Healer
Guillermo: Protector
Duardo: Guardian
Hector: Tenacious
Miguel: Archangel
Jago: Supplanter
Tulio: Lively
Vicente: Conquering
Zacarias: Remembered by God
Gualtieri: Strong warrior
Ivan: Archer
Tadeo: Praise
Faron: Pharoah
Lazaro: Help of God
Sal: Savior
Norberto: Heroic
Casimiro: Peaceful
Alejandro: Defender 
Sein: Innocent
Naldo: Strong
Joaquin: Jehovah is Here
Salvatore: Savior
Cesar: Long-haired
Agustin: Grand
Raul: Wolf
Danilo: God Will Judge Me
Xalbadore: Savior
Bonifacio: Benefactor
Oliverio: Affectionate
Tomas: Twin
Carlomagno: Charles the Great
Marquez: A Royal Title
Godfrey: Friend of God
Luciano: Light
Macario: Happy
Basilio: Noble
Feliciano: Happy
Everardo: Brave
Ricardo: Strong One
Javier: Bright One
Normando: Northern Man
Manuel: Emanuel
Felix: Lucky
Yago: Supplanter
Damario: Gentle
Gilberto: Hostage
Hernan: Adventurous
Lisandro: Liberator
Roderigo: Notable Ruler
Andres: Manly
Sabino: Sabine of the River
Eduardo: Prosperous Protector
Salomon: Peace
Anastasio: Resurrected
Abran: Abraham Son of God
Hugo: Intelligent
Carlos: Manly
Federico: Peaceful King
Gabriel: Strength of God
Fausto: Lucky
Ishmael: God Will Listen
Taurino: Like a Bull
Orlando: Famous Through the Land
Edmundo: Wealthy 
Humberto: Bright
Manolo: God is Here
Leopoldo: Bold One
Cristofer: Christ Lives Within
Angelino: Messanger of God
Felippe: Phillip
Guido: The Guide
Pablo: The Little one
Reyes: Great King
Gabrio: Strength of God
75 Mexican Female Horse Names and Meanings
Florencia: Blooming
Calandria: Lark
Berta: Blessed
Salma: Ambitious
Dolores: Sorrow
Adonia: Lady of Beauty
Dia: Day
Iluminada: The Light
Ignacia: Fire
Laurencia: Of the Bay Leave
Acacia: Honorable One
Candie: A White Glow
Jacinda: Hyacinth
Liana: Youthful
Amanda: Lovable
Lara: Protection
Pablo: Little One
Faustina: Lucky
Angela: Angel
Felicita: Happy
Sancha: Holy
Elisa: Sacred to God
Elena:  The Shield
Dani: God's Judgement
Illeana: Elena
Crista: The Appointed One
Reya: Great Queen
Guadalupe: Our Lady of Guadalupe
Luz: The One Who Brings Light
Francisca: Free One
Adriana: Of the Dark
Vina: Off the vineyard
Josefa: God Will Provide
Jade: A Jewel
Emerald: The Green Gemstone
Blanca: The White One
Gregoria: Vigilante
Landra: Counselor
Isabela: God's Devoted One
Izar: Star
Damita: Little Noble One
Jacinta: Purple
Leonor: Light
Dalila: Delicate
Luella: Feminine of Luis
Yoana: Gift From God
Idoia: The Virgin Mary
Nalda: Strong One
Karmen: Variant of Carmel
Delicia: Charming
Garabina: Purification
Camila: Attendant
Xalvadora: Savior
Joaquina: Prepared
Agnese: Pure
Itsaso: Of the Sea
Albertina: Noble One
Graciana: Of Grace
Delinda: One With Beauty
Carola: Joy
Sabana: Of the open plains
Javiera: Feminine of Javier
Lavina: Variant of Levinia
Olivia: Olive
Benita: Blessed
Elvira: Truth
Clementia: Merciful One
Fermina: Strong
Jimena: Heard
Palmira: Land of Palms
Alita: Noble
Zamora: From Zamora
Idurre: Beloved Virgin Mary
Cierra: Saw
Alda: Wise
Spanish Name Inspiration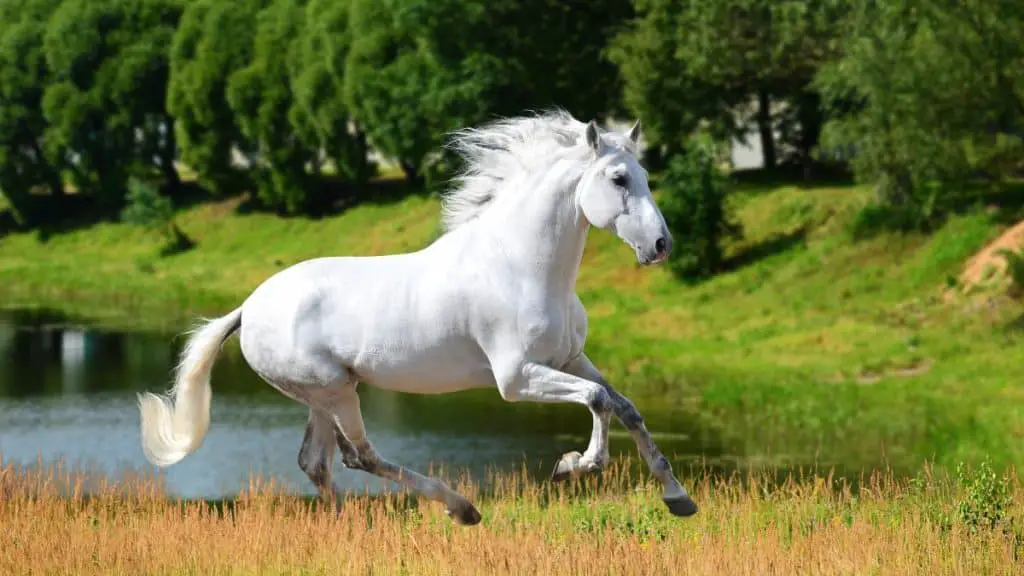 Finding inspiration to name your horse must come from understanding your new friend and its personality. Its color, its breed, its gait, the behavior, and your dynamics with your new pet, all count while giving your horse the right name.
For example, if your equine is dark, find inspirations in names representing black or dark features such as Lela (dark-haired beauty).
Find inspiration in the minutest of its features such as any marks on the body or color of its hair while getting familiar with the animal first.
Pronounce the name again and again so that you get familiar with it.
You can go by what your horse is—a bit of an alpha mare, a rather quiet gelding—and choose a name that reflects that. It is all about choosing the name which will reflect the energy and good vibes onto your animal.
Or you can give your horse a name that denotes a quality you would like him to have. These lists are just the beginning—use them as inspiration!
If you do not speak or understand Spanish, you are advised to make use of the Spanish Thesaurus. It will help you find simpler alternative names for the meaning of what you intend to convey.
If you love the Spanish language, and you do not understand the language or your vocabulary is terrible, you can head over to Google translate to get more exciting names. Type in the word(s) you wish to translate and search for it in Spanish, it will translate. You can make use of the speaker icon to learn how to pronounce the word.
Tip: If you are struggling to come up with a name on your own, there are plenty of horse name generators online to help you out.
Conclusion
Your horse is no less than a member of your family.
Therefore it is really important to choose a name which the animal can get used to as well as you. Out of the sea of such names, a beautiful name in Spanish for your horse is what can bring out its true personality.
Make sure that you choose a name that is easy to pronounce and gives off good vibes. The energy you project onto your animal is really important and therefore a suitable name is a must.
If you're still looking for more inspiration for your horse's name, check out these awesome lists of horse naming guides! Other places where you can find ideas include online name generators and even try searching Spanish cat or dog names in Google.
Related Posts