The world of Irish horse names is vast … almost as large as the Emerald Isle itself. But searching for the perfect Irish name to match your horse's gender, looks, or personality (and maybe even a wee bit of your own persona) can be as daunting a task as finding a four-leaf clover on an Irish hillside.
If you're dreaming of dubbing your new horse with a lyrical Irish name that's brimming with beauty, tradition, and perhaps a touch of humor, here is an extensive list of Irish names and their meanings, separated by category.
With a little luck o' the Irish, this guide will point you toward a clever and creative Celtic name for your equine companion.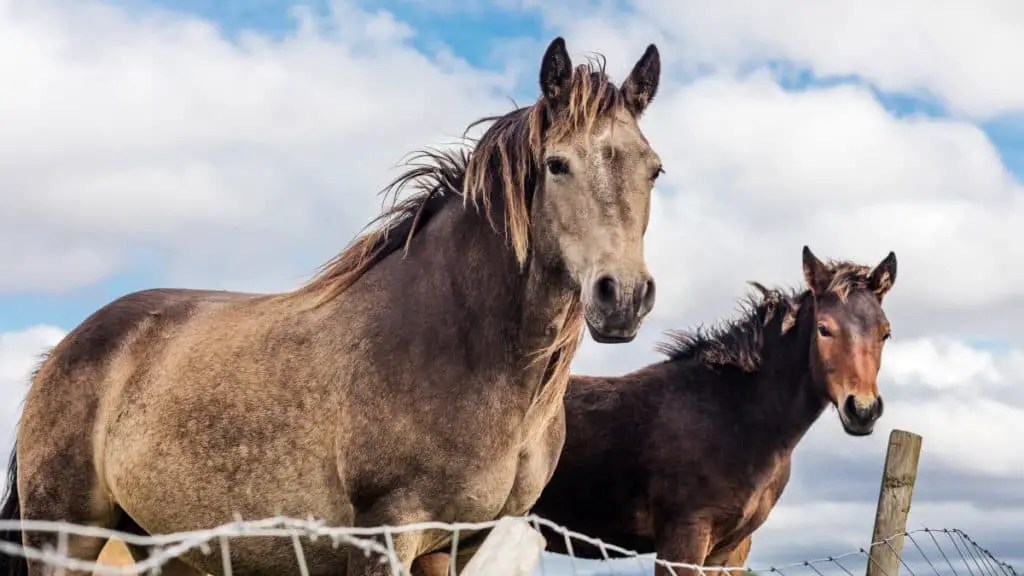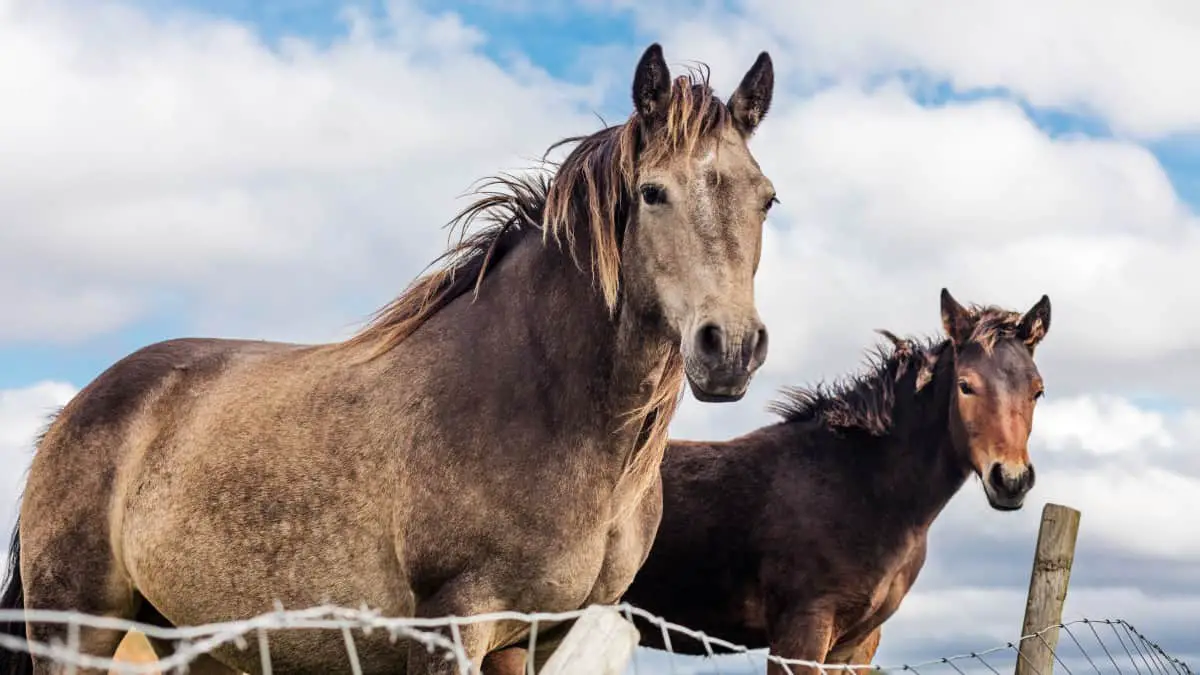 Best Irish Horse Names
Each Irish name below represents something to make your horse stand a little taller in his or her stall:
Raghnall – Strong
Bailintin – Valiant
Ernan – Serious
Kane – Gift or tribute
Nolan – Noble
Aguistin – Majestic
Ailfrid – Wise
Ailin – Handsome
Maher – Generous
Quinn – Intelligent
Kelly – Energetic, lively, happy
Clover – Charming, lucky, a green plant
Finley – Brave and fair warrior
Dublin – The capital city of Ireland
Ambros – Divine
Conlan – Hero, wise
Connolly, Connacht – Brave, wise
Ainmire – Great lord
Shanahan, Seanachan – Wise
Shea, Seaghda – Majestic
Conan – Respected, brilliant, special
Keegan – Little fire, feisty and spirited
Cleary – Scholar
Anmcha, Amnchadh – Brave
Felix – One with good fortune, happy and content
Austin – Majestic, magnificent, or regal
Ahern, Ahearn – Lord of the horses
Chance – Good luck and fortune
Alphonsus – Noble, ready
Maonaigh, Mooney – Wealthy
Kelleher – Loving husband
Cullen – Handsome and masculine
Anntoin, Ann – Priceless
Aralt – Leader
Eimhin, Eimar, Evin – Swift
Seamus – Cunning, clever
Aineislis – Glorious stand
Justin – Judicious
Carthage, Carthach – Loving
Morain, Moran – Great
Anlon, Anluan – Champion
Irish Horse Names For Geldings
The following list includes meaningful Irish names that would be good for a gelding. They signify strength, nobility, and many other charming qualities:
Kirby – A church farm
Tully, Taicligh – Peaceful
Fionn – Small fair-haired soldier
Caffar – Helmet
Keely, Kealy – Handsome
Molloy, Malloy – Noble chief
Dempsey – Proud
Eachan – Horseman
Abban – Abbot
Craig – Rocks or crags 
Lam – Forest, woods
Flynn, Flin, Flinn – Son
Caith – From the battlefield
Shannon – Wise river
Elroy – Red-haired youth
Rory – Red, rust-colored
Kevin – Handsome, small, cute
Oscar – Deer-lover, a mythical character
Farry – Manly
Terrence – Tender
Prionsa – Prince
Canice – Handsome
Regan, Riagan, Ryan, Rian – Little king
Beacan – Cute or little one
Renny, Raighne – Mighty
Carlin – Little champion
Coireall – Lordly
Ward – Son of the bard
Tormey, Tormaigh – Thunder spirit
Trevor, Treabhar – Prudent
Ualtar – Strong fighter
Breandan – Prince
Carroll, Cearbhall – Manly
Khu – Cheerful, joyous, adorable
Melvyn, Malvin, Melvin, Mal – Chief
Rian – Little king
Tara – One that carries you
Eamon, Eamonn – Guardian
Torin, Toryn – Chief
Finbar, Fineen, Finnin – Handsome
Cahir, Cathaoir – Warrior
Aengus, Angus, Aonghus, Oengus, Ungus, Enos, Hungas – Vigorous
Irish Horse Names For Mares 
There certainly is no shortage when it comes to Irish names for mares.
These selections and their meanings would be sure to show the world how much you prize your bonnie lass:
Avonmore – From the great river
Assan – Waterfall
Holly – A majestic and lovely creature
Quinlan – Graceful
Annabelle – Joyful and happy pet
Daibheid – Dearly loved
Adhamh – Of the earth
Nayeli – Cute and attractive
Cadhla – Graceful, beautiful
Fiona – Beautiful, fair
Sheridan – Untamed
Cordelia – Honest and good-hearted
Ennis – Extraordinary, special
Kylie – Graceful, beautiful
Riona – Regal or queen-like
Lorcan – Little wild one
Yale – Fertile upland
Connemara – Wild and beautiful
Shauna – Gift, God's grace
Imogen – Innocent, maiden
Brady, Bradaigh – Spirited
Ivy – A vine, evergreen climber
Willow – Caring, soft, quiet
Erin – Peaceful, calm, and kind 
Laoise – Light, splendor
Cliodhna – Goddess of love, beautiful
Clare – Clear and bright, famous
Niamh – Daughter of the sea god, lustrous
Fineen – Beautiful child
Feich, Fay – Raven
Sadhbh – Sweet and wise
Haley – Ingenious
Mairead – Pearl, shining
Benen – Kind
Sorcha – Radiance, brightness, splendor
Destiny – Fortune, good luck, fate
Vala – Chosen
Anna – Graceful, poised, and elegant
Wenda – Comely, a friend
Egon, Egan, Eagon – Fiery
Hanraoi – Rules the home
Cara – A beloved friend, a kindred spirit
Eimear – Gentle words, wisdom, virtue, beauty, sweet voice, and skill
Claire – Dark-haired
Kaylee, Kayleen – Pure and pristine 
Brennan – Little raven, little drop
Eileen – Bright light, guiding light
Moher – Irish coastal sea cliffs
Glaleanna – Dwells in the glen
Carney, Cearnach – Victorious
Roisin – Little rose
Willow – Caring, soft, and quiet
Caley, Caly, Caolaidhe – Slender
Ciara – Dark-haired or having dark eyes
Aleen – Pretty, good-looking
Hurley – Sea tide
Kayla – Innocent, good, and pure 
Meadhra, Meara – Happy
Daithi – Beloved, nimble
Dearbhla – True desire, lovely
Blathma – Flower, sun
Siobhan – Charming
Aine – Mythical queen, radiance
Blathnaid – Blooming flower
Cadie – Rhythmic, flowing sounds
Famous Irish Horse Names
Irish culture is known the world around for its profound influence on music, literature, sports, and the stage. So why not hitch your steed to the name of a famous Irish horse, or even a famous Irish human? 
Famous Irish draught horses:
King of Diamonds
Clover Hill
Sea Crest
Ado Annie
Carling King
Cruising
Free and Clear
Sir Rivie
McKinlaigh
Kiko
Famous Irish horses on TV and in movies:
Seamus (appeared in BBC TV series, "Poldark")
Tír Na Nóg (appeared in the movie, "Into the West")
Famous Irish humans:
William Butler Yeats
George Bernard Shaw
Maeve Binchy
Liam Neeson
Pierce Brosnan
Colin Farrell
Kenneth Branagh
James Joyce
Oscar Wilde
Samuel Beckett
Funny Irish Horse Names
Comedy seems to be an Irish pastime, judging by the likes of Conan O'Brien, John Mulaney, Jimmy Fallon, George Carlin, Stephen Colbert, Dana Carvey, Bill Murray, Art Carney, and Alec Baldwin. There's comedy in the punch lines of many a limerick, too.
These humorous horse handles are bound to cause some chuckles at the local stable (or pub): 
Horsey McHorseface
Irish You Well
Givemeanothername
Waikikamukau 
Arnold Schwarzeneighgger 
Hoof Hearted
Ha Ha Ha
Hermioneigh
DoReMiFaSoLaTiDo
Smartie-Pants
Maythehorsebewithu
David Hasselhoof 
Myexwifesashes
Hay Girl
NightMare
Harry Trotter 
Forrest Jump
Hoof Jackman 
Buck Rogers 
Britney Spurs
Bunny Killer
Pickles
Dustin Hoofman 
Liam Neighson 
Sylvester Stallion 
Unique Irish Names For Horses
The Irish names below are outstanding because of their association with Irish places or mythology, their unusual spellings, or the surprising fact that they describe other animals:
Breena – A fairy castle from an imaginary tale 
Owen – Born of a yew tree 
Cairbre – Mythical name 
Loki – Cunning, an ancient God, trickster 
Nessa – Rough, powerful, a mythical character 
Earnan – Knowing 
Caomh – Lovable 
Laoidhigh, Lee – Poetic 
Cuinn – Intelligent 
Griffin – Mythical creature, fierce guardian of precious treasures 
Carys – Pure and deep love, soulful romance 
Bronagh – Sorrowful, name of a saint 
Teague, Teaghue – Poet 
Asher – Blessed, an old Biblical name 
Daithi – Agile and fast, a ruler of Ireland 
Lugh – Mythical name 
Donegal – A town in Northwestern Ireland, fort for strangers 
Deirdre – A broken heart, emotional and sensitive 
Heremon – Mythical name 
Calhoun, Coillcumhann – From the narrow forest
Orla – Golden ruler or princess 
Doyle – Mysterious, dark stranger 
Blarney – A lovely town in Southwest Ireland 
Tadhe – Bard or poet, name of a historical king 
Saoirse – Freedom, a patriotic name 
Searbhreathach – Judicious 
Grainne – Grain, goddess of harvest 
Aghy – Friend of horses 
Keenan, Keanan – Ancient 
Cian – An ancestor of Cianachta, part of an Irish myth 
Niall – A champion, exceptional, a star 
Aisling – Dream, a form of poetry 
Elhe – Legend name 
Burren – Location in Southeast Ireland, a rocky place 
Lakeland, Lochlann, Lochlain – Home of the Norse people
Senan – Ancient, wise 
Wexford – A coastal town in Southeast Ireland 
Weyland – Light complexion 
Sile – Patron of music, untarnished 
Sean – God's grace, old and wise 
Aoibhinn – Beautiful and pleasant 
Cashel – A town in southern Ireland, also means castle 
Cruadhlaoich, Crowley – Hunchbacked 
Seamus – Cunning, clever 
Darragh – Fruitful, dark oak tree 
Eabha – The Irish version of Eve, a Biblical name 
Keenan, Keanan – Ancient
Sage – Wise and intelligent 
Gallagher – A kind and helpful pet 
Banbhan – Piglet 
Aidan – Energetic and lively pet 
Ronan – Little seal 
Faolan, Felan – Wolf
Artur, Art – Noble bear 
Oonagh – Lamb, unity, and oneness 
Oisin – Small deer, a mythical poet, and hero 
Gall – Rooster 
Crevan – Fox
Yuki – Fun-loving pet
Flannery – Red-haired pet 
Callum – Dove
Collin – Cute cub or puppy 
Cool Irish Names For Horses
Now we come to some names that have been selected simply because of their coolness factor. They fall into two groups.
Irish musicians:
Sinéad
O'Connor
Enya
Cranberry
O'Riordan
Hozier
Van Morrison
Damien
Gallagher
Rory
Bono
The Edge
Just some very cool names:
Scannalan, Scanlon, Scanlan – Scandal
Quigley – Unruly hair
Callough, Calvagh, Calbhach – Bald
Houdini – For horses who like to hide
Mr. Frodo – For Lord of the Rings fans
Usain Colt – An obvious reference to speed
Irish Horse Show Names
If you'd like to borrow a name from an Irish horse show, here's a sample of the puissance (high jump) winners from the past several years at the Dublin Horse Show.
They range from the simple to the complex:
Clyde (2013)
Acorad 3 Afp's Quick Vainqueur (2014)
Seapatrick Cruise Cavalier (2015)
Cisero Acorad 3 (2016)
Cavalier Rusticana; Seapatrick Cruise Cavalier (2017)
Citi Business; Chacote; CMS Tallulah; Hearton DuBois Halleux (2018)
Dassler (2019)
Irish Race Horse Names
If speed is your thing, here are some famous Irish racehorse names to inspire you:
Shergar
Arkle
Synchronised
Dawn Run
Horse Name Inspiration
Just about anything Irish can inspire you, from songs to foods and beverages, to the color green. Try looking at those hilly green travel posters of Ireland and imagine you and your horse there.
If that doesn't help, here's a list of Irish songs, colors, and goodies to get your mind in gear (and your mouth-watering):
Irish tunes:
Molly Malone
Galway Girl
When Irish Eyes are Smiling
Danny Boy
The Irish Rover
The Foggy Dew
Riverdance
Too-Ra-Loo-Ra-Loo-Ral
Synonyms for green:
Lime
Jade
Olive
Chartreuse
Fresh
Mint
Verdant
Apple
Irish foods and beverages:
Beef stew
Irish coffee
Shepherd's pie
Irish soda bread
Corned beef and cabbage
Bangers and mash
Irish brown bread
Irish pasties
Champ (mashed potatoes, butter, and onions)
Irish cream
Stout
Pint
Help Choosing The Right Name
It's common to struggle a bit when naming an animal, so it's understandable that you might feel like you need a little help.
Friends and family are usually more than happy to tell you what they think of your name choices … for better or for worse.
Bouncing ideas around with fellow horse-lovers and those who know your horse's personality traits is a good idea, too.
You can even join an Internet discussion group these days. Just describe your horse's traits and see what pops up.
For example, if your horse happens to have a clover-shaped marking on its forehead, your new online friends might suggest one of the following:
Clover the Rainbow
Leprechaun's Leap
Lucky in Love
Shady Shamrock
Clover the Moon
Conclusion
Maybe you're Irish. Or perhaps you're just attracted to Irish songs, Irish whiskey, or Irish eyes.
Whatever your motivation is for giving your horse an Irish name, have faith! You'll find that four-leaf clover yet.
Because, as you can see, the choices are many. Maybe not quite as many as there are potatoes in Ireland, but close. And that's no malarkey!
If you're still looking for more inspiration, check out these awesome lists of horse names!
More Ideas