Choosing the perfect name for your horse is not an easy task.
You'll want to discover his or her character traits before deciding which name will fit best.
If you look at the Japanese horse names below, you will find the meaning behind each name and how it can add a special bond between a horse and its master.
Let's dive in.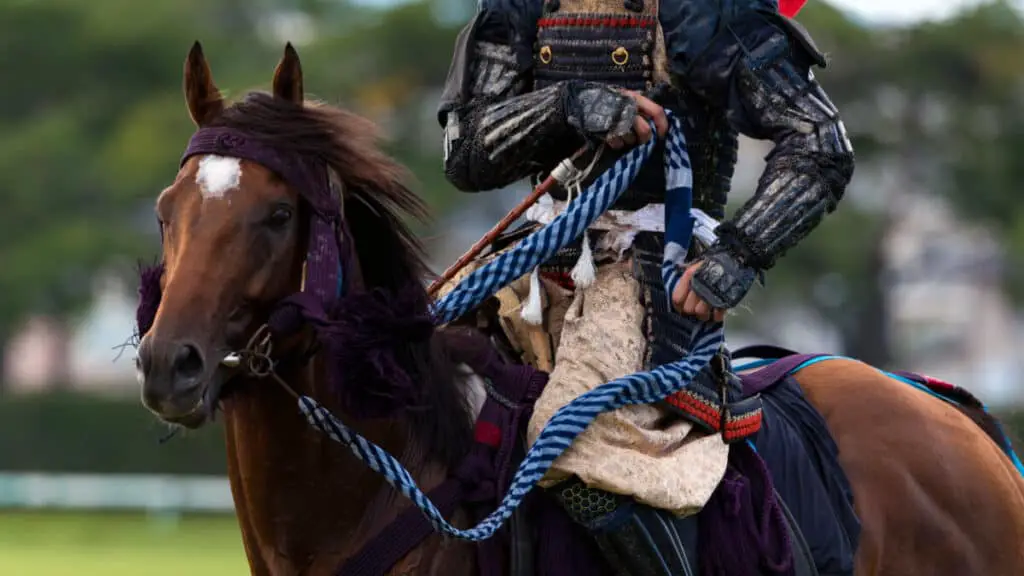 150 Male Japanese Horse Names
Finding the perfect male horse name can be challenging, but once you know your horse's personality, you'll be able to choose a name that suits him!
You can pair the meaning with your horse's qualities and together find the best name for your horse.  
When you look at some of the Japanese horse breeds, such as Nokara, Misaki, Kiso, Namo, and Dosanka, it's easy to see how unique Japanese names are.
Check out the list below to find the perfect male horse name: 
Yutaka – Affluence
Saku – Bloom
Tama – Jewel
Masahiro – Justice
Kioshi – Quiet
Kauma – Coal
Osamu – Ruler
Torio – Tail of a Bird
Ryo – Excellent
Kaoru – Fragrance
Shin – Truth
Masaaki – Brightness
Naoko – Honest
Tafu – Tough
Seiichi – Sincere
Sadao – Decisive Man
Takashi – Noble
Takeo – Warrior
Tatsuo – Dragon Man
Tetsip – Clear Thinking
Yuudai – Great Hero
Ageru – Raise
Shoma – Reaching for Truth
Ryuji – Dragon Man
Akemi – Beauty of the Dawn
Takiyo – Great Light
Arata – Fresh
Kentaro – Big Boy
Botan – Peony
Hana – Flower
Fujita – Field
Katashi – Firmness
Taiki – Shine
Nobuyuki – Faithful Happiness
Haru – Spring Born
Yogi – Yoga Practice
Kano – Water God
Kichi – Good Luck
Besuto – Best
Tozen – Deserving One
Amida – Name of Buddha
Sin'ichi – Faithful
Nikko – Sunshine
Kyoda – Bang
Ronin – Drifter, Wanderer
Akira – Bright and Clear Dawn
Kenji – Intelligent Ruler
Tomo – Twin
Riku – Land
Namiyo – Wave Man
Shig – Luxuriant
Shuji – Governing
Teruma – True Illumination
Hiroki – Timber trees
Akihiko – Shining Prince
Hinata – Sunflower
Masayuki – Happiness
Raio – Lion
Yoshifumi – Good Writings
Dair – Great
Yasashiku – Gentle
Manzo – Strong
Shamon – Buddhist Monk
Kaoru – Fragrance
Hashi – Chopsticks
Isao – Honor, Merit
Nen – Deep Hope
Mitsuo – Shine, Light
Yoshikazu – Good and Harmonious
Katari – Firm
Rei – Law, Ruler
Yoshinori – Righteous Principles
Kono – Dexterity and Skill
Hiroki – Strength, Abundant, Joy
Teru – True Illumination
Kanaye – Zealous One
Akhiro – Brightness
Ken – Healthy, Strong
Fudo – God of Fire and Wisdom
Uta – Melody, Song
Sora – Sky
Mamoru – Earth
Daiki – Glory
Hisoka – Reserved
Kaede – Maple
Yasuo – Peaceful One
Toshi – Alert
Hajime – Beginning
Akihiro – Bright Scholar
Izanagi – Inviting Male
Kiyoshi – Quiet
Kiyo – Purity
Toyo – Plentiful
Tani – Valley
Ezume – Pure Water
Masanori – Principles
Tora – Tiger
Ozuru – Stork
Yuki – Snow, Happiness
Shin'ichi – Faithful
Kuru – Black
Hiroshi – Generous
Doki Doki – Excited
Haruo – Springtime Man
Rana – Runner
Masuyo – Benefit, World
Yukio – Snow
Nobu – Faith
Kin – Golden
Ringo – Peacefulness
Masashi – Official, Correct
Kenichi – Healthy or strong
Yoshimitsu – Light of Happiness
Genki – Lively One
Ryuu – Dragon
Kaito – Ocean Flying
Kitaro – Happy Boy
Yoshito – Lucky Man
Michiya – Wisdom
Kishi – Seashore
Takai – High Well
Michi – Pathway
Shouta – Big flying
Koshiro – Ambitious
Tetsuya – Clear Evening
Taiyo – Sun
Monterio – Big Man
Tenchi – Heaven and Earth
Hikaru – Radiance
Yoichi – Masculine
Yuji – Courageous
Tsutomu – Worker
Yoshi – Best, Better
Kazuhiko – Harmonious Prince
Taishiro – Ambitious
Yori – Dependence
Hiroyuki – Widespread Happiness
Kaori – Strong
Taro – Eldest Son
Emi – Blessing
Joben – Cleanliness
Hayai – Fast
Kisho – Mindful
Taigen – Great Ambition
Hoshi – Star
Hikaru – Shining Light
Kaiyo – Ocean
Haruki – Shining Sun
Minori – Village of Beautiful Fields
Jin – Placid
149 Female Japanese Horse Names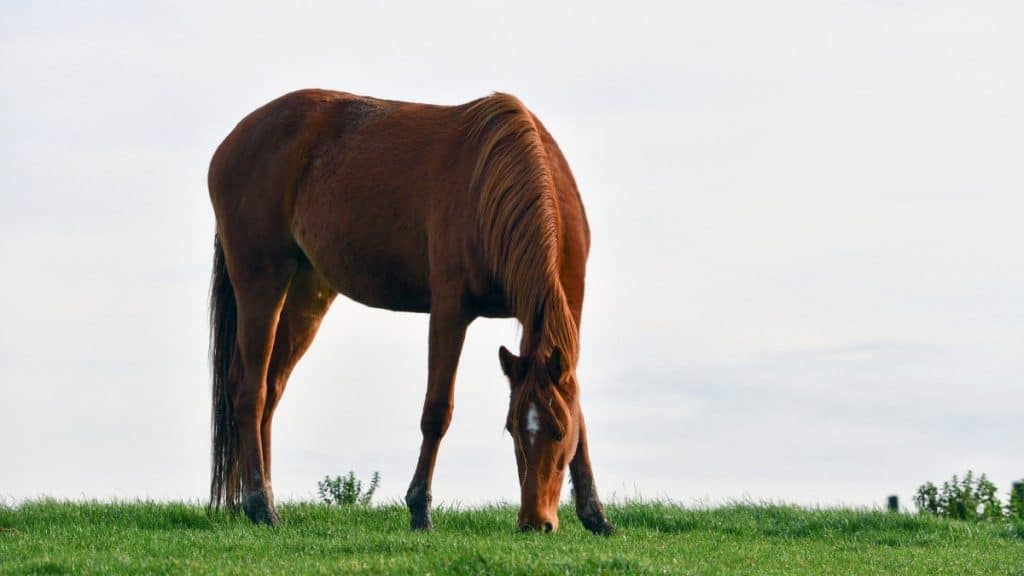 When looking at the list below of female Japanese names for your horse, you can easily see the meanings and then match them with your horse's fine qualities.
There is something incredibly special when you have a purpose behind the chosen name. 
Female Japanese names can be some of the most elegant and beautiful names around. You can choose from meanings that represent love, hope, faith, or ones that represent a cherry blossom tree or Lilly flowers.  
Azumi – Safe Home
Shiori – Guide
Hanan – Flower Child
Noriko – Doctrine
Etsuko – Joyful 
Sachiko – Bliss
Ayumi – Stroll
Nozomi – Hope
Hiro – Broad
Chitose – Thousand Years
Junko – Pure 
Jin – Tender
Yasuko – Peaceful 
Hideko – Splendid 
Ran – Water Lily
Yubi – Graceful
Haneen – Flower Child
Taka – Honorable
Ayame – Iris
Namiko – Wave
Yayoi – March
Yumako – Bow
Kaiya – Forgiveness
Misaki – Beauty Bloom
Aki – Bright
Nani – Beautiful
Mariko – Truth
Wakumi – Spring Water
Rieko – Blessing 
Ami – Friend
Sachio – Happy 
Gin – Silver
Annaisha – Helpful 
Asuka – Tomorrow 
Ryoko – Excellent 
Miyoko – Beautiful Generations 
Midori – Green
Kurva – Mulberry Tree
Seijun – Pure
Yoshie – Good Bay
Etsu – Delight
Mikia – Flower Stem
Sakae – Prosperous
Sumi – Clear
Mihoko – Beautiful 
Mako – Truth, Grateful
Maki – True Record 
Iku – Nourishing
Saeko – Serene 
Yukako – Excellent 
Hoshi – Star
Tanaka  – Dweller
Ayako – Scholarly 
Aimi – Love, Beauty
Shina – Virtue, Good
Ryu – Lofty
Misumi – Pure Beauty
Tame – Unselfish
Sato – Sugar
Nyoko – Gem, Treasure
Komako – Term of Endearment
Anka – Color of Dawn
Chiharu – One Thousand Springs
Ai – Love
Shiho – Original Intention
Rai – Trust
Yoshi – Good
Asami – Morning Beauty
Hotaru – Lightning Bug, Firefly
Kimiko – Dear Child 
Takane – Mountain Peak
Haruki – Springtime Tree
Amaterasu – Sun Goddess
Amaya – Night Rain
Ito – Thread
Mayumi – True Bow 
Hisano – Long Plain
Maria – Sea of Bitterness
Sakura – Cherry Blossoms
Miyo – Beautiful Generation
Sora – Sky
Eri – Blessed Prize
Chieko – Thousand Blessings 
Rini – Little Bunny
Naoki – Honest Tree
Toyo – Plentiful
Yoko – Positive
Akane – Brilliant Red
Hayami – Rare and Unusual Beauty
Seki – Wonderful
Maimi – Smiling with Truth
Mikazuki – Moon of Third Night
Yuri – Lily
Suki – Beloved
Tomi – Rich, Wealthy
Sakiya – Growing Cherry Blossom 
Annya – Peace 
Yumena – Famous
Miki – Beautiful Tree
Chikako – Wisdom
Shino – Bamboo Stalk
Au – Meeting
Fumiko – Treasured Beauty
Tomoni – Togetherness, Unity
Kuni – Country Born
Kazuko – Harmonious 
Roku – Emolument
Nori – Doctrine
Reiko – Gratitude
Ayano – Colorful Woven Silk
Katsumi – Victorious Beauty
Hideyo – Superior Generations
Aika – Love Song
Yo – Positive
Kaiyo – Forgiveness
Asa – Born in Morning
Tomo – Intelligent
Hiromi – Widespread Beauty
Rikona – Intelligence
Umi – Ocean
Morina – Forest Town
Kibo – Hope
Akiko – Autumn 
Shizu – Silent
Aiya – Beautiful Silk
Tadame – Seeds of Beauty
Michi – Righteous
Nari – Thunder
Ayaka – Colorful Flower
Kohana – Little Flower
Erity – Special
Chiasa – One Thousand Mornings
Takara – Treasure
Kotone – Harp Sound
Mana – Truth
Kei – Rapture, Reverence
Usagi – Moon
Madoka – Tranquil
Hisa – Long Lasting
Kazashi – Hair Ornament
Arisu – Noble 
Tamako – Precious Stone
Setsuko – Temperate 
Tsuna – Bond
Akasuki – Bright Helper
Haya – Light, Quick
Kojika – Fawn
Sorano – Sky
Yumi – Beauty
25 Famous Japanese Horse Names
There is nothing more dominant than naming your horse after a famous Japanese horse.
All the names below are from Japanese horses that have been given the highest honor, being named Japanese Horse of the Year! 
These horse names show strength and admiration. If you choose a name from this list below, you'll be able to tell stories about how your horse was named after one of the most famous Japanese horses in the world. 
Matsukaze
Takeshiba O
Sakura Star O
Symboli Kris S
Kaburaya O
Inari One
Hoyo Boy
Oguri Cap
Admire Moon
Gentildonna
Tamamo Cross
Asaka O
Mr. C.B.
Biwa Hayahide
Deep Impact
Mayano Top Gun
Almond Eye
Ryu Forel
Sakura Laurel
Buena Vista
Tokai Teio
Air Groove
Green Grass
Mihono Bourbon
Jungle Pocket
Conclusion
Whether you have a Japanese horse or you just want to give your stallion, pony, or mare a name that comes from Japanese origin, we've got you covered.
The extensive lists above provide you with plenty of choices to choose a name for your horse that will bring out its finest qualities. 
Make sure you take your time when picking the perfect name for your horse. You'll want to be certain that whatever name you choose, your horse can wear proudly!
If you're still looking for more inspiration, check out these awesome lists of horse names!
More Ideas