Naming your horse is fun, but it can be a challenge, especially if you specifically want a "western" name. You may want something that feels like it's right out of a cowboy movie, but it also will have to match your horse in some way.
There are many ways you can approach this task. Do you want to go with a famous name, one that describes your horse, or one that matches your interests? Do you want one that's totally unique?
This extensive list of western horse names is the ultimate guide because it will help you narrow down your horse's name choices by category.
Now you can sit back, relax, and see if any of these names jump out and "brand" you as you ride along the western horse-naming trail.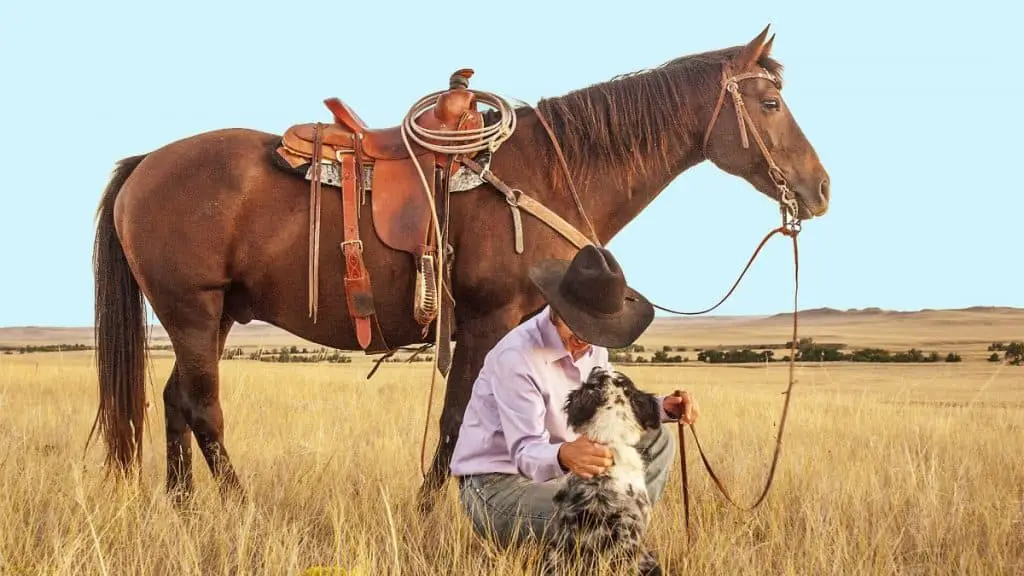 Famous Western Horse Names
Due to the popularity of TV and movie westerns, a famous western horse name will make any horse lover's face light up with recognition when they hear it.
Names of some of the most famous horses and their riders are shown below.
Taco – Chito Rafferty 
Pal – Bob Allen 
Target – Annie Oakley 
Stormy – Wild Bill Elliott 
Ollie – Maverick 
Scar – James Stewart 
Silver – The Lone Ranger
Tumbleweed – Audie Murphy 
Sunny – Harry Carey 
Pardner – Buddy Roosevelt 
Diablo – Cisco Kid 
Tonka – Sal Mineo 
Tornado – Zorro 
Goldie – Hoot Gibson 
Falcon – Buster Crabbe 
El Loaner – James Garner 
Trigger – Roy Rogers
Little Champ – Gene Autry 
Banner – John Wayne 
Whiskey – Kirk Douglas 
Old Thunder – Gregory Peck 
Topper – Hopalong Cassidy 
Tony – Tom Mix 
Dice – Gregory Peck 
Buster – Clint Eastwood
Old Western Horse Names
Vintage names can be beautiful, interesting, and trendy. They can bring out a nostalgic sense of yesteryear that many people crave these days.
Here are some good old names harkening back to the days of the American west frontier:
Gunner
Outlaw
Skedaddle
Muse
Bodega
Deuce
Saloon
Bogus
El Dorado
Scuds
Cannon
Sheriff
Gunslinger
Chief
Bounty
Baron
Shotgun
Scamp
Shanty
Western Horse Names For Mares 
If you're looking for a lovely name for your new female horse, the sky's the limit. Inspiration can come from anywhere, including prairies, wildflowers, or other natural earth elements.
You can even name your mare after your mom, sister, wife, or best friend. (Maybe check with them first to see if they'd mind.)
Sally
Daisy
Maybelle
Montana
Dakota
Sweetheart
Tulsa
Annabelle
Charlotte
Bella
Betsy
Arizona
Rose
Jolene
Dumplin'
Paisley
Justice
Dawn
Bailey
Kate
Dolly
Diamond
Western Horse Names For Geldings And Stallions
If you're seeking a masculine name for your big boy, there are plenty to choose from. Some stallion names you might consider include:
Angus
Amos
Biscuit
Bucky
Bronco
Romeo
Hunter
Grainger
Senator
Rudolph
Brisket
Scout
Falcon
Cash
Rodeo
Rhett
Mischief
Yukon
Ranger
Cowboy
Duck
Cody
Cactus
Starr
Ringo
Wade
Bandit
Henry
Sonny
Colonel
Butch
Smoky
Arrow
Carter
Reno
Whoa
Grazer
Jeb
Cowboy Horse Names
What's a western horse without a cowboy (or a cowgirl, for that matter)? Here are some western cowboy/cowgirl names that may be the perfect match for your horse:
Doc
Rider
Tex
Bandero
Casanova
Shooter
Annie
Buckaroo
Oakley
Cassidy
Tequila
Rawhide
Yee-haw
Billy
Banjo
Ambush
Dillon
Howdy
Chaps
Wyatt
Calamity
Bandit
Sawdust
Tombstone
Dixie
Kid
Whiskey
Dale
Bamboozle
Jesse
Good Western Horse Names
Do you want your horse to project a positive image? If so, try a few of these really good western names on for size:
Buttercup
Dancer
Sunshine
Sunny
Angel
Happy
Smiley
Sweetie
Pride
Fortune
Sundance
Goldie
Breeze
Blaze
Lucky
Unique Western Horse Names
Why not give your horse a western name based on something unexpected, like an object from a western movie scene, or maybe even a Spanish word?
How about one of these:
Objects:
Coyote
Flamenco
Gambler
Robber
Lasso
Bullet
Camp
Colt
Mesa
Monsoon
Gold Dust
Saddle
Spanish words:
D'Oro
Rey
Isabella
Rio
Sol
Arroyo
Reyna
Western Horse Show Names
Do western horse shows inspire you? Maybe these names, all having to do with horse shows or specific riding skills, will give you a head start:
Jogger
Pleasure
Show-Low
Loper
Com-Pete
Trotter
Champ
Barrel
Penn
Balance
Roper
Horse Show winners sometimes have long or unique names.
Here are a few:
Second Balcony (1980, Carte Blanche Grand Prix)
Touch of Class (1985, Mercedes Grand Prix of New York)
Crown Royal Legato (1998, Budweiser Grand Prix of New York)
However, if these sound a little too classy to you, maybe it would be better to go with something funny or clever, like these actual show horse names:
None of Your Business
Daddy's Money
Bill E Idol
Iron I Lucky
Under the Influence
The Biggest Loser
Western Names For White Horse
Your white horse may be well suited to a name that is light and bright. Why not choose a name that matches its stunning coloration?
Something on this list may catch your eye.
Fleece
Planet
Snowflake
Phantom
Sleet
Lamb
Lacey
Flash
Smoky
Hailey
Spirit
Cloud
Pearl
Lightning
Star
Firefly
Blanket
Opal
Popcorn
Smoke
Snow
Snowball
Buttermilk
Western Names For Brown Horses
A brown horse can be enjoyable to name because there are so many color variations, from tawny to chestnut to almost black. Earthy and food-related names can go well with a brown horse.
Here are some to get you started:
Copper
Kit Kat
Chocolate
Tierra
Autumn
Brandy
Cinnamon
Spice
Molasses
Brownie
Adobe
Sierra
Coco
Cocoa
Rust
Mudd
Western Names For Black Horses
There are plenty of options for black horses. Of course, you probably don't want to go with the over-used name, "Black Beauty," although we're not telling you not to.
But check out this list of other names for dark steeds:
Hawk
Halloween
Noir
Vulture
Bat
Darth
Onyx
Morticia
Spider
Beetle
Ebony
Sable
Knight
Panther
Evening
Midnight
Pepper
Jaguar
Caviar
Fly
Zorro
Western Names For Black And White Horses
With black and white horses, you need to put a little thought into it. Your black and white beauty deserves the very best name that will highlight its uniqueness.
These two-toned names will dazzle you:
Oreo
Freckles
Domino
Dottie
Napoleon
Boots
Dot
Spatter
Paint
Speckles
Spot
Patches
Horse Name Inspiration
Western locations, artists, authors, sports teams, and movie/TV titles can also give you ideas.
Here are just some of the many options:
Western locations:
Yuma
Yosemite
Vegas
Houston
Napa
Francisco
Winchester
Canyon
Dallas
Laramie
Durango
Nevada
Phoenix
Tucson
Old Smokey
Zion
Western artists:
Remington
Rockwell
O'Keeffe
Kahlo
Western authors:
Zane
L'Amour
Abbey
Western sports teams:
Spurs
49er
Charger
Raider
Bronco
Seahawk
Dodger
Padre
Rocky
Laker
Supersonic
Nugget
Clipper
King
Jazz
Western movie and TV titles:
Easy Rider
Little Big Man
Searcher
Stagecoach
True Grit
Shane
Clementine
Lonesome Dove
Josey Wales
Gunsmoke
Maverick
Bonanza
Liberty
Help Choosing The Right Name
More help for horse names can come from anywhere around you. Just take a look around at the weather, vegetation, and minerals we see in the west and elsewhere:
Weather:
Rain
Shadow
Hurricane
Thunder
Lightning
Storm
Stormy
Vegetation:
Maple
Ash
Bee
Cactus
Pollen
Eclipse
Aspen
Birch
Saguaro
Prickly pear
Manzanita
Palo
Minerals:
Goldie
Copper
Turquoise
Ruby
Quartz
Garnet
Feldspar
Other horse owners will probably be more than willing to share ideas with you. Perhaps you'll even want to name your horse along with theirs, as a pair.
Here are some horse pair ideas:
Charles and Diana
Lee and Grant
Fred and Barney
Winston and Churchill
LaVerne and Shirley
Mary and Rhoda
Bonnie and Clyde
Sonny and Cher
Black and Decker
Fred and Ginger
Harry and Sally
Above all, you'll want to choose a name that ages well. Don't pick something you'll regret next year.
For example, naming your horse "Facebook," or giving him or her the name of your latest crush, are big no-no's.
You might want to consider selecting a name that's easy to spell (or hard to misspell, anyway). Names like "Pharaoh" can spell disaster.
Lastly, you may have a special interest in the arts, music, or geography that will cause you to lean in that direction. Or maybe you'll want to choose a name that just sounds good to your particular ear. 
Conclusion
A horse's name lasts forever. You'll want to choose one you know fits your horse to a T.
Things to consider include not only the color, gender, breed, and personality of your horse, but whether or not you want him or her to have an old-fashioned, positive, famous, or quirky name.
If you want a western name, there are plenty of options. But remember: Horses have been associated with the wild, wild west for over a century, so most horse names will sound a bit "western" anyway.
Be open-minded when choosing a name, and one should pop out at you as just perfect for your new equine partner.
Whatever you choose, you can feel confident about your final decision because you took the time to think about many possibilities. 
Now pat your new horse, whisper its name in its ear, and go for a nice, long ride. Happy trails!
If you're still looking for more inspiration, check out these awesome lists of horse names!
Related Posts