Horses are majestic creatures that deserve a name befitting their stature. If the horse you've adopted just so happens to have an indescribable power, make sure it has character and receives recognition with its new moniker!
The following is a list of Cherokee words for your consideration. When a horse projects a noble air reminiscent of ancient Native warriors or wise men, you want a name that will be a perfect fit. Each Cherokee horse name listed here comes with its English translation and pronunciation.
Let's dive in.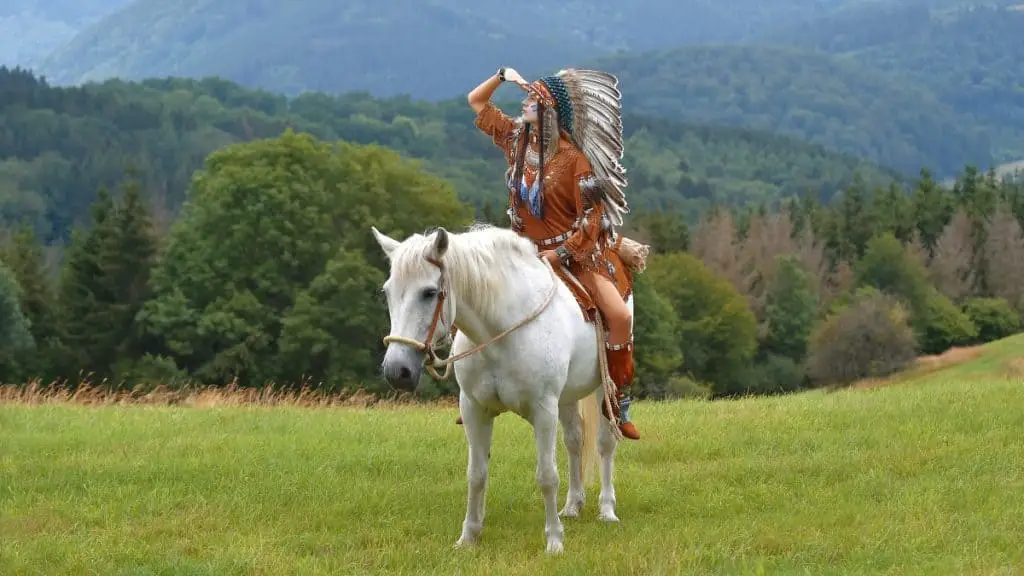 Best Cherokee Horse Names
Whether male, gelding, or female, any Cherokee name below will roll off the tongue that is perfect for any horse. Once you get the hang of how to pronounce this Native language, you're sure to find them attractive and appealing.
Dalogv [dah-low-guh] – rain raven or storm crow
Goga [goh-gah] – summer
Ulvsati [oo-luh-sah-tee] – quartz crystal
Didatinehi [deedah-teenay-hee] – leader
Salali [sah-lah-lee] – squirrel
Nuna [noona] – potato
Dotsi [dot-see] – white pine
Atsilvquodi [aht-see-luh-quo-dee] – honor or distinguished
Uhlisda [oo-lees-da] – quick
Ani [a-knee] – Strawberry
Agali [ah-gah-lee] – sunshine
Quanena [quah-nee-nah] – banana
Unisdelesdi [oo-nee-day-lays-dee] – comfrey found in the wild
Unega [oo-nay-gah] – white
Hiawasee [hee-ah-wah-seee] – meadow
Unole [oo-know-lay] – air or wind
Wahga [wah-gah] – cow
Golisdayvi [goh-lease-dah-yuh-ee] – swift water
Asvnoyi [ahs-uh-know-yee] – nighthawk
Asgitisdi [ahs-gee-tees-dee] – dream
Nvdadikani [nuh-da-dee-ka-knee] – sunflower  
Usgewi [oos-gay-wee] – cabbage
Wahya or Waya [why-ya] – wolf
Gasoqualvi [gah-so-kwah-luh-ee] – dream catcher
Ulogili [oooh-low-ghee-lee] – cloud
Dalitadegv [dah-leeta-day-guh] – jump or jumping
Dikodaldi [dee-coh-dahl-dee] – as in the spice, pepper
Uhnvtsadi [ooh-nuh-tsah-dee] – speckled
Ogana [o-ga-nah] – groundhog
Tlanowa [tlah-know-wah] – thunderbird
Usdi [oos-dee] – baby
Agasga [ahh-gahs-ga] – rain  
Talutsa [tah-loo-tsah] – basket
Kayi [kah-yee] – spice; nutmeg
Haliyi [ha-lee-yee] – gray in color
Udiwesga [oo-dee-ways-gah] – healing
Tojuhwa [toe-yooh-wah] – redbird
Ulsuhwida [ool-sooh-wee-dah] – colored
Atsila [aht-see-lah] – Fire
Nudageyusvna [noo-dah-gee-yoo-suhna] – loveless
Onacona [oh-nah-co-nah] – white owl
Adelv Unegv [ah-day-luh oo-nay-guh] – the color or metal of silver
Atsilvha [aht-sea-luh-hah] – fiery or fire filled    
Tsula [tsooh-la] – fox
Adehaluge [ah-day-ha-loo-gay] – purple or violet in color
Uksuti [ook-soo-tee] – diamondback rattle snake
Ganali [gah-nah-lee] – lazy
Tanamara [ta-na-mah-ra] – lonely wind
Anagalisgv [ah-nagah-lees-guh] – lightning
Uweyvi [oo-way-yuh-ee] – creek, river or stream
Ajilvhi [ah-yee-luh-hee] – in the fire
Dikewi [dee-kay-wee] – blind
Jiyu [Yee-you] – pilot  
Wodige'I [woe-dee-gay-l] – reddish-brown 
Gitli [ghee-tlee] – canine, dog
Uwaga [ooh-wa-ga] – purple variety of passion flower  
Gvhnage [guh-nah-gay] – black
Sagonige [sah-go-nee-gay] – blue
Tsuyuhelidi [tsoo-yoo-hay-lee-dee] – tulip
Yansa [yahn-sa] – buffalo
Ayvdaqualosgv [ay-uhda-qua-loss-guh] – thunder
Elohi [ay-low-hee] – globe, world or earth
Diligalisgi [dee-lee-gah-lease-ghee] – willow
Kawaya [ka-wa-ya] – blueberry
Atsina [aht-see-na] – juniper or cedar
Agasuyeda [ah-gahsoo-yay-da] – the chosen one
Gahdaha [gah-dah-ha] – dirty
Sotsena [so-tsay-nah] – black-eyed Susan or coneflower; echinacea
Soquili [so-keel-ee] – horse
Ahwi [ah-wee] – deer (white-tailed variety)
Aligodadodi [ah-lee-go-dah-doh-dee] – asunder
Aliyo [ah-lee-yo] – sock
Ama [ah-ma] – water
Sasa [sa-sa] – goose  
Sequoyah [say-coy-yah] – sparrow
Awenasa [ah-wen-asa] – my home
Odalvi [o-dah-luh-ee] – mountain
Gigage [ghee-gah-gay] – red
Ulanigisdisgi – catchy song
Ahawi [ah-ha-wee] – stag or deer
Unanelidi [oo-nah-nay-lee-dee] – graceful
Ayita [ah-yee-tah] – the first one who dances
Doya [doh-yah] – beaver
Ayanuli [ah-yah-noo-lee] – fast
Adanvdo [ah-dah-nuhd-o] – heart or spirit
Tsayi [tsay-ee] – copper
Ahda [ah-dah] – wood or stick
Dustu [doos-too] – spring frog
Gatsinula [gah-tsee-noo-lah] – swift
Aktahnai [ahk-tah-nie] – knowledgeable
Dalonige [dah-low-nee-gay] – yellow
Dagwalela [dah-gwah-leelah] – wagon, cart or car
Adohi [ah-do-hee] – woods or timber
Ijeiyusdi [eee-yay-eee-yous-dee] – green in color, to indicate jealousy
Nulinigvgv [noo-lee-nee-guh-guh] – might, strength or energy
Cherokee Names For Female Horses
Mares or fillies that seem to have a gentle, magical quality about them may benefit from any of the following names.
You could combine two to give your female horse that will display her beauty and uniqueness.
Dagvna [dah-guh-na] – pearl
Amatha [ah-mah-tha] – fish
Gatvdi [gah-tuh-dee] – charm
Tsianina [tsee-ah-neena] – unknown meaning; famous singer
Tuhnasdaa [too-nas-da-ah] – frost bite
Dihndasdasgi [deehn-dahs-dahs-ghee] – blue violet
Kalvgv [kah-luh-guh] – sunrise  
Adadolisdi [ah-dah-doe-lease-dee] – grace
Walela [wa-le-lua] – hummingbird
Euna [ay-oo-na] – falls the running water or waterfall
Uwodu [ow-woe-doo] – beauty
Salalai [sah-lah-lee] – squirrel
Adonvda [ah-doe-nuh-da] – whisper or faint spoken word 
Wudeligv [woo-day-lee-guh] – sunset
Tsidu Unigisdi [tsea-doo ooh-knee-ghees-dee] – wild rose 
Ahyoka [ah-yoke-a] – she brought happiness
Svnale Anitsilvsgi [suh-na-lay ah-knee-tsea-luhs-ghee] – morning glory
Galvquodiyu [ga-luh-kwoh-dee-you] – glorious  
Dikanogida [dee-kah-know-ghee-dah] – song
Ugeyudi [ooh-gay-you-dee] – lovely
Nuyigahli [noo-yee-gah-lee] – wild ginger
Galvloi [gah-luh-low-ee] – sky
Trahlyta [trah-lie-tah] – a famous princess from myth and legend
Anidawehi [ah-nee-dah-way-hee] – angel
Udahli [oooh-da-leee] – mistletoe
Wadulisi [wah-doo-lee-see] – honey, molasses or syrup
Uhnvgoladv [ooh-nuh-go-lah-duh] – rainbow
Guwisti [goo-wee-stee] – sieve or sifter
Cuhtahlatah [coo-tah-lah-tah] – wild hemp
Selu [say-loo] – corn
Gasgoyu [gahs-go-yoo] – honeybee  
Iya [ee-ya] – pumpkin
Nanye-Hi [nahn-yay-hee] – traveler or beloved woman
Adasdelvdi [ah-dahs-day-luh-dee] – charity
Gola [goh-lah] – winter
Gvgeyui [guh-gay-yoo-ee] – love  
Deyani [day-an-ee] – successful or determined
Galilahi [kah-lee-lah-hee] – attractive
Noya [noy-ah] – sand
Kahngutsati [kahng-goots-ah-tee] – tiger lily
Kawohni [kah-woe-nee] – April
Kalisetsi [kah-lee-say-tsee] – sugar  
Ageyv [a-gay-yuh] – lady  
Kvnvgihlgi [kuh-nuh-gheel-ghee] – honeysuckle
Losi [low-see] – rose
Ulogohosdi [oo-low-go-hoes-dee] – season; fall or autumn
Ageyutsa [ah-gay-hyoo-tsah] – girl
Amadahy [ah-mah-dah-heee] – forest water
Vnotsi Diganodv [uh-know-tsee dee-gah-know-duh] – snowball
Adsila [aht-see-lah] – blossom
Andatsi [an-dah-tsee] – evening primrose
Uwoduhi [oo-woe-doo-hee] – pretty or beautiful
Ghigau [keeg-ah-oo] – war woman or most beloved woman
Unatsi [oo-nah-tsee] – white snow  
Kamama [kah-mama]– butterfly
Awinita [ah-ween-ee-tah] – fawn
Woya [whoa-ya] – Dove
Uyatsvsv [oo-yah-tsuh-suh] – frost
Cherokee Names For Male Horses
When your gelding or stallion has agility and strength echoing many historic tales of the Cherokee, only a name from this great nation will suffice.
Attakullakulla [aht-tak-kool-lah-koolah] – leaning wood
Tsali [tsah-lee] – Charlie
Uku [ooh-coo] – chief
Degataga [day-gah-tagah] – stand firm
Amo-adawehi [ah-mo ahda-way-hee] – rain maker
Kunagadoga [koona-gah-doh-gah] – standing turkey
Gulkalaski [gool-ka-la-skee] – from the leaning position, he falls
Saloloneeta [sah-low-low-nee-tah] – young squirrel
Didahnvwisgi [dee-dah-nuh-wees-gee] – medicine man
Utsidihi [oo-tsee-dee-hee] – man killer
Twah'kohl [twah kohl] – user of fog, fog user or user
Udadalv [oo-dah-dah-luh] – spot
Galisdlav [gah-leased-lah-uh] – patch
Conocotocko [coh-no-coht-occo] – Standing turkey
Jistu [yee-stoo] – trickster rabbit
Detsinulahungu [day-tseen-oo-lah-oon-goo] – I tried but could not
Ugewidi [ooh-gay-weee-deee] – baldspot
Gasadoyasdi [gah-sah-doh-yahs-dee] – force
Udando [oo-dahn-doe] – his heart
Amouskositte [ah-moose-koh-seet-tay] – dreadful water
Tagwadihi [tah-gwah-dee-hee] – Catawba killer
Nvya [nuh-yah] – stone or rock  
Enoli or Inali [ay-know-lee or ee-nah-lee] – black fox
Ahuludegi [ah-hoo-loo-day-gee] – he who throws away the drum
Asgaya [ahs-gah-yah] – male or sire
Adasegogisdi [ah-dah-say-go-ghees-dee] – victory
Gawonisgi [ga-woe-nees-ghee] – speaker
Ama-Edohi [ah-ma ay-doe-hee] – water goer
Danuwoa [dah-noo-whoa-ah] – warrior
Kunokeski [koo-know-kay-skee] – young tassel
Wohali [whoa-hah-lee] – eagle
Galegi [gah-lay-ghee] – black snake
Kaiyatahee [kie-yah-tah-hee] – corn tassel
Kanagatucko [kana-gatoo-coh] – stalking turkey
Tooantu [too-ahn- too] – spring frog
Adadega [a-da-day-ga] – he limps
Yona [yo-na] – bear    
Adanawidiha [ah-dah-nah-wee-dee-ha] – he is jumping forward
Salonitah [sah-low-nee-tah] – flying squirrel
Adawosgi [ah-dah-woahs-gee] – he swims
Mohe [mow-hay] – elk
Sequoya or Sikwayi [say-coy-ya or seek-wah-yee] – sparrow or writer of  alphabet
Junaluska [yoon-ah-loo-skah] – he tries repeatedly, but fails
Kanuna [kah-noo-nah] – bullfrog
Ya'no [yah no] – wolf
Getilosdi [gay-tee-lows-dee] – crowbar
Scolaguta [sco-la-goo-ta] – hanging maw
Ahuli [a-who-lee] – drum  
Adawi [a-da-wee] – Adam
Di'wali [dee wa-lee] – the bowl
Adohi [ah-doh-hee] – woods
Incalatanga [een-cah-lah-tangah] – double head
Datsilosdiha [dah-tsee-lows-dee-ha] – he is drawing
Moytoy [moi-toi] – rainmaker
Ostenaco [oh-stay-na-ko] – large head
Ganohalidohi [gah-know-hah-lee-doe-hee] – hunter
Koowisguwi [koo-wees-gooey] – small white bird  
Yonaguska [yo-nah-goose-kah] – drowning bear or the bear drowns him
Washoe [wa-show-ay] – lone eagle  
Horse Name Inspiration
Sometimes, deciding on a solid name for your brand new horse can be a mind-numbing adventure. Don't rush this important step and just take your time. Observe your horse; why should it have a Cherokee name?
Then, refer to a Cherokee-to-English dictionary to review all the words that describe your horse in a poignant way. However, some are very long and difficult to say since many Native American languages, including Cherokee, have an unusual arrangement if you compare it next to English.
Help Choosing The Right Name
When choosing the right name for your American horse and you want to use one from Native American culture, go the full distance. Make sure you pronounce it properly and give yourself a little language lesson before deciding. If you want to name your horse with a word from the Cherokee language, ensure you also observe the culture. This includes correct pronunciation.
Conclusion
Native American names for equine pets are a common practice for many horse owners to do; Cherokee words are some of the most popular. The words roll off the tongue and can present some of the most beautiful annunciations among the whole of human languages. But, when you go to pick one, ensure you show respect for the Cherokee by saying words properly.
If you're still looking for more inspiration, check out these awesome lists of horse names!
Related Posts