In this ultimate guide for dun horse names, we'll be helping you find the perfect name for your horse.
The dun horse shouldn't be confused with buckskin horses. These two horses have similar colors' phenotypes, but they are genetically different. In some horses, you'll see lighter coat shades and colors because of the cream dilution gene.
We'll be listing names that are based on the coat color of your dun such as the red dun horse.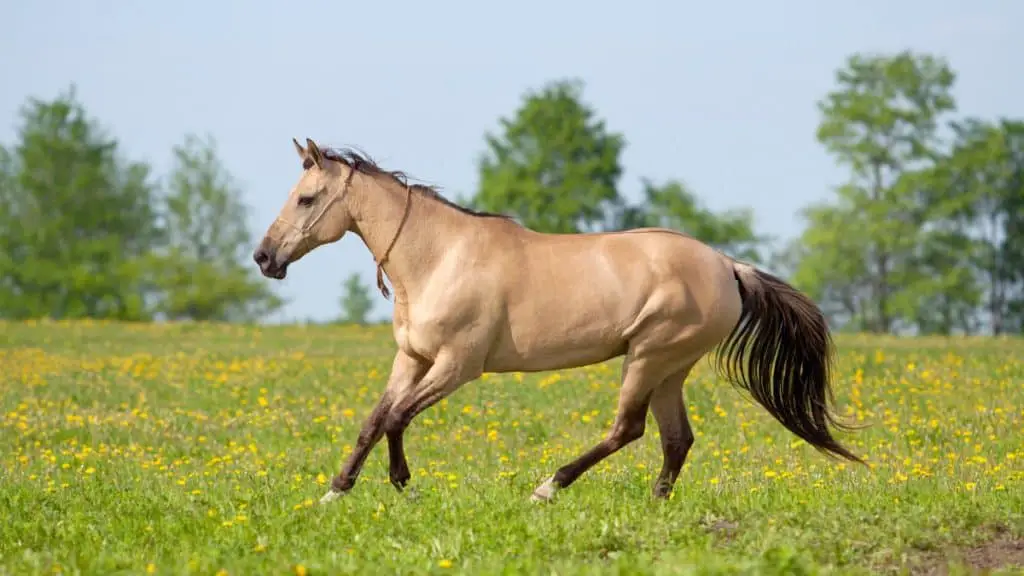 Best Dun Horse Names
Some of the best names are cool names and wouldn't we all like our names to be cool.
So, here are some that you can give your new addition to your family.
Fearless
Faraway Kingdom
Fiver
Luna
Tulpar
Gringolet
Cogy
Tacitus
Elvis
Gallant Fox
Spirit
Falcon
Irish Wristwatch
Affirmed
Scooby
Col. Hogan
Kingston
Peach
Brown Sugar
Sand Castle
Teddy
Koday
Presly
Bullseye
Tucker
Xanthus
Nexus
Hendrix
Juliet
Rocket
Kirby
Lights
Sir Barton
Backstreet Boy
Honey
Die Hard
Ryder
Valentine
Saint
Alysheba
Bucephalus
Big Brown
Orb
Cougar
Above and Beyond
Arion
Hawk
Echo
California
Saint
Toffee
Crush
Traveller
Marengo
Feather
Chance
Magician
Code Of Honor
Choco
Kelly Cann
Jagger
Beaver
Aethon
Maximus
Pyrois
Cougar
Baby Doll
Fame ; Fortune
Biscuit
Mocha
Benny Loafer
Badger
Joe Cotton
Rerun
Apricot
Pegasus
Macbeth
Wilder
Peanut
Kentucky
Balius
Monkey
Navajo
Sliver
Axl
Santana
Keno
Eous
Falcon
Tornado
Ghost
Hidalgo
Phlegon
Rain
Comanche
Almond
Unbridled
Romeo
Brown But
Whiskey
Cherokee
Chestnut
American Eagle
Black Beauty
Maroon
Vincenzo
Sargent Reckless
Ryder
Bizmo
Battle Cry
Horse Names For A Dun Mare
So, you have a prancing and pretty dun mare as a member of your family now but you need a name for her. Whether you name your mare by her color or by her personality.
Phoebe
Mitzi
Poppy
Alsie
Angie
Pepper
Madison
Lucy
Dawn
Annabell
Juno
Fae
Sierra
Harper
Athena
Minerva
Ada
Ember
Dancer
Trudy
Juno
Liza
Dreamer
Calypso
Minty
Asta
Cinder
Addison
Ursula
Lucille
Rapunzel
Ellen
Piper
Sage
Valentina
Autumn
Bonnie
Jenny
Lyla
Lily
Alce
Anne
Stella
Daisy
Mademoiselle
Evie
Arwen
Henrietta
June
Bridget
Sally
Audrey
Lady
Melisande
Hermione
Daenerys
Valerie
Princess
Mildred
Trixy
Ginny
Phyllis
Grace
Tigress
Rosanne
Catherine
Tinnie
Amber
Mary
Monroe
Gaea
Amelia
Queen
Cowgirl
Tethys
Adira
Shiloh
Hera
Kat
Caramel
Arizona
Alexia
Bella
Summer
Henna
Cleopatra
Sidney
Maia
Apple
Dolly
Paige
Lassie
Mable
Lady Reckless
Duchess
Maya
Darcy
Oprah
Tory
Sienna
Diomedes
Molly
Ladybug
Horse Names For A Dun Stallion Or Gelding
Naming your dun stallion or gelding doesn't have to be anything fancy. It can sound strong or brave or neither. It's up to you to determine what name fits your horse and you. You can choose from many options for naming your stallion or gelding to include famous Cowboys, favorite book/tv/movie characters, and figures from history.
Here are some examples of what you can name your horse.
Chester
Fizz
Major
Stanley
Mufasa
Teak
Graham
Miles
Geronimo
Hedwig
William
Atwood
Arturo
Attila
Moose
Samson
Brew
Dude
Jupiter
Caesar
John
Genghis
Channing
Aslan
Beethoven
Archie
Galahad
Magnus
Henry
Hercules
Hudson
Alexander
Russet
Prince
Harvey
Barclay
Jon
Sprinter
Hampton
Rich
Samson
Rootbeer
Uranus
Jackson
Phillip
Sailor
Ethan
Jepson
Blake
Wallace
Black Jack
Arthur
Xavier
Milo
McClane
Archibald
Neptune
Alfred
Mars
Carter
Monte
Heracles
Aragorn
Leather
Rufus
Tristan
Carlton
Simba
Walker
Amelio
Khan
Duke
Vincent
Gawain
Argus
Buzz
Wallace
boomer
Churchill
Rex
Zeus
Horatio
Niall
Dragon
Percival
Conrad
Jasper
Earnest
Byron
Mordred
Admiral
Clove
Ashton
Chaucer
Maximus
Beans
Mud
Lancelot
Posiedon
Dexter
Atlas
Cyrus
Linus
Leon
Ares
Buddy
Lexus
Rio
Wick
Bomby
Thomas
Big Boy
Chuck
Freddy
Names For Red Dun Horses
Color can play a part in naming your horse. Let's dig into the names you can choose for your red dun.
Tigger
Scarlet
Sparky
Honey Flames
Montoya Cabernet
Burning Beau
Strawberry Puff
Crimson Wind
Ambrose
Sunny
Cherry Garcia
Goji
Strawberry
Seeing Red
Bada Bing Cerise
Red Baron
Clifford
Ruby
Sriracha
Torch
Red Snapper
Salmon
Phoenix
Marinara
Cherry Bliss
Red Herring
Red Lobster
Scorch
Volcano
Rose
Blaze
Aguaje
Blushing Vermillion
Thirty-Six Red
Red Bloom
Miss Hibiscus
Famous Names Of Dun Horses
Some dun horses have made it into the NCHA Hall of Fame and/or into the AQHA (American Quarter Horse Association) Hall of Fame.
Here is a list of dun horses from history that you can use for your cool horse.
Poco Bueno
Lynx Melody
Doc Bar
Two Two Smart
Smart Little Lena
Dry Doc
Zippos Mr. Good Bar
Top Deck
Zabeel
Jet Deck
Barb A Doc
Dundeeel
Moon Deck
Three Bars
Go Man Go
Smart Little Lena
Doc O'Lena
Top Flight
Grullo Dun Horse Names
Grulla horses come in different colors and shades. You can have a gray, dapple gray, dun, or blue roan and you can find inspiration for your horse's name from this.
These names can be for either gender.
Azure
Angel
Gunner
Wisp
Artex
Rocky
Bubbles
Coal
Meleg
Pawa
Cadet
Blau
Argento
Cinder
Paloma
Luna
Grayson
Myst
Boomer
Acero
Gothel
Nasa
Malady
Grady
Foggy
Charcoal
Nickel
Chico
Baloo
Siva
Monday
Powder
Gladio
Plata
Ferro
Mercury
Diva
Chrome
Flammer
Murk
Arctic Star
Gris
Meluma
Argent
Arwen
Steel
Gin
Jupiter
Dun Quarter Horse Names
The red dun horse and the grullo dun horse, which we have given you a list of names for, are quarter horses.
Here are some great names to choose from.
Country Horse
Ancient Orange
Desert Orchid
Marling
Game On Dude
Sterling Dreams
Zero Buck
Sweet Winter
Peach a Pie
Willow Goodbar
Fantasia
Sky Flyer
Charger Bar
Snow Fairy
Bar Bandito
Smokin' Flower
Blondy's Dude
Sparky
Indigo Illusion
Chyna's Silk
Ought to go
Glimmer
Baby Doll Combs
Ebony Smoke
Day Al-Din
Twisted Noodle
Black Zephyr
Adios Butler
Nanook
Runaway Winner
Galaxy
Blue Gold
Angel River Bar
Totally Butterscotch
Thebes
Bossy Little Mess
Final Fantasy
Royal Rose
Big Brown
Moon Glow
Blue Bird
Unique Names For Your Dun Horse
If you're looking for something more unique to name your horse, look no further than here.
This list is a start of names based on drinks, food, and plants, among others. Some of the names are just downright cute or funny.
Pomtini (Tini)
Justice
Skyfire
Azalea
Diablo
First Rodeo
Peggy Sue's
Armonia
Bandit
Marmaduke
Volcano
Hiccup
Sheba
Snicker Doodle
Cupcake
Butterscotch
Kellogg
Queenie
Whopper
Fuego
Flame
Mammoth
Thor
Fox
Button
Cutie PIe
Rusty Saddle
Mare N' Go
Meatloaf
Brawny
Rambo
Destiny
Slow Poke
Gomer
Xena
Grenadine
Mystery
Sky Dancer
Kryptonite
Yukon
Clover
Butch
Duke
Dragonfly
Blue
Dream
Waffles
Excalibur
Bear
Secret
Patch
Hunter
Lyric
Nipper
Horsepower
Lostma Cowboy
Moonlight
Cantante
Piper
Puppy
Sir Topham Hatt
Quicksand
Octava
Dynomite
Dragon
Cortland
Pony Ride
Kool-Aid (Kooly)
Tank
McIntosh
Sinfonia
Bandito
Twenty Grand
Filly
Snow
Conquest
Goliath
Aspen
Bandana
Highlander
Balada
Bronco
Bucktooth
Harley
Titan
Abby
Horsetooth
Wolk
Unicorn
Empire
What The Buck
Filly
Celosia
Carrots
Hulk
Gala
Hunk
Magnum
Rover
Morning Glory
Viking
Remi
Honeycrisp
Pebbles
Half Pence
Mack
Cub
Brownie
Yosemite Sam
Tex
Hall N' Oats
Foalovit
Katniss
Pokey
Outta Time
Wishful
Stimpy
Teacup
Butterfly
Sun Dance
Poinsettia
Shirley Temple
Wild Flower
Baby
Blossom
Alaska
Merlin
Diesel
Ze Brah
Marshmallow
Horsey
Skittles
Hawaiian Punch (Punchy)
Storm
Willow
Wild West
Lucky
Acorde
Medusa
Boysenberry
Emerald
Midnight
Moose
Lovey
Ransom
Dove
Sumac
Texas Rose
Horse Name Inspiration
You can take inspiration from the color of your horse's mane tail. So, if your horse's tail is dark brown or dark black, you can name your horse Blackie or Brownie.
Some horses have black manes, and if you have a horse with this colored mane then Blackie would work for your horse. Since we're talking about taking inspiration from your horse's color, then you could name your horse Ash if you have a grey horse.
The name you choose can be inspired from anywhere. Just take a look at mythology, history, nature, a nearby town, or even the horse's own lineage. Take a look at anything that can give you a name and make your own list. This 
Help Choosing The Right Name
When it comes to naming your dun horse, the perfect name is the one that feels right. You can ask your family to help you choose a name. Lists like this are a good place to start looking for names and being able to choose one for your new family member.
There are many places to go to help you choose the right name for your horse. This list is a start, but it is by no means the only list out there. You can also look through a baby book or go to a site like Fantasy Name Generator.
Conclusion
While naming your dun horse is important, it's also important to have a resource for learning about your horse. One such place to learn is on the American Quarter Horse Association's website.
Taking the time to choose your horse's name will show people how much you love and know your horse. The options you have to choose from are endless from your horse's color to its personality to history.
This guide is a great stepping stone to finding the best and most unique name for your horse.
If you're still looking for more inspiration, check out these awesome lists of horse names!
Related Posts