When it comes to naming animals, not everyone has to think of something clever or cute for a horse. But for those that do, it's not as easy as you may think.
If you're stuck on a name, check out our lists of famous horse names from movies below.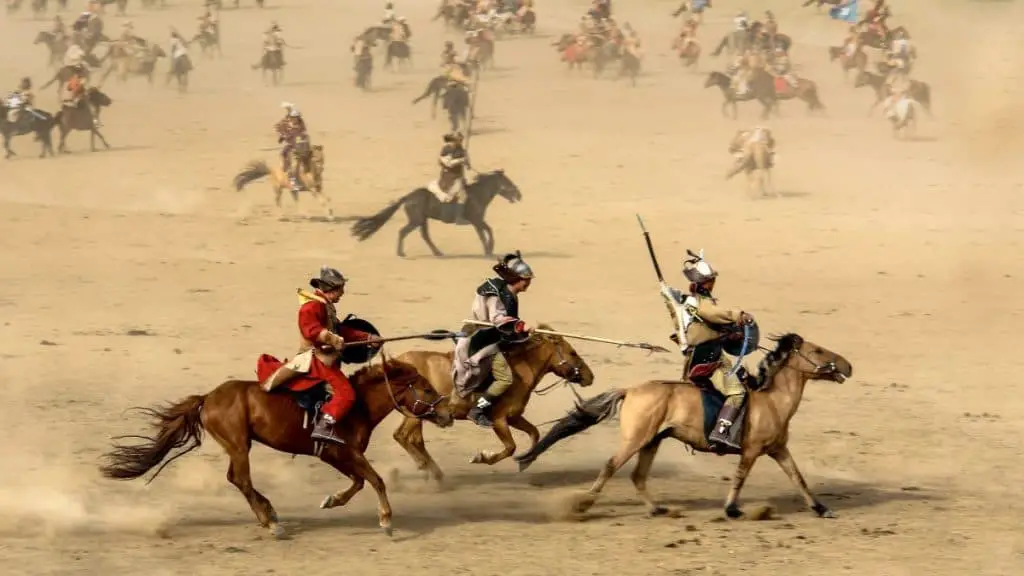 200 Horse Names From Famous Movies, TV, Etc
There are a ton of amazing horse names to be found in movies, and in fiction in general. This list of names includes some of the most memorable across all forms of fiction, including movies, TV, books, and more.
Thebes (The Ten Commandments)
Pips (The Wheel of Time)
Lucky (Running Free)
Moonlight (Song of the Lioness)
Billy Boy (Bamse)
Oliver Hardy (Flying Deuces)
Troy (The Timbertoes)
Artax (The NeverEnding Story)
Concorde (Monty Python and the Holy Grail)
Rival (Saddle a Thunderbolt)
Joe D. (The Virginian)
Starlight (Rainbow Brite)
Rosanna (Silver Spoon)
Buck (Bonanza)
Phillipe (The Beauty and the Beast)
Old Red (Old Red)
Sabure (Tari Tari)
Crazy Alice (Cowboys)
Arod (Lord of the Rings)
Sonny (My Outlaw Brother)
Ginger (Black Beauty)
Dice (Duel In The Sun)
Sophie (M.A.S.H.)
Lightning (Western Heritage)
Duke (Ride Him Cowboy)
Conquistador (The Littlest Outlaw)
Taff/Bo (Ride a Wild Pony)
Sunfish (Bucking Broncho)
Blue Boy (Wrong Again)
Roach (The Witcher)
Cochise (El Dorado)
Spirit (Spirit: Stallion of the Cimarron)
White Cloud (Caravan Trail)
Pepper (Two Bits and Pepper)
Tug (Ranger's Apprentice)
Bad Jim (Bad Jim)
Dover (My Fair Lady)
Ruby (Jerry Spring)
Oberon (The Mystery of Pony Hollow)
Diablo (Cisco Kid)
Bad Horse (Dr. Horrible's Sing-Along Blog)
Old Speed (Goin' South)
Altivo (The Road to El Dorado)
Pal (Law Of The Ranger)
Stormy (Stormy, Misty's Foal)
Stormy (Great Adventures Of Wild Bill Hickok)
Bamboo Harvester (Mister Ed)
Major (Cinderella)
Victor (The Lone Ranger)
Hero (The Phantom)
Jolly Jumper (Lucky Luke)
Altair (Ben-Hur)
Sylvester (Sylvester)
Samson (Sleeping Beauty)
Silver Bullet (Shadows Of The West)
Pokey (The Gumby Show)
Superstar (The Wild Wild West)
Denny (The Man From Snowy River)
Cactus (Sheriff Of Cimarron)
Rocinante (Don Quixote)
Tempest (Princess Sissi)
Trigger
Greatheart (Beauty)
Pilgram (The Horse Whisperer)
Chestnut (2 Broke Girls)
Zip Cochise (El Dorado)
Chico (Land Of Wanted Men)
Persephone (House of Night)
Old Dollar (The Shootist)
Princess (The Simpsons)
Nara (The Dark Horse)
Dollor (True Grit, 1969)
Topthorn (War Horse)
Clover (Animal Farm)
Gypsy (Gypsy Colt)
Taco (Riders Of The Range)
Buster (Bronco Billy)
Ollie (Maverick)
Checkers (Moondance Alexander)
Joey (War Horse)
Pilgrim (The Horse Whisperer)
Bear (Dr Quinn, medicine Woman)
Thunderhead (Thunderhead, King Of The Herd)
Banner (My Friend Flicka)
Two Bits (Two Bits and Pepper)
Big John (For Richer or Poorer)
Dollar (The Shootist)
Aldebaran (Ben-Hur)
Sunny (Aces Wild)
Comet (Supergirl)
Fury (Fury)
Sweetheart (Stagecoach)
Amigo (Walker, Texas Ranger)
Old Thunder (The Big Country)
Domino (The Texan)
Seabiscuit (Seabiscuit)
Cadoc (Eragon)
Wildfire (Wildfire)
Captain (101 dalmatians)
Gulliver (The Horse Whisperer)
Phillip (The Lion, the Witch and the Wardrobe)
Dynamite (Zorro)
Goliath (Ladyhawke)
Cisco (Dances with Wolves)
Rusty (Dynamite Canyon)
Sugar (These Thousand Hills)
Bess (Farmer Boy)
Sport (Bonanza)
Mister Ed (Mister Ed)
Spartan (Heartland)
Tumbleweed (Tumbleweed)
Hidalgo (Hidalgo)
Skydancer (Rainbow Brite)
Sunshine (Western Trails)
Monarch (Jodie's Journey)
Blessing (The Secret Horse)
Stardust (Ashleigh's Hope)
Nurah (The Ten Commandments)
Champion the Wonder Horse (Champion the Wonder Horse)
Chub (Bonanza)
Hercules (Steptoe and Son)
Flicka (Flicka)
Phantom (Trigger Junior)
Frou-Frou (Aristocats)
Chet (The Littlest Pet Shop)
Slow Dancer (Steel Ball Run)
Lucy (Non Sequitur)
Beau (True Grit)
Don (Hot to Trot)
Goldie (Concentratin' Kid)
Angus (Brave)
Pie-Oh-My (The Sopranos)
Sprout (The Parent Trap)
Rain (Spirit: Stallion of the Cimarron)
Miyako (Silver Spoon)
Little Champ (Beyond The Purple Hills)
Silver
Lark (The Berserker's Horse)
Condor (Green Rider)
Napoleon (The Black Stallion)
Nightmare (Casper the Friendly Ghost)
Bullseye (Toy Story)
Achilles (The Hunchback of Notre Dame)
Maximus (Tangled)
Peachblossom )Protector of the Small)
Copper (Eddie Dean)
Smith (Ultima)
Merrylegs (Black Beauty)
Khartoum (The Godfather)
Sheik (Panamint's Bad Man)
Senator (Ranchers And Rascals)
Gunpowder (The Legend of Sleepy Hollow)
Zane (Billy The Kid In Texas)
Smokey (Moonlight On The Prairie)
Cass Ole (Black Stallion)
Fritz
Antares (Ben-Hur)
Little Blackie (True Grit)
April Love (April Love)
White Feller (The Lone Ranger)
Beric (Knights of the Round Table)
Argo (Xena: Warrior Princess)
Don (Hot to Trot)
Secretariat (Secretariat)
Whirlwind (Shadow Horse)
Pardner (Battling Buddy)
Yato (Legend of Basara)
Duchess (Black Beauty)
Li'l Sebastian (Parks and Recreation)
Porkpie (Percy Jackson)
Stewball (Stewball)
Pie (National Velvet)
Sunfire (Ravenheart)
Tex (The Legend Of The Lone Ranger)
Alsan (The Red River)
Apache (Devil Horse)
Rigel (Ben-Hur)
Shadowfax (Lord of the Rings: the Fellowship of the Ring)
Sonador (Dreamer)
Katy (The Young Riders)
Ringo (Wanted Dead or Alive)
Abelard (Ranger's Apprentice)
Tornado (Zorro)
Tolo (The Long Shot)
Double Eight (Silver Spoon)
Trotsky (Mrs. Piggle-Wiggle)
Florian (Florian: The Emperor's Stallion)
Thowra (The Silver Brumby)
Acorn (Chaos Walking)
Cocoa (The Big Valley)
Frou-Frou (The Arisocats)
Black Beauty (Black Beauty)
Bucephalus (The Adventures of Baron Munchausen and Alexander)
Red Hare (Romance of the Three Kingdoms)
Flash (Flash)
Boxer (Animal Farm)
Khan (Mulan)
Mollie (Animal Farm)
Pylon (The Dark Tower)
Bandit (Caitlin's Way)
50 Horse Names From Western Movies
When most people think of horses, western movies and cowboys aren't too far from their minds. These are some of the most popular horse names to be found in traditional Western genre movies.
Comanche (Tom Mix)
Raider (Charles Starrett)
Red Fox (Jesse James)
Sonny (Wild Bill Elliott)
Mesquite (Allan Rocky Lane)
Traveler (Robert Fulle)
Buttermilk (Dale Evans)
Smoky (Lee Marvin)
Buster (Clint Eastwood)
Pete (Gary Cooper)
Sunny (Harry Carey)
Sunshine(Bill Patton)
Phantom (Roy Rogers)
Goldie (Hoot Gibson)
Apache (Tom Mix)
Knight (Rod Cameron)
Tornado (Zorro)
Banner (John Wayne)
Tonka (Sal Mineo)
Sweetheart (Stagecoach)
Smokey (Dick Foran)
Zane(Bob Steele)
Tony (Tom Mix)
Gipsy (Martin Kiss)
Senator (Leo Maloney)
Tony Junior (Tom Mix)
Henry (John Wayne)
Candy (David Carradine)
Cactus (Sunset Carson)
Sunfish (Lee Martin)
Sugar (Don Murray)
Target (Annie Oakley)
Ollie (Maverick)
White Feller (Tonto)
Bingo (Don Durant)
Duke (John Wayne)
Paint (The Lone Ranger)
Stormy (Wild Bill Elliott)
Thunderbolt (Johnny West)
Pardner (Buddy Roosevelt)
Old Speed (Jack Nicholson)
Goodeye (Nat Love)
Little Champ (Gene Autry)
Loco (Pancho)
Dice (Gregory Peck)
Topper (Hopalong Cassidy)
Pal (Bob Allen)
Tumbleweed (Audie Murphy)
Whiskey (Kirk Douglas)
El Loaner (James Garner)
50 War Horse Names
Inspired by the "War Horse" movie? Do you want to name your equine friend a name fit for battle, a name that was carried by horses in wars around the world? Well, now you can! All of the names below belonged to real war horses.
Sergeant Reckless
Yorkshire
Virginia
Warren
Comanche
Traveller
Tobey
Cincinnati
Tom Telegraph
Tammany
Copenhagen
Shiloh
Slicky
Skylark
Palomo
Rondy
Sam
Roderick
Marengo
Rienzi
Winchester
Rifle
Roanoke
Kasztanka
Red Eye
Richmond
Red Pepper
Chetak
Plug Ugly
Rambler
Prince
Pocahontas
Pretty
Bucephalus
Old Jim
Old Spot
Nellie Gray
Tencendur
Old Isham
Old Bob
Baldy
Milroy
Moscow
Altivo
Epona
Joey
Klinger
Methuselah
Lookout
Lucy Long
Nelson
King Phillip
Lancer
Little Sorel
Jinny
Kentuck
Jeff Davis
Jennie
Kangaroo
Lightning
Highfly
Jack
Jasper
Hero
Grey Eagle
Handsome Joe
Harry
Gertie
Grape
Fleetfoot
Fox
Fire-Eater
Firefly
Duke
Egypt
Don Juan
Fleeter
Fancy
Dolly Dixie
Charlemagne
Butler
Black Burns
Cornwall
Blackjack
Bayard
25 Famous Names For White Horses
Have a pure white horse that needs a name? There are many famous white horses in history that wouldn't mind if you borrowed their moniker.
Shadowfax (Gandalf's Horse in Lord of the Rings)
Morengo (Napoleon's War Horse)
Phantom (The Horse of Zorro)
Desert Orchid (Fifth Best National Hunt Horse of All Time)
Falcon (Horse of actor Buster Crabbe)
Milton (John Whitaker's Showjumping Horse)
Billy (1923 FA Caup Final)
Pegasus (Legendary White Winged Horse From Greek Mythology)
Palomo (Simón Bolívar's horse)
Raider (Horse of Durango Kid)
White Flash (Horse ridden by Tex Ritter)
Topper (Hopalong Cassidy's Horse)
Silver (Lone Ranger's Horse)
Yukichan (Kanto Oaks Winner)
Mister Ed (Mister Ed)
Samson (Sleeping Beauty)
Achilles (Hunchback of Notre Dame)
Secret (My Secret Unicorn)
Astor (Snow White)
Captain (101 Dalmatians)
Maximus (Rapunzel)
Artax (The Neverending Story)
Major (Cinderella)
Buttercup (Toy Story 3)
Yukichan (Japanese Racehorse)
20 Famous Names For Brown Horses
Some people may think brown horses aren't as majestic as other colors, but a daring and dashing name from the Kentucky Derby or a beloved TV show makes all the difference.
Trigger (Roy Rodger's Horse)
Spirit (Spirit: Spirit of the Cimarron)
Cisco (Dances With Wolves)
Buttermilk (Dale Evans Rogers' Horse)
Champion (The Adventures of Champion)
Comet (The Adventures of Brisco Country Jr.)
Denny (The Man From the Snowy River)
Copenhagen (The Duke of Wellington's Warhorse)
Kasztana (WWI Polish Warhorse)
Frankel (Racehorse)
Kingston (Racehorse)
Big Ben (Racehorse)
Arkle (Racehorse)
Kelso (Racehorse)
Aristides (Racehorse)
Secretariat (Racehorse)
Seabiscuit (Racehorse)
Valegro (Racehorse)
Smarty Jones (Racehorse)
Kincsem (Racehorse)
50 Famous Names For Black Horses
The opposite of the snowy white horse, black horses are majestic and enthralling in their own right, and they deserve equally impressive names!
Rival
Moonlight
Guido
Boomerang
Ruffian
BlackJack
Black Gold
Bucephalus
Black Hawk
Tornado
The Black
Pylon
Pips
Rocinante
Felix
Flicka
Misty
Skydancer
Eclipse
Black Stallion
Night Nurse
Bree
Nara
Sham
Arkel
Black Beauty
Nana
Burmese
Joey
Rocket
Goliath
Pirata
Thunderhead
Blessing
Black Bess
Flame
Gunpowder
Sefton
Warrior
Top Moon
Pie
Columbus
Black Widow
Smoky
Lark
Byerley Turk
Sceptre
Monarch
Merrylega
Blaze
50 Excellent Black And White Horse Names
Not all horses come in one color: some come in two, and such varied and diverse horses deserve names that represent how unique and special they are.
Domino
Inkspot
Chaplain
Tapir
Cookie
Newspaper
Perdita
Panda
Pongo
Inky
Lemur
Tiger
Magpie
Magician
Shamu
Patches
Valais
Snoopy
DeVille
Maverick
ZigZag
Marble
Freckles
Junior Mint
Storm Cloud
Cookies n'Cream
Ace of Spades
Oreo
Smudge
Latte
Hot Chocolate
Holstein
Socks
Pirate
Salt N Pepper
Mittens
Milk and Cookies
Penguin
Chocolate Chip
Moo
Chocolate Milk
Orca
Inkblot
Zebra
Libro
Mickey
Magic
Dotty
Zorro
Tuxedo
Horse Name Inspiration
Not sure what exactly to name your horse, even with a list like this one providing so many options? Or, do you want to make up your own name? All you need is some inspiration. Many names are based on an idea or a representation.
Does your all-white horse remind you of milk? You could just name them that. Is an all-black horse reminding you of a midnight sky? Then midnight is a fairly good name. Inspiration for many horse names usually comes down to a symbol or idea that a horse owner is reminded of.
Help Choosing The Right Name
If you do like some of the names you have available but don't know which is the right one to choose consider the following important things:
Whatever you like is valid, there is no criteria for a name you have to meet
The name needs to be easy to say since you'll be saying it aloud often
If the horse is going to be like a new family member, maybe the whole family should have a say!
Conclusion
Ultimately, naming a horse is the same as naming any other animal you own. The name, most importantly, has to be something you like, and as far as picking a name goes, basing it off physical appearance or behavior is the most common naming scheme for horses.
If you have trouble thinking of a unique name or don't know which to choose from a list, ask for the opinions of others, especially if other people are going to be interacting with the horse a lot! If all else fails, you could just name it after your favorite steed in fiction.
If you're still looking for more inspiration, check out these awesome lists of horse names!
Related Posts