Barrel horses are most commonly used in races. For horse lovers, one of the most exciting parts of horse racing can be examining the list of horse's names. 
From cute to completely obscure, the naming of horses is an extremely creative process.
Barrel horses are intelligent, powerful, and fast. Horses deserve names that perfectly match their personalities and characteristics. 
Here's a list of the best barrel horse names out there, perfect for Mares, Geldings, and Stallions.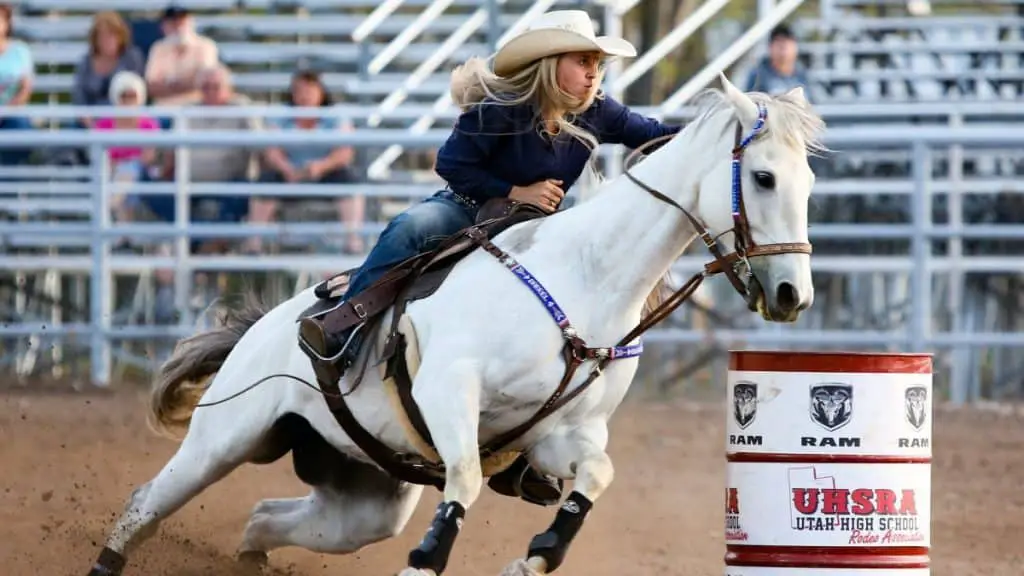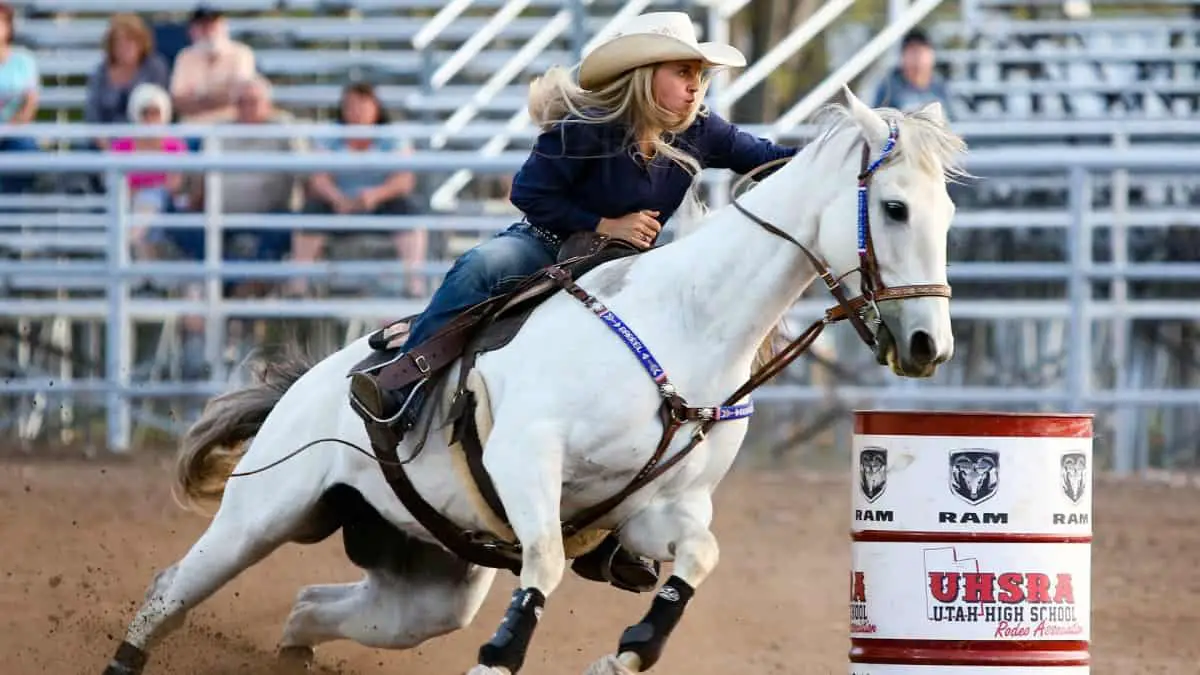 Best Barrel Horse Names
There are a range of names for barrel horses out there and if their owners do it properly, the names should reflect the horse's personalities and characteristics. 
Names for barrel horses are often quirky, funny, unique, and most of all memorable.  
Here's a list of the best names for barrel horses of all time:
Denman's Call
Effinex
Notacatbutallama
Dr. Fager
Pollard's Vision
Midnight Lute
Harass
Luv Gov
Arrr
Covfefe
Doremifasollatido
Hoof Hearted
Onoitsmymothernlaw
Yakahickamickadola
Painting the Sky
Names For Mare Barrel Horses
Mares are female adult horses that are over the age of four. When choosing a name for barrel horses, you may want to keep their gender in mind. 
Is there really a difference when it comes to female and male horses?
According to CNN, 'While male and female thoroughbreds are fairly evenly matched in physical ability, the girls must overcome commercial and even psychological constraints to get ahead in the sporting world.' 
Sometimes names for barrel horses can be geared more towards male horses, but the mares deserve their fair shot too.
Here's a list of names for barrel horses that are perfect for mares:
Kleo
Gypsy
Velvet Rose
Mustang Muse
Twilight Glimmer
Wildflower
Flurry Heart
Tempest Shadow
Azra
Sunset Shimmer
Meadow River
Starsky
Cherish
Charismatic
Worth
Names For A Gelding Barrel Horse
Geldings are male horses that have been castrated and are most commonly used for riding.
In comparison to stallions, who tend to be a lot sterner, geldings are typically warmer and calmer.
Therefore, their names should reflect their quieter nature.
Here are some barrel horse name suggestions for geldings:
Titanium
Boaz
Black Jack
Titus
Trooper
Hello, Goodbye
New Hope
Hidden Destiny
Cloud Chaser
Digby
Cher Ami
Uri
Shadow
Dare to Compare
Patriotic Spirit
Names For Stallion Barrel Horses
Stallions are known for their power and strength. Some of these suggestions include some powerful rulers that could be an absolutely perfect match for your stallion.
Stallions won't always fit these criteria, so if you want a name that reflects their more playful personality, there are also some names in here that are perfect for them too!
Here are some barrel horse name suggestions for stallions:
Patch
Thunder
Caboose
Borak
Wally
Snickers
Huckleberry
Magnus
Kaspar
Gulliver
Bear
Thor
Bandit
Czar
Sheriff
Famous Names Of Barrel Horses
These famous names of barrel horses are the winners of races, championships and some may be considered the greatest barrel horses to exist.
According to SportsCasting, these are the top 5 famous names of barrel horses:
Seattle Slew
Man o' War
Citation
Seabiscuit
Secretariat
Other famous horse names for barrel horses include:
Phar Lap
Flying Fox
Zenyatta
Red Rum
American Pharoah
Eclipse
Justify
Black Caviar
Winx
Affirmed
Aristides
Spectacular Bid
Lost in the Fog
Kelso
Ruffian
Desert Orchid
Huaso
Barbaro
Sunday Silence
Count Fleet
Holy Bull
Arkle
Dr. Fager
Bold Ruler
Frankel
Big Ben
Native Dancer
Alydar
Kingston
Genuine Risk
Horse Name Inspiration
Part of finding the perfect barrel horse names is to look for inspiration. These lists provide inspiration from all sorts of different places, from historical military horses to Disney. 
Inspiration from Disney:
Angus
Maximus
Khan 
Captain 
Pegasus 
Inspiration from Western TV:
Domino 
Champion
Trigger
Koko
Tarzan
Inspiration from Novels:
Cadoc
Boxer
Flicka
Fury
Argo
Inspiration from Military Horses:
Palomo
Chetak
Blueskin
Comanche
Marengo
Inspiration from Greek Mythology:
Rhaebus
Pegasus
Arion
Sterope
Xanthos
Help Choosing The Right Name
Courageous. Elegant. Majestic. These are just some of the words that we can use to describe horses. Each horse is so unique and their individual personalities shine through. 
Horses are kind, friendly, and loyal, and as owners, you owe it to them to make sure that they have a perfect name fit for them. 
Step 1: Restrictions
You'll need to check the breed's association regulation for names as they have certain restrictions that may not allow for something you have in mind. 
If you do this before you start to brainstorm, it gives you a rough guideline of what you can and can't use for your barrel horse.
Step 2: Purpose
If you're going to register your barrel horse, then you'll need to think about how easy the horse's name will be to say. 
Don't choose names that could rhyme or are similar to commands as this can be extremely confusing for your horse.
Step 3: Forming The Name
If you look at famous names for barrel horses, they're quite often short phrases. Firstly, you could write a list of all the characteristics and unique qualities that your horse has.
Think about their color, breed, any unique strengths or physical qualities, and their origin story. You should try and pinpoint anything that makes your horse stand out from the crowd.
Then, you can generate some synonyms for these characteristics. Now, you'll have a new set of words to work with and hopefully, something sparks your interests.
Alternatively, you may be able to generate a few new ideas by considering your horse's stable name.
If you have a nickname for your horse, or you can just simply play on their name for inspiration, this could be a great idea for deciding their show name. 
Obviously, your horse won't understand the meaning behind their name so you may want to add a little bit of your personality in there too. 
If there's anything that you and your horse have in common, this could be a great way to make a connection between you.  
Conclusion
Hopefully, this should give you some ideas for finding the perfect name for your horse.
You shouldn't be afraid to get creative with it. After all, you can see from the famous names that others really have gone that extra mile.
Whether you want to find a funny name to match a ditsy, carefree mare or you want to find a powerful name for your bold stallion, the options are practically infinite.
If you're still looking for more inspiration, check out these awesome lists of horse names!
Related Posts