To ensure that a horse's name is unique at a show, many times they will be given a longer, crazier name than a barn or stable horse would have. A horse at a barn could be named "Rocket", while a show horse is named "Clear Blue Water".
Though many times a show horse may be named by using part of their sire's name with their dam's, other show horses may be named completely at random. We have made a list of some of the best show horse names to choose from. 
It may be hard for you to pick the perfect name for your show horse. Read on to see some amazing ideas to help you get inspired.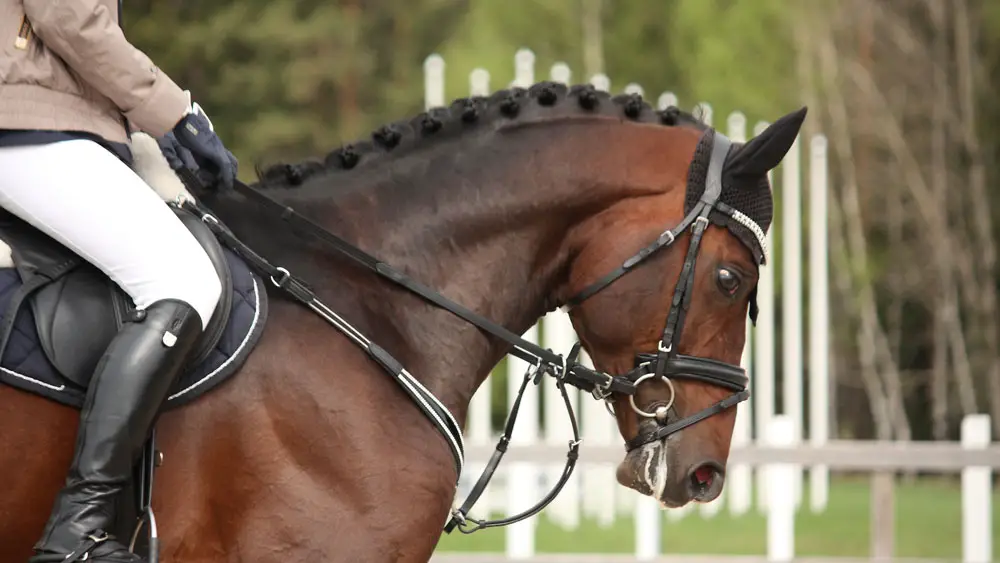 Best Show Horse Names
If you are trying to come up with a creative name that will be sure to win Best In Show, you don't have to look any further.
Whether it be a quarter horse or barrel racing horse, these Best Show name ideas will be sure to make their mark.
Mystic Angel
Pause For Grace
Rebel Pride
Prophecy of Darkness
Under the Radar
Press Your Luck
Cost Of The Crown
Bold Ambition
Prodigal Son
Entrance At Eternity
Perfect Alibi
Your Wildest Dream
Blue Boy
Best Kept Secret
Bronzed
Really Royal
Smoke And Flame
Retrieve The Gold
Proud Promise
Simplicity
Triple Threat
Reason to Cry
Hailey's Comet
Brown Eyed Girl
Broken Vow
Quick Chance
Beat the Buzzer
Break the Bank
Breaking News
Dancing Flame
Prometheus
Cool Expression
Queen's Pride
Reckoning
Unbridled Fury
Pattern of the Stars
Western Rose
Rushing Sands
Brush of Luck
Patriot Act
Primetime
War Room
Silent Star
Alakazam
Classic Endeavor
Best Command
Consider The Moment
Beveled Edge
Point of Principal
Poised Reflection
Good Show Horse Names
As a horse owner, your favorite horse should have an amazing name to back it up, so why not choose from a list of amazing names that capture their personality perfectly?
Little Boy Blue
Falcon Rising
Destiny Watching
Deluxe Dream
Blind Faith
Diva Dancer
Big Apple Alley Cat
A Sweet Delight
Duchess of Dreams
I'm A Lady
Candy Chase
Effortless Grace
Magic in Action
To Infinity and Beyond
Holy Roller
Impressive Peach
Root-Beer Float
Double Down Ace
Eighteen Hundred
Famous Lady
Elegant Lady
Count My Blessings
Lucky Lady
Acting Proper
Leaves of Autumn
Dark and Stormy
Catch Me Mr
Bailey N Cream
Babbling Brook
Starry Night
Flaming Ocean
Cajun Princess
Forever Bold
Blazing Honor
AstroTurf
Fabulous Quest
Cup of Joe
Dash to the Finish
Man with a Plan
Glory Seeker
Knight of Dreams
All Around Fancy
Hot Cocoa
Emperor's Dream
Additional Demands
A Fall Evening
Awesome Blossom
Final Flight
Afternoon Treat
Blue Skies Ahead
Show Horse Names For Stallions
When you see a stallion, it's impossible not to appreciate its beauty and muscle. Can you imagine a giant black horse showing up for a horse show named "Oath Keeper?"
Check out some other fantastic options below:
Old Regret
Share My Royalty
Old Shine
Patchwork Timmy
Neptune Crossing
No More Rumors
Possessed to Impress
Night Court
Master Chief
Master The Tide
Offsides
Another Irish Dawn
Coming Undone
Premium Intelligence
Bit Of An Issue
Ominous Threat
Brothers of Nablus
Business is Legal
A Rhinestone Cowboy
Believe in Ghosts
Colony In Space
Comedy of Eros
Giant's Dance
Chrome Heart
Command and Conquer
Sea of Change
Olympic Sky
Oathkeeper
Moon Spell
A Puzzling Storm
Billy Boy
A Quiet Flame
Big Time Hope
A Fine Bravado
Runaway King
Another Rebel
Behind Those Eyes
Dark Knight
Possessive Shadows
HeroesRest
Nightmare of Eden
Scotch N Soda
Red Diesel
Chief Lord
Flash in the Dark
Atlanta
Partly Puzzled
A Promise of Happiness
Scorched Earth
Secret Of The Night
Max Carry
Apache Peak
Diesel
No Going Back
Royal Cut
Party Like A Rockstar
Ocean Rain
Hot Chocolate
A Presence Unknown
Black Coyote
Bullet Afire
Try to Catch Me
Secret Assignment
Secret Shopper
Coffee Break
Massive Way
Marque Legacy
Blue Falcon
Bloodstained Faith
Seeking A Connection
Old Town Memories
Parisian Colors
At First Sight
Coffee For One
Beltane
Cup of Joe
A Prince's Dar Herro
Patent Leather
LostNFound in Vegas
Master You Regret
Night Sky
Night Moves
After Hours
Path of Vengeance
No Refuge
Black Tie
Riding Free
Me and My Shadow
Iron Rebel
Asterix
Newton's First Law
Chance Encounter
A Fall Evening
Paradise Drift
No Snow Today
Chrysler Imperial
A Lad's Promise
A Happy King
Oh One Magic Moment
Bumps and Bruises
Show Horse Names For Geldings
Don't have a show name idea for your Gelding?
Take a look at the list below for some fantastic options that will lead to your prized horse putting on a perfect show:
Daddy's Last Dollar
River Itch
Riddle in the Rain
Rogue
Storm Cloud
A Tumultuous Tornado
Captive Heart
Too Much Honor
On Another Level
Midnight Mayhem
Mighty Proud
Midnight Clear
Cardinal Points
Conclusive Fortune
Six Degrees
Rise And Shine
Right Command
A Frosty Morning
Off the Grid
Miles to Go
Southern Money
Oh My Heavens
Meine Ivory
Mere Serenity
Return Comet
Community Interest
One Cool Easter
Ole Time Class
River Delta
Sox Appeal
Sacrifice Glory
Rewarding Faith
Poison Sky
Can't Keep Me In
On a Wing and a Prayer
Silver Jet
Constant Sorrow
Dark Before Dawn
Chasing A Mirage
A Calm Storm
Older and Far Away
Calypso
Midnight Legacy
Changing Priorities
Omali's Eagle
River of Doubt
Respectable Pursuit
Riddle In The Rain
March Past
Odd One Out
October Winds
Sovereign Heights
Milestone
Rocket Boy
Coping Without Coffee
Caillou Smoke
Chasing My Shadow
Can't Rush A Vision
Command Me
Making Magic
Salute The King
Roman Coin
Rye On The Rocks
Complete The Bet
Something For The Weekend
Crafty Prospector
Glowing Moonlight
Mid West Star
Journey With Me
Running Through Rain
Mark My Light
Remember the Captive
On A Mission
Relentless Pursuit
Rest My Case
Rushed Warning
Merlot
Sins Of The Past
Merlin's Touch
Canadian Kid
Soul Doubt
Captain Gain
Of Gods And Angels
Cowboy Philosophy
Roll With The Punches
Cold Steel
Royal Academy
Carbon Copy
Sam's Last Chance
Black Tie Event
Marshall's Thought
Mighty Tango
Charming Champion
Midnight Madness
Grey Wolf
Rolling Thunder
Roam Free
Mask of Sanity
Sin In The Shadows
Coming Home
Show Horse Names for Mares
Finding a great name for your mare can be difficult, but we made a list of some pretty great, memorable names that people far and wide will remember.
Maybe Tomorrow
Toffee Surprise
Suits Her Well
Melody of Joy
Splash Of Orange
Maindalin Melody
Careless Whisper
Cabernet
The Fragrant Rose
Desert Nomad
Saltwater Moon
Maybelline
Spoiled Milk
Merry Bourbon
Caramel Kiss
Midnight Clear
Date With Destiny
Carefree Delight
California Merlot
Medusa's Wrath
Pilot Error
Breathtaking Beauty
Shooting Starr
Calm Heroine
Genuine Risk
Stay With Me Tonight
Regimental Twilight
Mischief Maker
Magna's Promise
Marmalade Skies
Metallic Heart
Regal Rainbow
Talk About Class
Sweet Lavender
Spicy Cinnamon
Princess Fluffy
Hermioneigh
Mazy Daze
A Fine Affair
A Sweet Delight
Eternal cloud
I Only Wear Prada
Diamond Halo
Memphis Smoothie
Sprinkle Explosion
Star of Heaven
Majestic Echo
Majestic Regent
Deny Everything
Defying Gravity
Darling River
Buckle Up Buttercup
Sweet Brown Sugar
A Moment of Love
A Picture of Grace
A Lover's Question
Maid By Design
Maybe He'll Know
Della Rose
By Divine Agency
High Maitanance
New Dawn
Candlelit glow
Sparkling Lake
Forever Dreamer
Cadence
One Dancer
Magical Light
Aspen Remembered
Ms. Sassafrass
A Cool Kiss
Oh Louise
Map My Dancefloor
Discreet Affair
Remember My Colors
Summertime Warmth
Sundancer
Maid of Honor
At Long Last
Cadbury
Esmeralda
A Fine Jewel
A New Song
Stolen Wishes
Marry in Moonlight
Running With Ruby
A Love Remembered
Beautiful Blonde
Aspiration's Pride
Heaven Sent
A Dynamic Playgirl
Change of Seasons
Ice Queen
Athame
Regrets and Romance
Memorable Green
Daughter Of War
Marriage Vow
A New Hope
A Farewell to Rain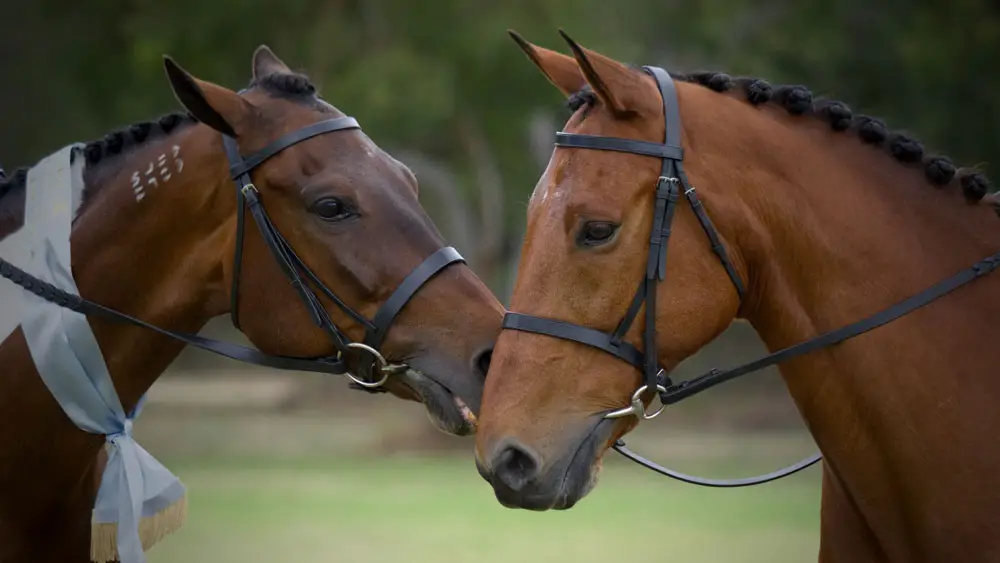 Cute Horse Show Names
There's nothing better than watching a horse win metals while branding an adorable name.
Check out our list of cute horse show names:
Maverick
Another Classic
Sleepy Time
A New Deal
A New Destiny
Never Too Cute
Bit Of Honey
Waffles and Syrup
Perfect Polaroid
Matchmaker
Nebula Pirates
Potential Princess
Red Lipstick
Maverick Token
A Night Out
Beware of Cat
Another Coffee
Another Coffee
Photo Opportunity
Cuddle Bug
Opal Princess
Bouncing with Joy
Maximus
Peace Sign
Butterfly Nebula
Never Without You
Regal Luck
Another Butterfly
Between Worlds
Pinot Grigio
Café Mocha
By Devine Agency
A Breezy Day
Melodic Satin
Fragrant Rosemary
Pieces Of The Plot
A Little Dream
Never Doubt Love
White Fluffy Clouds
By The Stars
A Natural Romantic
Houston Train
Pink Bubble Bath
Sparkle and Shine
Buy Me A Rose
Biscuits and Gravy
A Touch of Sunshine
Maximum Credit
Leap of Faith
Peppermint Girl
Funny Show Horse Names
Because Show Horses are given names that will be completely unique to them, some names will be easily distinguishable.
Giving your horse a funny name will be memorable and allow your horse to stand out from the crowd.
We've collected some of the silliest horse names we could find!
Runs With Scissors
Chips Ahoy
Hot-Air Balloon
Who's My Daddy
White Walker
Earl Grey Tea
Tequila Dreams
Biscuits and Gravy
She's Easy Peasy
Chilly Water
Eager Beaver
Viva La Vida
Solo, Han Solo
State Secrets
Dragon Heart
Yellow Brick Road
Be My Daddy
Rogue and Lemon
A Puppet Master
Mad About Bagels
Ready For Liftoff
Sweet Dancing Shoes
Hello I'm Johnny Cash
Leap Frog
Waling in the Flowers
Cone of Silence
Making Irish Money
Backstage Drama
Strictly Business
Rumor Has It
Mid West Star
Wayward Management
Scare Tactics
Diamond in the Rough
Visitation Rights
Celtic Kitten
Rookie's Gambling Chance AKA Gambit
Zippin Around Town
Jagged Rock Quarry
Run Susie Run
Nacho Pena
Taste the Rainbow
Champagne Taste
Return to sender
Starship Enterprise
Celtic Chalk
Granite Buffs
Send In The Girls
Save the Day Again
Xtra Whip Cream
Unique Show Horse Names
When choosing a name for your horse, you want to make sure that everyone will remember it.
So why not pick a wonderfully unique name?
A Close Shave
Midnight Express
Aurora Borealis
Blazing Fire
A Tasteful Vision
Angel's Raisin
Magic Cat
Fiery Mountainside
Magical Gold Dust
Onyx Crush
A Splash of Taste
Autumn Due
Bearded Dragon
Midnight Oil
A Silent Star
Many Happy Returns
Ocean Breeze
Dressed in Dreams
Swept Away
Mackies Straight Parade
Mahogany Heights
Miles to Go
A Taste of Money
Midnight Moon
Onward Page
Made you Look
Made in the Shade
All I Need
A Painted Note
A Perfect Sonnet
Soaring Comet
A Shiny Catalyst
Take a Picture
Sunset Over the Canyon
Riding the Waves
Chasing the Storm
Magic Apple
Starting a Wildfire
A Royal Cut
Baltic Sea
A Thousand Times
Running Red Lights
Falling For You
One Java
Orion's Northern Glare
Mac's Big Boy
A Thousand Points of Light
A Solstice Carol
English Countryside
Arctic Sea Ice
Classy Names For Show Horses
Depending on the horse show you want your horse to participate in, you may be looking for a somewhat classier version of many amazing names.
Take a look at the amazing list below:
Walking with Poise
Unconditional Love
Aberlady
Breaking Shoreline
A Classic Look
The Sun Makers
Peaceful Canyon
A Wise Inclination
Miracle in Motion
Walk Across the Water
A Peaceful Morning
Shine a Light
Drifting Ivy
A Classical Debut
Radio Static
The Alchemist
The Zenith
Flying Away
Tobacco Bay
The Sagittarius Star
Ace of Spades
Espresso
Magic Moment
Paper Storm
Ballet of Dreams
Snowy Mountain
Palace Duet
A Sense of Perfection
Be Notable
Thunder and Lightning
Soulful Stride
The Age Of Innocence
Midnight Dream
Midnight Magic
August Star
Paradise Creek
Abide By Me
Paris In Autumn
Magic Miles
Standing Tall
Take the High Road
Park Promise
Beauvoir
Echo Of Light
Paisley
Sandy Beaches
Dream Lilly
The Break of Dawn
A Flash of Light
The Cost Of Honor
Clever Names For Show Horses
Want a super clever, amazing name for your horse to show off just how smart they are? Look no further:
Downtown Abby
Grey Goose
Great Expectations
Kona Coffee
Online Discussion
Pour Me A Manhattan
Promised the Blue
Puzzle Unsolved
Reasonably Late
Red Tide Rising
Southern Adventure
Ten Mile Miracle
Victory Round
Vote of Confidence
Walk on the Wild Side
What A Dream
Why Not Now
Talk of the Town
Chief Lord and Sugar
Chocolate Truffles
Miss is Zippy
Blue Heaven
Blue Sky
Out of the Blue
Blue Violet
Oxford Blue
Jumping through Hoops
Jump Start
Landing Amongst The Stars
Soaring Into the Sky
Cold As Ice
Keeping My Balance
Burning Comet
Big Exit
Roaming Free
A Cut Above
Major Attitude
Make A Vow
Major Reserve
Make Me A Zippo
Martha's Vinyard
A Whole New World
Mind My Notes
Minstrel of Wands
Able Chatter
Misty Memories
Mobile Bay
Mocha Express
Above Board
Above the Clouds
Cool Horse Show Names
If you are on the hunt for a name that accurately expresses how amazing your horse is, here is a list of cool horse names:
A Dusty Treasure
Orient Devil
Ace Detective
Silver Bullet
Our White Lady
Winding Cobblestone Road
Batteries Not Included
A Broken Heart
Mammas Boy
Moon over Morocco
Moments in the Dark
Suit of Armor
No Apology
Quality Check
A Rusty Sabre
Valentine Star
A Different Drummer
A Dynamic Finale
A Dream of Pegasus
Outer Limits
Smoke and Mirrors
A Christmas Carol
Buckle Up
Tattooed Fire
Accept Fear
News For You
Strawberry Fields
Our Island Tiger
A Better Dream
Queen of Hearts
Tiger Shark
New York Avenue
Race for Glory
Next Time
Barbary Coast
Next Generation
Major Top Art
Barcelona Bay
Second to None
Tactical Alert
A Brave Romance
Dancing Moonbeam
Make It Thrilling
Major Distraction
Native Icon
Let's Get Dangerous
Valid Conclusion
A Candle and A Shrine
A Campfire Song
Toffee Surprise
Famous Horse Show Names
If you are looking to name your horse after some of the most famous, well known fictional, and real show horses, you can turn to these for inspiration:
Palace Malice
John Henry
Blushing Groom
Easy Goer
Raise A Native
Wise Dan
Point Given
American Pharoah
Messiah- Eventing
Exterminator
Wanadoo- Dressage
Captain- 101 Dalmatians
Game On Dude
Seabiscuit- American Horse from the Great Depression-era
Personal Ensign
Midnight Sun- Two-Time World Grand Champion
Foolish Pleasure
I'll Have Another
Applejack- From the My Little Pony Tails Series
Lady's Secret
Shanghai Bobby
Thunder Gulch
Snowbound- Jumping
War Emblem
Buttercup- From Toy Story 3
Fuego do Cardenas- Dressage
Afleet Alex
Go For Wand
Big Ben- Chestnut Belgian Horse inducted into the Canadian Sports Hall of Fame
Spectacular Bid
Slew O' Gold
Giant's Causeway
Serena's Song
Assault
Gun Runner
Smarty Jones- 2004 Kentucky Derby winner
Lady Artist- Eventing
Street Sense
Best Mate- three-time winner of Cheltenham Gold Cup
Genuine Risk
Gallant Fox
Gem Twist- Jumping
Achilles- From the Disney Movie The Hunchback of Notre Dame
Ghostzapper
Bonfire- Dressage
Valegro- Dressage
Animal Kingdom
Black Caviar
Round Table
Key to the Mint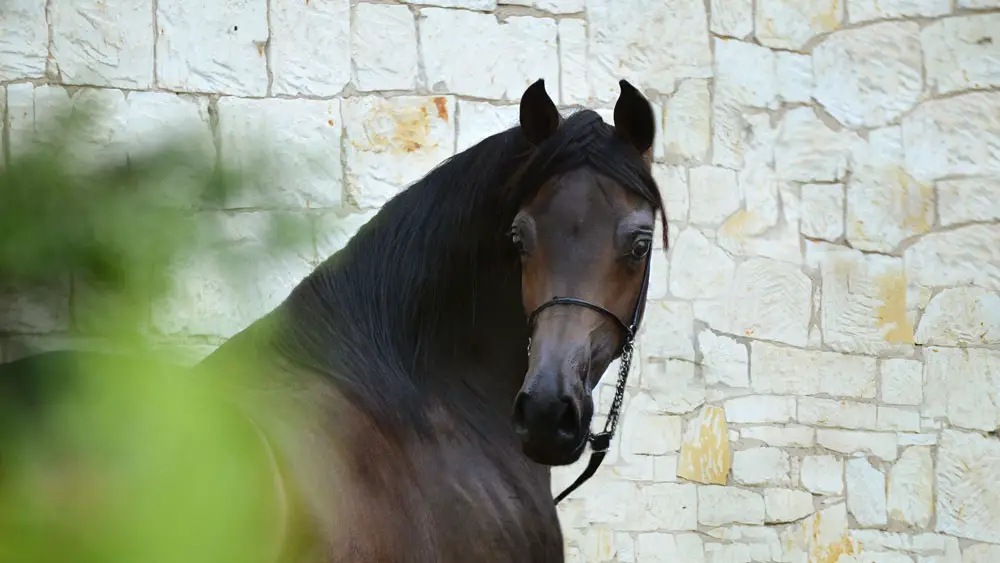 Horse Show Name Inspiration
When trying to figure out what to name your horse for horse shows, it's important to really take a moment and think about it. This is a name that many people are going to know your horse by, and you want to make it as memorable as possible.
Try taking inspiration from other famous horses, or even horses that have done well in shows around you. There are so many amazing horses to take a look at, whether they be from old westerns, Native American horses, or even completely fictional, much-loved horses.
Help Choosing The Right Name
When you have an idea, it's important to also make sure that you take a look at the horse breed association's regulations to make sure that the name you chose meets the set of strict rules that they allow.
The rules include character limits, phrases that may be restricted, and more.
You should also make sure that you chose a name that is easy to pronounce and memorable. If you have a black horse, you may want to name it something that has to do with the color, or maybe take inspiration in the nighttime.
If you choose the name your horse will be known for based on its personality, color, or other unique traits, people will be sure to remember it.
Whether you have a grey horse, black horse, a white horse, quarter horse, or barrel racing horse, it's important to keep your horse in mind when choosing a name, not just what you like!
Conclusion
Choosing the right name for your horse can be stressful, but it doesn't have to be that hard! There are so many wonderful names that will make your horse stand out from the crowd.
Still looking for ideas? Why not check out an online horse name generator or our related names section below:
Related Posts