A horse's name says a lot about the animal. It's important to choose a name that matches your horse, physically or personally. 
We have put together several lists of elegant horse names that are sure to include the perfect name for your horse. We take into account the horse's appearance, ability, and personality.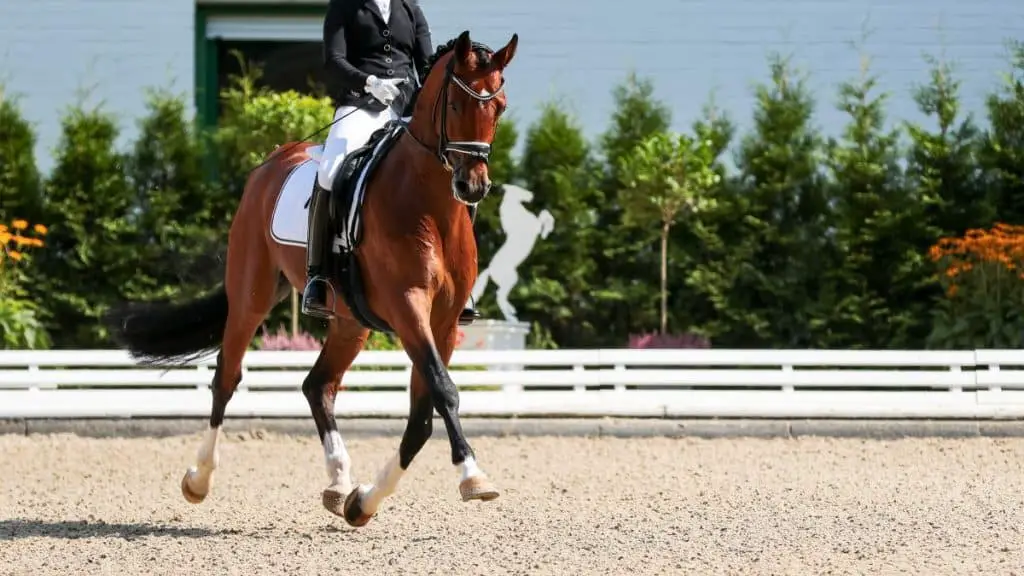 If you're looking for a unique name for your unique animal, take a look below.
Elegant Horse Names For Mares
Female horse names are abundant, and what you choose depends on your style. Our horse names for mares include both popular and untraditional names to help you find the perfect fit.
Ella
Holly
Dancer
Melody
Ginger
Sierra
Frida
Ellie
Savannah
Lucy
Spice
Emma
Sally
Lexi
Tess
Cheyenne
April
Honey
Jane
Misty
Magic
Hazel
Charm
Clara
Sundance
Silver
Peach
Daisy
Stormy
Twilight
Sugar
Luna
Kylie
Flicka
Poppy
Brandy
Pumpkin
Hope
Cookie
Starlight
Strawberry
Ebony
Lucky
Willow
Tori
Luna
Freckles
Winnie
Elegant Horse Names For Geldings Or Stallions
All horse lovers can be sure to find a name for their male horse below. Try to choose a name that aligns with your horse's personality, looks, or ability.
Applejack
Cash
Buck
Cupid
Amigo
Cody
Johnny
Jack
Butterscotch
Poncho
Spot
Copper
Rocky
Justin
Trooper
Tex
Yankee
Austin
Rascal
Gizmo
Breeze
Whiskey
Sheriff
Whisper
Dusty
Patrick
Billy
Bailey
George
Harvey
Murphy
Bourbon
Teddy
Jimmy
Turner
Rebel
Danny
Pirate
Elegant Show Horse Names
Show horse names can be as descriptive, creative, and fun as you'd like. You're looking for something to wow the crowds and introduce your spectacular mare or stud.
Symphony
Shooting Star
Rose Garden
Gloria
Diamond
Shooting Star
Rise and Shine
Dolly
Duchess
Angel Wings
Drifting Ivy
Clover
Prada
Royal Blue
Opal
Ruby
Chopin
Major
Lieutenant
Vanderbilt
Hero
Cold
Legacy
London
Debutante
Deputy
Marquis
Sydney
Dickinson
Mozart
Hercules
Apollo
Beautiful Blonde
Paris
Ice Cold
Dante
Grey Wolf
Beamer
Rising Sun
Calamity Jane
Elegant Black Horse Names
Your black beauty deserves a name that matches its charm. Bring its dark features to light by choosing a name specific to its elegant mane.
Midnight
Soot
Blackjack
Angus
Ebony
Snickers
Midnight
Smokey
Bear
Pepper
Coco
Ace
Cinder
Guinness
Raven
Storm
Ghost
Graphite
Shadow
Velvet
Currant
Ebony
Jaguar
Galaxy
Eclipse
Onyx
Godiva
Nimbus
Wednesday
Mocha
Dalia
Noir
Phantom
Black Tie
Elegant White Horse Names
The color white is associated with elegance and purity, and white horses are no different. These horse names can inspire the same awe as angels would during an entrance.  
Sugar
Pegasus
Arctic
Buttermilk
Moon
Ice
Beluga
Casper
Faith
Coconut
Clara
Cream
Moonbeam
Glory
Cloud
Quartz
Jewel
Cotton
Tornado
Alaska
Siberia
Milky Way
Coco
Glacier
Champagne
Crystal
Polar
Snow
Angel
Blizzard
Elegant Racehorse Names
Whether you're choosing a name for a Quarter Horse, Thoroughbred, or Arabian racehorse, the goal is to impress the crowds. Browse our elegant racehorse list for names that are sure to inspire, intimidate, or both.
Thunder
Omen
Man o' War
Blaze
Seabiscuit
Hunter
Bonnie
Bolt
Outlaw
Goliath
Secretariat
Ruffian
Mercedes
Assault
Voodoo
Jet
Patriot
Torpedo
Pharoah
Citation
Cowboy
Clyde
Kelso
Lambo
Winx
Victory
Panther
American Pharoah
Trigger
Phantom
Zenyatta
Bandit
Cash
Wrangler
Admiral
Indy
Challenger
Fleet
Horse Name Inspiration
Before choosing a name, it's important to spend time with your horse and note its characteristics. You can then get inspiration for your horse's name from your personal experiences, famous people or events, or through simple observation.
You'll want to make sure that the name matches your horse. The goal is to make the name resonate with your horse and vice versa.
Here are some sources of inspiration to meet this goal.
1. Funny Names
One option would be to choose a name that brings smiles to peoples' faces. It could be a humorous name that refers to the horse's abilities – or lack thereof! This is one instance where you may name your horse something to the contrary of how it actually is.
Some funny name examples include naming a giant horse "Tiny", or other names such as "Silly Goose, Penny Loafer, or Pinto Bean".
Check out some funny horse names here!
2. Nature
Mother nature has provided us with a bucket-full of names. These range from natural disasters to powerful movements within the earth.
You can also find name inspiration from plants and other animals. For example, if your horse as majestic as the Red Woods, draw inspiration and names from that forest!
3. Names In Other Languages
Who said your elegant name had to be in English? There are plenty of commonly used names in other languages that are easily pronounced in English as well.
Here are a few:
Palma
Cortez
Victoria/Victor
Paloma
Gregorio
Sol
Bonita
Leonardo
Matias
Chico
Santos
Montenegro
Marisol
Rosa
Bonny
Alba
4. Famous Athlete Names
What's better than taking the power of your favorite athlete and gifting it to your favorite horse? This is particularly relevant if you are working with a racehorse or a larger breed of horse. Consider past, current, and up-and-coming athletes known for their skills.
5. Fitting Names
These names match your horse's physical appearance. You may choose a name based on its color, size, pattern, mane, hooves, eyes, etc.
These can also include irregularities that make your horse unique. If it has spots or lines, potential names include "Spot" or "Tiger". If it seems to hop more than normal when it trots, you may flirt with the name "Hopper" or "Trotter".
6. Human Names
We all have our preferences of normal human names, and there's no reason we can't apply these to our mares or studs. Names go in and out of style just like clothes, so pick one that represents the time or memory that suits you best.
Another option is to name your horse after someone you look up to. Before doing this, make sure you have the same regard and respect for your horse as you do the person.
7. Short Names
Short, simple, and to the point will always be a great option. The same is said for names. Try out a few one or two-syllable short names on your horse.
Imagine how it would feel calling to them when you enter the stable or from across the field. The name should roll off of your tongue.
8. Personality Names
After being around your horse for enough time, you'll be able to see how horses have personalities resembling people. Observe your animal and take note of its behavior.
Personality names will be the description of how your horse behaves. If it is serious and calm, you may name it "Lieutenant". If it's unpredictable, on the other hand, you may prefer "Wild West".
9. Childhood Nicknames
Fond childhood memories are great sources of inspiration. Pick out a few nicknames that bring you happy memories, and see if one sticks as a name for your horse. These may be nicknames you had for certain things, people, or even yourself.
10. Exotic Pet Names
Exotic names have been used to call attention to products for decades. Car names are a great example of this. Go the same route and choose an exotic name for your horse. It will be sure to raise eyebrows upon announcement!
11. God And Goddess Names
If your horse is the apple of your eye, what better way to say so than by naming it after a god or goddess? Greek mythology is the best source for these names, and you can choose the name depending on the quality that the god/goddess represents.
12. Fictional Character Names
Books, movies, series, and folktales are all great sources for inspirational names. Choose a character whose qualities resemble that of your horse's or one from your favorite novel or show.
You can even choose a horse name from a fictional horse!
Here are a few popular options:
Pied Piper
Rival
Gypsy
Trotsky
Stardust
Flicka
Black Beauty
Smoky
Whirlwind
Ginger
Trojan
Rocket
Blaze
Fury
Acorn
Help Choosing The Right Name
With all of the names out there, you'll need some help in choosing the right one. Ask others in the horse field about their opinions. Then, ask other individuals that may make up an audience, such as your friends or family.
Come up with a few alternatives, especially if you plan to register your horse's name. Test out these names in front of your horse and see if you feel any connection to one over the other. If you still need more inspiration and information, check out our awesome lists of horse names.
Conclusion
Choosing an elegant name is no easy task. You can draw inspiration from your horse's personal or physical characteristics or even from unrelated, outside sources. Family members, historical events, or current discussions can also be used to help brainstorm names.
The important thing is to make sure the name clicks not only with you but with your horse. What are you trying to convey through this name? What impression would you like to make on others when they first meet your horse?
Browse our lists a second time and spend some more time with your animal. Which name sticks out to you the most? Does your horse seem to respond more to one name over the other?
Mull it over for a couple of days and you'll be sure to pick out the perfect horse name in no time!
If you're still looking for more inspiration, check out these awesome lists of horse names!
Related Posts