When naming a horse, you must remember a few important guidelines. For example, names should not be longer than 20 characters which include punctuation marks, blank spaces, and numbers.
If you're looking for inspiration for naming your quarter horse, you've come to the right place.
Whether your horse is male or female, a show horse or a rodeo horse, chestnut or dun, we've got quarter horse names that will make a perfect fit.
Let's dive in.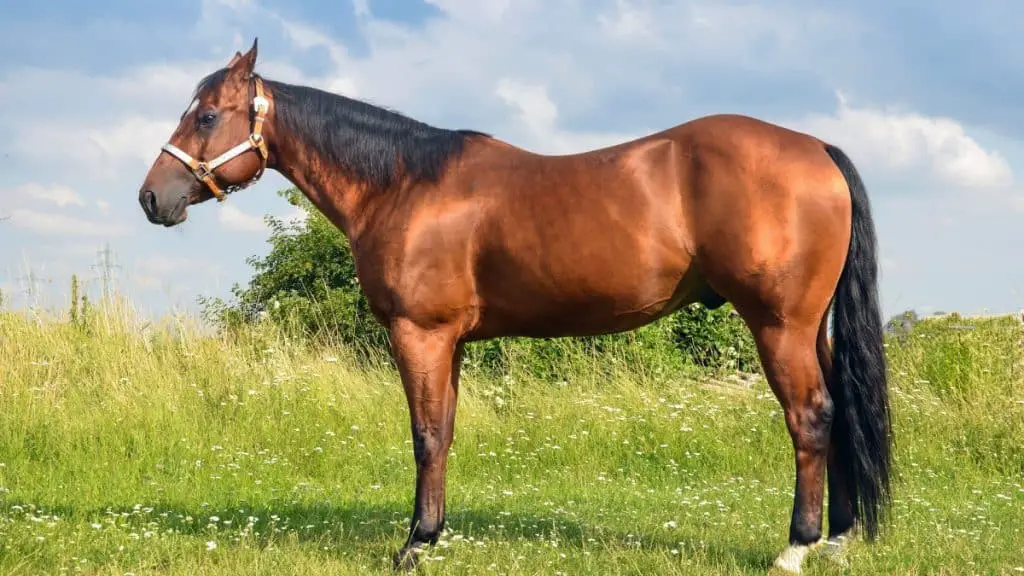 Best Quarter Horse Names
For American quarter horses, you can't get any better names than the ones listed below!
Skipper Barbie
Glimmer Lena
Zero Buck
Pie Bueno
Rose Badger
Te Smokin Goodbar
Smart Glimmer Doc
Ebony
Pippi Longstocking
Poco Moro Oreo
Smokin Sunflower
Pirate
Poco Bit O' Smoke
Badger Me Elsewhere
Russell
Cobra
Little Joe
Hot Badger
Scarlet Invitation
Peter Pan
Smart as Te
Noir
Bobby J
Rapunzel
Jaguar
Galaxy King
Tennessee Glitter
Pinto
Kit Kat
Rose Bar
Chick Flick
Jigsaw
Rose Hancock
Skipper Stormcloud
Barbie Butter Buck
Rembrandt
Daisy Doc
Cleveland
Bar Bandito
Gold Rush
Napoleon
Marshmallow Skipper
Sundance Invitation
Coconut Badger
Peppy Butter
Big Mama Bar
Shad O'Lena
Tennessee Bar
Doc Kentucky Moon
Angel River Bar
Good Names For Quarter Horses
Let the list continue with some more spiffy, unique names for your AQHA foal:
Carolina King
Reba
Zero Buck
Wicked
Navajo
Lucero
Genius
Mystic
Cloud
Minot
Huey
Blossom
Pistol
Theodore
Johan
Secret
Bandita
Lil Chick
Buzz
Razor
Dezior
Tuff
Rifle
Bello
Stewy
Bishop
Poncho
Dancer
Cash
Frida
Saint
Peppy Punch
Panama
Jet
Axel
Jasmine
Rain
Lightning
Cole
Austin
Shorty
Pie
Tokahee
Shawnee
Rooster
Cannon
Chief
Cecil
Lobo
Whisper
American Quarter Horse Stallion Names
These brazen, strong names are perfect for any stallion and are sure to turn heads just as much as your horse will.
Vincent
Apollo
Cameron
Venom
Cinncinati
Knightly
Rafe
Breaking Free
Socks
Counting Stars
Clue
Touey
Dudley
Skip Jack
King George
Incognito
Red
Omega
Another Love Story
Alamode
Maxwell
Rio
Bleu Legend
Billy
Moose
Knox
JT
Buck
Steel
Chewy
Misfit
Hopi
Coyote
Cash
Rascal
Legendary
Black Beard
Prince
Link
Holden
Pumpkin
Cadillac Jack
Raise Your Glass
Banjo
Joey
Spook
Sonny
Red Label
Blaze
Spirit
Harvey
Caterpillar
Sky
Heavy Duty
City of Love
Jonny Q
Murphy
Thunder
Dobi
Marshall
Muchacho
Matrix
Last Dance
Bijou
Cole
Scout
Dancer in my Dreams
Gizmo
Playboy
Radar
Tonka
Justin
Dante
King of Hearts
Leo
Aero
American Royal
Snickers
Sylvester
Carbon Dioxide
Xavier
Lights Out
Sparks Fly
Hawk
Connect the Dots
Blue Fire
Atlas
Magnus
Denzel
Oscar
Captain America
Ari
Story of my Life
Indiana Jones
Free Fallin'
Galaxy
Sudden Storm
Breeze
Applejack
Dust Devil
American Quarter Horse Gelding Names
Your gelding quarter horse should have just as strong a name as any stallion. Here are some great options below.
Outlaw
Kia
Rocky
Ivery
Top Gun
Dinero
Tango
Dorado
Cruiser
Alpha
Aries
Fancy
Lakota
Dante
Wildfire
Buddy
Spot
Marvel
Hobo
Hercules
There Can Only be One
Sidekick
Keep Them Kisses Coming
Warrior
Dark Side of the Moon
Zodiac
Kemosabe
Eli
Dandy
Eric
Trickster
Goose
Another Love Story
Northern Lights
Czar
King of Thieves
Night
Gin
Natural Disaster
Cajun
Grit
Blueberry Buckle
Trooper
Ivanhoe
Bear
Abrakadabra
Rhapsody
Playboy
Amigo
Bam Bam
Bandita
Frisky
Winter
Little Red
Derringer
Casino
Delmonico
Babe
Mystic
Tales of a Wiseman
Concho
BeeBee
Levi
Rambo
Taco
Willie
Strut
Ghost
Magnum
Elixir
Valentino
Whisper
Luke
Ollie
Solo
Incognito
Desperado
Titan
Dominic
Ajax
Xcell
Devotion
Diesel
Rustler
Pierre
Coyotes Call
Golden Snitch
Record Breaker
Prairie
Coco
Whiskey in My Water
River
Rocco
Patriot
Casper
Smokey
Excalibur
Chippewa
Shamrock
Remi
American Quarter Horse Mare Names
Your mare should have a beautiful name that fits her personality and spirit.
Choose one of these fantastic names for the perfect fit!
Ira
Zenia
Cooper
Birdie
Kietche
Indigo
Giselle
Wiley
Paige
Oncore
Ballerina
Shayla
Gentry
Venus
Sport
Athenea
Dunny
Ambrose
Elixir
Ghost
Chica
Bone Spavin
Sooner
Cocolo
Baby
Desperado
Drifter
Buttons
Mesa
Freckles
Wildflower
Cupid
Lena
April
Sioux
Loretta
Bandita
Weaver
Willow
Lumpy
Barbie
Easter
Moondance
Butterscotch
Paiute
Night
Rounder
Chodak
Dawn
Jo Kid
Van Gogh
Rumor
Dolla
Neptune
Lonesome
Mica
Harvey
Grace
Saint
Ivy
Lady
Kody
Hurricane
Wildfire
Jazzy
Miracle
Avenger
Roman
Abbie
Alfie
Denby
Cappuccino
Splash
Gertrude
Indiana
Nightmare
Rai
Digger
Wapiti
Goldie
Blackjack
Wing
Pride
Dina
Andy
Dora
Cheyenne
Luna
December
Kit Kat
Aries
Lupin
Kipper
Jagger
Trigger
Penny
Indy
Colorado
Nina
Traveler
Quarter Horse Show Names
Your show horse should have a catchy name that everyone will remember and will help inspire a winner!
Starting a Wildfire
Smokin Jet
Bueno Ivory Jet
King Khan
Up in the Air
Rise and Shine
Journey With Me
A Peaceful Morning
Ready for Liftoff
Lostma Cowboy
Peaceful Canyon
Night King
Smart Little Badger
An Elegant Dance
Riding Free
Snow King
Chick of Dreams
Peppy Punch
Peace A Pie
Baby Blue
A Charming Exploration
Pink Bubble Bath
Soulful Stride
Babbling Brook
Big Exit
Forever Dreamer
Galaxy Skipper
King Cobra
Walking with Poise
Lucky Badger
A Cool Breeze
Dressed in Dreams
Clear Blue Water
Running Through Red Lights
Soaring Into the Sky
Ray of Sunshine
Rose Badger
Willow Goodbar
Big Blue Eyes
Lena My Way
Jumping Through Hoops
Beyond the Stars
Lucky Lady
White Fluffy Clouds
Breaking Shoreline
Chasing the Storm
Waffles and Syrup
A Calm Storm
Cold as Ice
Sparkle and Shine
Famous Quarter Horse Names
Check out these famous horse names for some inspiration for your own – although you may need written permission to reuse any of the ones listed below so be sure to do your homework first!
Mescal
Esters Little Klu
Vaquero
Cutter Bill
Joe Reed
Jet Deck
Corona Chick
Kaweah Bar
Chicado V
Zippos Mr. Good Bar
Easy Date
Mr. San Peppy
Smart Chic Olena
Country Classic
Mr. Jessie James
Hollywood Dun It
Dashingly
Poco Bueno
Charger Bar
Parker's Trouble
Playgun
Cherry Lake
Chicks Beduino
Diamonds Sparkle
Mr. Gun Smoke
Leo
Peter McCue
Fillinic
Old Sorrel
FL Lady Bug
Runaway Winner
Poco Pine
Grey Badger
Plaudit
Vital Signs Are Good
Top Moon
Peppy San Badger
Mr. Eye Opener
Tiger Leo
Smart Little Lena
Streakin La Jolla
Black Easter Bunny
Poco Lena
Miss Olene
Royal King
Easy Jet
Wimpy
Scotch Bar Time
Miss T Stuart
Depth Charge
American Quarter Horse Rodeo Names
Maybe your horse is meant for the rodeo. These Western cowboy-inspired names are perfect for any rodeo horse.
Morgan
Rider
Colt
Cowgirl Sass
Blaze
Howdy
Bandit
Tulsa
Justice
Whiskey
The Apache Kid
Tex
Roper
Amos
Waylon
Arrow
Sally
Ringo
Prime Time Gambler
Kate
Outlaw at Work
Shotgun
Buck
Raider
Hunter
By The Law
Dutch
Carter
Hank
Grainger
Doc
Daniel
Duck
Johnny
Dallas
Maverick
Rawhide
Garrett
Stormy
Whiskey Tango Foxtrot
Dixie Cowboy
Jolene
Sundance
Dakota
Barrel
Chap
Cherokee Charlie
Billy Ray
Grazer
Annie
Names For Brown Quarter Horses
Use color to inspire the name of your horse. Brown horses are especially unique in their coloring and there are lots of options to choose from.
Flax
Brick House
Wheat
Gold Nugget
Autumn
Peruvian Brown
Clayton
Calisson
Corny
Leaves of Autumn
Strawbale
Rust
Martini
Ocherous
Singe
Flaxen Flair
Brindle
Buttercup
Mocha
A Fall Evening
Nugget
Chestnut
Kahlua
Suntan
Fuscous
Names For Black Quarter Horses
Black horses invoke a sense of mystery and intrigue. Give your black quarter horse a name no one will forget.
Black Magic
Bruno
Hershey
Nyx
Hades
Obsidian
Jinx
Emery
Vader
Celeste
Dark Knight
Noche
Drogon
Phantom
Raven
Ninja
Licorice
Velvet
Lucifer
Tarmac
Cinder
Bullet
Omen
Dahlia
Raisin
Names For Bay Quarter Horses
Bay horse breeds are beautiful and unique. Your bay quarter horse deserves a name that reflects its personality and loveliness.
Moose
Raleigh
Almond
Brandy
Oyster Bay
Grock
Wilder
Crimson
Grizzly
Princess
Jezebel
Sandy
Bay Angel
Bay Ja Vu
Remmy
Diesel
Maurice
Jay (the bay)
Brownie
Josie
Lily
Harriet
Chocolate
Cupcake
Chip
Names For Buckskin Quarter Horses
From nature to food, there are lots of unique ideas when it comes to devising a name for your buckskin quarter horse.
Buckwiser
Cream Puff
Sahara
Caramel
Butter
Hickory
Heath
Bambi
Goldie
Buttercup
Savannah
Cocoa
Java
Buckeye
Dumpling
Fawn
Latte
Dusty
Colonel Mustard
Wolf
Scooby
Doe
Cola
Latte
Ginger
Names For Chestnut Quarter Horses
Chestnut quarter horses have gorgeous coat colors that range from rich brown to fiery red.
This provides you with a lot of tantalizing options for naming your horse.
Pumpkin
Pula
Bremen
Kevin
Chester (the Chestnut)
Alinta
Jasper
Salsa
Ed (Sheeran)
Barak
Amber Waves
Spicy
Cardinal
Pansy
Sangria
Maraschino
Prince of Persia
Apple
Ballerina
Nuri
Paprika
Electric Slide
Testarossa
Anne (of Green Gables)
Rouge
Names For Dun Quarter Horses
The coloration of a dun quarter horse inspires many fantastic options for names, from storybook characters to historical figures.
Choose wisely for your dun horse!
Hedwig
Twisted Noodle
Arion
Honey
Xanthus
Lyric
Maia
Charcoal
Leon
Costello
Plata
Fiver
Beans
Caesar
Ryder
Benny Loafer
Vincenzo
Wild Flower
Geronimo
Dolly
Carnation
Catherine
Kingston
Tank
Cub
Horse Name Inspiration
There are many places from which to draw inspiration for your horse's name. Name your horse based on its coloring, unique markings or patterns, or personality.
Some unique ideas for names include drawing from literature, history, food, nature, and other famous horses.
Help Choosing The Right Name
If you are having difficulty choosing the perfect name for your quarter horse, consider asking a friend or family member to help you. Pick a few of your favorite ones from the list above and draw one from a hat.
Whatever method you choose, only you can find the perfect name for your horse!
Conclusion
Whether your quarter horse is younger than 10 years or an old veteran, black or brown, destined for the rodeo, or simply a prized friend, choosing the right name is important.
Use these names as inspiration for your horse's name. You are guaranteed to find one that fits just right!
If you are still struggling check out the related section below or even try a name generator!
Related Posts