Horses are an iconic part of The Legend of Zelda, and every Breath of the Wild (BOTW) player is bound to get a horse eventually which is why this comprehensive guide to BOTW horse names will come in handy!  
Keep in mind that you cannot change the name of your horse after you name it unless you release it from your stables and tame them a second time.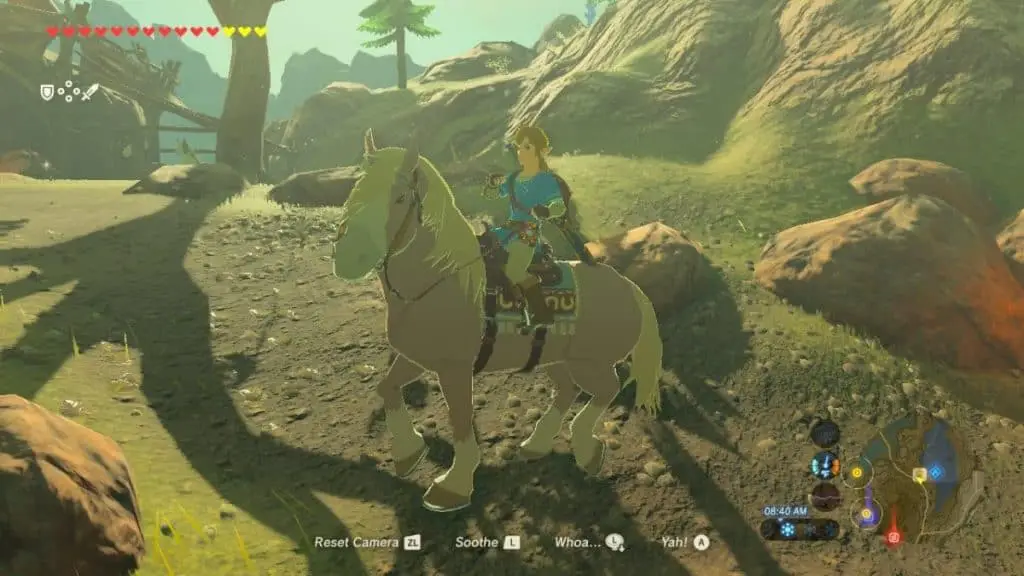 So, you should take time to consider your new horse's name before registering them so you do not have to go through the dangerous process of potentially losing your horse during the re-release process.
Here are a few of our favorite Breath of the Wild horse names to pick from:
| BOTW Horse Names for Geldings or Stallions | BOTW Horse Names for Fillys or Mares |
| --- | --- |
| Ace | Aurora |
| Blaze | Bella |
| Buck | Blossom |
| Colt | Dawn |
| Courage | Firefly |
| Dasher | Miracle |
| Lincoln | Starfire |
| Link | Sydney |
| Marley | Willow |
| Sampson | Zelda |
Best Names For Breath Of The Wild Horses 
If Ganondorf rings a bell and the name Zelda does not make you think protagonist, then you are likely a true Legend of Zelda fan.
In other words, you really care about what your horse's name is, and you want a name that sings an Ocarina as old as time…
Fi
Steed
Malon
Ganondorf
Malanya
Good Breath Of The Wild (BOTW) Horse Names 
These names did not make our top five best names for The Legend of Zelda: Breath of the Wild horses, but these are still some really good Breath of the Wild horse names that you should definitely check out if you are interested in Zelda-themed names! 
From Link all the way to Toffa, these names include reoccurring characters, unique spots in The Legend of Zelda series, and even easter eggs you may not have known about!
Link
Zelda
Navi
Yodel
Beedle
Maverick
Hyrule
Toffa
Stalhorse
Blynne
Deku
Majora
Remmy
Whinny
Loki
Satori (Lord of the mountain)
Female Breath Of The Wild Horse Names 
If your horse is graceful and majestic, you might be looking to embrace her feminine side.
This list has compiled the most beautiful and sweet names so you can find the perfect name to represent the absolute delicacy and gentle femininity of your new female mare in The Legend of Zelda: Breath of the Wild!
Cutie
Zelda
Ellie
Claire
Princess
Lucky
Donna
Bella
Rose
Willow
Chloe
Hilda
Gypsy
Lady
Juliet
Lacey
Lily
Jennel
Indigo
Fig
Sydney
Natasha
Dawn
Sadie
Lulu
Name
Aurora
Mochi
Clover
Darby
Lovely
Bride
Fancy
Sasha
Merry
Grace
Flower
Fancy
Bubbles
Tinkerbell
Analisa
Peaches
Quart-ney
Morgan
Tootsie
Jingles
Gorgeous
Lilith
Berry
Cowgirl
Medli
Fawn
Biscuit
Beauty
Jewels
Zora
Mystery
Xena
Honey
Ginger
Wendy
Mildred
Patsy
Sahara
Annie
Kylee
Lola
Jolene
Baby
Moira
Blossom
Hope
Sylvia
Gail
Coco
Precious
Rose
Evelyn
Bonnie
Dandelion
Luna
Cupcake
Tabitha
Norah
Starfire
Star
Candy
Malon
Flora
Naomi
Miracle
Lizzie
Emma
Poppy
Firefly
Raven
Dixie
Fiona
Dumpling
Molly
Male Breath Of The Wild Horse Names 
Embracing your horse's masculinity can be a great idea when naming your horse! A masculine horse is tough and sometimes rowdy which can inspire you to go with a name that represents your horse's more rugged and dominating side.
This list focuses on delivering you the tough names you want so you can name your male horse something burly and tenacious!
Chuck
Emery
Guinness
Doc
Recon
Mimo
Ernie
Captain
Rex
Hornet
Bruce
Brave
Teddy
Reno
Fletcher
Ryder
Durango
Secretariat
Blaze
Louis
Chevy
Sonny
Chief
Ranger
Elvis
Pierre
Brother
Leo
Douglass
Dawson
Marley
Homer
Stallion
Paddington
Randy
Don
Chester
Buckskin
Max
Barkley
Brody
Angus
Cooper
Arion
Suan
Prince
Pip
Levi
Cash
Mario
Buddy
Dasher
Pharoah
Buck
Jet
Adrian
Lincoln
Ferdinand
Courage
Zeus
Stefan
Rudy
Warrior
Cyril
Billy
Hunter
Jasper
Ace
Sampson
Jack
Rico
BoJack (Horseman)
Percy
Texas
Pegasus
Hero
Charlie
Riley
Colt
Mac
Basil
Franklin
Major
Scout
Cowboy
Sidon
Gulliver
Eustice
Bronco
Brody
Elliot
Arnold
Clyde
Romeo
Link
Shakespeare
Magnus
Napoleon
Trojan
Murphy
Breath Of The Wild White Horse Names 
The aesthetic of your new horse can be a great resource when naming your horse in The Legend of Zelda: Breath of the Wild. 
This list focuses on Breath of the Wild horse names for your white horse so you can take their appearance and run with it (literally)! 
Frosty
Impa
Bones
Snowflake
Fairy
Blanco
Dusty
Avalanche
Chardonnay
Spirit
Pinot
Shimmer
Sterling
Miso
Snowfire
Blizzard
Sailor
Sugar
Coconut
Angel
Archer
Blondie
Stalhorse
Sage
Diamond
Breath Of The Wild Black Horse Names 
Not all black horses have to be named something dark and dreary (although most people do tend to embrace their gothic side).
For new owners of black horses, this list will help you find the absolute perfect name for your black horse in Breath of the Wild!
We have everything from classic spooky names like Darkness all the way to sweet names like Flicka!
Flicka
Mischief
Fury
Fearless
Starry
Dante
Rogue
Eclipse
Storm
Reaper
Devil
Bullet
Shadow
Darkness
Diesel
Soot
Midnight
Rebel
Blaze
Lightning
Outlaw
Dragon
Mercy
Nightmare
Rocket
Breath Of The Wild Brown Horse Names 
From beautiful tan to dark chocolate brown, The Legend of Zelda: Breath of the Wild has a mystical array of brown horses that will leave you enchanted!
If you are looking to name your brown horse something related to its flawless appearance, this list of Breath of the Wild brown horse names is perfect for you.
Peanut
Toffee
Spinches
Snickers
Chocolate
Syrup
Biggoron
Mudslide
Scotch
Tim Tam
Timber
Spirit
Bear
Cookie
Acorn
Honey
Scooby
Hennesy
Brownie
Dusty
Coffee
Nutty
Gunner
Maple
Cinnamon
Names For Giant Horses In Breath Of The Wild 
Giant Horses are rare, black, and orange horses with a strong resemblance to Ganondorf's beloved -and intimidating- Steed.
These names are exclusively dedicated to names for giant horses in The Legend of Zelda: Breath of the Wild and I hope will inspire you to name your giant horse!
Steed
Majesty
Thor
Ferocious
Emperor
Deku
Creeper
King / Queen
Ember
Punisher
Treasure
Ganondorf
Midna
Ocarina
Soldier
Dragon
Fi
Dominator
Twilight
Ganon
Goliath
Warrior
Epona
Tao
Gerudo
Horse Name Inspiration 
If you are struggling to draw inspiration during the naming process, it can be helpful to look back on your experience taming your horse and how your new companion makes you feel.
Naturally, it can be helpful to spend time together and get to know your horse before you name them. In The Legend of Zelda: Breath of the Wild, each horse has a unique temperament as well as varying skill sets. You can use these to get to know your horse better and find a name that suits their personality! 
Drawing your horse's appearance can be very helpful too which is why this guide included plenty of aesthetic references for you and your Breath of the Wild horses. 
But, you do not always have to use their appearance as a guide so if that is not something for you, do not fret!
Referencing books, favorite shows, and other hobbies can be another helpful way to find names. I personally enjoy referencing The Legend of Zelda easter eggs and other video game references which I think make names unique.
When you feel at a complete loss, just take a step back and take a break (if possible). Stressing yourself out can just cause problems and sometimes clearing your head, filling your stomach, and getting a good night's sleep is the best way to find some good inspiration!
Help Choosing The Right Name 
When choosing your new horse's name you want to keep your name simple and memorable. Ideally, you will want to choose something that is short, simple and that means something to you.
You can only name your horse once which means you should be careful selecting your horse's name and take time to consider the right name instead of just going with the first name you stumble across.  
It can be helpful to ask friends and family for help or even post a poll on your social media feed to enlist others for help. Even if you do not agree with what they say, just seeing and hearing their opinions can be a helpful way to eliminate or add options to your list of potential horse names!
You can also research horses on official websites and look through horse name guides like this one for reference. Name guides help narrow down your search and make identifying your name preferences easier! For instance, it can help you decide whether you are interested in naming based on appearance, gender, and so on.
Conclusion 
In The Legend of Zelda: Breath of the Wild, taming a new horse means you are welcoming a new companion to your adventures! You will be spending a lot of time together so you should take some time to consider their name! 
The naming process is entirely up to you and if you get stressed out, just take a step back and relax. You may only get one chance to name your horse but there is no rush to do so! 
Take your time when deciding on your new horse's name and always remember, the only thing that really matters is that you like your new horse's name. 
You two will be spending a lot of time going on adventures together and you want a name that the two of you can both enjoy!
If you're still looking for more inspiration, check out these awesome lists of horse names!
Related Posts