Choosing a name for your brand new horse can be just as frustrating as selecting a name for a human baby. But, if you know your horse is fast, swift, speedy, or quick, then only a name reflecting these adjectives will do.
Check out our complete lists of fast horse names for males, females, and geldings. If anything, hopefully, it will inspire you to invent your own.
Let's dive in.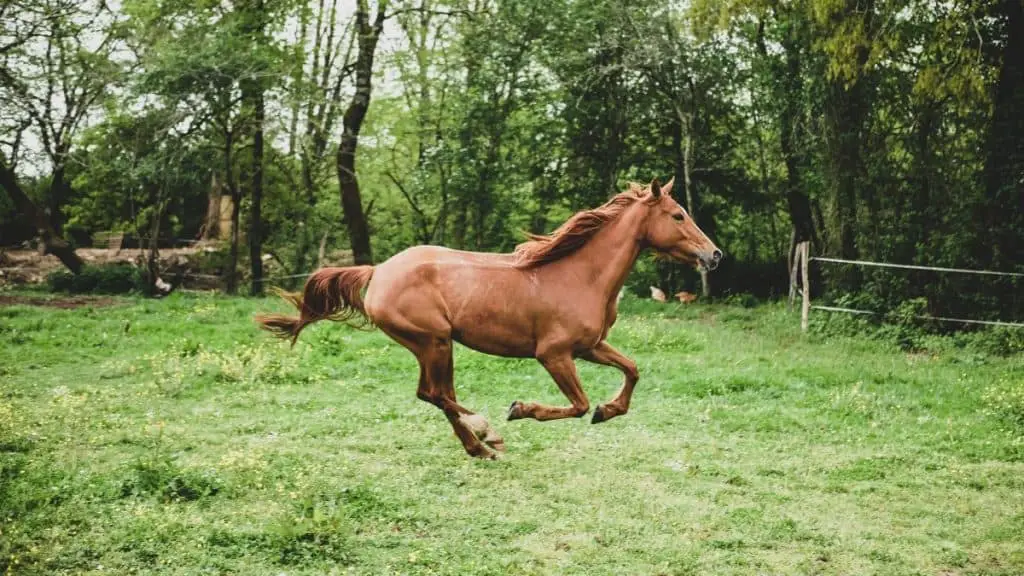 Names For Fast Mare Horses
In the event you have a fast female horse, also called a mare or a filly, consider a mythological name if she has that special spark of divinity.
Epona or Artemis may just do the trick, especially if she has a way with other animals.
Achira
Achiraprabha
Aeva
Amara
Artemis
Asuga
Cammi
Celerity
Constance
Constanza
Daya
Deanne
Dianna
Didion
Epona
Fleta
Flyta
Gijima
Ginger
Hearth
Mad Madam Mim
Maira
Mari
Mehira
Merlene
Niamha
Pim
Ranhita
Rhiannon
Sarama
Sayua
Thistle
Yona
Horse Names For Fast Geldings Or Stallions
There are two types of horses that are male: geldings and stallions. The difference between the two is that geldings are no longer able to reproduce because they underwent surgery for neutering. Stallions have all their sexual organs.
Geldings
These names and the ones listed for stallions are interchangeable if you think those are most suited to your horse.
Acceleration
Barrel
Boaz
Boost
Brisk
Capala
Catapult
Comet
Crazy
Dahy
Daithi
Eachann
Efra
Eimar
Eimhin
Embarr
Evinrude
Flash
Fleda
Fleet
Gwydion
Hasty
Mustang
Nimble
Quick
Shanahan
Sherwyn
Skeat
Skeeter
Spring
Tamir
Traveler
Tu
Stallions
The following list contains common names for virile male horses that are also fast. You may notice some are from famous horses in movies, literature, and mythology.
Artax
Buzz
Dispatch
Etor
Gait
Harley
Hector
Hustler
Javanila
Javin
Javlin
Joust
Kansan
Kohana
Lautaro
Legerity
Mad Max
Miles
Min
Rhaebus
Rustle
Ryker
Sail
Seether
Trente
Trojan
Tulpar
Horse Names That Mean Fast
The names mentioned here are all variations and synonyms for the words "fast," "speed," or "swift."
You may be able to add these with other words and come up with a more complete name that matches your horse's personality, temperament, and demeanor.
Advancement
Agility
Apace
Blaze
Bluster
Bullet
Clipper
Express
Faster
Gallop
Jet
Racer
Rapid
Rocket
Rush
Speedy
Streak
Taz
Cool Fast Horse Names
If you have a quick quarter horse or a special horse with legendary quality, a cool name will only suffice. See if anything below fits your furry, frolicking friend.
Alacrity
Apache
Blue Streak
Cougar
Dasher
Double Quick
Double Trouble
Electric
Expeditious
Falcon
Flight
Ground Cover
Hasten
Hightail
Hypersonic
Impel
Momentum
Presto
Pronto
Sea Breeze
Sonic
Speed of Light
Speedball
Subsonic
Supersonic
Tempo
The Quickening
Trade Wind
Urgency
Velocious
Velocity
Voyager
Whirlwind
Wildfire
Zephyr
Fast Black Horse Names
If you have a black horse that runs like the wind, try on any of these names for size.
Arion
Black Beauty
Black Lightning
Black Stallion
Black Widow
Blackjack
Breeze Demon
Dark Knight
Flight Knight
Fury
Gunpowder
Hell Spawn
Kelpie
Mid Knight
Midnight
Midnight Madness
Midnight Rider
Moon Shadow
Night Flight
Nightingale
Nightmare
Nuckelavee
Shadowfax
Spawn
Storm
Stormchaser
Swift Onyx
Tornado
Wind Smoke
Fast White Horse Names
Precious white horses with amazing speed and agility deserve a name that not only presents their personality but also their beauty.
Perhaps a winged horse in Greek mythology, like Pegasus, will work. Or, if it's female, naming her Eos, after the Goddess of the Dawn, might be perfect.
Alabaster Blaster
Arctic Breeze
Creamy Breeze
Dawnlight
Eos
Frosted Lightning
Frosty Morning
Frosty the Snowman
Ghost Rider
Ivory
Lightning
Lumi
Moonlight
Pale Fury
Pearl
Pegasus
Quick Frost
Quicksilver
Snow Flurry
Snowfire
Snowstorm
Summer Breeze
White Knight
White Lightning
Winter Sparkle
Funny Names For Fast Horses
If your newly acquired equine friend is a silly clown but as fast as anything you've ever seen, then give him or her a name that's funny.
Accelerated
All Get Out
Bat Out of Hell
Bentley
Bomber
Breakneck
Chop Chop
Dashing
Double Time
Eager Edgar
Fast ; Furious
Flat Out Fast
Fleeting Fancy
Frenetic
Gone with the Wind
Greased Lightning
Hair Trigger
Headway
Hurried
Jiffy
Lickety Split
Lil Whip
Nothing Flat
PDQ
Pony Express
Posthaste
Precipitous
Quickie
Runaway
Shake A Leg
Shooter
Short Order
Snap
Spanky
Steam
Tasmanian Devil
Whiz
Zippy
Zoom
Horse Name Inspiration
If you didn't find any of these names suitable for your horse, think about all the things you like or take an interest in.
For instance, you could refer to history like the Battle of Little Big Horn and name them after proud Native American warriors like Crazy Horse or Black Elk.
You could also refer to a baby-naming guide, search through a thesaurus or hit up your followers on social media for suggestions.
Help Choosing The Right Name
Whatever you end up picking, consider the job you intend your horse to do and let the name also reflect it.
As an example, if you have a white female horse for winter sleigh rides, a name like Snowfire has a nice ring to it. It may be a good idea to select a few names and see which one the horse best responds to.
About Race Horses
In the event yours is a racehorse, you must abide by strict rules in order for your horse to qualify. It's best that the horse's name has no more than 18 letters and it shouldn't be all initials. This means names like PDQ will not work.
The horse's name shouldn't be vulgar, suggestive, or obscene along with not being in poor taste or be offensive to any particular political, religious or ethnic group. You will have to refer to the rules specific to the racing organization's regulations.
Conclusion
Horses are beautiful, majestic creatures that deserve a good, solid name. It should represent their personality, activity, and demeanor. Selecting a name that surrounds or is a variation of the word "speed" is one way to do this. Regardless of which name you pick, make sure the horse responds to it before settling.
If you're still looking for more inspiration, check out these awesome lists of horse names!
Related Posts