Native American languages are rich with beautifully descriptive names that would be perfect for any horse. Whether you have a female or male horse, a black or white horse, or a spirited or docile horse, the Native American culture can provide an ideal name to call your horse.
In this article, we'll give you 450 awesome Native American horse names from several different tribes. These names are inspired by the Native American's gods, love of nature, and acknowledgment of personality.
Peruse the list below to find the perfect name for your horse.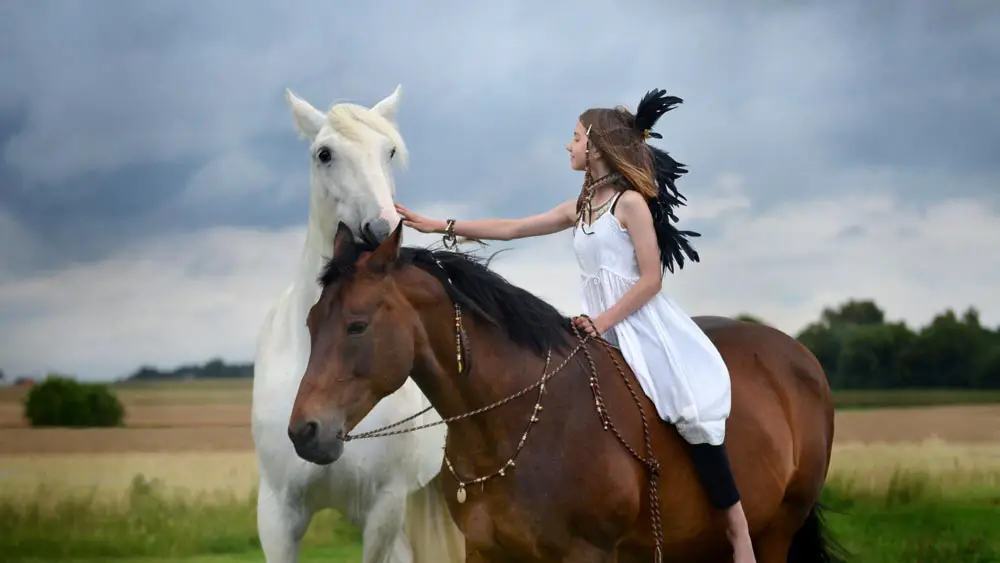 Best Native American Horse Names And Meanings
These are our top 50 picks for Native American names for your horse.
We've provided you with the meanings for each so that you can select the name that fits your horse's personality.
Nuttah – my heart
Kame – creator
Tamuchi – creator
Wakanda – creator
Miki – little
Taa – seed
Wenasa – my home
Yazhi – little one
Alsoomse – independent
Hantaywee – faithful
Eyota – great
Washta – good
Zonta – trusted
Urika – useful
Dowanhowee – singing voice
Oota Dabun – day star
Raweno – creator
Neche – friend
Tiponi – child of importance
Ninovan – our home
Aditsan – listener
Kimi – secret
Isha – creator
Wikasa – transformer god
Manetoa – underwater snake covered in armor scales
Weayaya – sunset
Nadie – wise
Atsila – fire
Wihakayda – little one
Macawi – generous
Pelipa – love of horses
Chenoa – dove
Canotina – forest spirits
Kuwanyamtiwa – beautiful badger going over the hill
Olathe – beautiful
Maralah – born during an earthquake
Cocheta – stranger
Achak – spirit
Alameda – grove of cottonwood
Hutash – Chumash goddess
Keri – Bakairi god
Keezheekoni – burning fire
Chilaili – snowbird
Onawa – wide awake
Esa – god
Onida – the one searched for
Etenia – rich
Ogin – wild rose
Rozene – rose
Sihu – flower
Female Native American Horse Names
Whether you have a spirited young filly or a shy motherly mare, there is a name on the list for any manner of female horse.
Give your beauty the name she deserves to perfectly describe her nature and do her personality justice.
Tanis – daughter
Tablita – crown, tiara
Winona – first born daughter, giving
At'eed – girl
Polikwaptiwa – butterfly sitting on a flower
Tula – peak
Lulu – rabbit
Adsila – blossom
Yamka – blossom
Snana – jingle like little bells
Weeko – pretty
Kuwanlelenta – to make beautiful surroundings
Gigiyago – girl
Elu – full of grace
Nampeyo – snake girl
Wawetseka – pretty woman
Ayita – first to dance
Lenmana – flute girl
Utina – woman of my country
Awentia – fawn
Mansi – plucked flower
Wuti – woman
Kimama – butterfly
Nijlon – mistress
Watseka – pretty woman
Doli – bluebird
Doba – no war
Kimmela – butterfly
Kineks – rosebud
Quanah – fragrant
Aiyana – forever flowering
Shideezhi – younger sister
Ojinjintka – rose
Zihna – spins
Tiwa – onion
Maka – Earth
Takchawee – doe
Aleshanee – she plays all the time
Adsila – blossom
Huata – basket carrier
Huyana – falling rain
Kasa – dressed in furs
Wichahpi – star
Chu'si – snake flower
Noya – sand
Willka – sun
Sahpooly – owl
Tehya – precious
Kwanita – God is gracious
Abequa – stays at home
Memdi – henna
Nidami – fairy
Meoquanee – wears red
Kanti – sings
Sanuye – red cloud at sundown
Shadi – older sister
Manaba – war returned with her coming
Hakidonmuya – time of waiting
Una – remember
Chosovi – bluebird
Litonya – darting hummingbird
Yoomee – star
Otekah – sun maiden
Sikya – small canyon
Tuwa – earth
Takhi – cold
Tansy – name of a flower
Tangakwunu – rainbow
Malia – bitter
Mika – raccoon
Tokala – fox
Meli – bitter
Kai – willow tree
Hialeah – pretty prairie
Asdza – woman
Galilahi – attractive
Tablita – crown
Millaray – golden flower
Awinita – fawn
Mituna – wraps salmon in willow leaves
Ominotago – beautiful voice
Tadita – one who runs
Taipa – spread wings, flying quail
Macha – aurora
Sunki – to catch up with
Chapawee – busy, industrious
Pati – break by twisting
Hurit – beautiful
Yanaba – she meets the enemy
Ehawee – laughing maiden
Nidami – fairy
Tsula – fox
Natane – daughter
Kaya – elder sister
Kamama – butterfly
Lomahongva – beautiful clouds arising
Tadewi – wind
Nishwequanniquaweseh – third little doe
Wapun – dawn
Xochitl – flower
Kolenya – coughing fish
Tsomah – yellow hair
Suletu – flies
Namida – star dancer
Kiwidinok – woman of the wind
Chu'mana – snake maiden
Calfuray – violet flower
Leotie – flower of the prairie
Nittawosew – she is not sterile
Nova – chases butterfly
Abedabun ­– sight of day
Makawee – earth maiden, mothering
Humita – shelled corn
Wikimak – wife
Sitsi – daughter
Tis-See-Woo-Na-Tis – she who bathes with her knees
Talulah – leaping water
Liluye – singing chicken hawk that soars
Nokomis – grandmother
Chochmingwu – corn mother
Ojinjintka – rose
Kokyangwuti – spider woman at middle age
Cha'kwaina – one who cries
Chumani – dewdrops
Muna – overflowing spring
Onatah – daughter of the Corn and Earth Spirit
Evaki – Bakairi goddess
Gigyago – girl
Numees – sister
Meda – prophetess
Mausi – plucks flowers
Hausis – old woman
Mina – oldest daughter
Wauna – singing snow goose
Wanekia – makes life
Chepi – fairy
Kewanee – prairie hen
Posala – farewell to spring flowers
Dahteste – warrior woman
Hehewuti – warrior mother spirit
Alawa – pea
Taci – washtub
Talisa – beautiful water
Genessee – beautiful valley
Aylen – happiness
Minya – older sister
Donoma – sight of the sun
Satinka – magical dancer
Anna – mother
Ahyoka – she brought happiness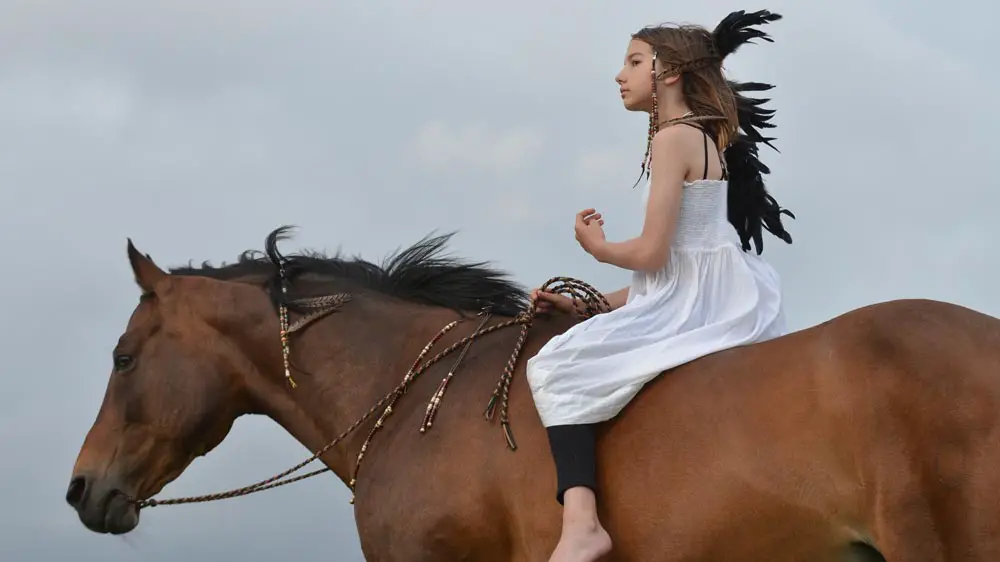 Male Native American Horse Names
If you are looking for a name that fits your male horse, you have come to the right place.
These male Native American names are strong and bold – one of them is bound to be a great fit for your horse.
Niyol – wind
Yatokya – sun
Ahanu – he laughs
Sinopa – fox
Honi – wolf
Adoette – large tree
Yenene – medicine man
Ahawi – deer
Tauri – young eagle
Ankti – repeat dance
Skenandoa – deer
Migisi – eagle
Hinto – blue
Amadahy – forest water
Sawni – echo
Pules – pigeon
Totsi – moccasins
Oya – called forth
Pakuna – deer jumping downhill
Chapa – beaver
Ohcumgache – little wolf
Nita – bear
Abetzi – yellow leaf
Tiva – dance
Odahingum – rippling water
Ama – water
Cha'risa – elk
Isi – deer
Anevay – superior
Opa  – owl
Kinta – deer
Kiwidinok – of the wind
Abeytu – green leaf
Pakwa – frog
Sipatu – pulled out
Omusa – misses with arrows
Shilah – brother
Zitkala – bird
Shuman – rattlesnake handler
Choposi – bluebird eye
Abooksigun – wildcat
Malinalli – grass
Sadzi – disposition
Pahoja – grey snow
Atapa – wigwam
Honovi – strong deer
Ethete – good
Hachi – stream
Mapiya – sky
Kaliska – coyote chasing deer
Anpaytoo – radiant
Zyanya – always and forever
Sitala – of good memory
Kiona – brown hills
Honiahaka – little wolf
Tolinka – flapping ear of a coyote
Alikkees – haircut
Enapay – appears bravely
Tatanka – bull
Osyka – eagle
Takala – corn tassel
Wicapi – holy star
Yutu – coyote out hunting
Maikoh – wolf
Hola – seed filled club
Chetan – hawk or falcon
Ujarak – rock
Poloma – bird spirit
Sapata – dancing bear
Mosi – cat
Kitchi – brave
Yona – bear
Suni Nati – middle
Ziracuny – water monster
Byhalia – white oaks standing
Altsoba – all are at war
Nuka – younger brother
Uktena – horned serpent
Kujuri – god
Yansa – buffalo
Dohasan – little bluff
Toski – squash bug
Selu – corn
Helki – touch
Zaltana – high mountain
Anakin – soldier
Goga – summer
Kuckunniwi – little wolf
Takoda – friend to everyone
Dibe – sheep
Sokanon – rain
Kanuna – bullfrog
Angpetu – radiant
Huata – to carry seeds
Sonoma – ground place
Tusa – prairie dog
Peta – golden eagle
Jamul – coyote god
Yoki – rain
Wyome – large plain
Winema – chief
Ahone – creator god of the Powhatan tribe
Pavati – clear water
Talutah – blood red
Papina – vine growing around an oak tree
Cholena – bird
Hateya – to press with the foot
Sokw – sour
Kakawangwa – bitter
Imala – disciplines
Viho – chief
Aquene – peace
Nascha – owl
Haloke – salmon
Sheshebens – small duck
Ooljee – moon
Salali – squirrel
Awanata – turtle
Paytah – fire
Tooantuh – spring frog.
Shikoba – feather
Ababinili – Chickasaw god
Sahkyo – mink
Waki – shelter
Luyu – wild dove
Nirvelli – water child
Tala – wolf
Odina – mountain
Yunuenyoon – half moon
Walela – hummingbird
Gitchi Manitou – Anishinabe god
Dayani – deer
Nimeda – dance      
Istas – snow
Pazi – yellow bird
Agasga – rain
Coahoma – red panther
Quahneah – morning dew
Woya – dove
Pamuy – water moon
Hiawassee – meadow
Malila – salmon going fast up a rippling stream
Kele – sparrow
Nuna – land
Ituha – sturdy white stone
Atius-Tirawa – Pawnee god
Breathmaker – Seminole god
Lequoia – giant redwood tree
Tsiishch'ili – curly haired
Shada – pelican
Famous Native American Horse Names
Perhaps you would like to pay homage to some of the most influential Native Americans throughout history.
This list of famous Native American names is sure to have just the right name to call your horse.
Parker
Osceola
Curtis
Shacknasty
Tecumseh
Manuelito
Sequoyah
Monkman
Red Cloud
Russell
Castillo
Geronimo
Powhatan
Milanovich
George
Wilma
Captain Jack
Pontiac
Blackhoof
Haaland
Hatam
Tatanka Iyotaka
Prieto Sandoval
Harjo
Tallchief
Sacheen
Sacagawea
Tashunca-uitco
Edmonia
Mangas
Cinon
Mildred
Ross
Benito
Joseph
Seattle
Charlene
Mataweer
Lila
Sharice
Makhpiya-Luta
Gall
Louise
Campbell
Tommy
Tamanend
Herrington
Susan
Cochise
Littlefeather
Native American White Horse Names
We have the ultimate list of horse names inspired by Native American culture for white horses.
Whether you're looking for a light and whimsical name or a more spiritual name, one of these Native Americans is guaranteed to be perfect for your white horse.
Misae – white sun
Howi – turtle dove
Jaci – moon
Anomosa – white fawn
Soyala – time of the winter solstice
Sooleawa – silver
Taigi – returning moon
Panola – cotton
Menilly – moon goddess
Onaiwah – dove, pigeon
Gola – winter
Mimiteh – new moon
Kamali – spirit guide
Nahimana – mystic
Angeni – spirit
Kachina – sacred dancer, spirit
Unega – white
Yepa – snow woman
Ptaysanwee – white buffalo
Chenoo – large ice monsters
Magena – moon
Sasa – goose
Magaskawee – swan maiden
Catori – spirit
Mitena – born at the new moon
Native American Black Horse Names
Black horses are majestic creatures and deserve names that suit their regal and free-spirited appearance.
The following list provides the best Native American-inspired names for black horses that are creative and powerful.
Taima – thunder
Orenda – magic power
Nukpana – evil
Bonita – beautiful
Koko – night
Inola – black fox
Pauwau – witch
Angwushasomtaqa – crow mother spirit
Fala – crow
Enoli – black fox
Kenda – magical powers
Kangee – raven
Powaqa – witch
Gouyen – wise
Nanye-Hi – traveler
Sakari – sweet
Yolotl – heart
Antiman – condor of sun
Baishan – knife
Balan – jaguar
Heinmot – thunder
Matto – brave warrior
Nahuel – jaguar
Ohiyesa – winner
Quidel – burning torch
Horse Name Inspiration
Still looking for inspiration? Try naming your horse after a specific Native American tribe, maybe one that you have ancestral connections to.
Some Native American tribes that would make beautiful names include:
Lakota – friend
Choctaw – river people
Cherokee – people of different speech
Sioux – little snakes
Perhaps you would rather draw inspiration from your horse itself. Here are a few examples of some horse name ideas inspired by special markings or your horse's physical appearance:
Chinkapin – chestnut
Navajo – star on top (if your horse has a star shaped mark on its forehead)
Uwodige – brown
Gleska – spotted
Whatever you use for inspiration, your horse is sure to have a beautiful name if you use a Native American name.
Help Choosing The Right Name
If you're having trouble settling on the right name for your horse, ask a friend to help you find inspiration.
Go to the library or talk to someone you may know who has Native American ancestry to see what Native American name might be a good fit for your horse.
Conclusion
Whether your horse is black or white, male or female, spirited or docile, the multitude of Native American languages has the perfect name for your horse.
Choose your Indian horse's name by its personality, appearance, or pay homage to a famous Native American.
Whatever you decide – have fun with it!
Related Posts