Finding the name of a horse can be as challenging as taming a wild horse. You want to form a close bond with your horse to build trust and understand each other's secret languages. Yet, first, you need to decide on the most fitting name.
We've gathered a collection of the best spirit horse names and their meanings, divided by category. Each was inspired by the 2002 family adventure movie Spirit: Stallion of the Cimarron. 
Let them serve as the ultimate guide to finding out the name of your horse that captures the character of its mannerisms and beauty of its own spirit riding free.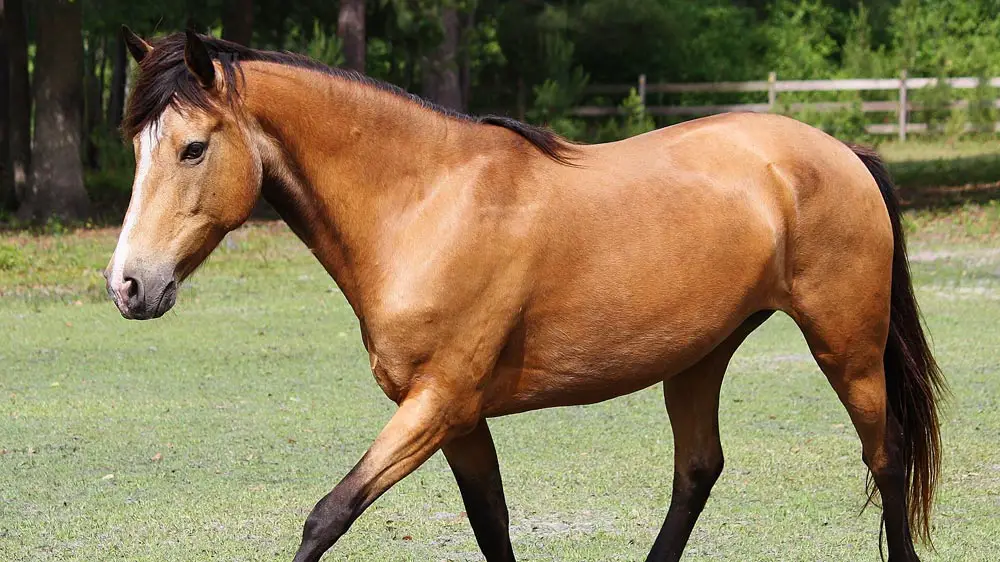 Best Spirit Horse Names
The symbolism and meanings link to horses are vast. They include beauty, majesty, determination, endurance, valor, freedom, and, most importantly, spirit.
Each spirit horse name below can reflect each of these whilst giving your mare or stallion a reason to stand that bit taller in their stall:
Arabella – Lovely, elegant
Kenneth – Handsome
Zane – God is gracious
Brady – Broad spirited
Faye – Loyalty, confidence, trust, belief
Conan – Respected, brilliant, special
Beau – Handsome
Majesta – Majestic
Bella – Beautiful
Austin – Majestic, magnificent, or regal
Willow – Graceful and free
Vivian – Full of life
Owen – Young warrior, well-born, noble
Haldis – Stone spirit
Rosalind – Soft or tender horse
Callista – Most beautiful
Amell – Power of an eagle
Keefe – Noble and handsome
Adonis – Lord
Hania – Spirit warrior
Aiden – The sun god, fiery
Kaitlyn – Pure
Cimarron – Wild, untamed
Luana – Graceful battle maiden
Sequoia – Free thinking
Mei – Beautiful
Eljin – Freedom provider
Carrie – Free man
Alessia – Defending warrior
Audrey – Noble strength
Millie – Free-born, strength, determination
Ella – Light, beautiful fairy woman
Alphonsus – Noble, ready
Hernando – Free-spirited explorer
Edward – Wealthy guardian
Feronia – The patron of freedom
Liborio – The feeling of complete freedom
Brian – High and noble
Venus – Roman goddess of beauty and love
Zayn – Beauty and grace
Augustine – Great, magnificent
Bonnie – Fair, good and beautiful girl
Conlan – Hero, wise
Spirit Jr – To honour Spirit the horse himself!
Nefertari – Beautiful companion
Kano – One's masculine power, capability
Nolan – A descendant of a chariot fighter or champion, famous, noble
Arlys – Honorable
Anwen – Fair and beautiful
Spirit Jr – To honour Spirit the horse himself!
Female Spirit Horse Names
The horse in the movie named Little Creek is a chocolate-coated mare with a striking white blaze. From the moment she meets Spirit, they begin their journey to regaining their freedom together.
Whether a western stock horse or paint mare, this series of names and meanings can help you show the world how much your equine companion means to you:
Imara – Firm
Elda – Warrior
Sharmaine – A woman whose charm lies in her freedom
Iowa – Beautiful land
Alika – Most beautiful
Jaeda – Goodness, beauty with a long neck
Bellezza – Beauty
Matilda – Power, battle, might
Nina – Strong
Brianna – Strength, survivor
Aine – Mythical queen, radiance
Ellon – Passionate and loves freedom
Marcella – Strong, warlike
Alana – Beauty
Adhamh – Of the earth
Beauregard – Beautiful gaze
Bonita – Pretty, cute
Duze – Freedom-loving beings
Lam – Forest, woods
Abrial – Open and protected
Jaffa – Beautiful
Frances – Free one
Sheridan – Untamed
Ingrid – Beauty
Bedelia – Exalted one
Keren – Powerful, strength
Irie – Positive, powerful
Bali – Strength
Elira – To be free, freedom
Sorcha – Radiance, brightness, splendour
Alcie – Strong-willed
Valentina – Vigorous, strong
Shakti – Powerful
Bree – Strength
Cara – A beloved friend, a kindred spirit
Carol – A free person, a song
Fannie – She who is free
Annabelle – Grace and beauty
Dawn – First appearance of light
Scheherazade – A freer of the world
Ani – Beautiful
Baldred – Leadership and freedom-loving
Philomena – Lover of strength
Hura – A free woman
Shannon – Wise river
Amidala – Beautiful as a flower
Alzena – Analytical woman longing for freedom
Aziza – Beloved, powerful
Britta – Strength
Kalera – A Basque freedom movement
Lyndzei – A freedom-loving, quick-witted person
Trudi – Universal strength
Dorothy – Freedom-loving
Cyrene – Supreme
Karla/Carla – Strong
Anwen – Fair and beautiful
Lorcan – Little wild one
Lucky – Fortunate – a gender-neutral name as gutsy as Lucky Prescott herself!
Male Spirit Horse Names
Although Spirit the wild mustang was voiced by Matt Damon in the movie, he was based on a real-life horse from Oregon, selected by Dreamworks when he was a young colt. 
The Kiger Mustang stallion inspired the native American horse that captured our hearts in the movie many years later.
Liber – Free
Calixto – Most beautiful
Aziz – Beloved, strong
Karlos – Free man
Lisandre – Liberator
Chaz – Free
Emeric – Power
Allen – Bright and beautiful
Andres – Strong and manly
Caden – Spirit of battle
Neron – Strength
Ekon – Strong
Bello – Handsome, beautiful
Coal – Hill or quite literally the word coal. Quite a fitting name for a black horse, don't you think?
Denzel – From a protected place
Adira – Strong, noble
Dror – Freedom
Aaron – Strong mountain
Chuckie – A commoner who is free
Ferenc – Free
Liam – Strong-willed
Amzi – Strong
Cralton – Free man's town
Cisco – Free-man
Charlton – Free settlement of men
Hussein – Small and handsome one
Alward – Freedom-loving
Beale – Handsome man
Kenneth – Born of fire and beautiful
Alfred – Wise counsellor
Moksh – Salvation
Griffin – Strong lord
Francis – Liberated
Fran – A free man
Lefteris – Free
Abir – Mighty, courageous, strong
Alexander – Defender of mankind
Jimbo – Dynamic and exciting people who aspire towards freedom
Chiru – Freedom-loving man
Angus – Strength
Shaquille – Well developed and handsome one".
Egon – Strong with the sword
Irvin – Fair and handsome
Ethan: Firm, strong
Adonis – Most handsome, beautiful
Dermot – Free from envy
Amare – Handsome
Kavanaugh – Born beautiful, handsome
Eder – Handsome
Karle – Man with freedom
Belvedere – Beautiful view
Alsie – Strong-willed
Nohea – Handsome
Kamilo – Born to freedom
Argider – Beautiful as light
Cosmo/Cosmos – Beauty in order
Barrett – Bear strength
Lirim – Freedom to be
Kwan – Strong
Seattle – Man of high status
Horse Name Inspiration
The movie Spirit: Stallion of the Cimarron takes place in a fictional frontier town in Oregon called Miradero in the late 19th century.
It's easy to become inspired by the alluring wonders of the natural world that surrounds the Native American tribes and the nobility of a Cimmaron herd.
Here are some examples of names and their meanings to help your creative ideas flow like water in a stream:
Native American Names and Meanings:
Opa – Owl (Choctaw), Grandfather (German), Moonfish (Hawaiian)
Kai – Willow tree (Navajo), Ocean (Hawaiian)
Cherokee – A tribe name (Cherokee)
Dyani – Deer (possibly Shioux)
Hialeah – A pretty prairie or prairie on the hill (Miccosukee)
Lúta – Red (Sioux)
Elan – Friendly (Apache)
Tyee – Chief, leader, or big and superior (Chinook Jargon)
Kaya – She who arranges rocks (variation from Nez Perce)
Cochise – Oak or hardwood (Apache)
Chenoa – A place name (variation of Cherokee)
Cheyenne – A city in Wyoming, a tribe name, or difficult to understand (Algonquin or Sioux)
Aponi – Butterfly (Algonquin)
Shawnee – A tribe name (Algonquin)
Yuma – A tribe name, a chief's son (Quechan)
Tahoma – Giver of water (Salish)
Nashoba – Wolf (Choctaw)
Kele – Sparrow (Hope)
Dakota – Friend and ally (Sioux)
Tokala – Fox (Sioux)
Moana – Deep sea, wide ocean (Hawaiian, Mauri)
Powhatan – A tribe name/place name (Algonquin)
Indigenous Native American Animals:
Bear
Deer
Wolf
Bison
Prairie Dog
Otter
Fox
Ox
Jackrabbit
Eagle
Elk
Rattlesnake
Owl
Opossum
Gazelle
Quail
Hawk
Eagle
Horse (of course)
Native American Words and Objects
Hunt
Smoke
Kayak
Scout
Medicine
Tribe
Arrow
Tent
Dreamcatcher
Colony
Herbs
Saddle
Campfire
Cowboy
Chief
Bow
Axe
Headdress
Feather
Stirrup
Knife
Totem
Pipe
Shrine
Rope
Weather, Elements and Seasons
Sun
Rain
Storm
Hail
Heatwave
Snow
Day
Night
Moon
Stars
Fire
Earth
Air
Water
Spring
Summer
Autumn
Winter
Objects in Nature
Seed
Wood
Hill
Burn
Pebble
Cliff
Mountain
Rock
Meadow
Cloud
Fountain
Lake
Stem
Sky
Leaves
Ground
Pond
Shoot
Sprout
Plant
Sea
Forest
Roots
Ocean
Waterfall
Stream
Valley
Bank
Trench
Moat
Stone
River
Reed
Dam
Soil
Flower
Help Choosing The Right Name
You're not alone if you feel that you need a little help when naming an animal so close to your heart.
Usually, friends and family are more than happy to tell you what they think of your name choices, good or bad.
You should also bounce ideas off other horse lovers and other people who can become familiar with your horse's personality.
Joining online fan clubs and discussion groups are another great way to arrive at the best horse name. Just describe your horse's qualities and see what comes into view.
For instance, if your horse just so happens to be a young Kiger Mustang breed, or similarly, a buckskin mustang stallion, your new online friends might suggest one of the following names of characters from the movie:
Chica Linda
Rain
Smoke
Little Creek
And, probably the most obvious, the mustang named Spirit
Conclusion
Perhaps you're a lover of Native American culture, the beauty of nature, or even are a die-hard fan of the movie.
This guide of spirit horse names will imbue you with the confidence to discover the right one for you, just as Breyer is proud. Whatever your motivation for seeking one, keep your determination as strong-willed as Jim Prescott's desire for adventure.
Now, go forth and let your spirit soar!
Related Posts