Draft horses are some of the most beautiful, powerful, and muscular creatures on earth. If you're blessed enough to have one of these equine friends, consider yourself lucky. They often bond more with their humans in a personal way and are happy to perform laborious jobs.
Whether you have a Belgian, a Clydesdale, an Ardennes, or some other draft horse, you want to ensure you select a name that has some power behind it. Since they are most often used for work like hauling and farming or even battle and war, picking a name should reflect what they do.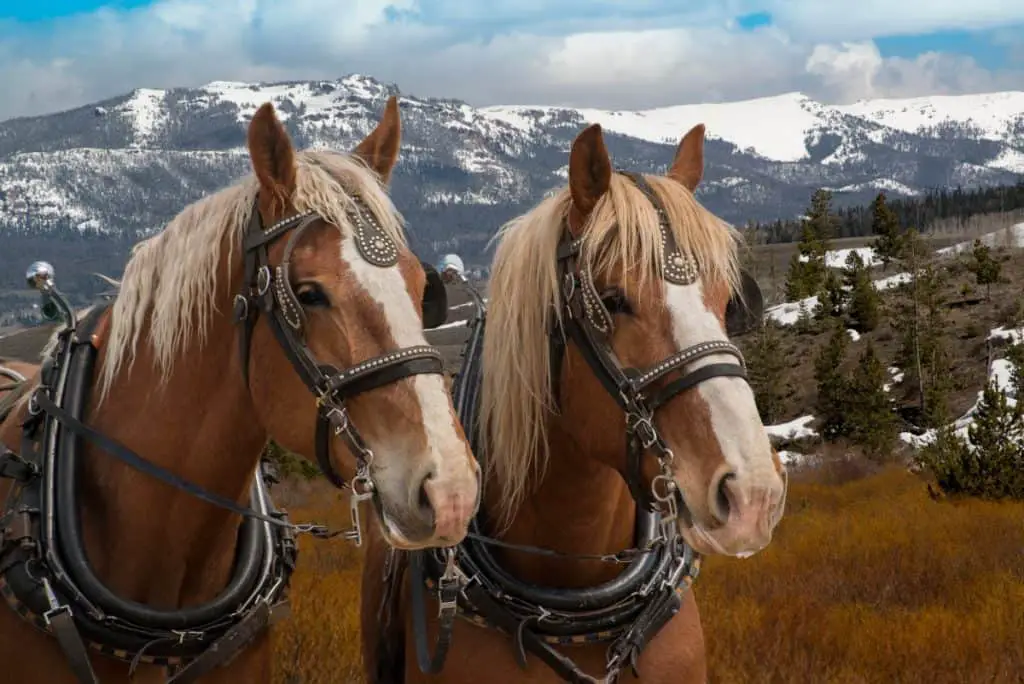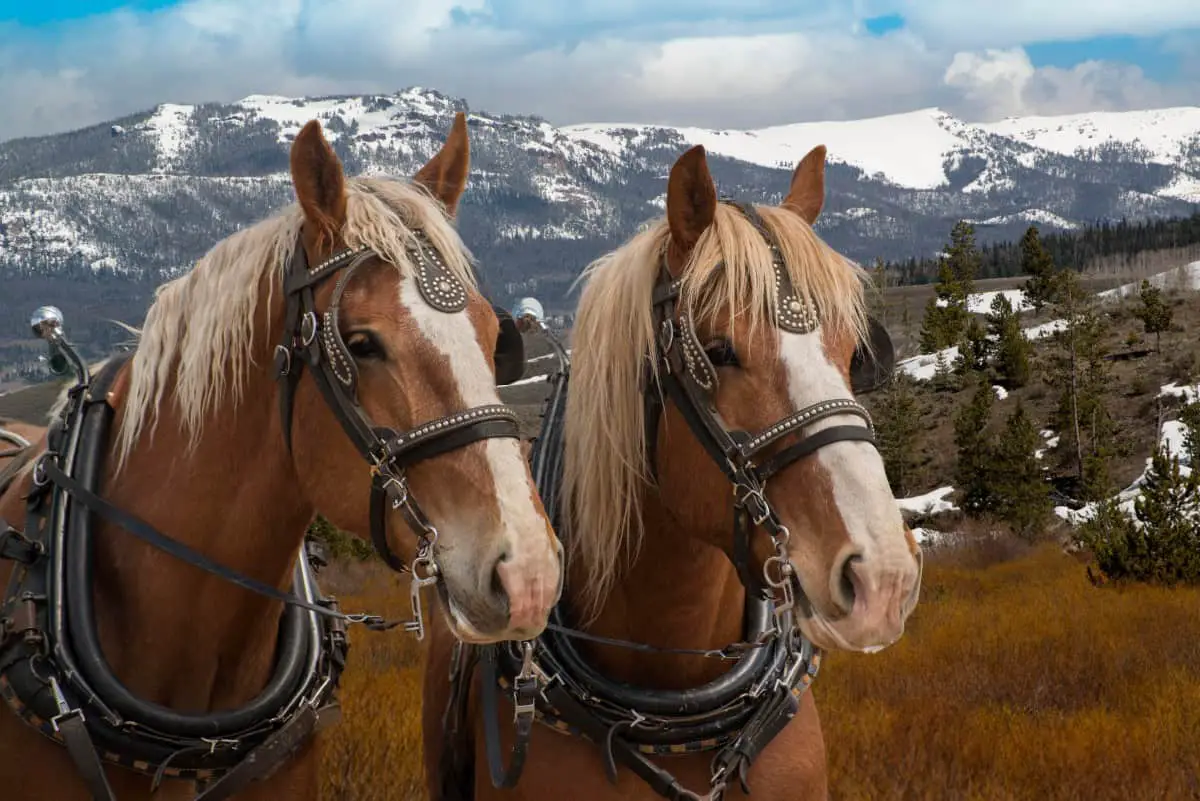 Good Draft Horse Names
The following is a list of some basic names that are good and common for many draft horses. If you don't like any one of these, perhaps they will inspire something else?
Apache
Barley
Beast
Blondie
Bolt
Bones
Boomer
Bronze
Bullet
Cleveland
Comanche
Copper
Courage
Dagger
Dakota
Fierce
Fire
Fortitude
Lakota
Lank
Lonestar
Misty
Navajo
North
Remo
Rider
Rocket
Rocky
Rogue
Ryder
Snake
Spike
Strength
Stout
Turbo
Female Names For Draft Horses
Only the best and most galvanized type of name will do for a draft horse that's a mare. See if these names of femininity and fortitude suit your bulky gal.
Abrielle
Ada 
Anastasia
Andarta
Andra
Antonia
Arnia
Artheda
Audrey
Autumn
Az
Bella
Beren
Berta
Bia
Bryna
Calypso
Catherine
Chollima 
Crystal
Damia
Darcy
Durga
Embra
Epona
Filomena 
Fiona
Flecka
Flicka
Grizelda
Isla 
Kali
Kaori
Karla
Kaya
Lady
Millicent
Nina 
Olympia
Passion
Petra
Princess
Rhiannon
Sadie
Sahara
Shasta
Sheeba
Shyla 
Skadi
Tara
Tillie
Valerie
Xena
Xone
Zelda
Zephyra
Male Names For Draft Horses
When you have a beefy male, its nomenclature should be a description of both its physical and character traits. The following list is for both stallions and geldings.
Aiden
Angus
Antoine
Armstrong
Arnau
Atticus
Audie
Balor
Baron
Boaz
Bruce
Buck
Buddy
Cam
Carlos
Charlie
Chucky 
Cisco
Clyde
Dan
Dexter
Drew
Duke
Ethan
Ferocity
Frank
Gothard
Hank
Ike
Jacob
Jude
Legionnaire
Mack
Malcom
Max
Maximus
Mike
Monty
Opie
Oscar
Percival
Randy
Robert
Roland
Roman
Russell
Rustle
Soldier
Steve
Sven
Tiergan
Trucker
Tucker
Valentino
Valiant
Valor
Varro
Victor
Warrior
Zeke
Zenobio
Names For Black Draft Horses
Of course, when you have a mare, stallion or gelding that's dark in color, you want to have a name that includes it. Inspect its mane, forelock and feathers because these may help further your inspiration.
Abyss
Bernt
Black Beauty
Black Death
Black Hole
Black Stallion
Blackbeard
Blackberry
Blackjack
Blackness
Blackwell
Charcoal
Coal
Dark Knight
Dark Side of the Moon
Ebony
Eclipse
Fury
Grim Reaper
Inky
Jaguar
Jet
Knight
Midnight
MidKnight
Night Terror
Nightmare
Noir
Obsidian
Onyx
Pitch
Raven
Sardonyx
Shadowfax
Slate
Sloe
Smokey
Soulless
Stormy
Stygian
Thundercloud
Thunderstorm
Names For White Draft Horses
Alternatively, if your enormous horse is pure white in color, you can name it any one of the following below. Think about all the words and synonyms that associate with "white," "pale" or "light."
Abominable Snowman
Alabaster
Angel
Argent
Avalanche
Blanca
Blanch
Blizzard
Brilliant
Casper
Diamond
Eggshell
Gleam
Iceburg
Ivory
Jennifer
Luna
Milky
Moonlight
Pearly
Platinum
Powder
Quartz
Sallow
Snow Crystal
Snow Dazzle
Snow White
Snowball
Snowdrop
Snowflake
Starshine
Steam
Sterling
Sugar
Sun Spirit
Waxen
Whitcomb
White Gold
White Wizard
Whitewash
Whitewater
Wintergreen
Yeti
Cool Names For Draft Horses
The names given below are for draft horses that have a spark of elegance or some kind of legendary quality. When  your horse has a definite and clear personality, you should opt for a name that shows it.
Adobe
Azul
Batzorig
Brandy
Bucephalus
Cinnamon
Conall
Cyan
Diablo
Dragon
Dynamite
Ferris
Fire Angel
Firebolt
Firefly
Granada
Hale
Highlander
Kelpie
Lemon Drop
Lord
Magnum
Maleficent
Malodorous
Nitro
Pharaoh
Phoenix
Rebel 
Reclamation
Sandstorm
Sapphire
Savage
Spitfire
Sundancer
Talo 
Talon
Tulpar
Viking
Wicked
Zeal
Funny Names For Draft Horses
In the event your draft horse is a total clown, a funny name might just be the perfect fit. If hilarity, joking, playing and frolicking are the horse's normal mode of being, you'll have to pick one of these.
Alien
Amazon
Bacardi
Bandit
Bandit
Barn
Bear
Beefcake
Bozo
Bruiser
Butterscotch
Captain
Diesel
Drastic
Enforcer
Grizzly
Mandarin
Moose
Moxey
Peewee
Picante
Piquant
Plucky
Rage
Razzle Dazzle
Reaper
Robin
Robust
Rodeo
Scotch
Severe
Shrimp
Sneakers
Snyper
Stag
Stalwart
Tank
Tenacious
Toughy
Tower
Tuffy
Villa
Whippet
Wick
Widow Maker
Yankee
Zealous
Famous Draft Horse Names
This specialized list of names comes from all things famous.  Things like popular literature, ancient mythology, famous personalities, a famous horse from TV or pop culture are some of the inspirations.
Achilles
Ajax
Alexander the Great
Andre the Giant
Andromeda
Angus Young
Apollo
Aries
Athena
Atlas
Big Ben
Boudica
Boxer
Budweiser
Castor
Chewbacca
Cleopatra
Crazy Horse
Darth Vader
Euryale
Goliath
Gwenyfar
Hades
Hektor
Helios
Hercules
Hermes
Horatio
Houdini
Julius Caesar
Jupiter
King Arthur
Lancelot
Lassie
Lord of the Rings
Marc Antony
Medusa
Mercury
Merlin
Mr. Ed
Napoleon
Odysseus
Peter Pan
Picasso
Pippi Longstocking
Pollux
Rambo
Rambo
Rapunzel
RedRum
Rembrandt
Schwarzenegger
Seabiscuit
Secretariat
Sekhmet
Steve McQueen
Stheno
The Hulk
Thor
Ulysses
Wilbur
Zeus
Names For Spotted Draft Horses
Spots and patches on your draft horse means you should have a name that indicates such things. Pay attention to its colors and how the markings appear. Make note of any shapes and formations.
Blot
Brindle
Checker
Confetti
Dalmatian
Dapple
Dice
Domino
Dot
Droplet
Flake
Freckles
Gypsy
Jigsaw
Kit Kat
Lacy
Marble
Mosaic
Motley
Oreo
Patch
Pebbles
Pigment
Pirate
Salt-n-Pepper
Skunk
Sparkle
Spatter
Splotch
Spot
Spotted Eagle
Sprinkle
Stipple
Taffeta
Tapestry
Tie Dye
Tweed
Yin Yang
Horse Name Inspiration
Whenever you're searching for your draft horse's name, be sure you observe your horse in action. Pay attention to every detail, including its mannerisms, demeanor, attitude, personality, preferences, and activity.
If you find you're having problems coming up with a name, do a search online for baby names but do it based on the meaning or adjectives you observe from your horse. For instance search for "strong," "force," "power" and etc.
Help Choosing The Right Name
Regardless of the various horse breeds, you want to ensure following the basic naming rules. As always, horse names should never be longer than 18 characters. You want to be able to say it with ease and the horse should find the name enjoyable.
It may be good to pick a few names to see which one the horse responds to best. Make no mistake, it will let you know if it likes the name or not. In the case you're having severe difficulty, you could always post a pic of your draft horse online. Go to social media or a horse forum to see if anyone has any fresh ideas for you.
If you plan to use the horse in a competitive capacity, ensure you abide by those rules so your draft horse can qualify. In most cases, you don't want to use anything offensive, sexually suggestive, or in poor taste.
Conclusion
Most draft horses are enormous forces that are also gentle, kind, and loving. So, you want to make sure you pick a name that reflects who and what they are to the best of your ability. It shouldn't take too long, but you do want to take some time before solidly deciding.
If you're still looking for more inspiration, check out these awesome lists of horse names!
Related Posts