The Friesian horse breed has its origin in Friesland in the Netherlands. Known for their beautiful black color, Friesians served as carriage horses in the 15th and 16th centuries and competed in trotting races in the 19th century.
Despite their versatility and popularity, Friesian breed numbers steadily declined during the early 20th century until only three stallions remained. It was only when Dutch farmers had to turn back to horsepower due to World War II, that the breed survived a brush with extinction.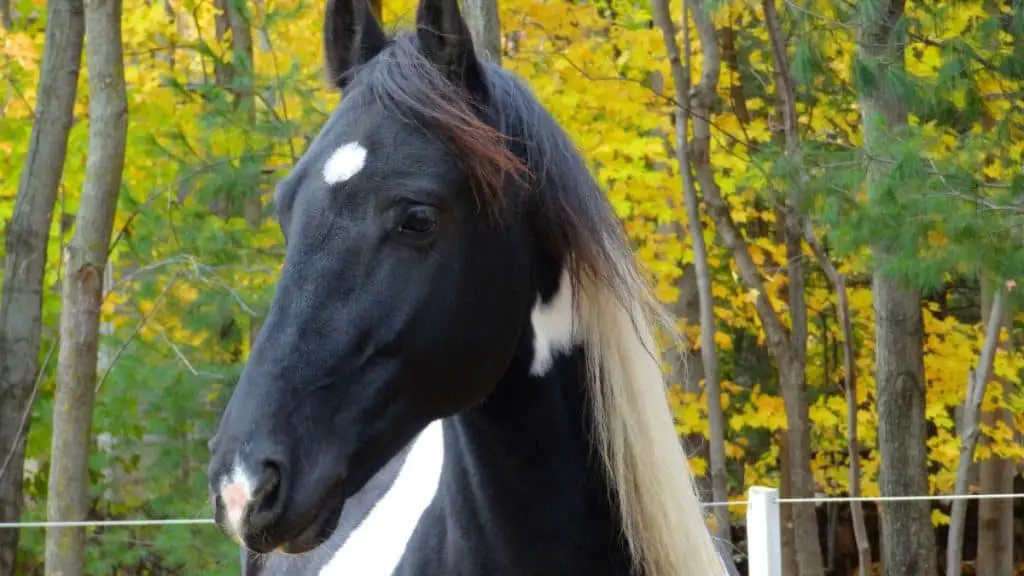 But how do you go about naming such a multiskilled, graceful, yet big-boned horse? We came up with a few suggestions!
Lets dive in.
Male Friesian Horse Names
Friesians are graceful horses, but when naming a male Friesian, most people tend toward dominant and masculine names.
If you fall into this category, look at some of the bold names on our list!
Deputy
Jameson
Hero
Angus
Dexter
Champion
Jagger
Fury
Hendrix
Zeus
Kaiser
Clyde
Atlas
Apollo
Hamilton
Eagle
Remington
Brutus
Jethro
Colonel
Presley
Romeo
Boris
Maverick
Gunner
Sarge
Orion
Ulysses
Sirius
Xander
Maximus
Osiris
Ryker
Pacino
Buzz
Rebel
Socrates
Caesar
Stirling
Ranger
Female Friesian Horse Names
When naming female Friesian horses, people tend toward names that either have a European flare or a feminine grace to them.
If this sounds like your Friesian, try one of the names from this list!
Josephine
Astrid
Clara
Esme
Elsa
Duchess
Isabelle
Bridget
Lakshmi
Diamond
Freja
Noelle
Aphrodite
Gypsy
Victoria
Beatrice
Sheba
Fiona
Bliss
Ophelia
April
Liberty
Ilsa
Dahlia
Annika
Esther
Pandora
River
Athena
Gracie
Petra
Eliza
Hannah
Cleo
Aleid
Saskia
Fenna
Delilah
Sofie
Fantasia
Good Friesian Horse Names
A good name for a Friesian horse is a name that manages to capture the incredible size and beauty of the breed. Although it is not easy to find a name that is so all-encompassing, we found some pretty good options!
Nebula
Rogue
Aria
Caspian
Titan
Sequoia
Blackjack
Thor
Beau
Asgard
Luna
Galaxy
Echo
Czar
Rowan
Ruger
Beaumont
Beauty
Vader
Stella
Noble
Diesel
Majesty
Bane
Godiva
Baron
Booker
Xena
Voodoo
Artemis
Divinity
Rex
Storm
Carlotta
Queenie
Thunder
Goliath
Siren
Obsidian
Striker
Dutch Friesian Horse Names
Dutch names for Friesian horses are popular due to the Netherlandic origin of the breed. There are also endless options when you choose a category as broad as this to pick your horse's name from!
Zuzanna
Viggo
Ciel
Gustaaf
Luc
Fenna
Henrick
Elin
Ilse
Jan
Hanne
Hogarth
Lotte
Jacobin
Caspar
Tess
Amira
Lars
Bastiaan
Sjef
Elke
Bram
Greta
Franz
Rhona
Hilde
Johan
Joris
Gabriel
Dutch
Kyra
Una
Louis
Luca
Marja
Aart
Otto
Roel
Wilhelmina
Betje
Black Friesian Horse Names
Although it may seem like an easy choice, many great Friesian names stem from the color of a black Friesian's hair!
We put together a list of some of the best names we ran across for your black beauty.
Pitch
Cosmos
Nyx
Phantom
Hecate
Tux
Anise
Diablo
Legend
Midnight
Char
Caviar
Mud
Deva
Magic
Raven
Bourbon
Coal
Duff
Grim
Indigo
Nimbus
Kuro
Omen
Styx
Knight
Nightshade
Twilight
Poe
Cinder
Kellen
Stoker
Dianthus
Moon
Nocturne
Lugosi
Othello
Lestat
Mystica
Velvet
Cool Names For Friesian Horses
It is not difficult to pick a cool name for a horse as physically impressive as the Friesian but finding something that is not overused is a little more difficult.
We suggest looking over the list below for some great options!
Bandera
Merlot
Escobar
Marley
Cercei
Axl
Oracle
Gambit
Nemesis
Siege
Justice
Magnus
Bowie
Ajax
Dillinger
Bond
Winchester
Stonewall
Sampson
Arya
Wednesday
Riggs
Serpico
Jameson
Elektra
Khan
Malice
Apache
Reno
Kraven
Loki
Floyd
Rogue
Lex
Chaos
Huntress
Shiva
Moxie
Mayhem
Ruger
Famous Friesian Horse Names
Naming your Friesian horse after famous Friesians that have gone before them is another popular naming tradition and there are some great options out there!
Frederik
Noble
Crusader
Warhorse
Mazikeen
Xanti
Gunner
Sarai
Phantom
Velvet
Ducati
Triton
Merlin
Nico
Wilco
Bella
Zena
Faith
Grace
Hazel
Denmark
Alexander
Adiah
Isadora
Lexington
Stellar
Celestina
Arya
Strider
Isa
Jack
Celtic
Sephia
Baron
Miramar
Keva
Pfzar
Cache
Dallas
Starlite
Horse Name Inspiration
If you are still struggling to come up with a name for your Fresian horse, see if these naming practices give you any inspiration!  
Letters of the alphabet (Alpha, Omega, etc.)
Figures from military history
World leaders
Literary characters
Saint names
Influential figures in history
Conclusion
Choosing a name that fits such a dominating, yet gentle horse can be difficult, but if you find yourself at a dead-end, give your mind a break. Spend time with your dark horse, watch them, get to know them, take notes of their quirks, you may find that your horse chooses a name for themselves!
If you're still looking for more inspiration, check out these awesome lists of horse names!
Related Post