If you are a diehard Tolkien fan or just love the beauty of the language and names of Middle Earth, you will love these Lord of the Rings horse names.
We've provided you with not only the best horse names inspired by J. R. R. Tolkien's fantasy world but also broke them down into names for males and females.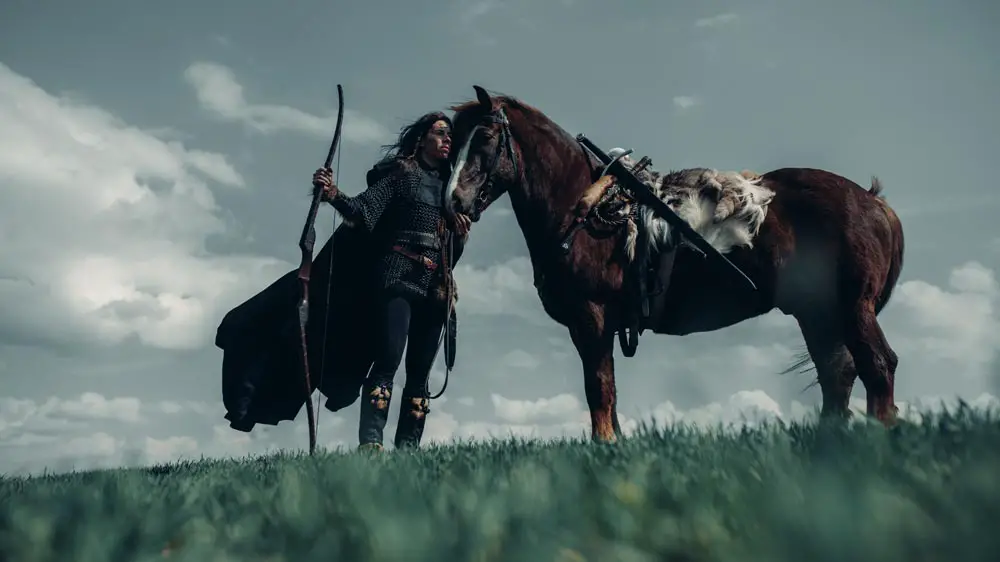 Best Horse Names Inspired By Lord Of The Rings
The following names are by far the best horse names inspired by the Lord of the Rings trilogy from The Fellowship of the Ring to The Return of the King.
These include names of horses from Middle Earth as well as some of the most beloved elf, dwarf, and human characters.
Are you ready to take your horse to the Battle of the Pelennor Fields? These ideas will help:
Bill – Samwise Gamgee's trusted steed (Bill the pony)
Shadowfax – a chieftain of the Mearas, he can run faster than the wind (Gandalf rode Shadowfax when he came head to head with the Lord of the Nazgûl)
Hasufel
Arod – swift
Firefoot
Fatty Lumpkin – Tom Bombadil's pony
Windfola
Asfaloth – Glorfindel's horse
Rochallor
Bumpkin – one of Merry's ponies
Roheryn – (Aragorn was gifted his horse Roheryn from his lady Arwen)
Snowmane – King Théoden's horse
Stybba
Arroch – Hurin's horse
Nahar
Felarof – the sire of Shadowfax
Barliman Butterbur
Imrahil –  prince of Dol Amroth and father-in-law of Eomer
Gandalf
Peregrin – traveler
Gamling – a trusted man of King Theoden
Legolas
Aragorn – noble warrior, kingly valor, King of the Tree
Elessar – elf stone
Strider
Pippin – awe inspiring
Hamson
Wise Nose – one of Merry's ponies
Gildor
Frodo – the ring bearer who carried the Ring of Power to Mount Doom to be destroyed
Tom Bombadil
Saruman – a wizard who joined Sauron and ruled from Orthanc in Isengard
Stormcrow
Mithrandir – grey wanderer or pilgrim
Samwise – simple
Meriadoc – cheerful, joyful
Gorbag
Celeborn – silver tall
Bergil
Glorfindel
Eomer – grand war horse
Elrond – vault of heaven, star dome
Halfred
Mauhur – an orc who guarded Merry and Pippin when they were in captivity
Boromir
Denethor – steward of Gondor and father of Boromir and Faramir
Elladan – elf man
Elrohir – elf man
Angmar
Fredegar
Male Lord Of The Rings Horse Names (Fit For King Aragorn)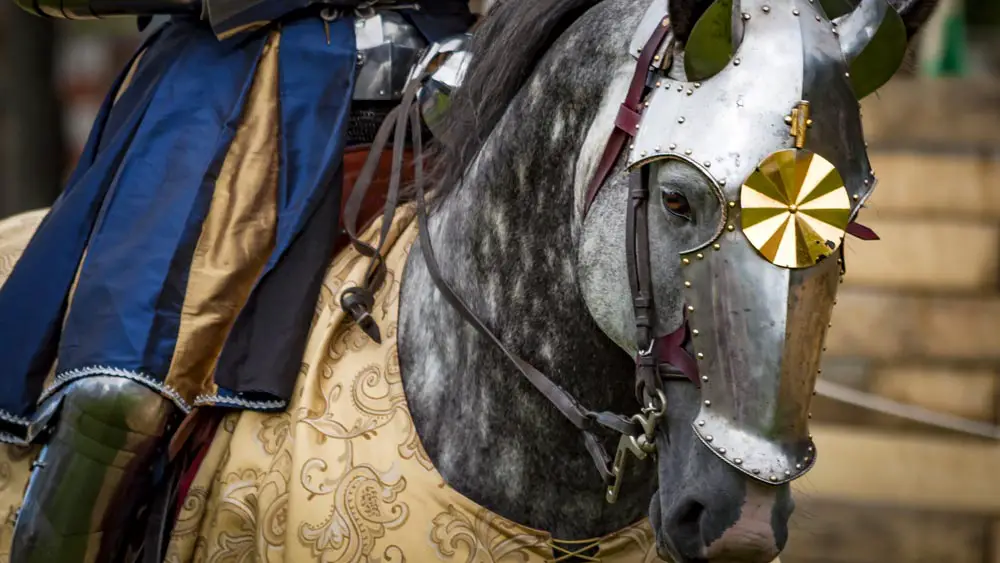 Whether your horse is brave enough to lead you through the paths of the dead or warrior-like to be considered honored among the riders of Rohan, these male Lord of the Rings names are sure to inspire your horse naming.
Grimbold – a commander of the Rohirrim
Everard
Treebeard – an Ent from Fangorn Forest who led the uprising against Isengard
Gollum
Faramir – the youngest of Denethor's sons
Gimli
Shagrat – an Uruk who held Frodo captive in Cirith Ungol
Adelard
Gwaihir – one of the Great Eagles who rescued both Gandalf from Orthanc and Frodo from Mount Doom
Thorondor
Lugdush – one of the orcs involved in the capture of Merry and Pippin
Bilbo
Beregond – rescued Faramir from his father during the Siege of Gondor
Theoden – kingly, king
Grima
Wormtongue – Saruman's aide who helped poison the mind of King Theoden
Bergil
Borlas
Banazir – the hobbit name for Samwise Gamgee
Beorn – man of valor, warrior, hero; bear
Gloin
Halbarad
Deagol – the best friend of Smeagol before he was killed over the Ring of Power
Smeagol
Tintalle – kindler
Elbereth – lofty, sublime; star queen
Gilthoniel
Sauron – student of Morgoth who forged the Ring of Power and was defeated by Isildur
Orald
Isildur – devoted to the moon
Fladrif
Skinbark – an Ent of Fangorn forest
Finglas
Tilion – horned one
Greybeard – one of Gandalf's pseudonyms
Razanur
Radagast – one of the immortal Maiar
Pallando – far
Iluvitar – father of all
Eru – The One
Bregor
Arachon
Bregil – quick tree
Brandir – noble man
Beren – smart
Amrod – Upwards exalted
Amras – Russet
Lorien – master of desires
Eladrion – son of the elves
Anarion – sun
Irmo – creator of dreams
Lurin
Aldarion – Son of the trees
Elendil – elf friend, student of stars
Bruno – protection, armor
Cirdan – ship maker
Dior – successor
Orome
Aule – invention
Oli – dream
Mahal – maker
Aranel – king of elves
Araw
Aromez – horn blower
Tauron – forester
Bema – lord of the forest
Kalimac – Merry's hobbit name
Haldan – hidden hero
Hurin
Turin – he who desires mastery
Nienor – mourning
Glaurung
Hador
Arathorn – eagle king
Durin – sleepy
Earendil – sea lover, devoted to the sea
Thingol
Mandos – judge
Morgoth – black foe of the world
Melkor – he who arises in might
Elmo
Elwe
Olwe
Balin – brother of Dwalin
Fundin
Thorin – led a company of dwarves to reclaim Erebor from the dragon Smaug
Dwalin
Bard – ascends to the throne of Dale after killing the dragon Smaug
Smaug – dragon who inhabited Erebor, also known as the King under the Mountain
Bingo
Elros
Eomund – father of Eowyn and Eomer
Ereinion
Fili
Oin
Haldir – hidden man
Kili
Thranduil – father of Legolas
Olorin – dreamer
Oropher – grandfather of Legolas
Female Horse Names Inspired By Lord Of The Rings
The ladies of Tolkien's universe were not only graceful but there were also some fierce warriors.
You can't go wrong with any of these spectacular female horse names inspired by the movie.
Shelob
Arwen – noble
Eowyn – horse love
Nimrodel
Luthien – enchantress
Morwen – maiden
Freda – blessed peace
Elanor – sun star
Rosie – wife of Samwise Gamgee
Haleth – hero
Telperion – the White Tree of the Valinor
Iluin – sky blue
Ninquelote – white blossom
Belthil – divine radiance
Bansil – beautiful moon
Silpion – silver light
Lobelia
Elwing – star foam
Belladonna – beautiful woman
Miriel – jewel daughter
Arien – maiden of sunlight
Nienna – she who weeps
Alatariel – another name given to Galadriel
Nessa – young
Melian – dear gift
Andreth – patience
Helinyetille – violet
Melesta – to love
Vaire – weaver
Este – rest
Adanel
Lalaith – laughter
Beril
Beldis
Idril – beloved, dear, sweet
Amarie
Gwenniel
Gwenethlin
Gildis
Sinde – broideress
Rian – crowned gift
Gwir
Laurelin – land of the valley of singing gold
Malinalda – tree of gold
Culurien – golden red
Arda – realm
Va'na
Yavanna – giver of fruits
Varda
Finduilas – wife of Denethor, mother of Boromir and Faramir
Dis
Angelica
Berylla
Celebrian – daughter of Celeborn and Galadriel
Camellia
Chica
Goldberry – river daughter
Galadriel – maiden crowned with a radiant garland
Daisy
Dori
Esmeralda – mother of Merry Brandybuck
Estella
Gilly
Hilda
Haldeth
Malva
Lindir – fair singer
Voronwe – constant or steadfast one
Aerin –  ocean
Lia – thread
Anna – gift
Estel – trust, hope
Tara – wise elite
Ronda – firm, solid
Itarilde
Calen – green one
Almarian – maiden garlanded with good fortune
Rina – crowned one
Aredhel – noble woman
Loreth – a healer in Gondor who nursed Faramir back to health
Gilraen – wife of Arathorn and mother of Aragorn
Primula – mother of Frodo Baggins
Edith – wife of J. R. R. Tolkien
Bell
May
Marigold
Eglantine
Pearl
Pimpernel
Pervinca
Theodwyn – mother of Eowyn and Eomer
Elfhild – wife of King Theoden and mother of Theodred
Earwen – mother of Galadriel
Amandil
Riya
Yukka
Erendis
Beruthiel
Ancalime
Emeldir
Horse Name Inspiration From The Tolkien Universe
Tolkien's universe can provide many different avenues of inspiration for horse names including the names of famous weapons, the names of places, or the names of the rings of power.
Consider these famous sword names for your horse:
Glamdring
Narsil
Anduril
Sting
Or perhaps you could name your horse for these famous places:
Erebor
Aman
Rivendell
Lothlorien
Gondor
Amon Hen
The rings of power also make for great horse name inspiration:
Help Choosing The Right Name
With so many choices, it can be difficult to find the right name for your horse. Consider who your favorite character from Lord of the Rings is or consult fellow Tolkien fans to see which ones they like.
Does your horse have any significant markings that remind you of specific characters or a personality that reflects one of them?
No matter what you choose, you cannot go wrong with a Middle Earth inspired name.
Conclusion
Whether you choose to name your horse after a horse of Rohan, one of the brave men who fought in the Battle of the Pelennor, or one of the villainous Uruk Hai, there are plenty of unique and creative names to choose from Tolkien's Middle Earth.
If you're still looking for more inspiration, search through these awesome lists of horse names!
Related Name Posts For Horses