The vast UK countryside is brimming with vibrant natural beauty which is yet unexplored. If you are ready to explore the picturesque outdoors, why not explore the beautiful countryside on horseback? These beautiful areas are perfect for a horse riding holiday.
It does not matter whether you are a newbie or an experienced rider- it is equally suitable for both.
For the adventurer in you, here are some of the top horse riding holidays in UK:
From $626/£480 per person
Are you an experienced rider looking for a challenging route? A 4-day horse riding holiday at Exmoor National Park might just be perfect for you. 
Exmoor is an area of outstanding natural beauty. Its unique landscape is a tapestry of woodlands, moorlands, valleys, and farmlands. The Exmoor National Park caters to the adventurer in you, as well as, your need for peace and tranquility. You will be able to enjoy the beautiful trail rides overlooking the spectacular views of the sea. When you feel the need for a short break, you can relax by looking at the birds or simply reading a book in the garden.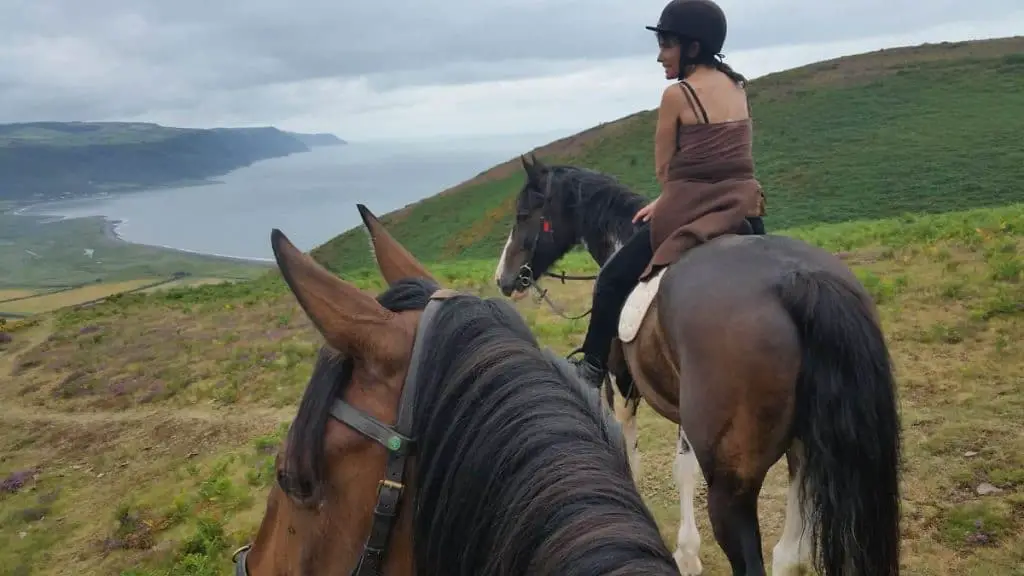 Exmoor Riding is a 15th-century farmhouse bed and breakfast located within Holnicote Estate, Exmoor National Park, Porlock Vale.
HIGHLIGHTS
Beautiful trail rides and natural horsemanship
Available horse breeds include Clydesdale, Appaloosa, Thoroughbred, Thoroughbred x Irish Draught, Irish Sport Horse, and Irish Sport Horse x Welsh Cob
Excursions to North Hill, Selworthy Beacon, Webbers Post, Ley Hill, Cloutsham, or Grabbist Hill over Minehead
Horse and Rider workshop
Suitable for small groups with a maximum of 4 people
For more information on horseback holidays at Exmoor Riding, click here.
From $1684/£1250 per person
You must have heard about the immensely popular show The Game of Thrones. If you would like to experience the lives of your favourite characters, then this 3-day package is for you.
Ride along King's Road, Stormlands, Slavers Bay, Pyke, Stormlands, Saltpan's, Fairhead, Dragonstone, and the Dothraki Sea for a complete Game of Thrones experience. Whether you are a novice rider or an experienced one- there is something for everyone. Riding across the stunning beaches and beautiful farmlands will give memories to last a lifetime.
Your accommodation will be at B&Bs in County Antrim.

HIGHLIGHTS
Suitable for riders of all skill levels- beginner, intermediate and advanced
Excursions include the Irish countryside and the filming locations of the Game of Thrones
Includes horse riding at Whitepark Bay beach, Downhill, Cushendun, and Irish farmlands
Private guided history tour by a top, local historian
Horses include Irish-bred horses and ponies, Irish Drafts, Irish Cobs, Connemaras, and Sport Horses
To book your Game of Thrones style riding holiday, click here.
From $855/£635 per person
From historic castles to charming fishing villages; from white-sand beaches to lush valleys, Northern Ireland has it all. The famous North Coast overlooks the Atlantic Ocean, with breathtaking views of Scotland and beyond. Trot along the White Park Bay all the way to Ballintoy for unparalleled riding experience. Whether you want to spend a day in the saddle or out of it, this holiday in the UK is just for you.
The North Coast horse riding holiday is suitable for riders of all ages and abilities. Ride out into the wilderness of the North Antrim Hills for a stunning view of far away counties like Derry, Donegal, Tyrone, and Fermanagh. Ride higher and further to Croaghan, the summit of the Antrim Hills, for a panoramic view of all these counties.
You will be staying at the Mckinley family farm in Ballycastle.

HIGHLIGHTS
Trail riding and coastal riding with a knowledgeable trekking guide
Excursions include rides to Croghan, White Park Bay, Ballintoy village, North Antrim Hills, and the Irish countryside
Horse breed includes Irish Drafts, Irish Cobs, Connemara and Sport Horses
Suitable for riders of all skill levels
For more information about the North Coast horse riding holiday at McKinley Farms, click here.
From $1,512/£1,202 per person
Choose this holiday package if you want to go horse riding in the most beautiful parts of the Lake District in Cumbria. Enjoy the stunning scenery as you ride around the Witherslack Estate. Head out to Cartmell Fell and Simpson Ground for some amazing views of the Lakeland Fells. 
If you want to take a break from riding horses, you can always go for a hike. There are miles of woodland tracks and footpaths and a lot of open ground to explore.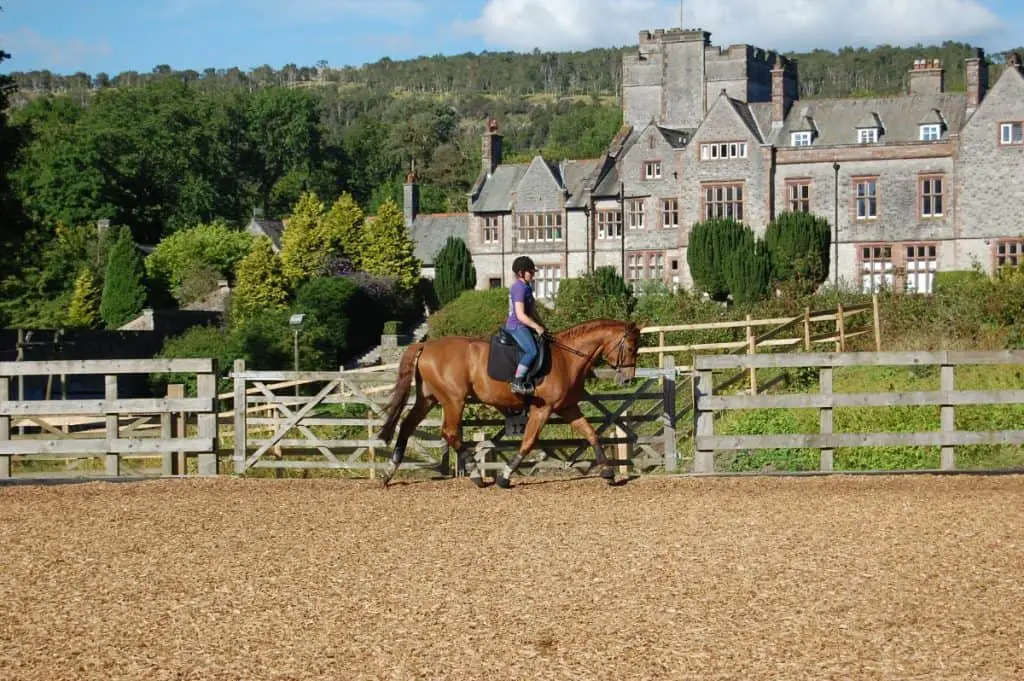 You will be accommodated in the Witherslack Hall Farm which is a part of the Witherslack Hall Estate. The estate sits on the edge of the Winster Valley in Southern Lakeland. The 2500-acre Witherslack Hall Estate has the largest area of semi-natural woodland in Cumbria. If you have no riding experience, the estate has a riding centre where you can learn horse riding at an additional cost.
Feeling adventurous? The Lake District Horseback Riding Holidays also offers lessons in horseback archery.
HIGHLIGHTS
Trail riding and hacking
Horse riding holidays available around the year for both adults and children
Horses include Belgian Drafts, Welsh Cobs, Westphalia, Irish Drafts, and Dartmoor Ponies
Interested in booking this holiday? Click here.
From $512/ £380 per person
If you love breathtaking scenery and warm, hearty food, then Wales is for you. The mountains in Wales give it a very distinctive landscape. From the lofty heights of the Snowdonia to the wild, rugged mountains of the Brecon Beacons, you have a lot to explore. 
If you are a novice rider, this holiday package is best suited for you as the terrain is gentle. You can ride at a pace that suits you best. Ride around the Welsh Valley in the UK to make some wonderful memories.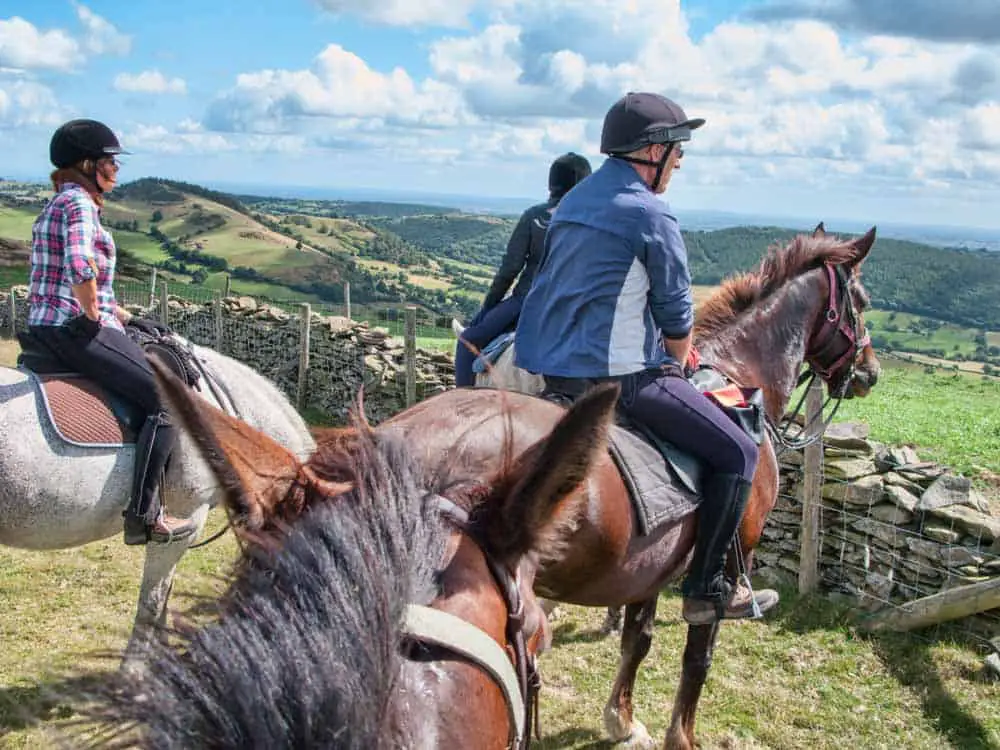 You will stay in a private cottage on the farm or in any one of the B&Bs along the way. 
HIGHLIGHTS
Trail rides with point to point trails
Suitable for riders of all abilities, including beginners
Suitable for small groups or short holidays
To book this holiday, click here.
From $653/ £485 per person
Set in a picturesque corner of the county, The Old Vicarage is the best place to unwind when on a holiday in the UK. The Old Vicarage has a number of riding activities including beach rides, trail riding, and carriage driving.
It also specializes in horse riding learning packages for individuals and family groups. Other packages include complete beginners, novice riders, confidence building, and natural horsemanship.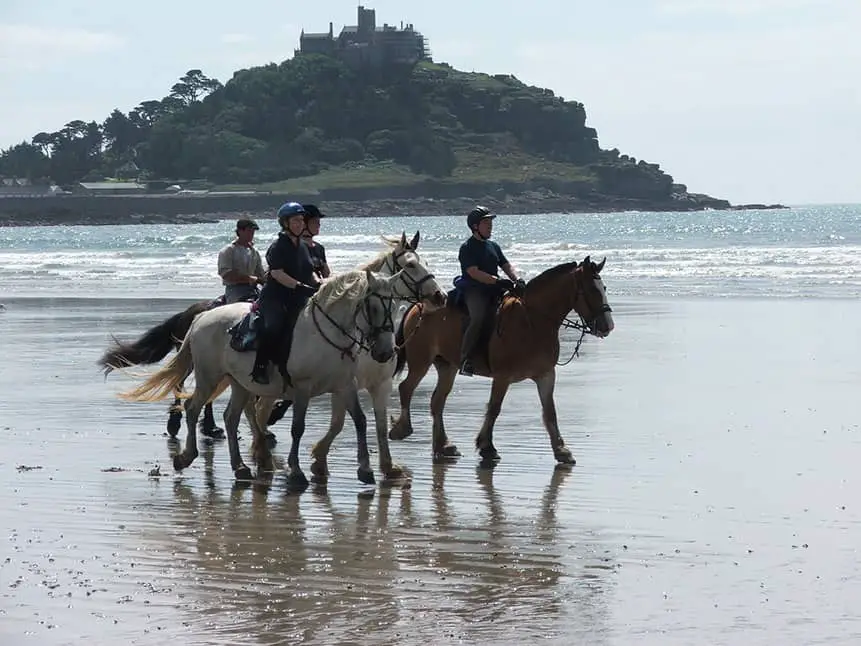 You can ride along the countryside or the coast enjoying miles of rural bridleways. You can also go swimming with horses. This holiday package gives you the ultimate horse riding experience in the UK.
The Old Vicarage has en-suite rooms as well as beautiful bedrooms. It has 35 acres of pastures with a round pen which is used for horse and rider training.
HIGHLIGHTS
Natural horsemanship and learn to ride holidays
Trail rides as well as beach and coastal rides
Equine-assisted therapy and confidence-building programs
Morgan horses as they are best suited to Western riding
Excited about the holiday at The Old Vicarage? Click here to book.
From $489/ £363 per person
If you are a little rusty on your horse riding skills, then this holiday is perfect for you. You will be staying at the Glebe House, a vintage property restored to its former glory, in the heart of Nolton. The Glebe House is surrounded by beautiful walled gardens with beautiful views from each room.
A short distance away from the Glebe House is Nolton Stables, located in Pembrokeshire on the West Coast of Wales. You can avail of horse riding lessons, beach riding lessons, and even Zorbing at Nolton Stables. Druidstone and Newgale beaches are pretty close by.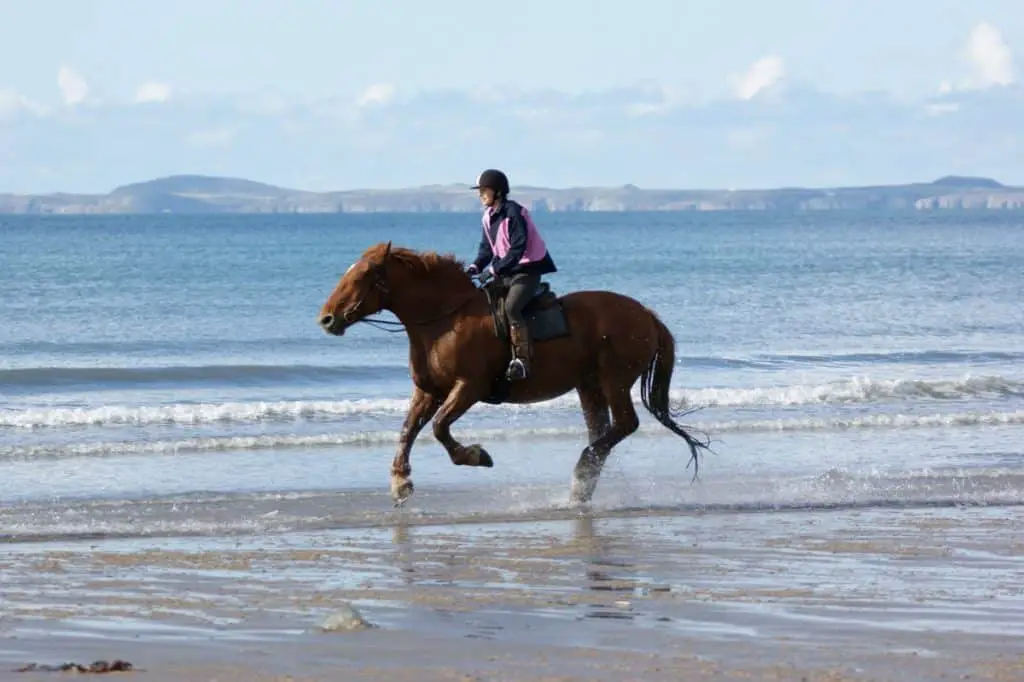 Ride to the Druidstone beach past the beautiful Nolton Havel Beach. Canter away into the wooded valley of the Nolton Stables. You can also have fun Zorbing at the Nolton Stables or enjoy the Segway course.
HIGHLIGHTS
Trail rides and 3 horse rides
Over 60 horses and ponies to suit riders of all abilities
Beach riding on Druidstone beach, Newgale Beach, Nolton Haven, and Broad Haven
Excursions include rides to Haverfordwest, St. David's, Tenby, and Milford Haven
Want more information about this holiday package? Click here.
From $1,542/£1,145 per person
If you love spotting beautiful landscapes while horse riding, then this holiday is perfect for you. The team of Dartmoor Riding Holidays will take you to some stunning spots for an adventure-filled holiday at the Dartmoor Trail in Devon.
You will be escorted by expert guides who know the moor like the back of their hands. They know the best crossing as well as the areas that are not suitable for horses. All the guides are excellent horsemen and are trained in first-aid.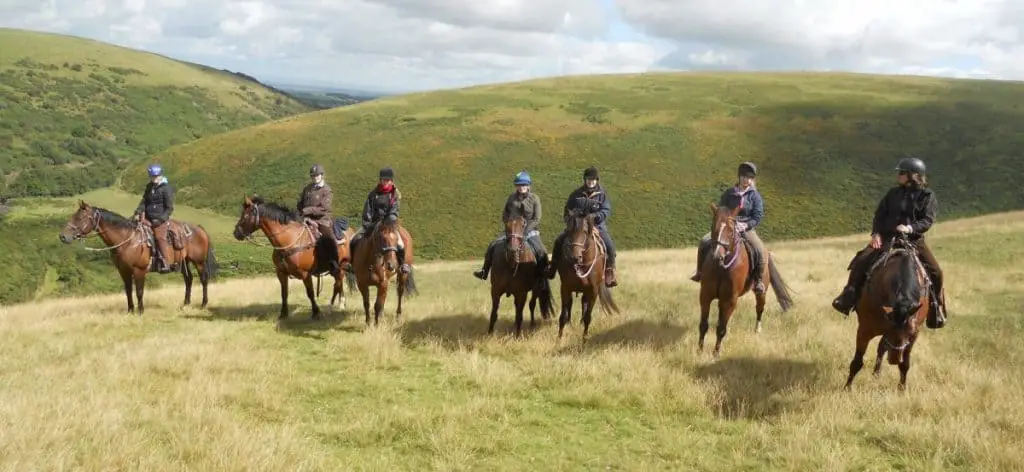 You can either stay at the farm or in a retreat at Dartmoor in Devon, England.
HIGHLIGHTS
Trail rides and Western riding
Suitable for intermediate and experienced riders
Ride the Quarter horses giving you a cowboy feel
Walk to the Dartmoor National Park, Bluebell woods, or visit the Simmons Park
To go on this adventure-filled holiday, click here.
From $1,145/ £850 per person
The Mull of Kintyre is the most southwestern point in Scotland. The area is brimming with Scottish history. Home to the Kings of Dalriada, the area has standing stones older than the Stonehenge. Kintyre also has the Campbeltown Picture House which is the oldest and the smallest cinema in Scotland.
Enjoy the breathtaking view as you ride across majestic beaches and rocky crags. Enjoy the stunning view of the Isle of Islay out to Ireland.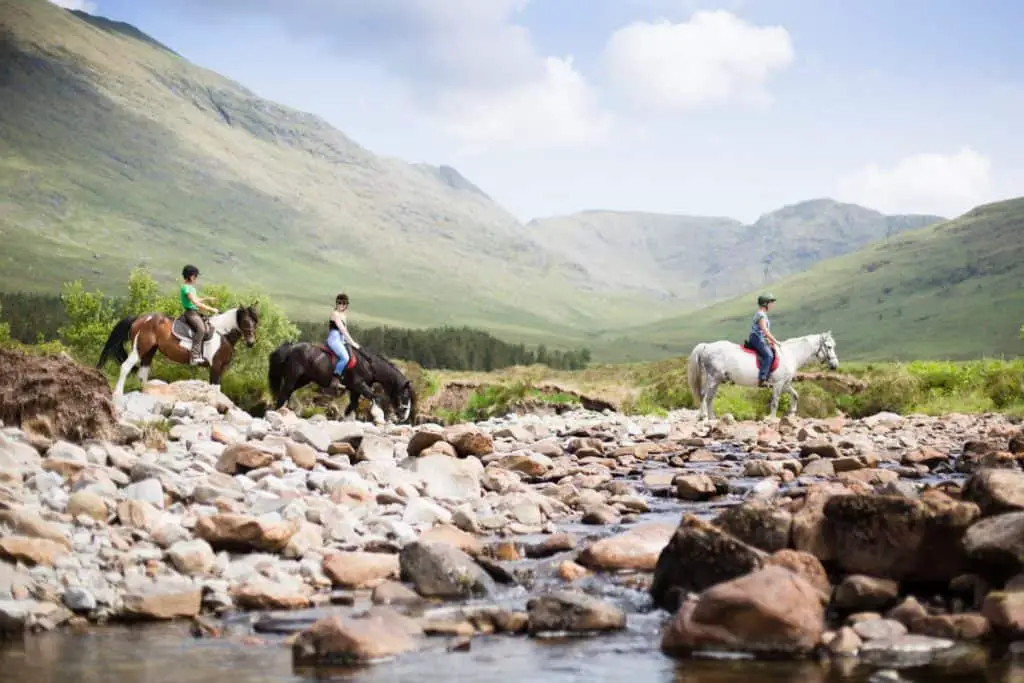 You will be accommodated at the 150-year old Glen Karren Farmhouse. Relax at this quiet Scottish farmhouse and just enjoy the beautiful view outside.
HIGHLIGHTS
Trail rides
Suitable for intermediate and advanced level riders
Suitable for medium-sized groups with a maximum of 6 participants
Horse breeds include Connemara, Appaloosa, Arab, Irish Cob, Hackney X, and Irish Sports Horse
To book this fun-filled adventurous holiday, click here.
10. 5-Day Stunt Equestrian Experience Holiday Package In Scotland, UK
From $778/ £591 per person
Riders of the Storm are an equestrian stunt team based in Highland Perthshire, UK. The team amazes its audience by showcasing some mind-numbing horse riding stunts and tricks.
If you fascinated by equestrian stunts, this is the best holiday package among other riding holidays UK. With this holiday package, you get the unbelievable opportunity to join the Riders of the Storm team for a vaulting or trick riding lesson. You can also join their experience days and camps to experience the thrill yourself.
Imagine the stories you can tell about your meeting with the Riders of the Storm. There's more. You can also take sword fighting and horse combat lessons.
You will need to stay at Killiecrankie, Scotland as that is the venue of the Riders of the Storm. Children as young as 10 can enrol in their stunt training lessons.
HIGHLIGHTS
Horse boarding lessons
Stunt lessons horse combat and sword fighting lessons
Jousting and vaulting training
Suitable for riders of all skill levels- beginners, intermediates and advanced
Children as young as 10 can participate
Horse breeds include Welsh D crosses, Arabs, Cleveland Bays, and a mix of thoroughbred crosses.
Is the stunt junkie in you excited? Book the holiday right now.
If you are passionate about horse riding, you must go on a horse riding holiday. You can go alone or in a group. One thing is for sure, you will have an experience like no other in your life.
For more holiday ideas why not check out our other guides: