Flamenco music and dance, fantastic beaches, beautiful cities, spectacular coastlines, bullfights, and lots of sunshine – Spain has all this and more to offer. For horse lovers, Spain offers endless tracks, untamed and rugged stretches of the Mediterranean coast to ride on, and wild sierra to explore. There's no better way to explore Spain's diverse countryside than on horseback. 
As well as its rich monumental heritage and dazzling natural environment, there are several places you can ride. If you are looking for "horse riding holidays in Spain," we have the Top Five trail riding holidays in Spain listed here for you. Plus, you can choose from a wide variety of trails, including mountains, national parks, and sandy beaches. 
The Spanish Andalusian horse is one of the most ancient riding horses in the world, and Spanish experts believe that these magnificent animals are unique and very unlike any other horse breed in the world. 
FROM $926 / £738 PER PERSON
Andalusia is a vast region of rivers, hills, and farmland boarding in southern Spain's coastal region. La Casa Aventuras del Sur is located in a tiny village named Betis – in one of the southern-most parts of Spain – close to Bolonia and Tarifa. Spectacular beaches surround it.
Enjoy unforgettable horse riding adventures on the Costa de la Luz. Ride through beautiful and scenic landscapes, long sandy beaches, and green pine forests, as well as magnificent mountains. Witness and take in the spectacular views of the ocean and the African coast. 
Live on a farm run by a friendly Andalusian family and ride along with free-living horses. Appreciate the simple pleasures of life of Spanish country life – it's also the ideal holiday spot for nature lovers.
This trail riding holiday in Spain is perfect for experienced riders (intermediate and advanced level horse riders). Enjoy long rides through forests and gallops on empty and spacious beaches. If it's warm enough, you can even swim with the horses. 
You can try any type of saddle – Western, English, or Andalusian. Ride up the slopes of the nearby mountains to get a stunning bird's-eye view of the beaches and villages.
Every room at the La Casa Aventuras del Sur provides magnificent views of the mountains, fields, and even the African coast. The accommodation is cozy, homely, and the perfect setting to enjoy some quiet or meet other guests. The surroundings are ideal for practicing your horse-riding skills. 
This is your chance to get away from the humdrum of city life and experience some of the best horse riding that Spain has to offer. Get more information on this spectacular Spanish holiday.
FROM $1,388 / £1,107 PER PERSON
If you want to relax during your riding holiday truly, you can do that best by planning your trip at a comfortable pace. That is what this seven-day Spanish horse-riding holiday in Malaga, Andalusia promises. Hacienda Horses, with its friendly staff and magnificent horses, provides horse lovers with luxury horse riding holidays, along with Bed and Breakfast in Andalucia, Spain. The professional guides will accompany you on your rides that are not only relaxing but great fun as well.
When you book in with Hacienda Horses, you can be sure to get the very best horse riding holiday that Spain has to offer. But as well as that, a friendly atmosphere, great company, inviting hosts, and spectacular accommodation at the Cortijo Uribe manor house with your kitchenette, en-suite bathrooms, a private lounge, and a pool make this more than just a dream equestrian riding vacation in Spain.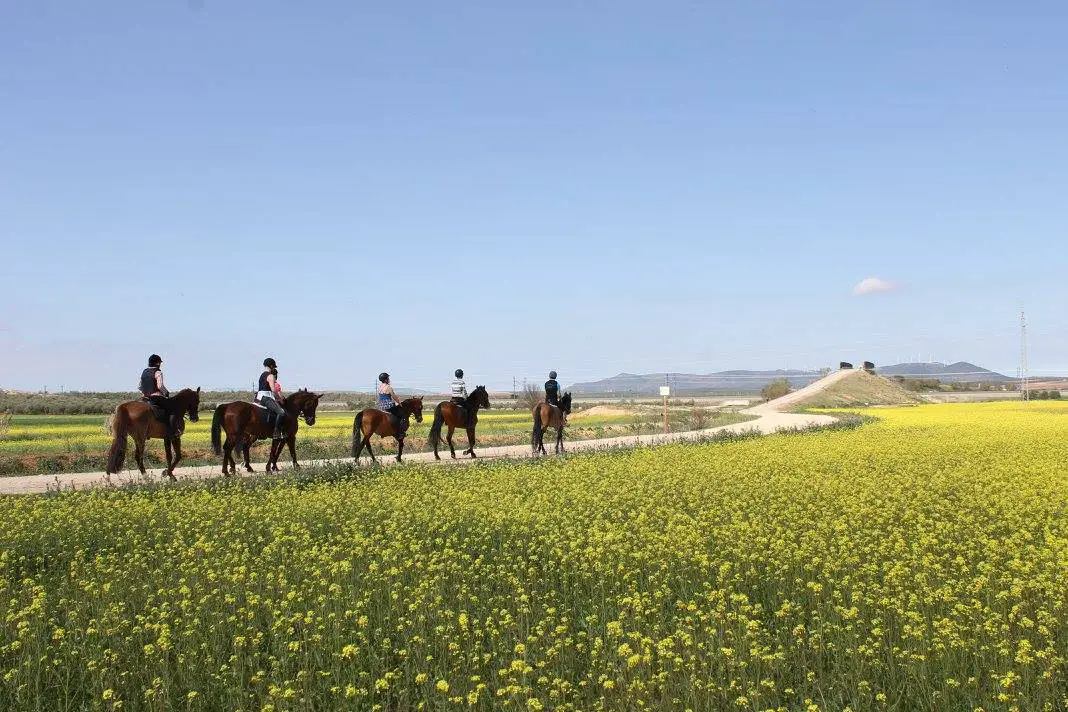 The rides over your stay will include a picnic ride as well as a ride to a local bar. You will also enjoy a six to seven-hour flamingo ride – if you are an experienced rider. Daily hacks include exploring the local countryside through vines, olives, and pine forests, as well as rides across breath-taking natural landscapes. Experienced riders even have the opportunity to work horses at liberty. Hacienda Horses also offers special riding programs for children.
This equestrian vacation is so much more than most riding holidays. Make the most of it – pick up more information here.
FROM $1,050 / £829 PER PERSON
This holiday is a dream-come-true for horse lovers who believe in taking horse riding to a whole new sporting level. It's the perfect holiday in Spain for you whether you want to treat yourself to a holiday on your own, with your family, or as a group. Once you come here, your riding program is designed to fit your needs. The program offers different types of training and at different levels, like equitation, easy jumping, dressage, riding on mountainous terrain, working with long reins, liberty training, and so much more. You don't have to learn everything, instead, choose something of your choice.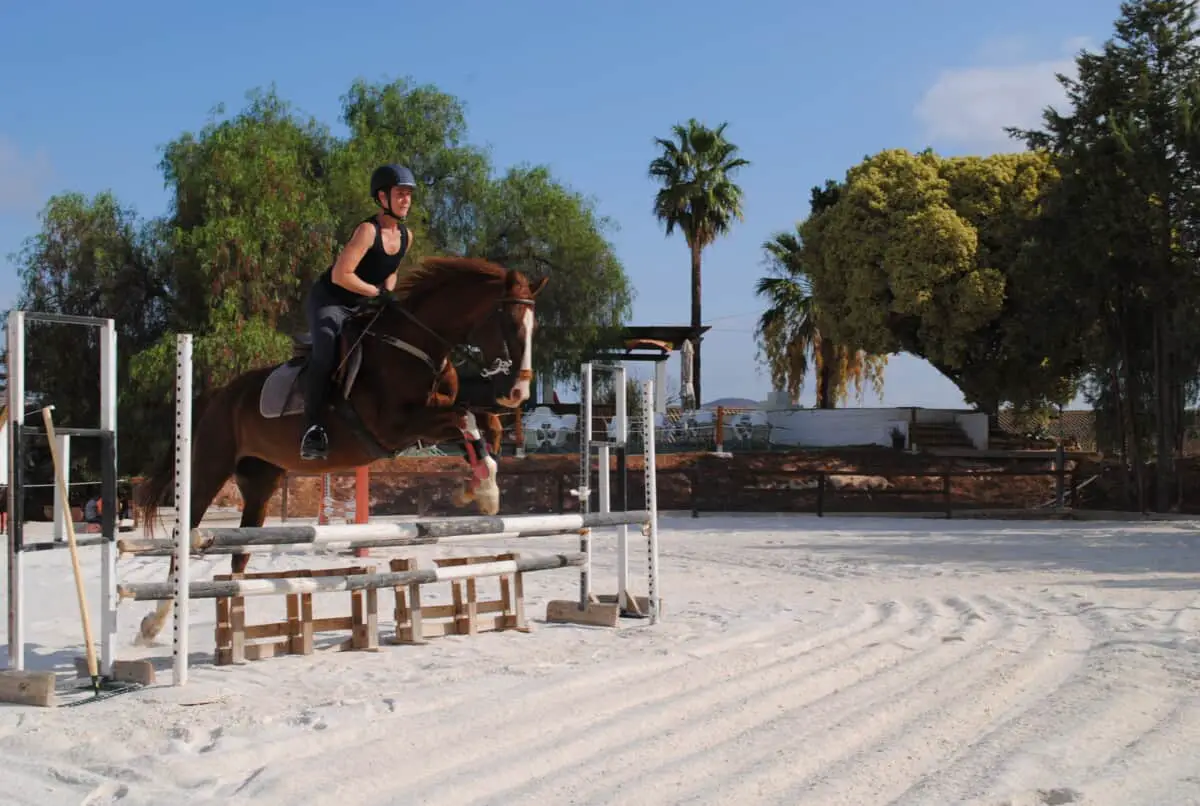 This is your opportunity to get close to horses and bond with them as you ride in dressage. You can choose to use the 20 x 60 showjumping arena for dressage or ride out into the lovely countryside. Need quick training in equitation training? This is the place to pick up skills from the professionals. Dabble with trail rides, natural horsemanship, and dressage lessons. In fact, every season here in Malaga, Spain, offers you unique riding experiences.
Malaga is a Spanish city that adjoins Costa del Sol and is a top-rated tourist destination. So, apart from sticking to a riding schedule and gaining a complete horse riding holiday experience, you can look forward to making use of the yoga area, swimming pool, BBQ area, outdoor showers, and sunbeds. Make use of your spare time to shop, ride on an empty sandy beach, get a show jumping, riding, or dressage lesson, witness a horse show, hike, walk, cycle, or simply relax.
Now's the time to book this all-around horse riding vacation in Spain.
FROM $788 / £622 PER PERSON
Andalusia is one of the most romantic areas in Spain. Breathtaking sceneries, accommodation in luxury apartments, Andalusian horses, three days of countryside riding, five days of glorious sun in a spectacular white village, Spanish tradition, and food are all a part of this luxury horse riding holiday in Spain. 
Cortijo El Chenil Caballos is right at the edge of the Sierra de las Nieves Natural Park. The tracks range from mountains to valleys, riverbeds to fields, and forests to olive groves. 
Whether you are a beginner rider or a seasoned rider, this holiday has something for everyone. Routes and trails are decided so that everyone can participate and get the most enjoyment of this horse riding holiday. Your abilities are assessed, and you are assigned a horse accordingly.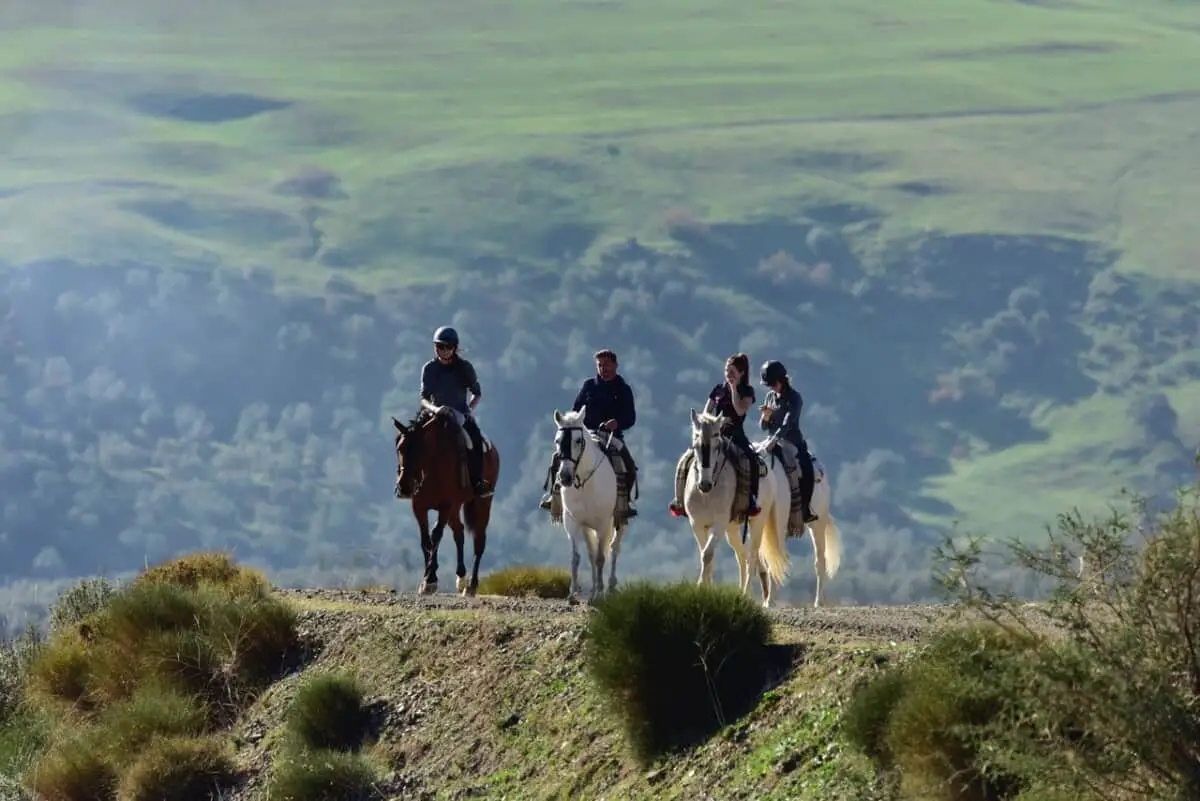 Spend three days of your five-day holiday riding. At Cortijo El Chenil Caballos, small groups are preferred to ensure a friendly atmosphere and so that everyone gets the attention they deserve. All three days of riding include morning and evening hacks so that you can save your riding desires to your heart's content. 
Lessons are provided if you need them, and you can be sure that the horses are safe, sure-footed, and relaxed. Explore the vast expanse of the local countryside that includes villages, mountains, groves, and rivers. Enjoy tapas at local bars on picnics atop the mountains. 
No matter which direction you ride, you are guaranteed spectacular views of the tranquil countryside. The horses provided at Cortijo el Chenil range from Shetlands and Hispano Arabe to Spanish PRE geldings and Andalusians. 
Non-riders have a lot to keep them occupied, like kayaking, paddleboarding, buggy rides, and quad biking. So, if you want to bring along a friend or spouse who isn't as keen about horse riding as you are, you can still be sure that they will enjoy their holiday. 
Request a booking, send an inquiry, or find out more about this splendid holiday to get the latest offers.
FROM $2,041 / £1,611 PER PERSON
The Camino de Santiago, otherwise known as 'Way of St. James,' is known to be one of the most infamous pilgrimage routes in history. Now you can cover a large part of this famous route by horseback riding, from the Pyrenees mountains to Santiago de Compostella. The program is split into four stages that cover the entire route. 
You can choose one stage at a time, or if time permits, do it across several weeks to complete the pilgrimage. You will have plenty of time for horseback riding as you make your way through the beautiful Spanish countryside, historical sites, and ancient villages. The holiday begins and ends at significant locations with your accommodation arranged in comfortable guesthouses and hotels along the way.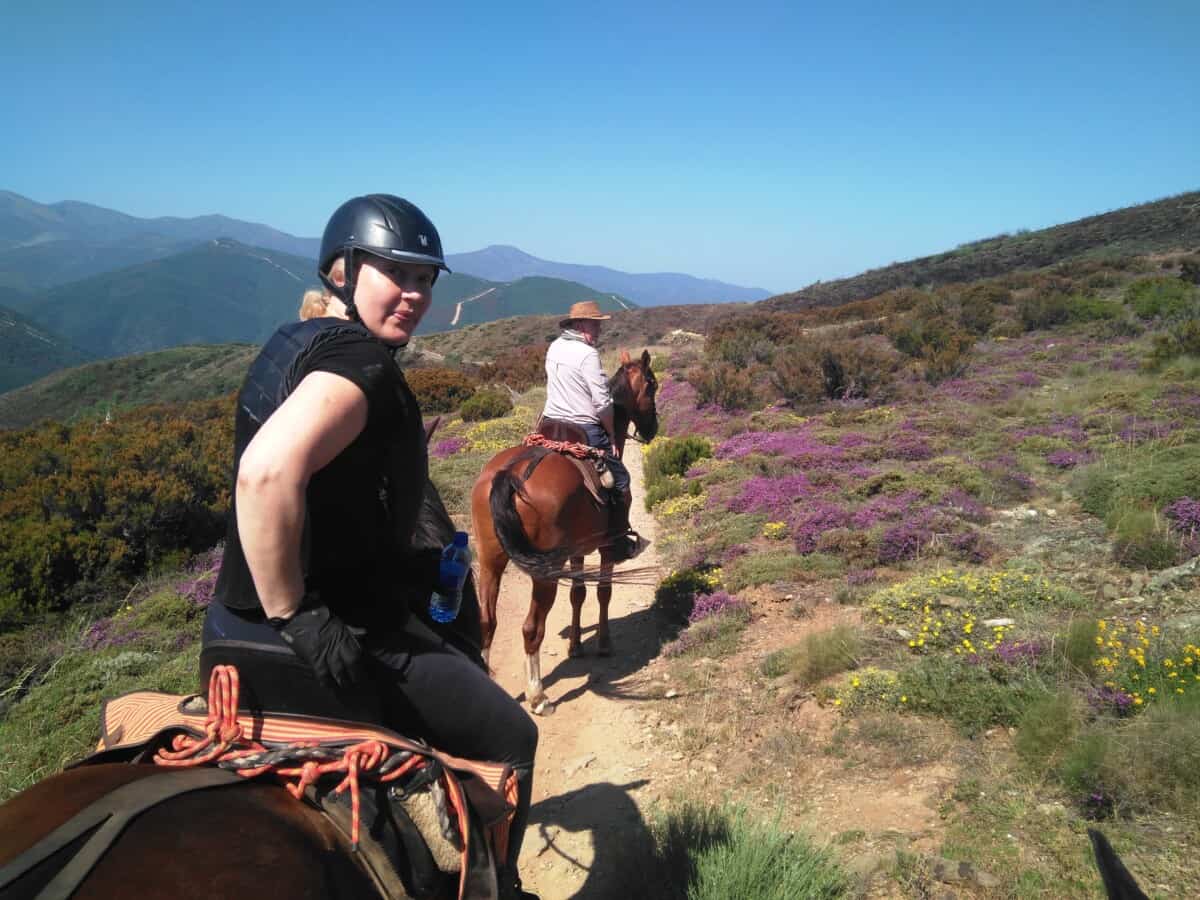 What makes this such an exciting horse riding holiday is that you get to ride across a variety of trails – along country roads, through forests, and across narrow tracks. At the same time, you also get to visit several historical places of interest on horseback. This holiday has been designed for intermediate and advanced level riders. The horses you get to ride include Spanish, Andalusian, and Arab breeds – choose from over 35 horses.
If you are looking for a comfortable and relaxed ride in Spain, this is it. The terrain calls for slow rides, but there are several opportunities for fast canters every day. If you can walk, trot, and canter, this holiday gives you ample opportunity to do all three. Explore places like O Cebreiro, Portomarin, Palas de Rei, Monte de Gozo, and Arzua along the way.
Click here to find out more information and to book.
Check out our top 10 holiday choices in Europe for more incredible horse riding holiday ideas.