Equestrian lovers the world over have found a new horse riding holiday destination – Europe! From the flower-laden Kupres Plateau in Bosnia to the rocky Mijas Mountains in Southern Spain and the green fields in Croatia, now you can choose a horse-riding holiday experience that suits you. 
Are you looking for horse riding holidays? Europe offers horseback riding lovers a variety of terrains and experiences across a wide variety of horse-riding holiday destinations that are not only convenient but affordable as well.
We have put together a list of the top 10 horse riding holiday destinations in Europe that you can consider for your next holiday.
FROM $694 / £548 PER PERSON
If you are looking for a wild adventure on horseback, book in with the cozy Rusaliite Adventure home that is tucked away at the edge of a village of Bachevo, Blagoevgrad Province, Bulgaria. Your horse adventures here allow you to escape deep into the heart of the Pirin and Rila National Parks in the country's highest mountains.
Every one of your five days of trail riding offers you a unique and colorful trail – steep hills, flat meadows, twisting forest trails, and more, that provide you with loads of opportunities to explore the area's wildlife, nature, and local history.
Nothing beats the fresh mountain air, the quiet walk of your horse, or even its wild canter through the wide-open and green meadows with clear streams.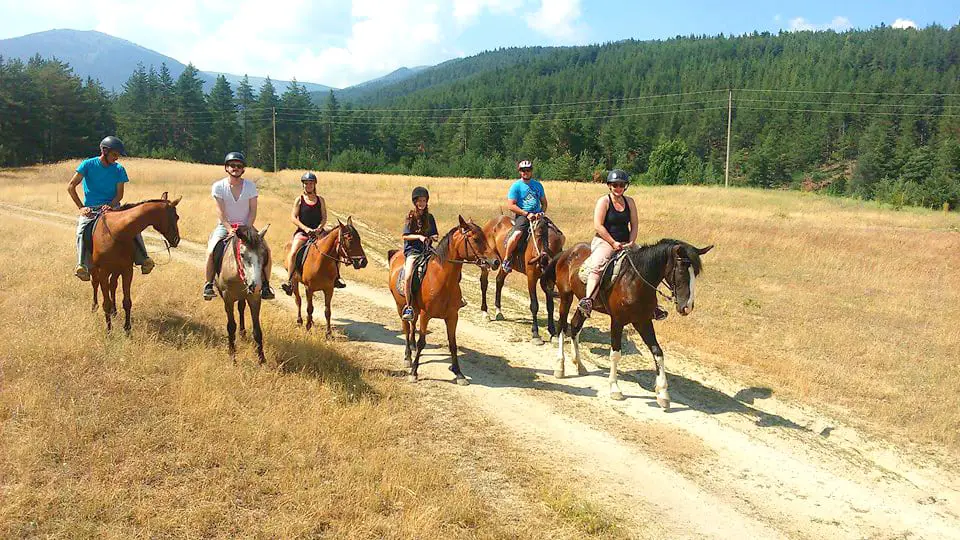 Highlights
Choose between Western and English riding
Horse breeds include Arab, Eastern Bulgarian, English-Arab, Painted, and Karakachan.
English and Russian-speaking guides
Ride through the Rila and Pirin National parks.
Accommodation for four nights in private and cozy rooms with picturesque mountain views.
Rides for beginner, intermediate, and advanced levels.
Rusaliite Adventure home welcomes you to savor one of your most unforgettable riding holidays. Click here to book onto this incredible holiday.
FROM $626 / £480 PER PERSON
If you are looking for a holiday closer to home, this fantastic four-day horse-riding holiday at Exmoor Riding in Minehead, England, might be just what you are looking for.
Exmoor is a beautiful countryside made up of open and hilly moorland in north Devon and west Somerset in South-West England. It is named after the lovely River Exe and is made up of varied landscapes that you can ride through for miles on end. When holidaying here, you will enjoy riding over moors and woods that overlook spectacular views of the sea – the perfect holiday for small groups. When you need short breaks from riding, you can simply relax and read a book or take a walk around the locality.
Exmoor Riding offers you accommodation in its homely and delightful farmhouse B&B.  It is nestled at the foot of North Hills, with the sea on one side and surrounded by beautiful riding countryside. This 15th-century farmhouse is a part of the national trust and is situated within Holnicote Estate, Exmoor National Park, in Porlock Vale.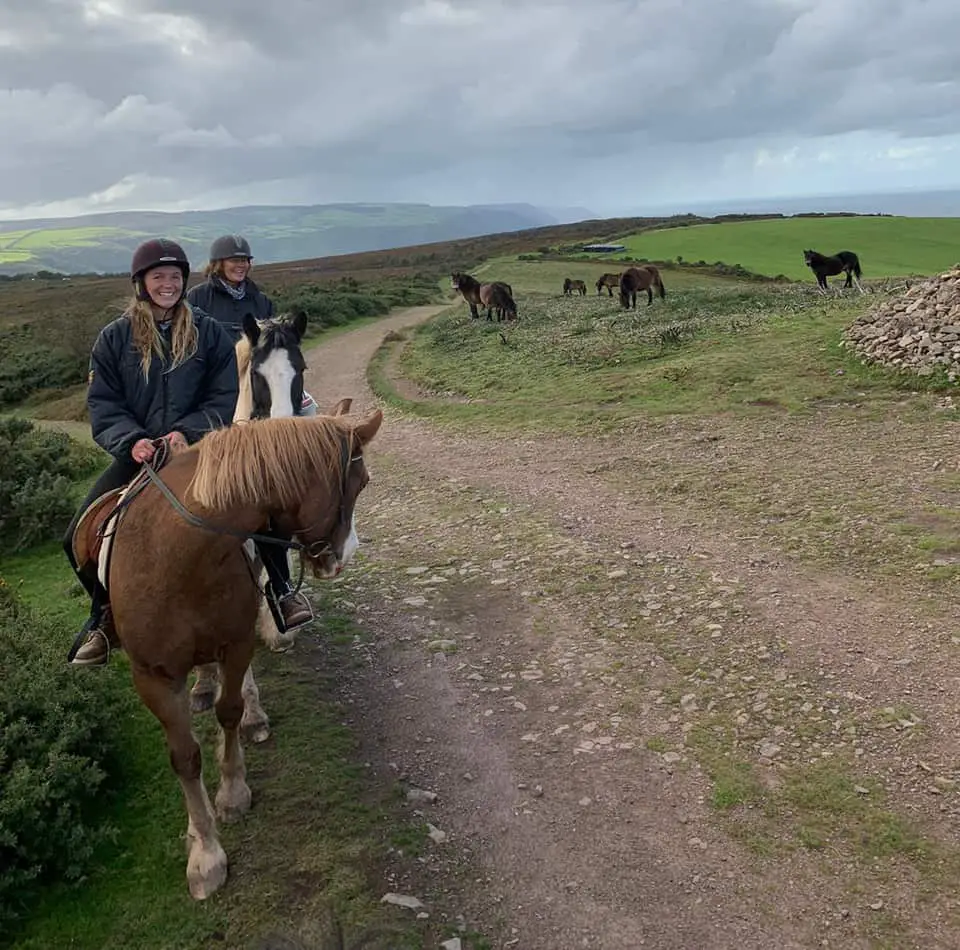 Highlights
Trail riding and natural horsemanship.
Horse breeds include Appaloosa, Thoroughbred x Irish Draught, Irish Sport Horse, Thoroughbred, Irish Sport Horse x Welsh Cob, and Clydesdale.
Included are three excursions across Exmoor, North Hill, Ley Hill, National Trust Honicote Estate, Webbers Post, and the surrounding of the Porlock Vale area, and one Gentle Horse and Rider workshop.
Small groups with a maximum of four participants.
Click here to book your next riding holiday at Exmoor Riding in Minehead, England.
FROM $932 / £736 PER PERSON
Long sandy beaches, gorgeous mountains, beautiful landscapes, and green pine forests. If this is your idea of the perfect horse-riding adventure, then this seven-day intensive horse riding adventure at La casa Aventuras del Sur in Tarifa, Andalusia won't disappoint you. 
La casa Aventuras del Sul is located in a small village known as Betis, in southern Spain. It is very close to Bolonia, Tarifa, and several other beaches. Live country-style on a farm run by a local Andalusian family where you also get to meet other guests. Experience five different types of trails during your horse holidays. Try different riding styles and saddles all week long – from gallops on expansive and empty beaches where you can also swim with the horses, to rides over beautiful mountains. Nowhere else will you to witness panoramic views of the ocean and the South Africa coast.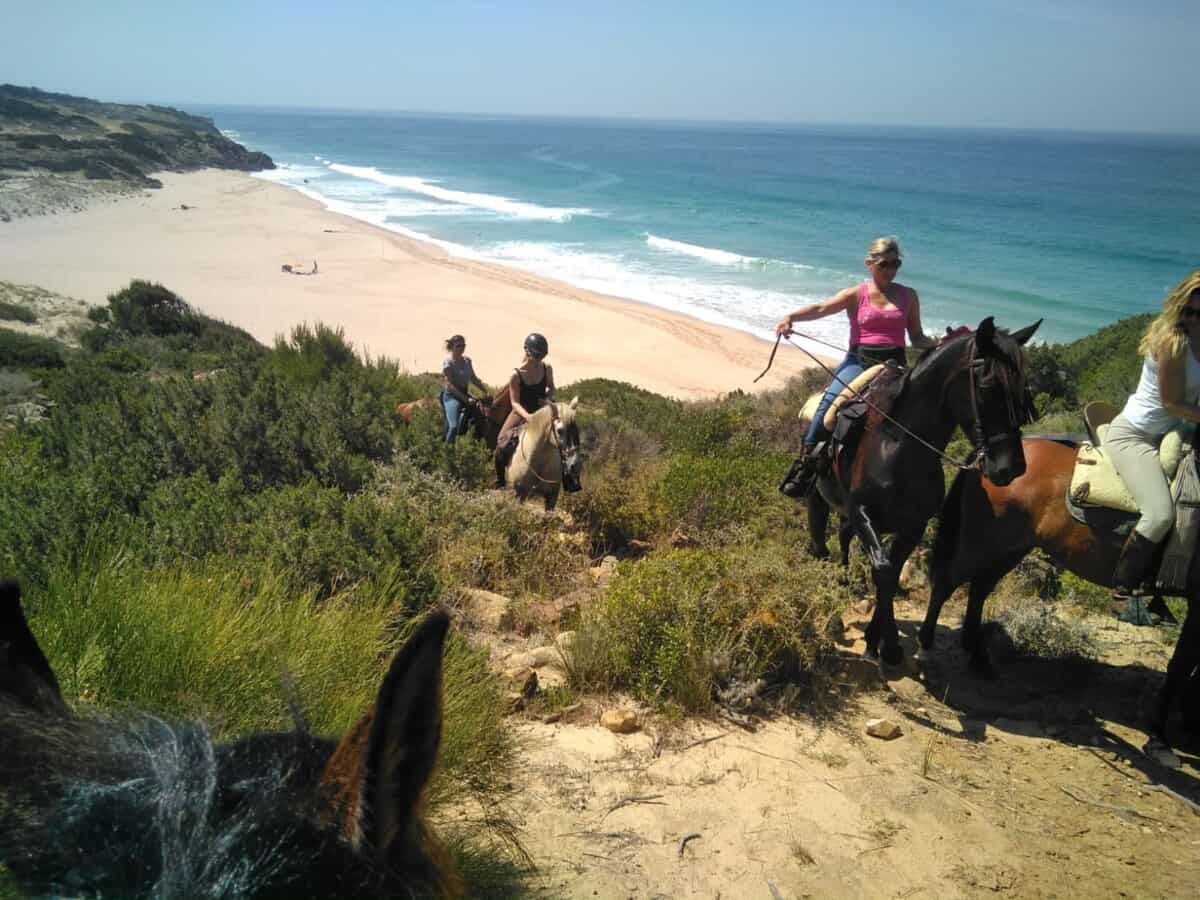 Highlights
Free-living horses
Different trails, different riding styles, and different saddles.
Swim with the horses.
A cozy apartment made of natural materials designed for your comfort.
Five days with instructions in English.
Homemade traditional Andalusian meals.
Click here to book into this horse riders' paradise today!
For more horse riding destinations in Spain, we have listed 5 of the most incredible holidays which you can read here.
FROM $1,750 / £1,382 PER PERSON
If you are looking for a summer horse riding getaway, don't miss this horse riding holiday in Ireland. Irish Horse Riding offers this guided trail ride across Galway, Clare, and Burren all through the summer. Make your way on horseback through scenic rural Ireland. Ride across a variety of landscapes, bogs, forests, and along rivers, lakes, and through the famous Burren National park and witness the spectacular Cliffs of Moher that overlook the famous Aran Islands. Go on a thrilling horse ride along the wild Atlantic Way.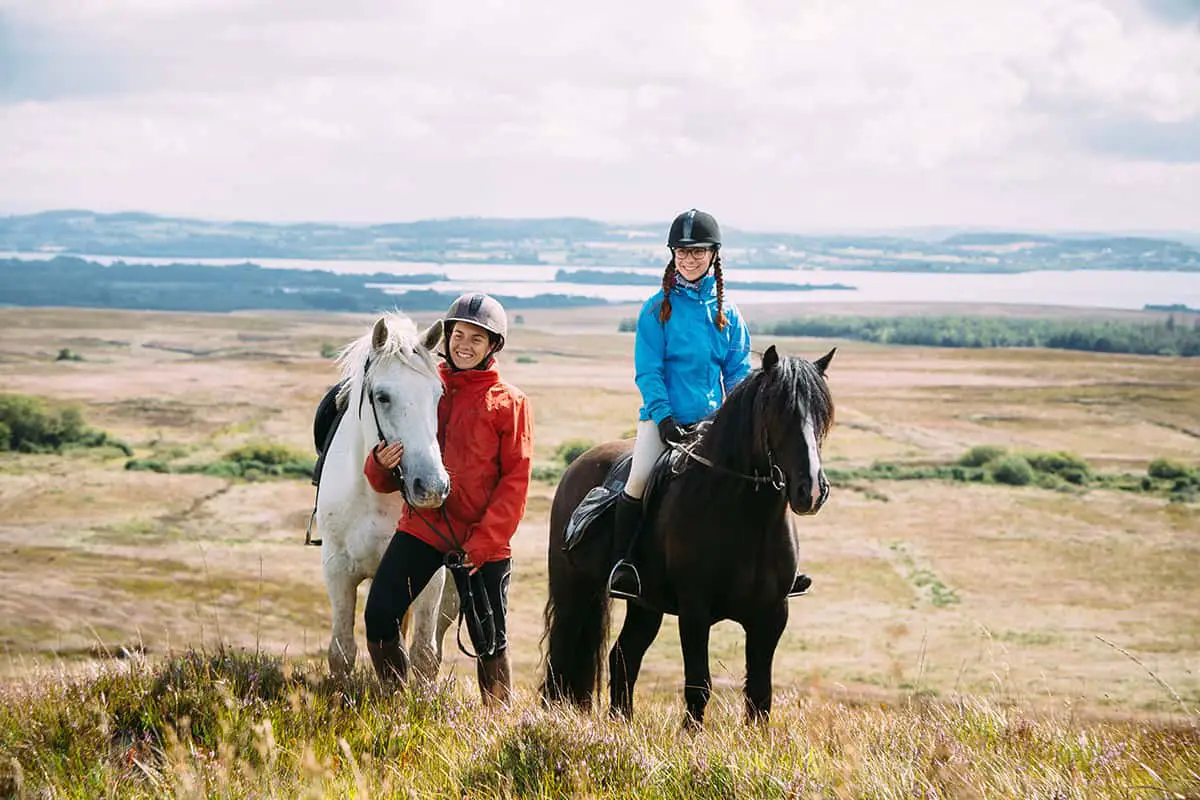 Highlights
Seven nights' accommodation and six-day trail ride.
Horses allocated according to each rider's experience.
Get to brush, tack, and bond with your horse over the week.
All meals are included, along with snacks, coffee, and tea during your entire stay.
Discover Ireland's natural beauty and colorful history while riding cross country. This is one your not going to want to miss you can book onto this incredible experience today.
FROM $317 / £251 PER PERSON
Hotel Rifugio Prategiano welcomes you to take part in this short getaway holiday in magical Italy. The holiday has been specially designed for horse lovers who have no riding experience, as well as those who have excellent riding skills. So if you are a bit rusty on the saddle, don't worry – you will be provided with all the training you need before you embark on your trail rides. 
This is a truly fantastic place, its friendly horses and amazing experiences along the way will make this an unforgettable horse-riding holiday for you. There are two specially designed packages – one for experienced riders and a beginner package. 
The hotel itself is set in a large field that is surrounded by serene yet scenic meadows and woods. A few hours of riding lessons to familiarize yourself with the basics will boost your confidence immediately. Explore the most enchanting places in Tuscany, like Maremma, and enjoy delicious picnics along the way. Trail ride destinations include Lagoni, Mines of Gerfalco, Galleraie, Prata, Boccheggiano, Chiusdino, and Merse River. If you are looking for an adventure across mountain ridges, along rivers, and through hilly agricultural areas, you will love this holiday.
Highlights
Horse breeds include Maremma warmblood horses, Maremma cross-breeds, and others.
All the trained horses are young, large, playful, and very quiet.
Includes two lessons spanning one-hour each for the beginner package.
Three nights' accommodation
Soak in the splendor of Tuscany while on horseback – book your riding vacation today!
Island View Riding Stable invites you to be a part of its fabulous riding holiday across Ireland's rugged coastline and the wild countryside along the foot of the Benbulben Mountain. You even get to explore the North Sligo Wild Atlantic Way on horseback. This promises to be a fantastic riding adventure of a lifetime.
Stay at the traditional and family-run Pier Head Hotel that is situated just beside Mullaghmore Harbour to give you a fantastic view of Donegal Bay. Explore a tidal lagoon, enjoy brisk beach riding, and take a casual and easy ride in the private O'Connor's Island, and along the Mullaghmore Headland coastline. Stop at the local pubs for lunch or picnic out in the wide, open spaces. If mountain riding is your cup of tea, then you will love the Gleniff Horseshoe mountain ride. For those who prefer a beaten track, you will love the rural trails along the foot of the Benbulbin Mountain that takes you through a typical west of Ireland countryside.
Highlights
Four to six hours of riding every day.
Transfer from the hotel to the stables and back.
All meals included.
Six nights' accommodation.
Book your adventurous trail riding vacations with Island View Riding Stable.
FROM $1,222 / £965 PER PERSON
This summer, treat your entire family to a family riding holiday in Sweden. Here's your chance to discover and explore Lapland – its nature and unique animals like fox, bears, lynx, and elks. 
Horses of Taiga is a farm located in the small but homely village of Svansele, in Västerbotten, just 100 km from the Arctic Circle, and right next door to Lapland. It offers you one of the best riding programmes, which includes a variety of activities, including riding to a reindeer farm, and the boreal forest, and a night in a wilderness camp. Discover Icelandic and Nordic horses. Go on long full-day rides through forests and around splendid lakes. Get to stay in comfortable lodges, wooden cabins in the wilderness, and a guesthouse with its own outdoor sauna and Swedish hot tub.
Enjoy the peace, tranquillity, snow, berries, and reindeer of Lapland. The region is gorgeous all year round and offers unique riding experiences during each season.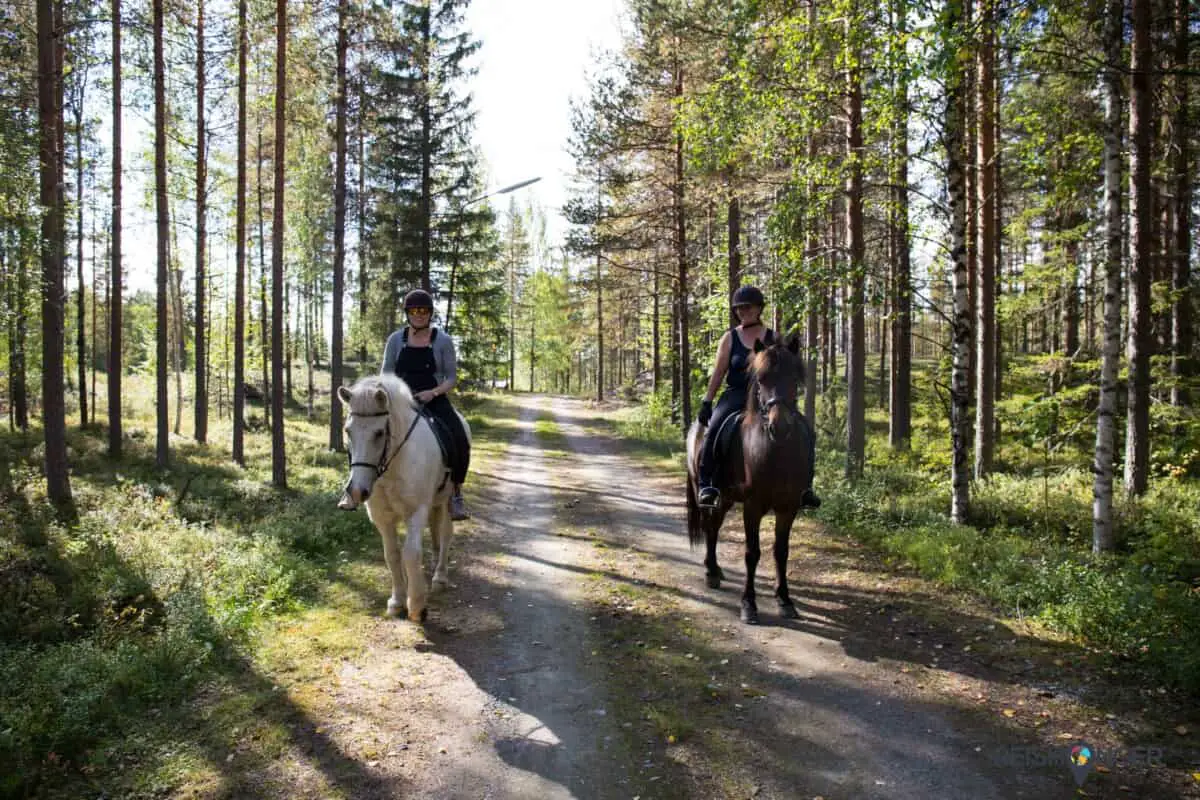 Highlights
Ride Icelandic horses.
Four days of horse riding – beginner, intermediate, and advanced levels.
Get to ride four to five hours every day.
All meals included from dinner on your first day to breakfast on day 7.
Treat your family to the riding holiday of a lifetime with Horses of Taiga.
FROM $519 / £410 PER PERSON
When it comes to the best horse-riding holidays Europe has to offer; it's hard to beat Galiny Palace in Poland. No matter what kind of riding experience or level you are looking for, you will find it here at Galiny Palace. This horse-riding holiday in Galiny is one you can't afford to miss. Stay at the Palac I Folwark Galini – a 16th century Renaissance manor set picturesquely amid the gently rolling hills of the Mazurian countryside. The Galiny stud farm has over 70 horses as well as a riding school that conducts riding lessons for both children and adults at different levels.
Each guest receives six riding sessions that can be used however they prefer. So, you can genuinely customize your holiday. Use your riding sessions for riding classes, jumping lessons, cross country riding, or more. 
Spacious rooms that are each characterized by unique décor and color schemes ensures your stay is luxuriously comfortable.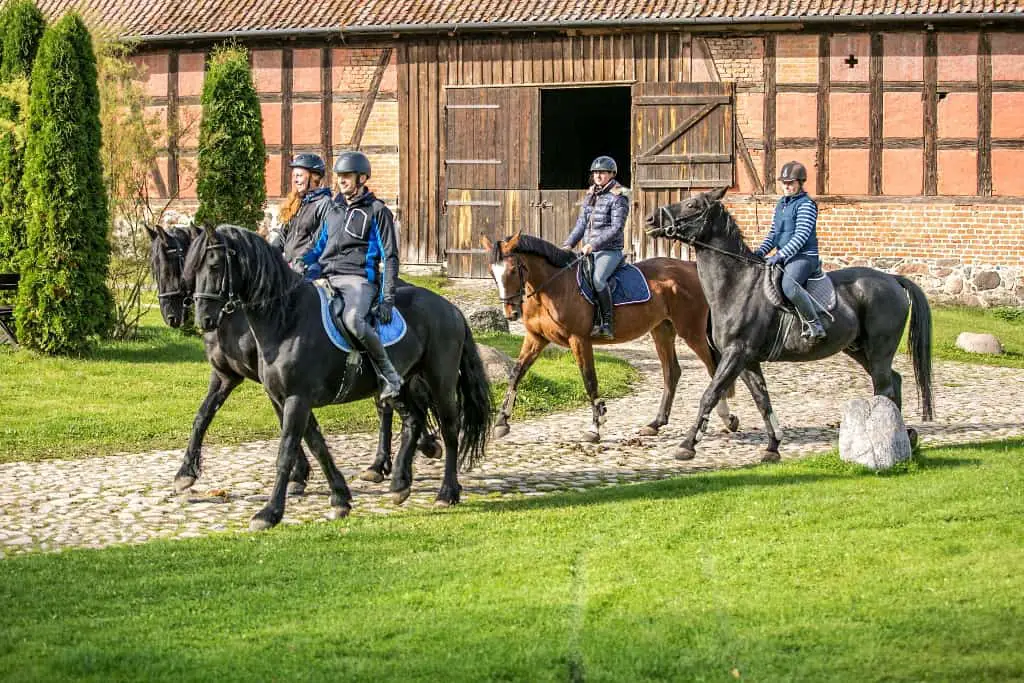 Highlights
Horse breeds include Westphalian, Holsteiner, and Polish half-breeds.
Two riding lessons every day.
Create your own schedule.
Three nights' accommodation at the Grange or the Palace.
Experienced instructors.
Trail riding and show jumping.
Beginner, intermediate, and advanced levels.
Book now to travel back in time and enjoy the unique luxuries of Galiny Palace.
FROM $1,039 / £820 PER PERSON
Enjoy a splendid horseback riding holiday in one of the most unspoiled areas of Europe. Ride through some of the wildest and most gorgeous forests of Harghita. Stay at Sparkut Panzio – 31 km from Miercurea Ciuc, in a serene area in the wood. Admire the beautiful landscapes of Harghita from horseback at the horse farm. You will also get to stay in Tunderkert Panzio bang in the middle of a pine forest teeming with wild nature. Piposz Tanya is another halt surrounded by woods and meadows, streams, and springs. Ride through ancient pine forests and beautiful meadows laden with wildflowers. For the river Olt, climb to the very top of the Csiki mountains on horseback, and ride alongside crystal clear springs and rich pastures. Enjoy unforgettable gallops in Szello after crossing the ridge to the Fuges Pass. Make your way across Europe's largest daffodil field and wide open and extensive pastures that are home to grazing horses.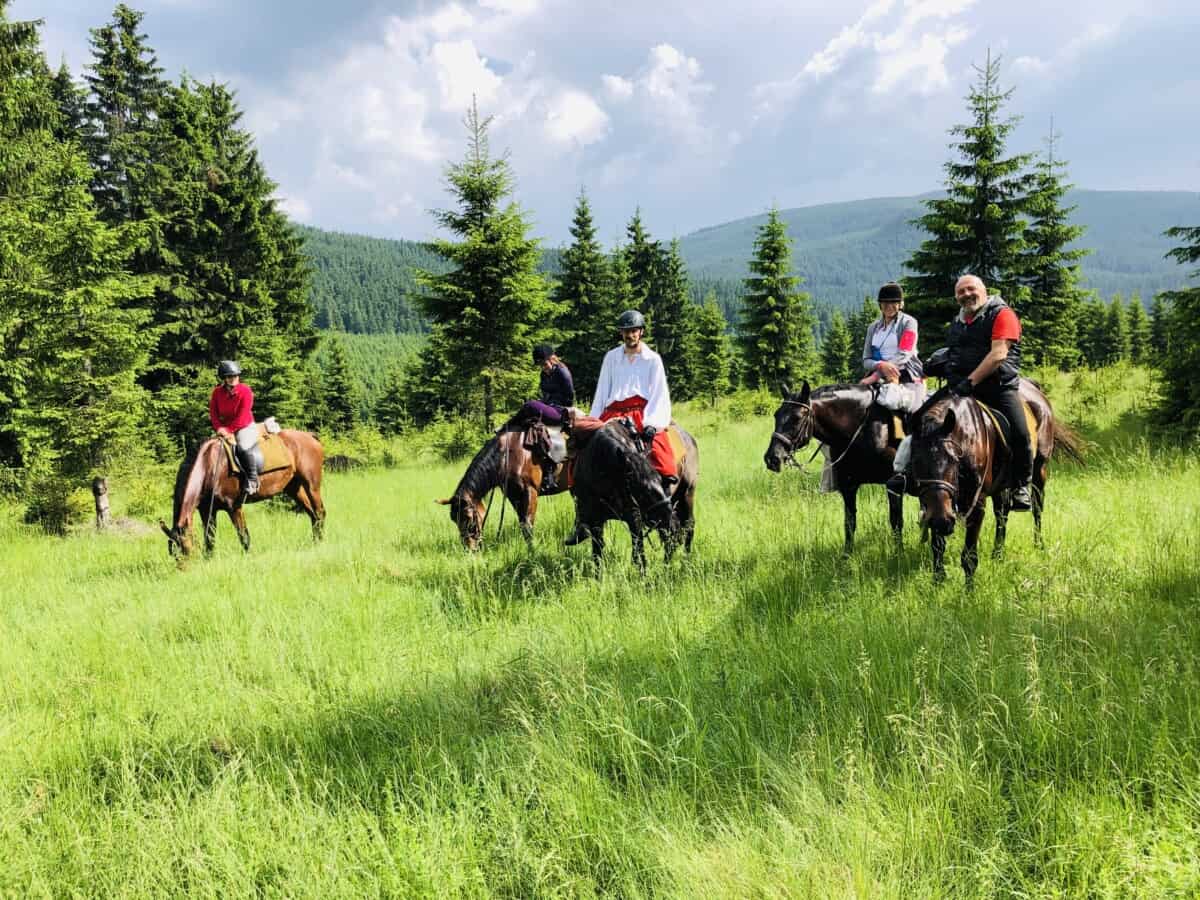 Highlights
Enjoy seven nights' accommodation in comfortable lodging that offer you rides in Europe, as well as luxurious amenities like saunas, hot baths, and swimming pools. 
For more details on this horse riding holiday that promises to surpass all others, click here.
FROM $3,478 / £2,746 PER PERSON
Skagafjorour is the heart of horse breeding in Iceland, and this is where your horse-riding holiday begins. You will get on a trail that leads you through the wilderness of Iceland's highlands. As you make your way through the trail on horseback, what emerges are magnificent and astounding sceneries of the Langjokull and Hofsjokull glaciers. You will ride past the scenic canyon Gilhagadalur and the spectacular Svartadalur Valley. These are just a few of the highlights of the tour.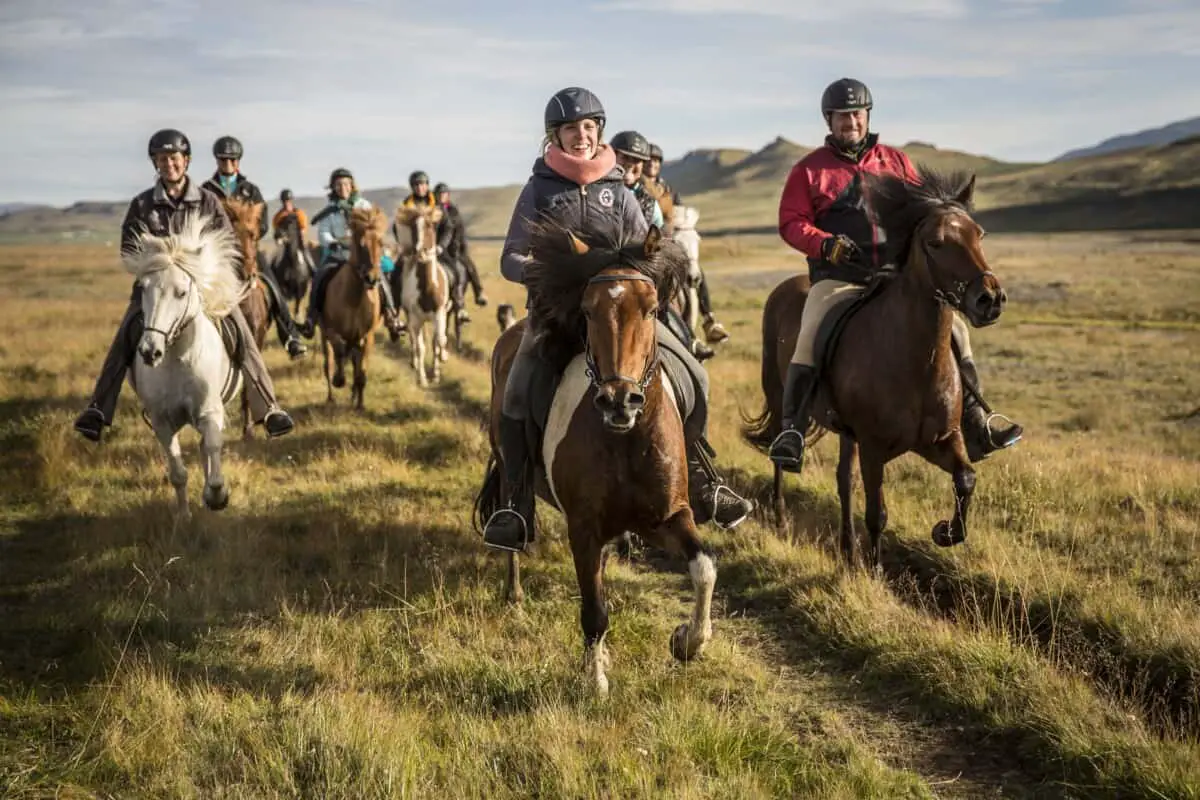 Highlights
Ride along with free-running herds.
Six riding days.
Soak in inviting hot springs under the Icelandic midnight sun.
Click here for more information on this tour perfect for a nature lover's horse holiday.