There are all kinds of potential names for horses out there, but what if you feel like being a little funny with your choices? If you want to give a bit of a comedic edge to your horse's name, take a close look at some of these names for inspiration.
Horse pun names can be hilarious and cute and can bring a smile whenever you think of it or call your horse's name. The name you choose can be specific to the breed of your horse, some can be gender-specific, and some might even lift inspiration from movies.
This can be even more enjoyable if you are a horse racer – imagine the announcer calling a hilarious name when mentioning your horse. If this sounds like something you would like to take part in, see if any of these names sound like one that might be a good fit for your horse.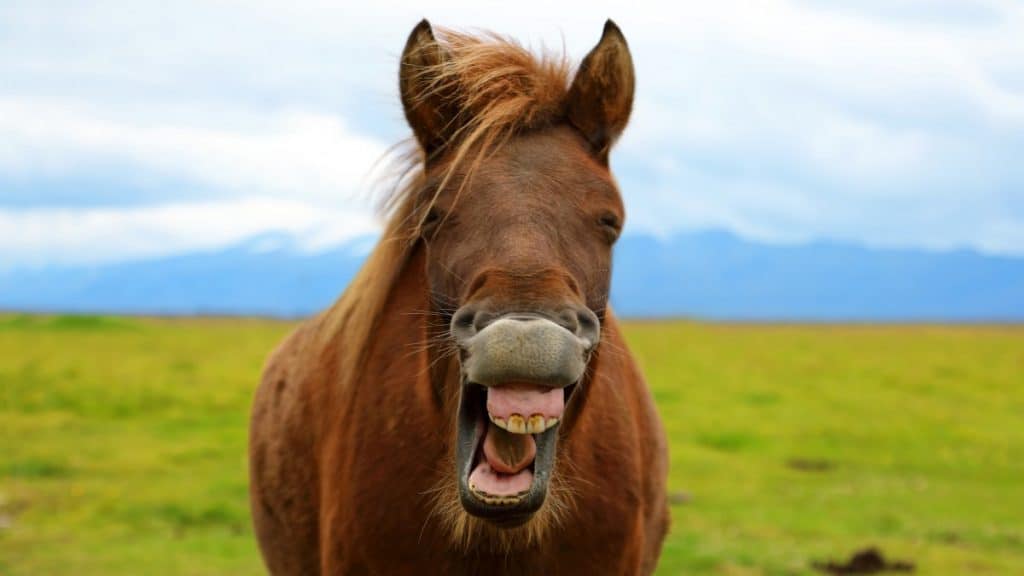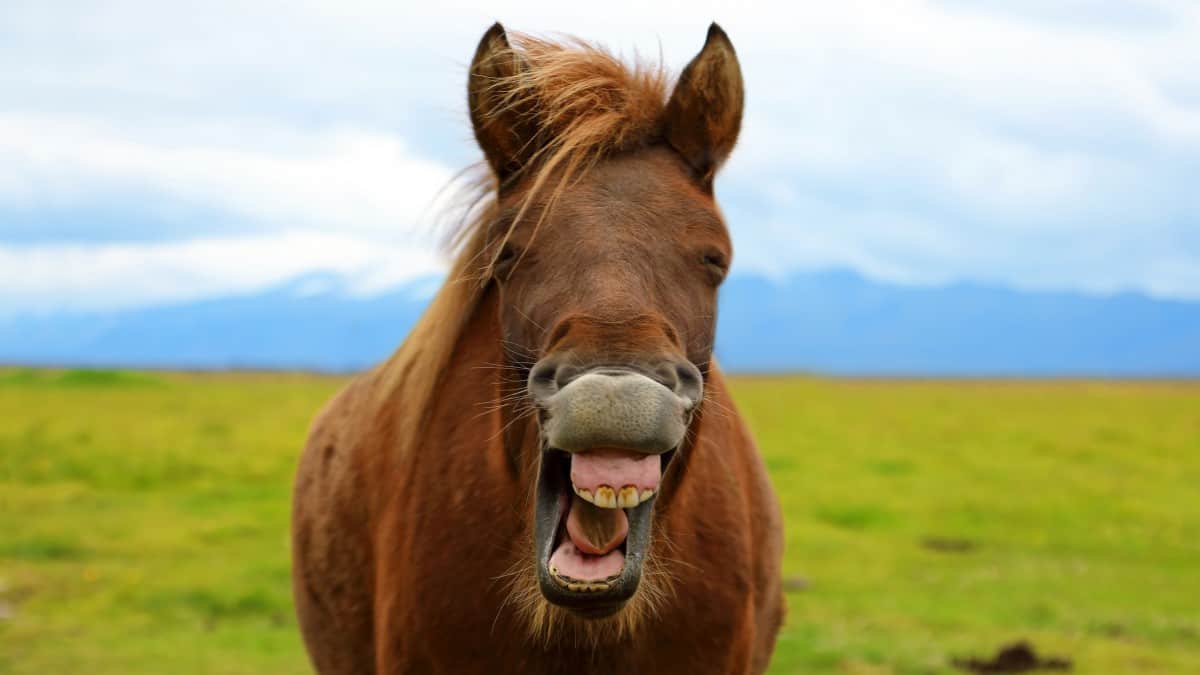 Female Horse Pun Names
Do you have a new female horse you are struggling to come up with a name for? No worries! Take a look at some of these funny horse names for female horses that will be sure to delight everyone who hears her moniker. 
1. My Little Pony
Give your horse a funny reference to one of the most popular children's shows of this generation. Children who are fans of the show are likely to get a kick out of this name, as it will evoke memories of their favorite horse-related television programs.
2. Epona
Fans of the Legend of Zelda series are likely to get this reference, being the name of the Hero of Time's female horse.
3. Hermioneigh
Are you a fan of Harry Potter? If so, this funny name might be right up your alley, referencing one of the main characters from the series, Hermione. 
4. Hay Girl Hay
Why not make the classic "Hey girl, hey!" meme into a funny name for your horse? This would be really funny to call out while feeding hay to your horse.
Male Horse Name Puns
What if you have a new male horse that has yet to receive a name? Just like with female horses, there are several hilarious options you can inspire names from, including references to films, games, and some that will end up being a hilarious play on words. 
Take a look at some of these potential names for your male horse to see if they are a good fit that will crack you up: 
1. Harry Trotter
Another funny Harry Potter reference, this one is sure to get anyone in the vicinity laughing as they watch your horse trot along. 
2. Roach
This name will be well understood by anyone who has played The Witcher video game series. The main character, Geralt of Rivia, names all of his horses Roach.
3. Mister Ed
Inspired by the 60's sitcom, Mister Ed, about a talking horse, fans of the show will be sure to have plenty of memories attached to this funny name. 
4. Bullseye
Fans of the Toy Story series will get this reference right away, calling back to the toy horse that makes up part of Woody's Roundup crew. 
Celebrity Horse Name Puns
Want to make your horse a star? There are all kinds of funny potential celebrity name puns you could use when coming up with names for your horse.
Here are some of the funniest that you can consider to bring a little bit of Hollywood to your horse's name: 
1. Usain Colt
With inspiration from Usain Bolt, a very well-known runner, you can make your horse synonymous with speed and winning with this punny name. 
2. Britney Spurs
"Hit Me Baby, One More Time" with an absolutely comedic take on Britney Spears' name for your own horse.
3. Liam Neighson
Liam Neeson is well-known for his films such as Taken and Honest Thief, and fans of these films will be sure to get a nice laugh from this celebrity-inspired horse name. 
4. Chuck Horris
Chuck Norris is known as being unbeatable, so why not lend your horse his namesake with this funny take? 
Horse Racing Name Puns
Want to give your horse a racing-related name that is sure to crack up everyone in the audience when the announcer calls their name?
Light up the racetrack with comedy with some of the suggestions here:
1. Mane Attraction
Want to make your horse the star of the show? This name is sure to draw attention to your horse as it speeds across the track. 
2. Nightmare
Is your horse a "nightmare" to compete against? This might be a suitable name, if that's the case. 
3. Riding Miss Daisy
Have you ever seen Driving Miss Daisy? If so, you might get a crack out of this reference. 
4. Horsepower
If your horse is as fast as a Ford Mustang, you might say it has the "horsepower" to beat the competition with ease!
Horse Name Inspiration
Inspiration for horse names can be difficult when you are trying to come up with the perfect moniker for your pony. If you are wanting to give your horse a funny name, think about drawing inspiration from your favorite films, books, games, or pop-culture references. 
With enough creative thought, you will be shocked at how many ideas are sure to flood into your mind.
Help Choosing The Right Name
Still not thinking up the perfect name for your horse? Don't worry, there are resources that are able to give you a hand in coming up with great names for your equestrian friend. 
Take a look at online resources such as our lists of horse names and Ranker to find some inspiration for potential names for your pony if you are having a hard time coming up with names on your own.
Some of these ideas might just inspire you to come up with something brand new! 
What Name Will You Choose For Your Horse?
As you can see, there are several potential ideas you can come up with if you are looking to get a bit of a laugh out of your horse's name.
Horses are beautiful, majestic creatures with personalities all their own. When you know your horse's own individual style, you will find it much easier to give it a name that suits it well.
If you're still looking for more inspiration, check out these awesome lists of horse names!
Related Posts