If you are looking for spotted horse names, then this blog post is for you! We will discuss many ideas and name suggestions to help get your creative juices flowing.
From naming a spotted horse after the stars to naming them after characters in movies, there are so many great ideas out there.
What should I call my spotted horse? Read on and find out!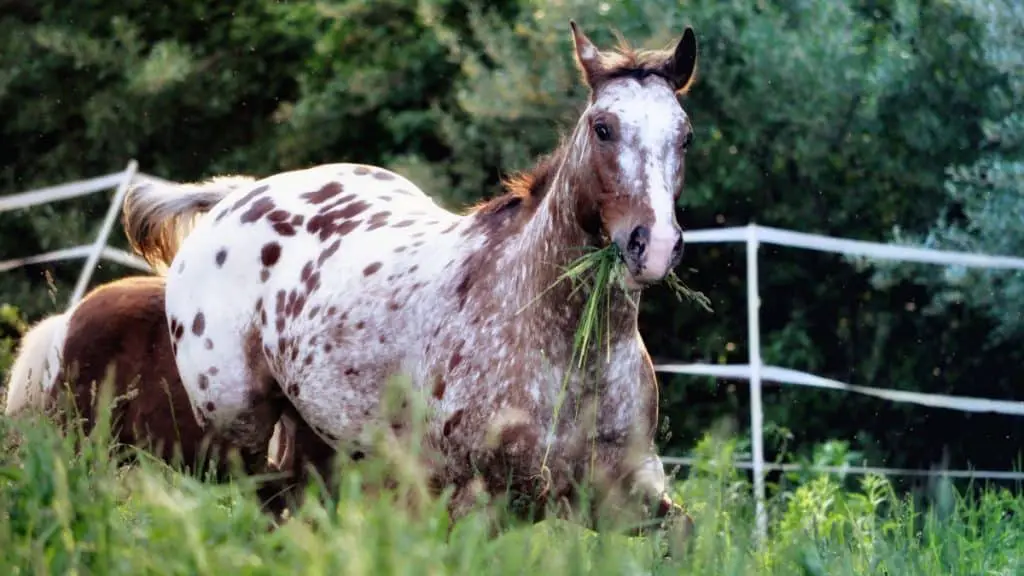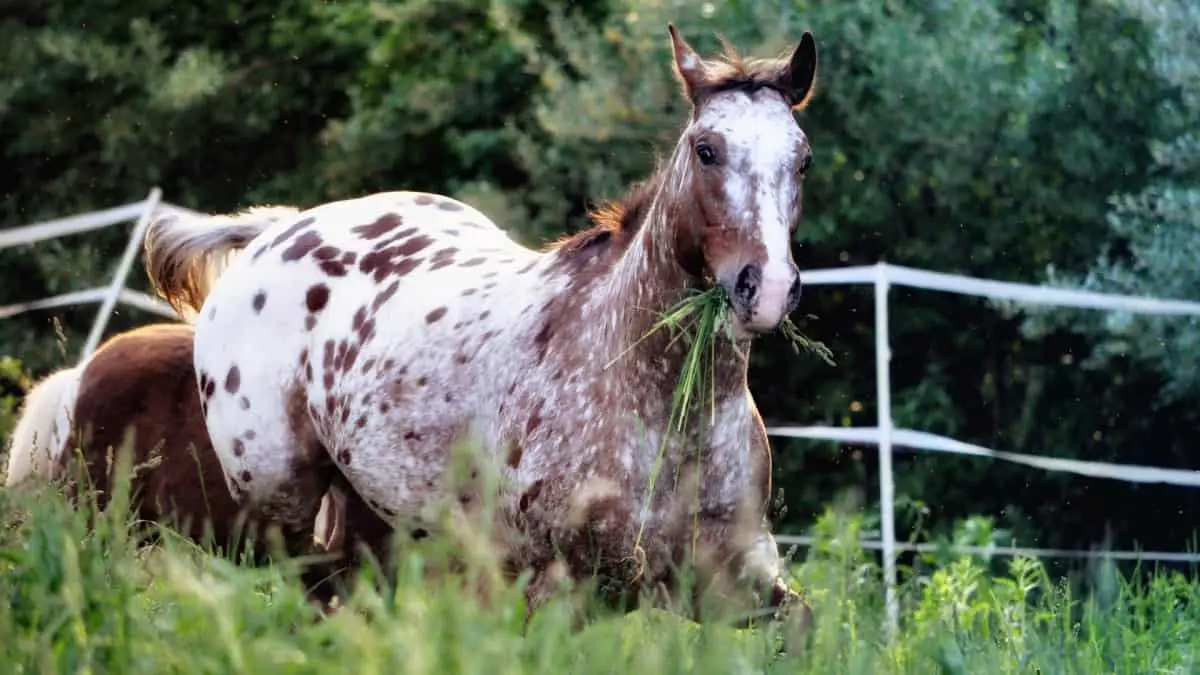 There are many horse breeds with spotted coats that deserve equally stunning names, including:
The Tiger Horse
The Colorado Ranger
The Nez Perce Horse
Other horses like the Pony of the Americas or the British Spotted pony are known to have several coat patterns, including beautiful spotted coats in many different patterns.
Horse owners are always on the search for unique and catching names to match their horses, and we have gathered the most extensive list to help you get started.
Good Names For Spotted Horses
When looking for names for spotted horses try to pick something that is either already associated with spots or reminiscent of the eclectic nature of the pattern.
Sundae
Boots
Yang
Atari – the first video game maker
Bryce – 'pied spotted, speckled' in Scottish
Dara – 'star' in Khmer
Smudge
Bandit
Brychan – 'spotted' in Welsh
Stelle – 'stars' in Italian
Vend – 'spot' in Albanian
Polkadot
Scout
Tacka – 'spot' in Bosnian
Tux
Daub
Medal
Genet – small spotted mammal with a ringed tail
Sketch
Pong – the first video game consisting of a white dot being hit back and forth
Polka
Spot
Splotch
Brice – 'spotted' in Indian
Mancha – 'spot' in Galician
Point – 'spots on dominos' in French
Plek – 'spot' in Dutch
Mjesto – 'spot' in Croatian
Yin
Enavada – 'one with spotted speech' in Indian
Pokky
Tache – 'spot' in French
Yin-Yang
Dice
Abrash – 'spotted' in Arabic
Kiko – 'spot' in Hawaiian
Sox
Spotty
Manchita – 'little spot' in Spanish
Zenith – the highest or crowning point; the point directly above a celestial observer
Kol – 'spot' in Afrikaans
Boggle
Mancha – 'spot' in Spanish
Blemish
Speckles
Splotchy
Stipple
Jot the Dot – Kids' cartoon from the 1960s
Achilles
Merle
Female Spotted Horse Names
Feminine spotted horses are often highlighted for their poise and grace.
Many of these names highlight that beauty, and several are borrowed from the female variations of 'spot' in different languages.
Vega – 'falling star' in Latin
Phoebe – goddess of the moon in Greek mythology
Pisces – one of the 12 astrological signs; two fish
Capella – the eleventh brightest star in the sky
Chandra – Hindu goddess of the moon
Sutara – 'holy star' in Hindi
Estella – 'star' in Latin
Carina – the name of the constellation containing the second-brightest star in the sky
Pandora – moon of Saturn; from Greek mythology
Kolka – 'spot' in Old Norse
Amaris – 'child of the moon' in Old Irish
Libra – one of the 12 astrological signs; the scales
Alya – Thete Serpentis star system
Doris – sea creature known for spotted patterns
Dorothy – 'gift of God'
Skye
Brit – 'spotted' in Celtic
Aylin – 'moon halo' in Turkish
Astra – 'of the stars' in Latin
Perdy
Minnie
Sarangi – 'spotted deer' in Oriya
Aquarius – one of the 12 astrological signs; the water bearer
Nebula
Linsang – spotted creature similar to a ferret
Andromeda
Nuzha – excursion spot in Indian
Aina – Irish goddess associated with the sun
Capricorn – one of the 12 astrological signs; the mountain goat or the sea-goat
Luna – 'moon' in Latin
Eos – Greek goddess of dawn
Dapple
Galatea – moon circulating Neptune
Chara – the name of the star representing hunting dogs in Greek myths
Etoile – 'star' in French
Mona – English word for 'moon'
Gemini – one of the 12 astrological signs; the twins
Hoshi – 'star' in Japanese
Danica – 'morning star' in Latin
Lyra – harp-like constellation
Alcmene – 'might of the moon' in Latin
Nova – 'new star'
Europa – Phoenician princess abducted by Zeus
Aster – 'star' in Greek
Lucine – 'moon' in Armenian
Hala – 'moon halo' in Arabic
Perdita
Artemis – Greek moon goddess
Ophelia – moon of Uranus; character in Shakespeare's 'Hamlet'
Celeste – 'heavenly' in French
Steorra – Old English word for 'star'
Starr – a different form of star
Maharam – dot and line pattern designed by Charles and Ray Eames
Esther – 'star' in Hebrew
Izar – 'star'; from Basque origin
Juliet – one of the moons of Uranus
Ariel – shiniest moon of Uranus
Titania – one of the largest moons of Uranus
Galexia – Galaxy
Callisto – third-largest moon in the universe
Mina – 'starling' and 'heaven' as a Muslim name
Harley Quinn
Bianca – smaller moon of Uranus
Aysun – 'beautiful as the moon' in Turkish
Aster – the Greek word for star; also English word for flower
Maha – 'Moon' in Arabic
Jaci – Tupi for 'moon'
Venus – the second closest planet to the sun; Roman goddess of beauty and love
Fawn
Cassiopeia – constellation named after mother of Andromeda
Polka
Halo
Harlequin
Dotty
Halley – a comet that appears twice in a lifetime
Cressida – moon of Uranus
Bellatrix – 'female warrior' in Latin
Aurora – Roman goddess of dawn
Aysu – 'moon water' in Turkish
Harley
Elara – Moon of Jupiter
Juno – 'queen of heaven' in Latin
Cassini – the gap in Saturn's ring
Kasuma – Yayoi Kasuma; an artist who predated the Pop Art movement with work known for intense colors repeating in bold spots and dots
Belinda – ninth moon of Uranus
Selena – 'star in the sky' in greek
Starling – a spiritual connection to the divine
Sidra – 'star' in Arabic
Portia – one of the moons of Uranus
Nuzhah – excursion spot in Muslim
Diana – Roman moon goddess
Io – most volcanic moon in the solar system
Maristela – 'star of the sea' in Spanish
Seren – 'star' in Welsh
Arianrhod – associated with the moon in Welsh mythology
Cordelia – inner moon of Uranus
Hesperos – personification of Venus
Mahina – the Hawaiian word for 'moonlight'
Maia – 'illusion' in Sanskrit
Marimekko – Japanese home design using bright, bold, spotted patterns
Male Spotted Horse Names
Masculine horse names tend to exhibit strength, virtue, and courage, and the names in this section are no exception.
Brand
Wolf – rare star 'Wolf-Rayet'
Phoebus – another name for Apollo
Ray – Manta rays have spots on their underbelly
Astennu – 'god of the moon' in Egyptian
Meteor – English name given to small metallic or rocky bodies that travel through the galaxy
Tilak – 'spot of vermillion' in Oriya
Hoku – Hawaiian name for star
Arche – the moon orbiting Jupiter
Tuxedo
Lichtenstein – Roy Lichtenstein; a pop artist whose work used halftone dots
Sky
Galaxy
Orion – constellation in the night sky
Aten – the name of a group of asteroids
Draco – northern constellation
Itri – 'star' in Tamazight
Vincent – Vincent Van Gogh; later work associated with the pointillist movement
Sirius – the brightest star that can be seen from Earth
Chitrack – 'spotted' in Hindu
Namid – Star dancer in the Ojibwe language
Holmes – once the largest object in the solar system
Geronimo
Ansel – black and white photographer Ansel Adams
Sagittarius – one of the 12 astrological signs; the archer
Nash – the name of the Gamma Sagittarii star in the Sagittarius constellation
Aibek – a combination of Turkish words meaning 'master of the moon'
Namid – 'star dancer'
Oberon – major moon of Uranus
Deimos – 'terror' in Greek; one of the moons of Mars
Citraka – 'spotted' in Indian
Pongo
Leo – one of the 12 astrological signs; the lion
Apollo – Greek god of sun and light
Sol – 'Sun' with Hebrew, Spanish, and Portuguese origins
Titan – a large asteroid
Random
Kale – one of the moons orbiting Jupiter
Triton – a moon orbiting Neptune
Aelius – derived from the Greek word meaning 'sun'
Hoku – Hawaiian for 'star'
Sylvester – black and white cartoon cat who pursued Tweety Bird
Scorpio – one of the 12 astrological signs; the scorpion
Aries – one of the 12 astrological signs; the ram
Pollock – Jackson Pollock; an artist known for drip paintings
Cupid – one of the moons of Uranus; 'desire' in Latin
Mercury – planet closest to the sun; Roman god of the message
Ceilo – 'sky' in Italian
Saros – a period in which eclipses repeat
Marbles
Chip
Kuiper – 'cooper' in Dutch; refers to a small band of rocks floating near Neptune
Zeke – shortened version of Ezekial; 'shooting star' in Arabic
Mars – fourth planet from the sun; Roman war god
Wanblee Galeshka – 'Spotted Eagle' in Lakota
Mayank – 'moon' in Hindi; refers to individuals calm like the moon
Seurat – Georges Seurat; artist and draftsman, father of the pointillist movement
Sarang – 'spotted deer' in Oriya
Meztli – Nahuatl for 'moon'
Atlas
Macchiato – 'spotted' in Italian
Vulcan – the hypothetical planet existing in 1915
Pheonix – Deep red; robotic spacecraft sent to explore Mars
Regulus – one of the brightest stars in Leo constellation; 'prince' in Latin
Neil – for Neil Armstrong, the first man to walk on the moon
Alioth – navigational star used by sailors in the past
Woody
Pluto – furthest planet from the sun; god of the underworld
Maramma – Polynesian moon god; Maori word for the moon
Tinu – 'spot of vermillion' in Indian
Jupiter – the fifth planet from the sun; the largest planet in the solar system; chief god of Roman mythology
Pinto
Taurus – one of the 12 astrological signs; the bull
Dallas
Damien – artist Damien Hirst; known for his spot paintings
Mickey
Mark
Persues – son of the Greek god Zeus; constellation
Storm Cloud
Pallas – Another name for Athena, the Greek goddess of wisdom
Reeva – 'One who guides people like a river or a star' in Hindi
Donati – 'given by God' in Latin; long-period comet
Astrophel – star lover
Messier – Messier 31; the Andromeda galaxy, seen as a band of spots without telescope assistance
Iah – moon god in Egyptian mythology
Nimbus – Ring, orb, or halo appearing over the head of the divine
Badar – 'full moon' in Arabic
Comet – cosmic body of ice and gas
Muraco – English for 'white moon'
Altair – the eleventh brightest star in the galaxy
Jericho – 'city of the moon' in Arabic
Jaguar
Sully
Cosmos – the entire universe
Aku – moon-god in Babylonian myths; 'revered' or 'exalted' in Finnish
Neptune – eighth planet from the sun; Roman god of water
Castor – the brightest star in the Gemini constellation
Nanna – moon god and son of Enlil in Sumerian myths
Nevio – 'spotted' in Italian
Janus – one of the moons of Satun; Roman god with two faces
Brown Spotted Horse Names
Names for horses with brown spots usually refer to these spots positively, and the usual chocolate color is noted with references to sweets and coffee.
There are also many famous Appaloosa horses that you can recognize by naming your spotted horse after them.
Whiskey
Sundance
Mint Chocolate Chip
Chewbacca
Cadbury
Freckles
Nutmeg
String of Storms – famous Apaloosa champion
Java
Lindt
Zorro
Pirate
Copper
Smudge
Brule
Dusty
Chocolate
Pepsi
Peanut
Cider
Tootsie Roll
Heza Dreamer – famous Appaloosa
Nestle
Hickory
Pablo
Kahlua
Way to My Heart – famous Appaloosa broodmare
Grizzly
Milky Way
Checkered
Mocha
Sepia
Beaver
The Secret – famous Appaloosa stallion
Autumn
Almond
Milk and Cookies
Zip'N to Paradise – famous Appaloosa
Desert
Bear
HIckory
Ima Jo's Doll – first non-Quarter Horse winner of the National Reined Cow Horse Association's Snaffle Bit Futurity Open Championship
Rocky Road
Godiva
Brick
Nugget
Theodore – for 'Teddy'
Mousse
Nutmeg
Terra
Black And White Spotted Horse Names
Black and white is a common theme in design, food, culture, and history.
Choose a name that emphasizes the contrast in your horse's coat.
Cow
Panda
Cookies and Cream
Holstein
Inkblot
Orca
Freckles
Chaplain
Checkers
Lemur
Ace of Spades
Moo
Rorschach
Shamu
Chocolate Chip
Newspaper
Dotty
Cruella
Skunk
Badger
Dot Com
Oreo
Inky
Domino
Dice
Names for Brown Horses with White Spots
Brown horses with spotted coats can be acknowledged for either color. This unusual inversion of spots leans to a more playful appearance and needs a name that fits.
Brownie
Paco
Drizzle
Terra Cotta
Kiwi
Pooh Bear
Teddy
Frappe
Hawk
Cookie
Toffee
Starlight
Cappuccino
Fudge
Chocco
Copper
Sugar and Spice
Smores
Latte
Cinnamon
Bruschetta
Dusty
Brownie
Flash
Brown Sugar
Spotted Tricolor Horse Names
Tricolor horses are usually white with bay or black spots.
Find a way to recognize this unique and beautiful coat pattern with an equally charming name.
Tiger
Argyle
Callie
Motley
Mosaic
Trinity
Salt and Pepper
Eclectic
Mezcla – 'mixture' in Spanish
Kaleidoscope
Marble
Tweed
Storm
Beethoven
Canvas
Triple
Troika – 'trilogy' in Russian
Tri
Puzzle
Trifecta
Chrome
Camo
Prism
Razzle
Chroma
Cute Spotted Horse Names
Many spotted horses have sweet temperaments that do not necessarily need a celestial or strong name.
Take a look at these endearing names to match more adorable spotted horses.
Splatter
Tortie – short for 'tortoiseshell
Rainbow
Snickers
Splash
Pebbles
Sundry
Tie-dye
Abbie – short for 'abstract'
Cheerio
Truffle
Skittles
Party
Spice Cake
Cami – short for 'camouflage'
Chessie – an alternative of 'chess'
Patchouli
Kit-Kat
Clover
Mixie
Huey
Dotty
Speckles
Confetti
Nipper
Horse Name Inspiration
Many horse owners draw inspiration for their spotted horses by looking to names surrounding abstract art, including pointillism and the Pop Art movement.
You can also look to the breed registry for famous horses that share similar characteristics, drawing inspiration from their names. For example, taking a peek at the Appaloosa Hall of Fame can provide decades of inspiration.
Going back to the roots of the horse's breeds can also help tie their history into their name. The Nez Perce people, a federally recognized nation in the United States, are credited for the breeding of many spotted horse breeds, including the Appaloosa and the Nez Perce horse. Consider a Nimiputtimt name like Hemene (wolf) or Alikkees (haircut) to tap into this connection.
Because many spotted horses have darker coats with white or light-colored spots, horse owners look to the stars for inspiration. Choosing names that have ties to space–such as the names of moons, planets, stars, and constellations–can give you elegant and mythical inspiration.
Help Choosing the Right Name
Choosing the right name for your spotted horse can be difficult. This is something you will be calling them for the rest of their life, and you want to choose a name that fits their personality and your personal taste.
If you are struggling then consider consulting friends and family for help. Ask for opinions from people that share your views on these things, not someone who will criticize every name you throw out.
Internet forums or social media groups are also a great source for naming advice. You can post a picture of your spotted horse and a small bit about their personality, and people from across this globe will chime in with unique perspectives.
Conclusion
While it is known that breeds like Appaloosas have spotted coats, there are several other horse breeds out there that require names befitting of a spotted horse. There are plenty of areas to draw inspiration from, and countless words out there to describe spotted coats or similar instances of spots.
Take as much time as you need to find the perfect name for your spotted horse. You will know that you have found a winner the moment you say it out loud, and your horse will wear that name with honor.
If you're still looking for more inspiration, check out these awesome lists of horse names!
Related Posts