The process of buying gifts for loving friends and family is so enjoyable. But sometimes it can get a little challenging as well. Especially if you're searching for the perfect gifts for horse lovers. 
But there's no need to fret. As lifelong riders and horse lovers, we have plenty of experience buying amazingly horsey things for ourselves, while gifting the same to our equine-obsessed friends. 
So, if you've begun your search for the best gifts for horse lovers, then you've come to the right place. Here we'll take you through the 20 best gift ideas for horse lovers, which you can use to honor that hippophile in your life. 
Let's get started. Here are the Top 20 Perfect Gifts To Give The Lover In Your Life:
There's nothing grander than horse-inspired jewelry as a gift to a rider. From rings with horse heads to necklaces with a horse pendant, you can gift a variety of things to your loved one. You can also purchase bracelets with horse designs studded into the jewelry.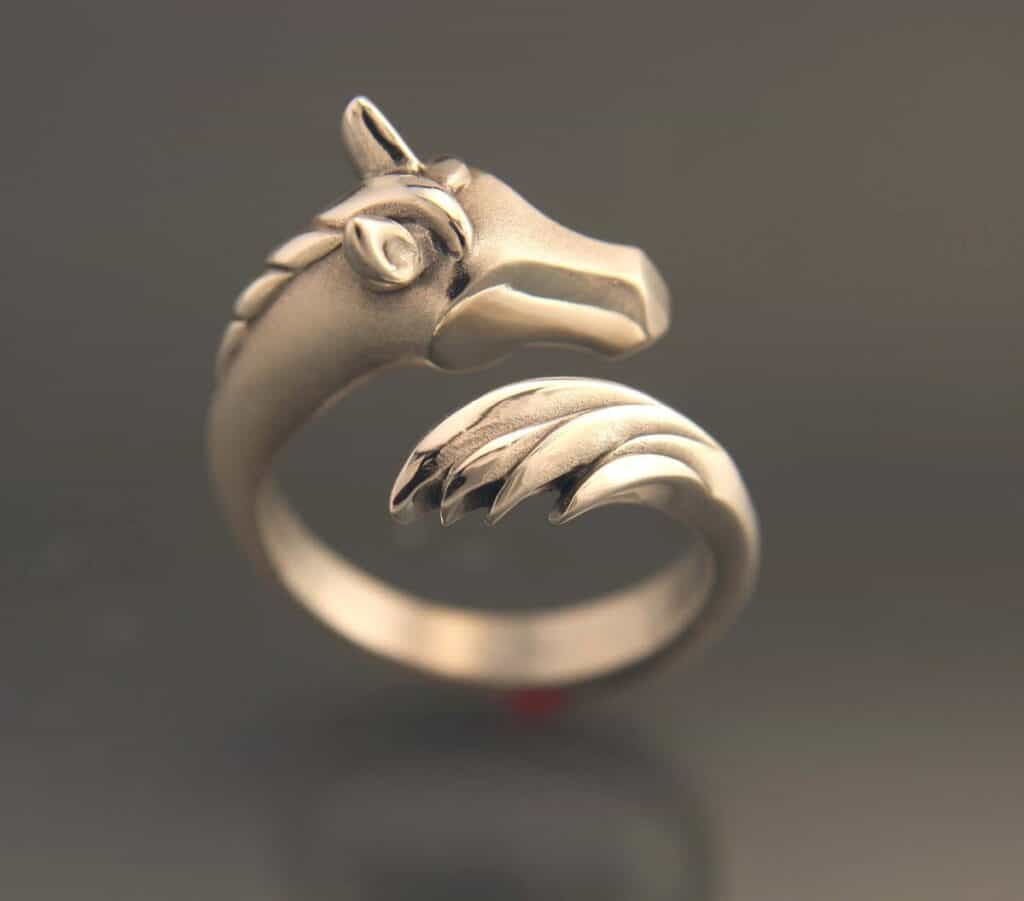 These jewelry come in a variety of materials, from plastic to platinum. So whatever your budget, it's affordable. 
The great thing is, you can personalize these gifts with the name or quote of your loved one. Or, you could engrave the name of their pony onto the jewelry. 
While we're on the topic for jewelry, you can also consider gifting your loved one jewelry, which they can ornament their precious ponies with. These days, lots of horse riders and owners are expressing their love for their horses through gorgeous face jewelry, gem-studded saddles, and more.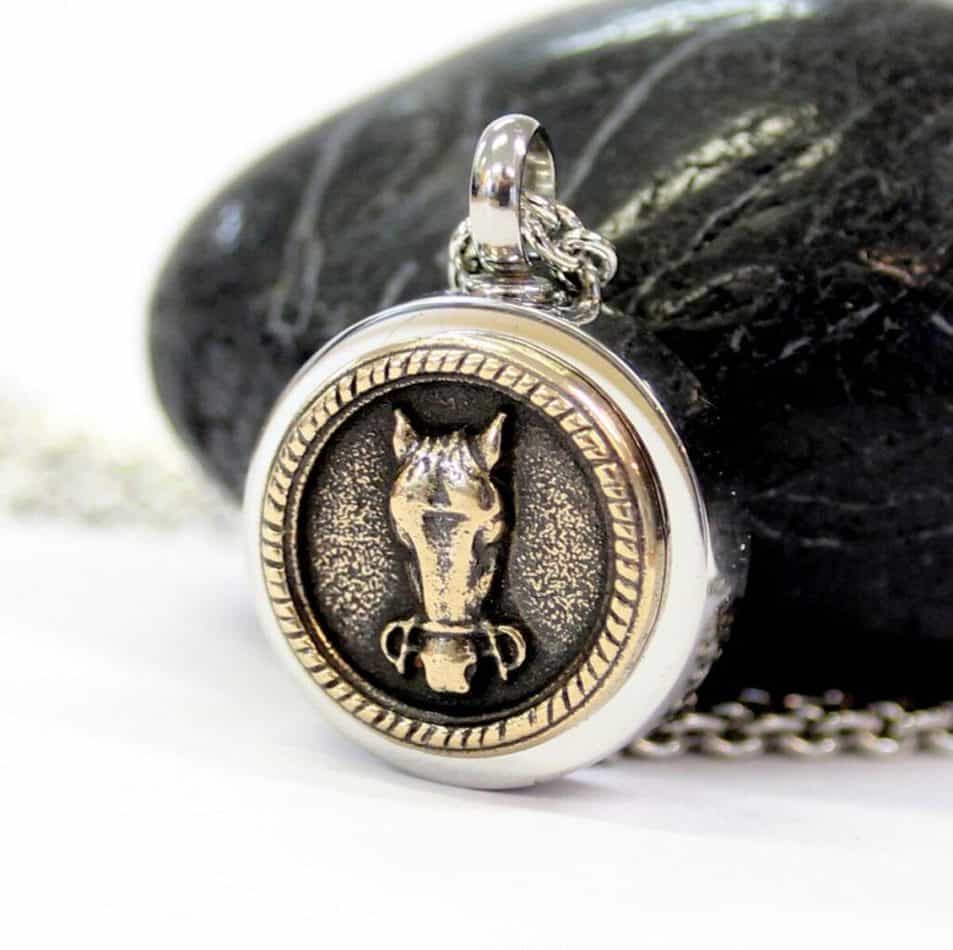 There are horse owners who even go the tribal route and purchase ethnic headwear for their ponies. You can also purchase horse hairbands and clips as well. While you're at it, you can also purchase a quality show rug. These types of accessories and jewelry look very classy.
3. Clothing/Footwear With Horse Prints 
Horse shirts, horse themed riding boots, horse printed scarves, horse design socks, horses-inspired pajamas… the sky is the limit to the type of clothes and footwear you can gift the person who loves horses.  
Numerous designers have experimented with the equine theme and you can find a variety of clothing, tote bags and footwear for men, women and children available online. Even couture brands like Burberry have trench coats and leather wallets with horse prints. 
The truth is, a lot of horse owners will be thrilled to receive gifts which can be of use to their beautiful horses. This is where a horse grooming kit can be really handy. 
You can purchase a grooming kit right off Amazon or Etsy. Most kits are budget-friendly and they come with an assortment of brushes and combs and other grooming accessories. The best grooming accessories are those made out of natural fibers. These brushes are gentler on the horse's skin and they don't cause any allergies. Plus, they don't come with that weird smell that synthetic fiber brushes have.
We are personally in love with the personalized grooming kits from Blue Ridge Engraving you can also buy individual custom brushes which look amazing. You can check their brushes out here and their grooming kits here.
Books make perfect gift ideas. They're great gifts for both a 5-year-old who's just learning to ride a pony and someone who's been a lifelong rider and horse breeder. 
From the Black Stallion box set to the classic that is Black Beauty, children will love these horse-inspired reads. The little ones will treasure these books for ages. 
For older readers, there are the rare titles like Slow Horses, Fast Women and The Horse, the Wheel and Language. Mixing fact with fiction, these reads will help your loved ones understand horses better.
An annual subscription to an equestrian magazine like Horse & Hound or Equus is also one of the best gifts for horse lovers. This is especially great if your loved one wants to become a professional rider or breeder.
All these books you're going to buy your loved one, are certainly going to be a challenge to manage. What better way to help your friend/relative, than to buy them horse bookends?
Horse shaped bookends, especially those made out of wood, are exceptionally classy. They make the room look more aesthetic and creative.  You can color coordinate with your walls by buying the bookends in various shades. You also have the option of getting the bookends in various postures as well – choosing a style which your loved one is sure to adore.
There's lots of unique and rare finds on Etsy have a look for yourself here.
Paintings, wood work and sculptures that can be hung on the walls, all make for an excellent gift for people who love horses. The great thing about wall art is that there's something for people with all tastes and all budgets. 
If you can afford it, you can buy works by iconic artists like George Stubbs, who were renowned for their renditions of horses. Else, you can go more local and find local artists who have created horse themed artwork. You can even hire a painter to do a painting of your loved one with their pony. 
 If the original works of art are out-of-budget, why not gift posters instead? These also make excellent wall art. 
If you're looking for the perfect gifts for someone who loves horses, then a surprise holiday it is. Particularly, a holiday to a resort where you can ride horses, groom horses, feed horses and play with horses.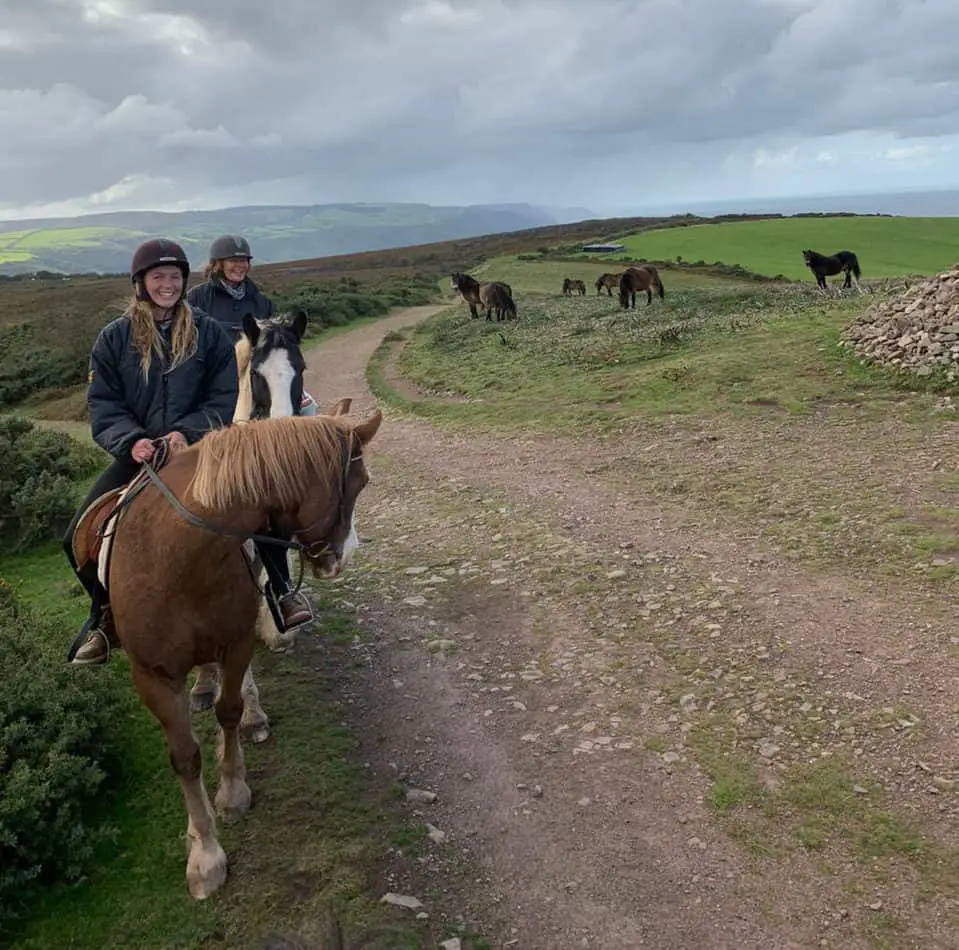 There are a few specialized holiday organizers like Book Horse Riding Holidays, who can help you plan and organize the most amazing equine-oriented vacations around the world. Whether you want to gallop along a sunny beach or ride through a snow-clad valley, the sky is the limit. So, go ahead and book your holiday today with Book Horse Riding Holidays. 
While we're on the topic of travel, check out these 10 amazing horse riding destinations in Europe. You'll love it. 
9. Horse Inspired Home Décor, Crockery And Hosiery
For a person who loves ponies, the best gift would be to get home décor that is inspired by horses. From sculptures to stirrup candlesticks to horse head wine racks to horse motif planters, there's no dearth of gifting options. 
You can go a step further and gift customized crockery & hosiery. There are a few specialized companies like Pet Pattern, who take a picture of your pet and print these photos onto the gift of your choice. From coffee mugs to pillow covers & drapes, you can have a photo of your loved one's horse printed onto anything you wish. 
10. Membership To A Polo Club 
If you're really keen on making the day special for your loved one, then get them a membership at a polo club. If they love to ride or race, they'll be blown over by your generosity. 
If you're gifting a child who loves horses, then consider getting them enrolled into a riding school. While on this note, here's a link to an informative step-by-step guide to horse riding for beginners. 
11. Horse Inspired Board Games 
Here's a fun one. 
There are numerous horse themed board games available today and riders of all ages will love them. Some of the top horse board games are Horse-Opoly, Herd Your Horses and WE Games Grand National Horse Race Game. 
These games will teach young players important life skills and will be a great way to get the family together for a day of fun. 
12. Personalized Horse Charm Bracelets 
Charm bracelets are so elegant. They are also one of the best gifts ideas. 
You can buy a charm bracelet online and then have it personalized by engraving your loved one's name. To make the gift more special, purchase a beautiful hand-painted, wooden memory box that's engraved with a horse design, to place the bracelet in. 
Your best choice for the box is one made from a willow tree. This wood looks supremely elegant and the box can be lined with a velvet cloth. Once your loved one wears the bracelet, the box can be re-used to store other horse themed jewelry.  
All of us change our phone cases at least once a year. So it's a great idea to gift equine themed phone cases to your loving friends and family. 
Etsy has a phenomenal collection of horse inspired phone covers and cases for a variety of models. You can also find laptop covers and tablet covers with horse designs. If you'd like the case to be more customized, then a place like Pet Pattern can print the designs you want onto the case of your choice. 
14. Personalized Equestrian Themed Water Bottles
Something your loved one can take to school or work or when on a ride, a horse print water bottle makes for a budget-friendly gifting option. You can have the water bottle custom printed. Or, you can purchase a fully-designed bottle from Amazon or Etsy. 
These bottles are available in a variety of materials from eco-friendly plastic to steel to copper. 
15. Coat-Friendly Horse Shampoo 
Horses and ponies need a lot of care. The only way to protect the health of their hair and coat, is to use the right horse shampoo. 
Eco-friendly and coat-safe horse shampoo is a perfect gift for the horse lover in your life. There are many brands like Provilan, EcoLicious Equestrian and WildWash, which use organic ingredients and specially-formulated medicines in their horse shampoo. These shampoos provide the nutrition needed for healthy horse coat and hair. 
16. Pocket Watch With Horse Face 
A watch is an excellent gift for someone who enjoys the finer things in life. Pocket watches in particular, make great gifts for older relatives. 
Select brands have an amazing selection of pocket watches with a horse design dial. While some dials have prints, others are engraved. A few really unique pieces come with exposed gears, raised horse engravings and antique bronze chains. 
If your horse loving friend likes fantasy, then giving them a pocket watch engraved with a Pegasus, is a great idea. 
17. Horse Beer Mug
Who doesn't enjoy a mug of frothy, cold beer? After a grueling ride or race, a mug of beer is just what you need to recuperate. 
Why not gift your loved one a chance to celebrate their love of horses through a horse beer mug? These mugs are brilliantly designed with horse engravings or a wonderfully sculpted horse-shaped handle. The attention to detail is phenomenal in these mugs and they make the occasion entertaining. 
These horse beer mugs are available in various sizes and materials. 
18. Swarovski Horse Crystal 
Another inspired gift idea for someone you love is crystal, specifically Swarovski crystal. 
Swarovski has a stellar collection of horse themed crystal ware in its collection, which is absolutely gorgeous. From rocking horses to Chinese zodiac sign horses, there are a variety of crystal pieces you can choose from. The great thing is, Swarovski is available at various price points. So you don't need to break the bank to gift your loved one a special crystal horse. 
19. Personalized Engraved Pocket Knife With Horse's Name 
A really handy gift for riders who ride in forested and isolated places, a pocket knife is a great survival tool. You can personalize this gift by having it engraved with your loved one's horse's name or image. 
These days, you also get pocket knives that come in beautifully engraved wooden knife boxes. After removing the knife, you can store important things in there and carry them wherever you go. 
Pocket knives come with a variety of handles from plastic to wood to bone. You can have lots of fun selecting the perfect knife that suits your loved one. 
20. Translations Of Ancient Manuscripts On Equine Management
This is possibly one of the best gift ideas for someone who loves, rides, lives and breathes horses. 
Ancient manuscripts are generally hard to come by. More so, if they pertain to horses and equine management. Just imagine how unbelievable it would be, if you could gift a loved one a translated copy of an ancient manuscript on horses. 
For one, there's The Art of Horsemanship by Xenophon, which was written in 355 BC and pertains to the choosing, caring & riding of horses. There's also the Asva Sastram, which is the ancient Indian text on equinology, which was written in the 3rd Century BC. 
Your loved one could read these books and revel in the wonderful legacy of equine management and horses. 
Wrapping Up 
This brings us to the end of our list of the 20 best gift ideas. Our gift list is a mixed bag – with gifts that are pocket-friendly and those which are extravagant. So, go on and explore the collections we've mentioned and find that perfect gift that your loving friends and family deserve. 
Happy shopping!
Haven't seen anything that has caught your fancy? You can check out our horse owner gift guide for more inspiration here.
You can even find details about horses and get to know more about them here.