No matter what your style or budget, there are near-endless options to show your love of all things equestrian. For our money, the 10 best horse wall decor options are paintings, photography, metal art, wood art, award display, memorabilia, decals, murals, tapestries, and horse-themed clocks and mirrors.
How do you choose the best pieces for the best result? Thankfully there are some tried-and-true design principles that you can follow in order to get pieces you love that will create the dream home of a true horse lover.
1. Paintings
There's no shortage of places to buy them: galleries, auction houses, and private listings may all have your ultimate horse painting. If you want to peruse from the comfort of your home, there are fantastic places to buy original paintings online. 
Also, remember that money doesn't necessarily equal quality or value. You can buy phenomenal original work without paying a mint. One way is to buy from Degree Art, which exclusively features works from students and graduate student artists. 
2. Original Works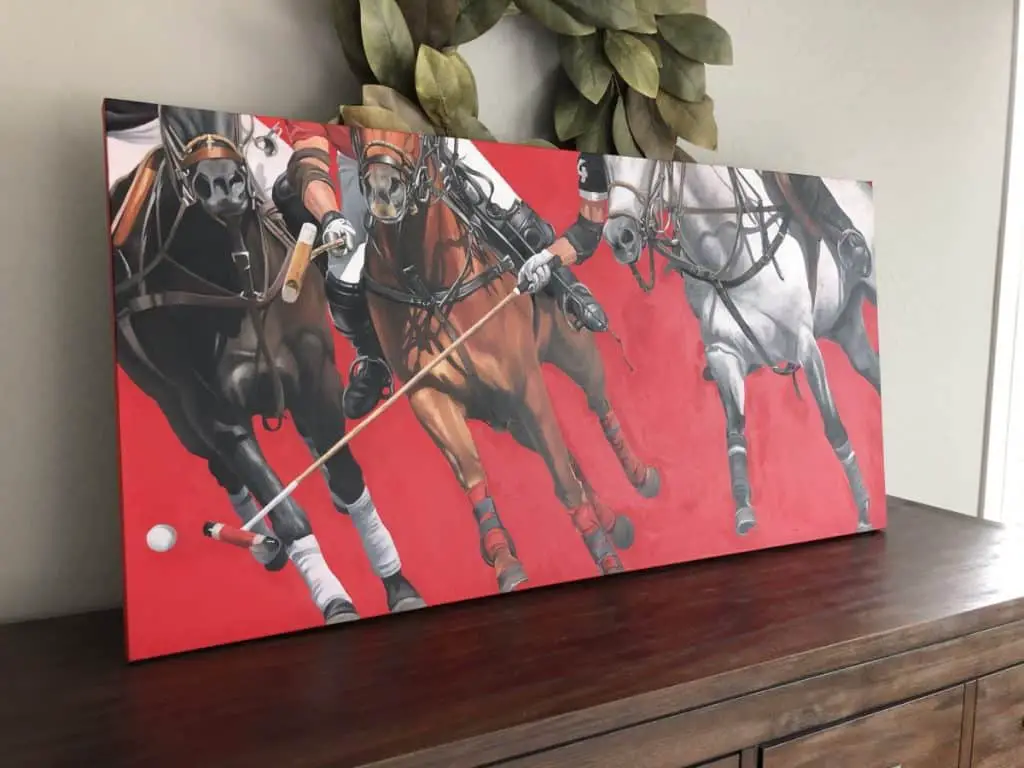 Looking for a statement piece? Line of the Ball by American artist Jamie Lynn Nuzbach would make a striking feature in any room. An electric image of polo riders at play, the juxtaposition of realistic subjects on the bright red background creates an air of sophisticated vitality. 
For a piece that will really stand out in your kitchen, Range Riders, Dusk, an acrylic on wood panel piece by Rachel Paxton, will lend your home cool and kitsch. Maybe it'll even inspire you to create your own Range Rider Restaurant recipes!
This oil on canvas piece entitled Horses, Mother Care from Latvian artist Vera Dondare is ideal for any bedroom, especially a nursery. The soft, impressionistic depiction of a mare and her newborn foal can't help but give you a warm feeling, communicating love and safety.
More original horse art including prints can be found on websites such as saatchiart.com.
3. Canvas Reproductions
The works of long-dead masters are now accessible to anyone thanks to canvas prints. Canvas wall art has come so far in quality you'll be surprised at how genuine they can look. 
To add a warm, pastoral vibe to your home, this wall art print of Edgar Dégas Horses in the Meadow is perfect for spaces as varied as your living room, bedroom, and even kitchen.
If you love all things macabre and are looking for that perfect piece that highlights both your love of gothic romanticism and horses, this canvas print of Gustave Doré's Death on a Pale Horse is made for you.  
This reproduction of Carl Rungius' Two Cowboys in the Saddle would look incredible hanging over your dining room table, acting as a perfect backdrop for a layered combination of rustic and urbane decor. If you want the perfect horse art print, be assured there is one just right for you.
4. Photography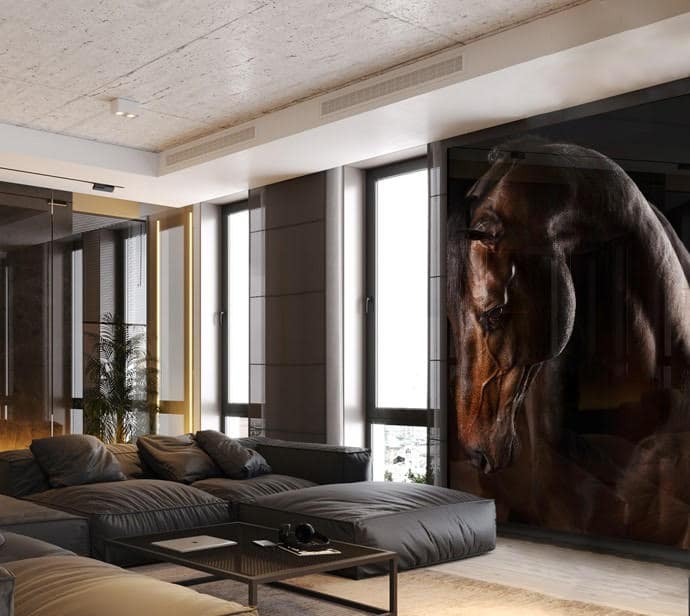 Buying photographs is very similar to buying paintings: don't do anything spur of the moment! Research, and take your time deciding what type of print you'd like to buy and whether you want an original artist print or a reproduction. 
That's why a great way to find a unique piece you really love is to check hashtags on social media. If you find an image that sings to your #horse-loving soul, don't be shy about messaging the photographer with an offer. You could make someone's year by being their first paying client!
For our money, one of the best investments you can make is buying an original print by photographer Raphael Macek. Son of a veterinarian and horse-breeder, Macek's passion, knowledge, and love of his subject radiates from each portrait. 
You can also help Macek use his metier to raise funds for conservation projects when you purchase a horse art print. For a limited time, a portion from the sale of each fine art print will be donated to the American Wild Horse Campaign. 
5. Metal Art
Unique, durable, and easy to hang, metal wall art runs the gamut from laser-cut sculptures to hand-painted signs.
We may think of metal art as boring or plain, although it's anything but!
This gorgeous piece highlights the beauty and grace of a horse in motion, while the colors evoke a natural earthiness by drawing from the palette of agate or geode.
For a contemporary take on ancient greek horse statues, this simple hanging sculpture has a subdued folk-art feel that will add charm to an entryway or any tight space you want to decorate. 
Looking to create a gallery wall that makes you feel like you're at the stable? Grab copies of favorite signs, like this polite notice, or even a custom medallion for your very own ranch (even if it only exists in your dreams.) Pair with vintage harness medallions for a quirky look.
6. Wood Art
Much like metal art, we often think of wood art as old-fashioned or one-dimensional. But woodworking has existed for so long, the breadth of choice in wood horse art will leave you stunned. 
For something more rugged and effortless, a carved silhouette would be a great addition to your bathroom or kitchen. 
This affordable bas-relief will add style and grace to a sumptuous den or cozy study.
7. Ribbon And Award Display
Whether you collect vintage equestrian competition ribbons and awards or have earned them yourself, show your love of horses in your home decor by creating an amazing showcase or display.
A customized wreath is a great way to share family heirlooms and vintage awards. 
Instead of using an actual showcase, a great DIY substitute is shadowboxes. You can use smaller shadowboxes to create displays for single events or collectibles, and larger shadowboxes to create a montage of your highlights. You can even light up your creation using battery-powered fairy lights cut to size.
If your kids are the ones earning all the ribbons, help them exhibit their accomplishments (and keep their bedrooms tidy) with personalized award displays. This customizable ribbon display carving is great for younger kids. This award ribbon display is perfect for your tweens and teens.  
8. Vintage Memorabilia
If you crave the unordinary, create a museum-like arrangement in your own home with vintage or antique memorabilia these ideas will be for you.
There are some amazing pieces of history up for grabs at auction houses and even on eBay. This rare 1896 horse auction catalog is a glimpse into the past that you can display behind glass in your study or office. 
Show everyone that spurs are now a thing of the past and hang this beautiful set on their own or in a shadow box. 
Create a major wow factor with this gorgeous carriage blind by hanging it in a way that makes you feel as though you could pull it aside and peek into another century. 
Top off your amazing collection with a hand-crafted reproduction pub sign from Vintage Sign Art. Though these gorgeous pieces have the look of antiques, they thankfully have a much more affordable price tag. 
9. Murals
For artists who possess a deft hand with a paintbrush or a can of spray paint, creating your own mural by freehand or stencil will really make your equestrian obsession come to life. 
If you're a little nervous about getting your vision just right, pick up an affordable mini-projector to display the horse mural of your heart's desire and use it as a template. 
10. Decals And Temporary Wallpaper
If you would love your own mural but are feeling a bit trepidatious about committing to such a bold look, decals and temporary wallpaper is the perfect compromise. 
For an equestrian base to display your other horse home decor, an all-over horse print wallpaper is the right choice.
This marbled print from Spoonflower would transform any dark room into a bright and bold space. This simple black and white pattern is a lovely option for a subtler look. 
Temporary wallpaper and decals are also great for growing families who know they'll be redecorating over the years. Any teen would flip over this 3D full wall decal. This fun decal set will have your little one's imaginations run wild while choosing where to place these horses. 
For a more feminine look, this wallpaper highlights the beauty of human and horse friendship. When less is more, the Spirit Riding Free set is fun a great compromise that will still fire the imagination. 
11. Tapestries And Textiles
Hanging tapestries is another example of a traditional art form that has long used horses as its subject (or the at least its fantasy cousin, the unicorn.) 
You have to be thoughtful about where you hang them, but there are many easy ways to display textiles. For example, this hand-made quilt would make a great piece to mount in a bedroom or large, airy hall using these tasteful quilt hangers.
Quilt hangers can also be used to display vintage horse blankets. Actual tapestries frequently have tapestry rod pockets, a sewn-in strip along the back where you can pass a rod through for hanging. 
Using ceiling hooks and a curtain rod, you can safely display tapestries without fear of rips, tears, or snags. 
12. Mirrors, Clocks, And Other Accessories
One of our favorite tips for creating the illusion of more space is with mirrors. In this case, horse mirrors.
I bet when you hear the words "horse mirror" you think about the heavy-duty ones used in stables to keep horses from feeling isolated, but they can also refer to great mirrors for equine aficionados.
If you like the style of an old English pub, this engraved mirror will have you calling for your next pint.
Though we mostly use our cell phones to check the time, no home is complete without a great clock. You can opt for a whimsical modern design for the show-jumper of the family, or invest in a hand-carved cuckoo clock that you can pass down in your family for generations. 
To mount a horse head on your wall without losing any sleep, a carved one will do the trick, or for a more futuristic feel, a 3D wooden model variation.
Conclusion
There's no shortage of options if you want to make your home a reflection of your love of all things horse. No matter your style or budget, you don't have to scrimp on horse decor or settle for pieces you don't feel passionately about. 
Remember to keep your eyes peeled when you're out and about, you never know where you'll find your next work of horse art at a bargain price.