Some people may not be aware of this, but horse quotes are perfect for Instagram captions.
Whether you're a horse owner, a horse rider, or just love horses in general, these 27 awesome quotes will have you posting pictures with your next horse Instagram caption in no time!
Horse Instagram Quotes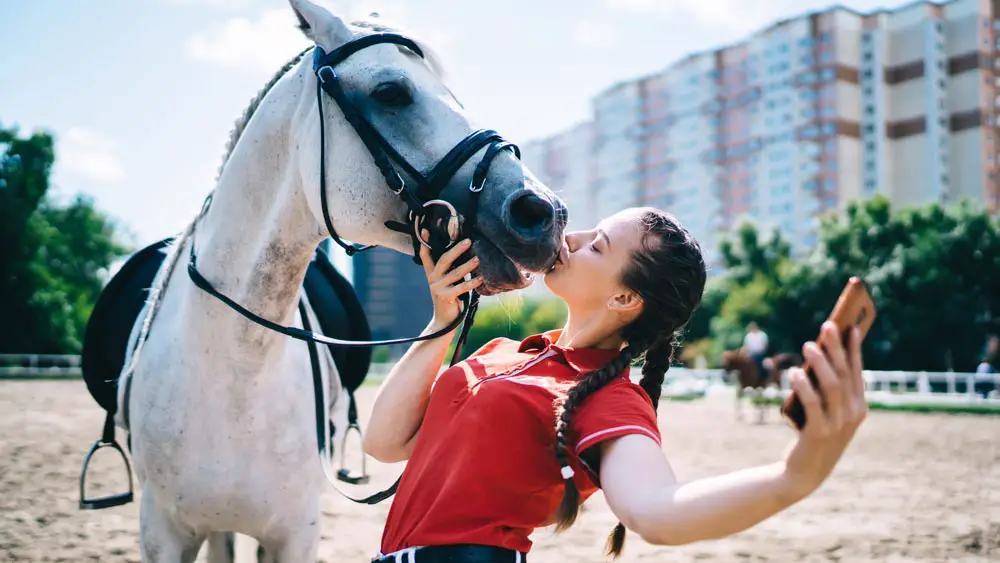 Here are some awesome horse quotes for Instagram:
1. "Your Best Friend Doesn't Always Have To Be Human"
This is a really cute quote for when you post a photo of your best friend, who happens to be an animal.
2. "My Love For Horses Is… Unbreakable"
Such a classic! If you're a Pinterest-lover, chances are that you've seen this quote plastered all over your feed.
It's the perfect way to express how much horses mean to you and show people what they can expect from following your Instagram account.
Plus it doesn't harm that this post has over 70 likes!
3. "A Great Horse Will Change Your Life"
A true horse lover knows how impactful these animals can be. If you have a horse in your life, you know the difference it makes to wake up and see his or her face every day.
This Instagram quote is a reminder that a great horse will change your life for the better!
4. "Horses Leave Hoofprints On Our Hearts" 🐴
Horses are powerful, wild animals that have the ability to leave an everlasting impression on us.
These hoofprints can come in many different forms – whether it's a connection with one specific horse or their memory as a whole. The quote above is perfect for describing this kind of impact they make on our lives!
5. "I'd Rather Be In The Stall Than The Mall!"
This statement is often used by horseback riding enthusiasts. It means that you would rather be doing something practical, like taking care of your horses, than some other mundane tasks unrelated to horses.
7. "A Horse Is Poetry In Motion"
A perfect quote for any horse lover to use on their next post.
8. "No Hour Of Life Is Wasted That Is Spent In The Saddle" – Winston Churchill
This quote is perfect for anyone who loves horseback riding. Winston Churchill was one of the most well-known riders in history, so it makes sense that he would have this great quote to share with everyone!
A lot of people use this on their Instagram posts because it's easy to connect with – no matter what your interests are, you can always find a way to relate this quote back to horses.
9. "A Man On A Horse Is Spiritually, As Well As Physically, Bigger Than A Man On Foot" – John Steinbeck
John Steinbeck is responsible for some of the greatest literature in history, and he said this quote while talking about his love for horses.
It's a great way to show people that you're not just someone who loves riding – but also respects and admires these animals as they deserve!
10. "Horses Are The Gateway To Infinite Joy"
This is another great quote for horse-lovers to use on their Instagram posts. It's a simple sentence that gets the message across – horses are happy, and so are people who ride them!
Funny Horse Quotes For Instagram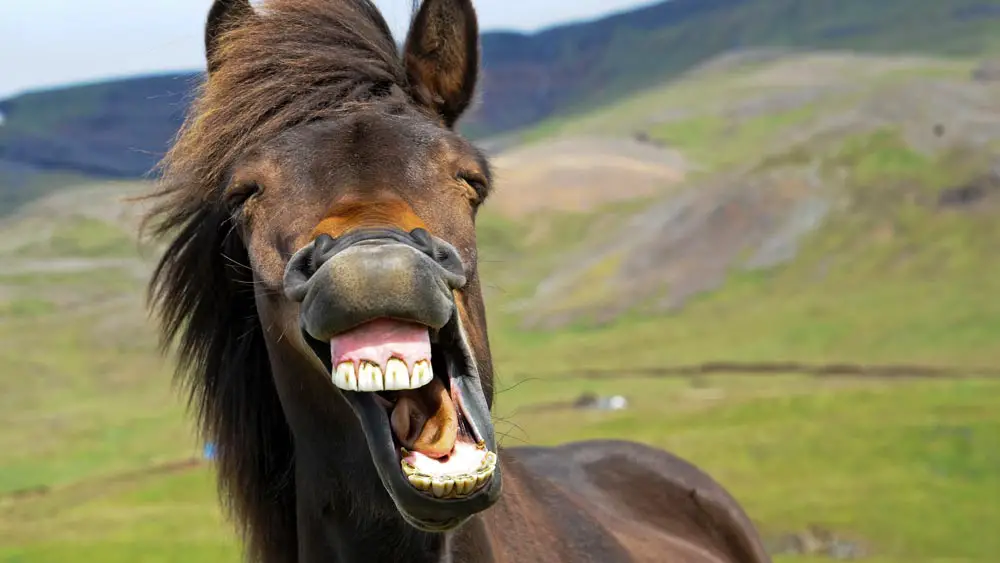 1. "I May Not Be The Fastest Or The Strongest, But I'm The Best Damn Horse In This Stable."
A perfect funny caption for any horse chilling inside a stable.
2. "I'm Pretty Sure That Horses Are The Reason Unicorns Exist."
A cute and funny caption to go with a horse picture.
You can add other animal pictures like cats, dogs, or even birds for extra cuteness.
If you want your caption to be more serious then pick any of the following:
"I'm not stubborn; I just believe that my will is always right." "It's okay to have a bad day. I'm here for you." "I may not be the tallest, but these legs were made for running!"
3. "How Do You Know When You're A Horse Person? You Start Talking To Your Horses Like They're People."
Horse lovers are known for their close relationships with their horses.
This quote speaks to the way that horse owners often talk to their horses as if they are people.
4. "Horses Are One Of God's Most Beautiful Creations. They're Gentle, Kind, And So Loving. I'm So Grateful To Have Them In My Life – Especially When They Fart In My Face."
We all love a good horse fart joke, and this one is a hilarious addition to your next Instagram post.
5. "Why Does My Horse Always Have To Poop When I'm In A Hurry?"
A common question among horse riders. Don't worry, your horses aren't being rude – they just have a different understanding of time than you do!
6. "If Horses Could Speak, They Would Be The Wisest Creatures On Earth."
This is a no-brainer. Horses are incredibly intelligent animals and they deserve all the praise in the world for that reason alone.
Another way to use this is, "If horses could talk, I'd be listening." You can add your own twist on top of it if you want!
7. Horses Are Great Friends. They're Always Ready To Do Anything That You Want, Go Anywhere That You Want To Go, And They Never Talk Back!
Horses are great friends with qualities that make them an attractive option for people who need a pet.
Horses are always ready to do anything you want without offering any sort of opposition or resistance. They will go anywhere you want and they never offer any complaint or objection.
8. "You Can't Spell Awesome Without Me."
One of the best quotes for Instagram ever! Even if you're not a horse rider, this is still perfect for your next photo.
Horse Riding Quotes For Instagram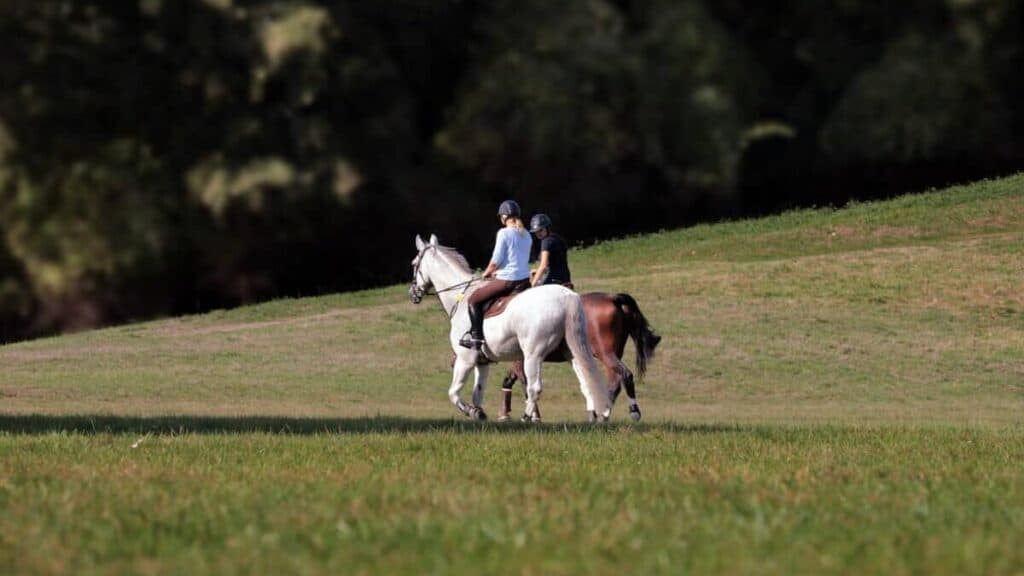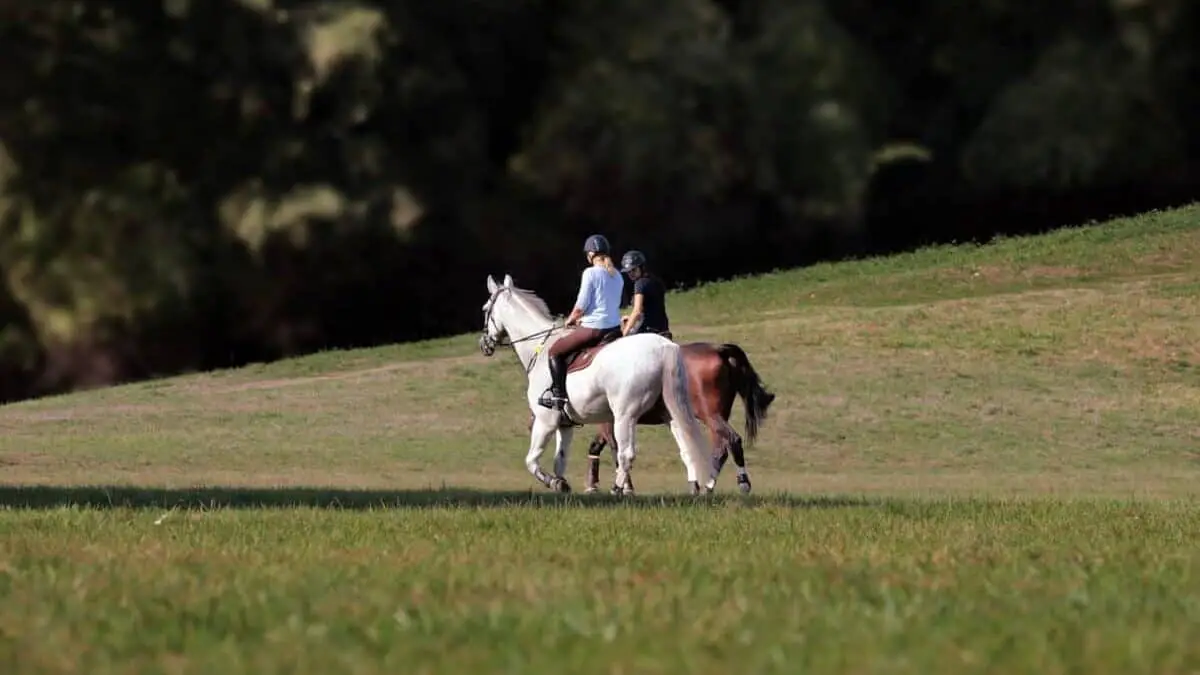 1. "The Wind In My Hair, The Sun On My Face, And The Feeling Of Freedom Always Makes Me Happy"
A great line for when you're posting a photo of your riding lessons or something similar.
2. "Riding A Horse Is Like Flying" ✈️
This option is perfect for a running horse or a jump shot. It's all about happiness and freedom!
3. "Horses Let You Know How Fast You're Going"
This quote is a great reminder that happiness isn't about the destination but rather making memories along the way.
4. "Horses Are Incredible Creatures. They Can Make You Feel Like Your Life Is Back On Track"
Being with horses can heal. Horses are incredible creatures, and they can inspire happiness with their cute faces and furry tails.
Horses have a way of making you feel like your life is back on track again when things get tough. So go find that horse who will show you the true meaning of happiness!
5. "The Horse Is The Closest Thing To Freedom We Have" – Unknown.
The feeling of happiness and freedom is what a lot of people associate with horses. The ability to run around, graze wherever you please – it's truly magical!
6. "If You Haven't Ridden A Horse You Haven't Experienced True Freedom"
Horses provide an unparalleled sense of freedom and happiness.
If you haven't ridden a horse, it's something that everyone should experience at least once in their life.
7. "Horses Give Us The Opportunity To Find Our Inner Strength"
Horses give us the opportunity to find our inner strength. They make it easy for us to face fears, happiness, and sadness.
Horses are truly beautiful animals that deserve respect and appreciation!
8. "In Riding A Horse, We Borrow Freedom" – Helen Thompson
An old saying goes, "A horse is the projection of peoples' dreams about themselves – strong, powerful, beautiful – and it has the capability of giving us escape from our mundane existence.
In riding a horse we borrow freedom." Wow! That sounds pretty deep but also super cool at the same time!!
9. "Ride A Horse And Mankind Is Carried"
There are many wonderful horse quotes for your next Instagram caption. For example, ride a horse and mankind is carried! The meaning behind this particular quote is that when we ride horses or other animals, it reminds us how important it is to be free within ourselves.
We should never forget the feeling of riding on solid ground because one day we will ride no more.
Conclusion
The history of mankind has been intertwined with horses in many ways. They provide us with transportation, entertainment, and companionship.
They're also an important part of many cultures and religions. Horses are beautiful creatures that bring happiness to many people.
The quotes mentioned in this post are perfect for any horse-related post you share on social media. They're cute, positive, and inspirational!
We hope you have found an awesome new quote that's post-ready.